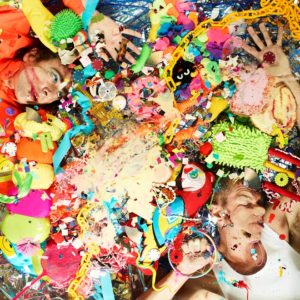 Along with artists such as GRAFTON PRIMARY, CUT COPY and VAN SHE, THE PRESETS were part of the first wave of early millennial Antipodean electronic artists to start having global success.
Formed of Julian Hamilton (vocals and synths) and Kim Moyes (drums and synths), their earlier material combined a stripped back synth-punk aesthetic with rousing anthemic songs such as 'Are You The One?' and 'Down, Down, Down', but also counterpointed with more introspective-sounding tracks such as the NEW ORDER-inspired 'Girl & The Sea'.
However, the debut 2005 album 'Beams'
which featured those aforementioned songs was a hit and miss affair, relying on the singles and the band's growing live reputation to carry it.
The follow-up 'Apocalypso'
was a far more consistent-sounding work and arguably their strongest to date; featuring the melodic synthpop of 'This Boy's In Love' and the surprisingly politically-charged 'All My People', it showed that the duo's songs could work over an entire album. Further UK dates with acts such as LADYHAWKE, HEARTBREAK and SOULWAX helped to solidify the acts' momentum and reputation as an electronic band to be reckoned with.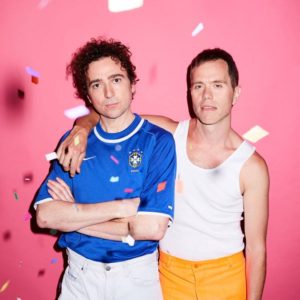 After a four year hiatus, the band returned with 'Pacifica'
which was preceded by the UNDERWORLD-inspired 'Youth In Trouble' and the quirky, almost sea-shanty electro-singalong 'Ghosts'. The album revealed itself as a softer maturer piece of work, with most of the spikier edges of its predecessors rounded off on tracks such as 'Cool' and 'Fall'.
The 2014 stop-gap singles 'Goodbye Future' and 'No Fun' saw a partial return to their earlier sound, but also introduced more of a House Music slant, especially the latter with its almost early Acid House-style pitched down vocal effects.
Activity in THE PRESETS camp started to ramp up again at the end of 2017 with the release of a trilogy of singles which all feature on the new album 'Hi Viz'
. Opener 'Knuckles' (named after Sonic The Hedgehog's brother) starts off in a similar bleepy 8 bit fashion to YELLOW MAGIC ORCHESTRA's iconic 'Computer Game'. Throwing a hell of a lot of styles into the mix, from live horns to half-time R'n'B drums, 'Knuckles' is not really representative of 'Hi Viz' as a whole, but provides an intriguing overture to it.
First single 'Do What You Want' is potentially classic-sounding material, but is partially let down by its over-repetitive vocal hook which makes you wish for a more instrumental-based re-edit without the title in it so much. This is a real shame as the song itself is excellent and showcases a return to the band's earlier driving synthpunk sound. 'Martini' and 'Beethoven' are uptempo, and initially throwaway-sounding tracks, the latter which oddly has you wondering whether it is going to morph into the EURYTHMICS song of the same name.
Both identical in tempo, they segue into each other, the former has a square wave House bass with vocal samples and a blippy lead riff with Hamilton intoning the virtues of said drink. At 2'40 secs a gorgeous PSBs-style chord change arrives and saves the track from being overly repetitive and monophonic sounding. 'Beethoven' (which amusingly ends with a Mozart sample) conceptually owes a debt to EURYTHMICS, but is ultimately is its own entity revolving around a tough electronic bass riff, it's one of the filler tracks here.
'Downtown Shutdown' completely throws out THE PRESETS rulebook; featuring guitars, live bass and vocals from The St Paul's Lutheran Church Choir (which comprises of refugees and young people from places like Burundi, DR Congo and South Sudan who are now living in Victoria). A feel-good hybrid of BLONDIE's 'Rapture', TALKING HEADS and splashes of KRAFTWERK, 'Downtown Shutdown' is the kind of track which if put out by BRUNO MARS or PHARRELL WILLIAMS would undoubtedly be a huge multi-million selling global smash. Present here in a more extended format than the single, it showcases more of the electronic elements of the track and is a definite highlight of 'Hi Viz'.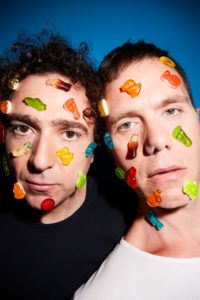 In a new move for THE PRESETS, there are several other collaborations on 'Hi Viz'; 'Out of Your Mind' features the vocals of Sydney's ALISON WONDERLAND (who THE PRESETS remixed earlier this year). It's a killer hybrid of Acid House and Hip Hop with a side-serving of THE CHEMICAL BROTHERS plus some wicked drum programming thrown in for good measure.
'Tools Down' which features Jake Shears from THE SCISSOR SISTERS is a bit of a go-nowhere track that again segues into the subsequent one 'Feel Alone'. Thankfully 'Feel Alone' harks back to the sound of 'Apocalypso' whilst lyrically recalling 90s dance (in that it only has a single vocal hook); 'Feel Alone' brings a welcome dose of melody and chord changes to the 'Hi Viz' party.
'Brains' provides a short percussive bridging piece, its Afro-vibe takes its cues from LEFTFIELD's classic 'Leftism' album and leads into 'Are You Here?' which features Britpop revivalists DMA's. Revolving around the kick/snare pattern from 'Trans Europe Express', DMA's singer Tommy O'Dell provides a wonderfully rhythmic vocal which takes him out of his musical comfort zone in a similar way to when Noel Gallagher guested with THE CHEMICAL BROTHERS on 'Let Forever Be'.
Second single '14U&14ME' is a bit of a curveball, starting off with some Trance-style arpeggiator and VANGELIS synth in its moody intro. The song then revisits the hard FM bass sound from 'My People' to great effect and only misses a second use of the intro to help (again) make the track feel a little less repetitive.
Rather than finishing the album in introspective mode, 'Hi Viz' finishes with a real banger in the form of 'Until The Dark' which shows that a one finger synth bass line can really work. After being joined by a multi-layered sequencer riff and splashy 909 open hats, the track has a monumental breakdown half-way through with 'Ghosts n Stuff' style organ and glitch treated live drums before kicking back in again.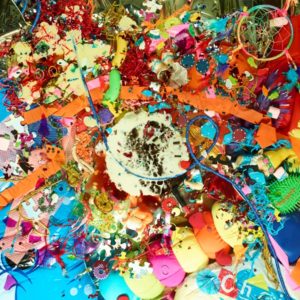 This is undoubtedly THE PRESETS' party album, it's shamelessly unafraid to take risks and try out new sonic territories and in the main succeeds brilliantly.
There are a couple of fillers here, but the overall mash-up of classic clubby dance, heavy influence of THE CHEMICAL BROTHERS and a modern twist has provided the band with what is arguably their strongest work yet.
'Hi Viz' grabs you by the scruff of your neck, drags you onto the dancefloor and rarely lets go over its 52 minutes – highly recommended.
---
'Hi Viz'
is released by Modular Recordings as a CD, vinyl LP and download
https://www.facebook.com/thepresets/
https://twitter.com/thepresets
https://www.instagram.com/thepresets/
---
Text by Paul Boddy
1st June 2018