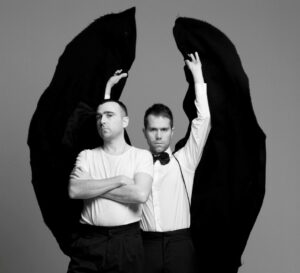 Sydney's very own Future Pagan's THE PRESETS have announced their long-awaited return with their third album 'Pacifica'.
Featuring ten synth laced songs, 'Pacifica' sees THE PRESETS "traversing both light and shade in energy and emotion" with a self produced collection mixed in Los Angeles with Tony Hoffer. The first track to be unleashed from the album is the heavily pulsating 'Youth In Trouble' which comes with a hallucinogenic video directed by New York based visual artist Yoshi Sodeoka and features socially poignant newsreel segments mixed in with the trip fest!
Their first album 'Beams' in 2006 was described by The Fly as "Simply the finest electro album since Depeche Mode's Violator". Now while it didn't quite soar to such great heights, tracks like 'Are You The One?' and 'I Go Hard, I Go Home' showed their intuition for hard edged percussive club tracks of which 'Youth In Trouble' is a natural progression. But it was the ASSOCIATES go disco of 'This Boy's In Love' from second album 'Apocalypso' that pointed to their song based potential.
But THE PRESETS have made their impact worldwide having apparently influenced BLACK EYED PEAS. Their ubiquitous leader will.i.am remarked that the 'The E.N.D.' album featuring the massive hits 'Boom Boom Pow' and 'I Gotta Feeling' was inspired by seeing THE PRESETS play V-Festival in Adelaide, with the song 'My People' being a particular favourite.
With a string of Autumn live dates in the USA as well as festival appearances in Australia, it would appear THE PRESETS are reaching the parts other synth acts cannot reach…
---
'Pacifica' is released on 14th September 2012 by Modular Recordings in standard CD, download and deluxe editions.
https://www.facebook.com/thepresets
https://twitter.com/ThePresets
---
Text by Chi Ming Lai
29th June 2012