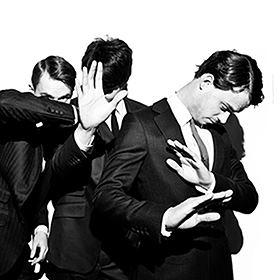 "Do you ever wonder how you'll ever get there when you never turn back around?"
What have 'Lights & Offerings', 'Broken By Silence', 'Toe The Line', 'Falls By Another Name' and Perfectly Still' all got in common?
They are all tremendous B-sides from the MIRRORS' catalogue.
And the latest in this impressive lineage is the beautifully stark drama of 'Between Four Walls', the flip of their recent self-released single 'Hourglass'. US blog Bop 2 Pop described the track as "sublime".
While 'Hourglass' sees an echoing drum machine is met with a cacophony of sombre synth strings and hauntingly melancholic vocals, 'Between Four Walls' indicates that MIRRORS are heading for a sparser, textural direction while still retaining those emotive melodic components, as hinted at by the newly recorded songs 'Dust' and 'Shooting Stars' from the 'This Year, Next Year, Sometime. . . ?' EP issued earlier in the year.
Attentive to minutiae in every aspect of their art, the properly avant pop 'Between Four Walls is accompanied by a stylish kaleidescopic film which appears to have been partly influenced by a fan made driving video of their own 'Broken In Silence'. Whatever, the visuals totally capture the 3am on the Autobahn feeling of the song.
---
'Between These Walls' and 'Hourglass' are available digitally from http://mirrorsofficial.bandcamp.com/
https://www.facebook.com/theworldofmirrors
http://theworldofmirrors.blogspot.com/
---
Text by Chi Ming Lai
28th June 2012