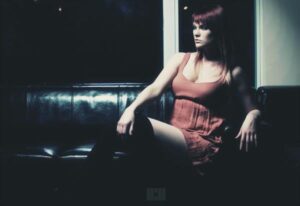 One act flaunting their potential right now Stateside are Texan duo ELEVEN:ELEVEN.
Comprising the celestial voice of Sicca with the instrumentation of Jake Childs, their electronic sound recalls a variety of influences including Italo Disco, Hi-NRG, Electroclash and BERLIN…no, not the one-time divided city with the Brandenburg Gate as its focal point but the LA combo led by Terri Nunn who had a worldwide smash with 'Take My Breath Away'.
Prior to selling their souls to the F-14, BERLIN were the flagwavers for Eurocentric synthpop in the US with brilliant songs such as 'The Metro', 'Masquerade', 'Pleasure Victim' and 'Now It's My Turn'. While their song titles like 'Electric Sex', 'Little White Lies' and 'No Words' are very BERLIN-esque, what ELEVEN:ELEVEN do differently is Sicca avoids Terri Nunn's rock histrionics which occasionally made BERLIN sound like ULTRAVOX fronted by HEART!
Sicca is much more feline and restrained while Childs provides a sparse, futuristic soundtrack sans guitars. 'Little White Lies' in a case in point, driven by an arpeggiated bassline and dressed with portmento synth stabs while Sicca sounds rather seductively detached.
From their debut EP of the same name, 'Infection' is more Studio54 with hypnotic hints of BOBBY O and GIORGIO MORODER while 'Pawn' is precise mechanical electro disco with a poker faced stare. Crucially, Childs gives the songs dynamics with syncopated high and lows which are free of the disease in current mainstream pop where four-to-the-floor thuds are just thrusted into oblivion.
'No Words' recalls MISS KITTEN & THE HACKER, capturing a tense nightlife seediness. Short but sweet with a swirling middle section, who needs an extended dance mix when the point is made in two and a half minutes? In keeping with the modern trend for a series of EPs and singles eventually leading to a long player, ELEVEN:ELEVEN are currently working on a concept entitled 'Through The Veil'. This will steadily see the release of a track one-at-a-time, culminating in a finished album. So far, only 'Little White Lies' and No Words' have seen the light of day. But based on these two numbers, the other eight tracks are now anticipated with great interest…
---
The music of ELEVEN:ELEVEN can be heard at https://soundcloud.com/weare1111
http://www.facebook.com/the.eleveneleven
---
Text by Chi Ming Lai
2nd July 2012