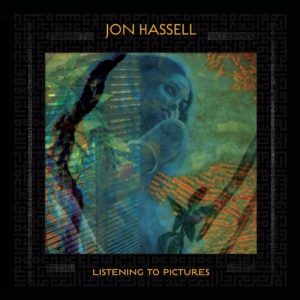 Avant garde trumpeter and composer Jon Hassell is best known for his collaborations with Brian Eno and David Sylvian.
Coining the term "Fourth World" to describe his style as "a unified primitive / futuristic sound combining features of world ethnic styles with advanced electronic techniques", his contributions can also be heard on recordings with TALKING HEADS, TEARS FOR FEARS and 808 STATE. His 'Fourth World, Volume 1: Possible Musics'
with Brian Eno from 1980 is now considered a landmark in ambient and world music, combining airy electronic treatments on his trumpet with drones and sombre percussive colours often derived from ancient ghatams.
Meanwhile his two 1984 co-writes 'Weathered Wall' and 'Brilliant Trees'
with David Sylvian placed the Fourth World ethos into a song format, albeit an unconventional one while signalling the former JAPAN front man's departure from pop and into more experimental climes.
Hassell actually criticised Eno's subsequent album 'My Life In The Bush Of Ghosts'
with David Byrne to Andy Warhol for being too commercial and although it was hardly '1989' by Taylor Swift, it showed the integrity of the man and how still he very much lives for his art at the age of 81.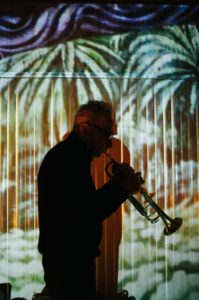 Very much a sound painter, Hassell's new album 'Listening To Pictures (Pentimento Volume One)' introduces his idea of Vertical Listening to "what's happening NOW" and "letting your inner ears scan up and down the sonic spectrum, asking what kind of 'shapes' you're seeing, then noticing how that picture morphs as the music moves through Time."
All very thoughtful and with this album, fans of Brian Eno and David Sylvian's more esoteric work will not be disappointed. Ambient soundscapes proliferate and Hassell's distinctive signature trumpet sound is very much present on a fair number of the tracks. The steadily rhythmic 'Al Kongo Udu' develops on the Fourth World concept from its opening percussive pulses into glitchy 21st Century electronica while being trumpet free. However, it makes its welcome first appearance on the appropriately titled 'Dreaming'.
The jazz inflected 'Manga Scene' also adds some atonal interference and random bleeping for an abstract sound sculpture, but the title track is almost conventional in comparison despite the cut-ups and its almost arbitrary percussive generation. The clattering passages of 'Pastorale Vassant' are filled with treated piano and ring modulation while more noise driven, 'Picnic' occupies a similar aural playground.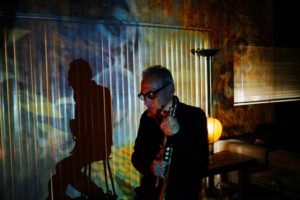 Closing with 'Slipstream', the album is bookended with another development of Hassell's classic Fourth World concept, its overtones eerie but simultaneously escapist.
Like many albums of this type, this won't be for everyone but for anyone who has ever enjoyed the collaborative aspect of Hassell's previous work, there are a number of accessible entry points in this artful sonic installation.
---
'Listening To Pictures (Pentimento Volume One)'
is released by Ndeya Records in vinyl LP, CD and digital formats on 8th June 2018
https://www.facebook.com/OfficialJonHassell/
https://twitter.com/NDEYARECORDS
---
Text by Chi Ming Lai
Photo by Roman Koval
29th May 2018