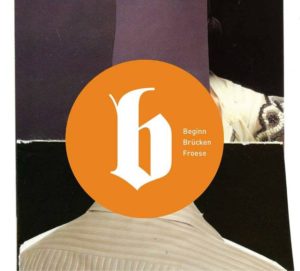 One is a former member of TANGERINE DREAM and son of electronic music pioneer Edgar, while the other is best known for her being part of PROPAGANDA.
'Beginn' sees the first results of a new collaboration between Jerome Froese and Claudia Brücken. Atmospheric album opener '(The) Last Dance' starts with a synth string pad, lo-fi Roland CR78-style drum machine and subtle piano part. From the off, this is a beautifully produced track, Brücken sounds absolutely stunning here and her vocals float ethereally over Froese's textural synth and guitar parts.
Sequencers are used sparingly throughout and the emotional impact comes from the lyrics which catalogue the unavoidable break-up of a relationship "…we danced our dance".
With a couple of exceptions, this is very much a downtempo, chilled-out album. The tempo rarely raises itself above 100bpm and the second track 'Wounded' is another example of this. With its skittery percussion and dark string synth textures, 'Wounded' has the kind of production aesthetic and chord progression which wouldn't have sounded out of place on DEPECHE MODE's 'Exciter'. The track's chorus really lifts off with a dark droning FM-bass synth underpinning everything; lyrically we are again dragged into pretty dark surroundings with Brücken storytelling about a person trapped in a relationship.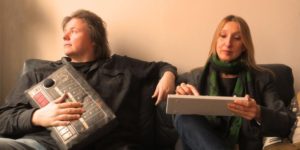 'Flight (of) Fancy' (there are plenty of brackets on the track names!) lightens the mood considerably and is the most guitar-oriented piece on 'Beginn'; possibly a bit too lightweight in conception (one could imagine Emma Bunton or Natalie Imbruglia covering this), it's partially salvaged by a welcome minor key sequencer-based part in the middle 8.
'Cards' is similar in tone and conception to Alison Moyet's some of recent solo works… in fact if you were looking at an overall comparison point for 'Beginn', then 'the minutes' would be a good place to start. Breakbeats which are introduced later in the track and some middle-Eastern inflected melodies keep the dark vibe going and gets 'Beginn'
back on track again.
'Light (of the) Rising Sun' is a short ambient piano / synth based piece; more of an interlude than a complete song, Brücken delivers another beautiful vocal in a track which has positive and uplifting lyrics which counterpoint some of the darker themes present elsewhere.
'Whispers (of) Immortality' is the epic center piece of 'Beginn' with Brücken providing a spoken word contribution throughout. The song, which features hissing analogue snare and hi-hats, has a Brücken vocal delivery which is very reminiscent of THE VELVET UNDERGROUND's Nico, especially on the "here she comes" line.
In contrast, the following 'Sound (of the) Waves' is very much a game of two halves, the first stripped back with little percussion, then the second lifting off with more breakbeats.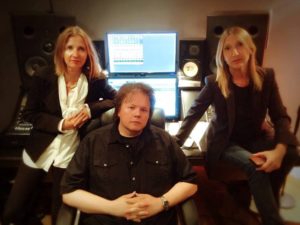 'Sweet Sense (of) Liberation' is a definite highlight of 'Beginn' and the most contemporary-sounding piece here by a long shot, 's xPROPAGANDA bandmate Susanne Freytag. With its deep detuned Reese sawtooth sound and Drum N Bass kick / snare pattern, it wouldn't sound out of place on a Hospital Records compilation. Adding to the album a welcome change of pace, the track has some PROPAGANDA-style spoken word elements in it' middle section and sparkling blippy sequencer lines throughout.
The album climaxes (as it started) in a low-key fashion with 'Unbound Spaces', featuring a mixture of found sounds and synthetic textures and brings the album to a satisfying and melodic atmospheric conclusion.
Interestingly, 'Beginn' is a bit of a curveball in that it's really not what you would expect considering the backgrounds of the two artists; if you approached it expecting a TANGERINE DREAM album fronted with icy PROPAGANDA vocals, then you may be surprised.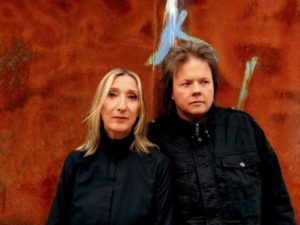 It's plainly obvious to the listener that 'Beginn' has had a lot of time and love invested in it; it is immaculately produced and Brücken has never sounded better.
Her vocals compliment Froese's synth and guitar textures perfectly and if you are seeking a reflective downtempo album which combines these elements, it's unlikely you will hear a better one delivered this year. A perfect beginning…
---
'Beginn'
is released by Cherry Red Records on 15th June 2018 in download, CD and limited edition double vinyl LP featuring two bonus FLEETWOOD MAC cover versions, pre-order direct from https://www.cherryred.co.uk/artist/brucken-froese/
http://www.claudiabrucken.co.uk
https://twitter.com/ClaudiaBrucken1
https://twitter.com/jeromefroese
---
Text by Paul Boddy
27th May 2018