Having delivered the decent second album that LITTLE BOOTS, LA ROUX, LADYHAWKE or HURTS never managed, can CHVRCHES' continue the upward momentum with their third album 'Love Is Dead'?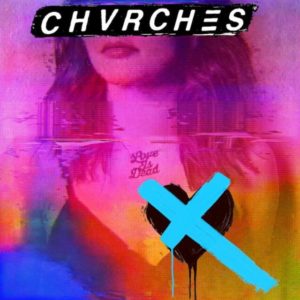 With the kaleidoscopic lead single 'Get Out' and its supreme singalong showcasing Lauren Mayberry, Iain Cook and Martin Doherty in full bouncy Taylor mode, nothing more than their most overt pop statement to date can be expected.
Produced mostly by Californian Greg Kurstin whose credits have included ELLIE GOULDING, SIA, LILY ALLEN, LITTLE BOOTS, LADYHAWKE, MARINA & THE DIAMONDS, KELLY CLARKSON, LANA DEL REY, KATY PERRY and TAYLOR SWIFT, he certainly makes his presence felt by co-writing nine of the thirteen tracks.
Its predecessor 'Every Open Eye' had already unveiled some more Trans-Atlantic leanings while Mayberry's relocation to New York is another factor to consider. 'Love Is Dead' certainly doesn't mess about, with hooklines that could snare a shark. But while this is certainly pop, the song titles suggest something much darker lyrically as 'My Enemy', a shadier downtempo duet featuring Matt Berninger of American stoner rockers THE NATIONAL confirms.
These weightier topics are further affirmed by another Taylor-esque number 'Never Say Die' which despite being driven along with big synth arpeggios, sees Mayberry confessing that "I'm falling in, I'm falling out". Then there's 'Miracle' steered by British producer Steve Mac (noted for his work with boy band THE WANTED) which is still embroiled in melancholy with Mayberry's emotive pleas despite the "woah-oh" chant chorus and big beats.
It starts off gloriously with 'Graffiti', a classic CHVRCHES tune that punches the sky with some rousing vocals from Mayberry, before the steadfast 'Deliverance' which tackles the hypocrisy of organised religion under a neon-lit sonic backdrop.
Upping the tempo, 'Forever' takes its leaf from the more Trans-Atlantic crossover tunes that figured on 'Every Open Eye'
with that Brat Pack film montage flash that sees Mayberry wondering "What else could I do?". The enjoyable 'Graves' is cut from a similar musical cloth, but given some Hooky bass grunt as Mayberry reflects on recent human tragedies both home and abroad.
On a similar lyrical gist, 'Heaven/Hell' asks further questions accompanied by more bass guitar alongside the synths for a much darker musical backdrop. The clouds loom heavy on 'Love Is Dead' from here as the gloomy indie house of 'God's Plan' sees Doherty take his usual album lead vocal; thankfully, it is better than either of his two offerings on CHVRCHES's debut album 'The Bones Of What You Believe'
which will be a relief to armchair fans of the band.
The minimalist arrangement on the wonderfully sad ballad 'Really Gone' would make Vince Clarke proud while closing the record, 'Wonderland' crosses some metronomic trance with midtempo AOR styled interludes.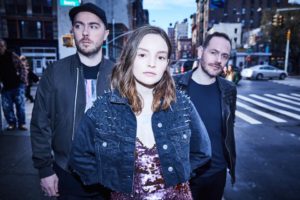 CHVRCHES have undoubtedly shed their innocence on 'Love Is Dead' and as the band themselves put it "coming to terms with the fact that there are great things in the world and there are awful things in the world and that you can't get one without the other". Darker but crucially still melodic, this is a good third album which is something else that HURTS and LITTLE BOOTS didn't manage either.
So kudos to Lauren Mayberry, Iain Cook and Martin Doherty for maintaining their standards and continuing to fly the flag for classic synthpop around the world. If you are attracted by the concept of Art School Taylor Swift, then you will love this.
---
'Love Is Dead'
is released by Virgin Records as a CD, clear vinyl LP and download
https://www.facebook.com/CHVRCHES
https://www.instagram.com/chvrches/
---
Text by Chi Ming Lai
25th May 2018, updated 25th June 2018