Steve Jansen has been very busy of late over the last 12 months with projects involving both music and photography.
In 2015, the one-time drummer of JAPAN published 'Through A Quiet Window', a book of his photos taken between 1978-1991 documenting his time with the band and touring with fellow sticksman Yukihiro Takahashi of YELLOW MAGIC ORCHESTRA.
Featuring band mates David Sylvian, Mick Karn, Richard Barbieri and Rob Dean, 'Through A Quiet Window' is must for JAPAN fans, capturing the band at work in the studio and relaxing in a variety of situations.
Interest in the book has led to exhibitions of Jansen's photos in Kyoto and Sydney, Nova Scotia with an ambient soundtrack recently prepared to accompany the installation at the latter location. That music will be released as a brand new album 'Corridor' with the floating 48 minute title composition appended by 'Recovery Room', an 8 minute instrumental fusing percussive electronica with classical elements.
Steve Jansen kindly chatted about the genesis of 'Corridor' and 'Through A Quiet Window' while also shedding light on the perception of JAPAN as a band at the height of their artistic success.
Your new album 'Corridor' is aesthetically paired with your previous release 'The Extinct Suite', but is maybe more minimal, especially the start?
Visually the artwork is aesthetically paired with 'The Extinct Suite' and sonically there are similarities but not so many.
The music of 'Corridor' is less structured since many of the tracks on 'The Extinct Suite' were instrumental versions of songs from 'Tender Extinction' and therefore have more form. 'Corridor' leans more towards ambient / minimalist music overall.
Like 'The Extinct Suite', 'Corridor' has been derived from some of your previous work, in this case 'STER_01' & 'STER_02' and connected with new music?
That's correct. STER ('Sounds That Emit Randomly') was a project folder title of mine containing various sound files that I ended up compiling into two pieces (01 & 02). Some sounds originated from my own piano playing at my home and others were more randomly sourced. It was my intention to create a series of tracks along these lines, however with the photo exhibition project materialising, I thought these pieces might work with new material as an installation piece.
There's a variety of ethnic acoustic textures that dominate the second third of the piece, how were those achieved?
These were recorded in Sweden on an instrument known as an Akkordzither that Charlie Storm had in his studio in Gothenburg. I played various takes and treated them in different ways to create the ethnic acoustic textures that you hear.
'Corridor' was specifically constructed for your 'Through A Quiet Window' exhibition at The Cape Breton University Art Gallery in Nova Scotia. Like Brian Eno's 'Discreet Music', it is designed for low volumes so recording wise, are you able to explain how is this different from music intended to be played loud in terms of production?
Due to most galleries being acoustically live environments with little or no sound insulation, there needs to be some consideration for the way in which bass frequencies will spin out of control and overly complex music will not perform well.
These concerns need to be considered during the compositional stage as well as the mixing stage.
Also due to the live acoustics of the room, the music would not be good at high volume as the audio will bounce around the walls creating unwanted echo that will end up as a wash of sound with no distinct content or detail. It's therefore best set at low level volume where the visitor might then experience subtle audio changes that enhance the experience of the room. Of course, it can still be listened to at any personally preferred volume.
The late Mick Karn makes a brief appearance about 30 minutes into 'Corridor'?
Yes, it was a sample I had of Mick testing his bass sound during an improvised recording. The album consists of simple bass elements such as occasional rumbles and sustained drones and this relates to your previous question.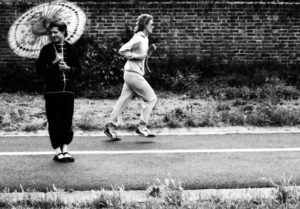 The 'Through A Quiet Window' photo book is a fabulous visual document of your time in JAPAN, and highlights your kinship with Mick in particular?
During that period Mick and I would often go on local excursions to take photographs for some purpose or other. It wasn't unusual for us to stay up all night as work often went through the night, so it became a way of life even when not in the studio.
The photograph of Mick with the Sleeping Buddha for example was taken along Kensington High Street at dawn when very few people were about, apart from the occasional jogger heading into Holland Park. David and I would also take time out to go do some photographs together, sometimes at the request of Japanese magazines such as Rock Show, otherwise simply to have some new images on file. More candid shots were taken during work and travel times and these are generally my favourite images.
The photos were mostly naturally lit, but also captured how photogenic the members of JAPAN were, even in more candid situations?
Being young does have its advantages and whoever said "the camera never lies" was lying. I think capturing natural light is the most important element in photography because it recalls the mood and ambience in the room and can actually enhance it somewhat too simply by the way that analog film reacts to light differently to our eye.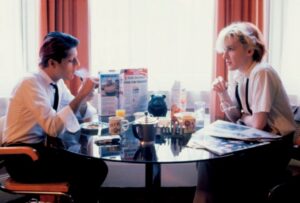 There's a great one of Mick and David having corn flakes and burnt toast in Stanhope Gardens; what type of memories and feelings were there when you were sorting through your photos from this period?
The memories are generally happy ones. The 70s was a peculiar decade with a lot of societal changes occurring and by the early 80s, we were in a more comfortable place where opportunities were opening up.
By some change of fortune, we'd become seen as being somewhat at the forefront of whatever youth movement our band was associated with. We pre-empted the 'New Romantic' scene which was a nightclub / fashion scene that emerged later, however the press were keen to throw JAPAN in that mix which we found irritating as 'New Romantic' sounded so lame. We were not culturally connecting with it at all, not musically nor aesthetically.
Ironically, our first hit 'Quiet Life' came at a time when we were in the process of finishing our final album 'Tin Drum', two albums after 'Quiet Life', so we were fairly out of sync with the music scene of the time, and this had always been the case since we first emerged around the time of punk, playing music that was anything but punk. So when I see images of the band, I can't help but think we were an anomaly but that this actually suited who we were and went on to define who we were to become artistically.
The photos of Yukihiro Takahashi are much more relaxed and are mostly in colour?
I have both, I think in the book there are also both. When we had the chance, Yukihiro and I would spend time together socially, going fishing (he loves fishing, I was there more for the experience) staying in the countryside, visiting Onsen (hot springs), finding nice places to eat etc so I have quite a few relaxed images of him.
How did you go about selecting the final photos for the book and subsequently the exhibition?
Selecting images for the book was a process of elimination.
I knew which images I wanted to include and then I had to reduce it down to the amount that would comfortably fit within the confines of the book format.
When it came to the exhibition in Kyoto, because it was located on the men's floor of the ISETAN store, I generally chose images that displayed how the band members styled themselves during those years, interspersed with various others to offer some variety. The images for the exhibitions in Canada were mostly selected by the curator for both galleries, Greg Davies.
You mentioned on your Sleepyard blog that Universal Music had acquired the catalogue of NINE HORSES, the trio comprising of yourself, David Sylvian and Burnt Friedman. What's possibly happening in terms of reissues, is there any released material still in the can?
There isn't any unreleased NINE HORSES material and to be honest, I'm not too sure what plans Universal have for it.
NINE HORSES was very much a band project, how did the working methods differ for you personally compared with for example, JAPAN and RAIN TREE CROW?
David and I worked as co-composers along with Burnt which meant that various tracks originated from different members, or from myself and David together.
This was never the case with the previous incarnations you've mentioned in your question.
On 'Wonderful World', you got to work with Swedish artist Stina Nordenstam?
Yes, Stina was an artist David really wanted to work with so he made the connection. The two of us flew from the US to Stockholm to record with her over two days and things went really well. After this visit, she and I made a connection that spanned over a few years, during which time she never failed to be an engaging and intense personality, both strong and opinionated yet vulnerable and fragile.
'Serotonin' is a favourite from 'Snow Borne Sorrow', how did that one come together in the studio?
'Serotonin' was Burnt's music upon which we built. During all of the NINE HORSES recording Burnt was never present with David and I, his parts were done by exchanging files virtually.
EXIT NORTH is an ongoing project of yours, how are things progressing there?
The EXIT NORTH album is complete except for one track which is proving somewhat troublesome. As soon as that's done, we will send the mixes off for mastering.
I very much enjoy working with Thomas, Charlie and Ulf. I totally respect them and what they've created with this work and I hope the feeling's mutual.
We realise it's been a long time in the making but we hope that this music, by way of its disassociation with contemporary genres, will stand the test of time as a collection of songs, therefore it's important to us that we get it right. And because this is a self-funded project and we are four persons each with our own lives and projects to support, this one is subsequently taking a little longer than it would otherwise.
---
ELECTRICITYCLUB.CO.UK gives its warmest thanks to Steve Jansen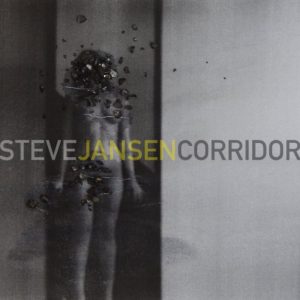 'Corridor' is available as a CD or download from https://stevejansen.bandcamp.com/album/corridor
The double vinyl LP edition twinned with 'The Extinct Suite' is released on 11th May 2020, pre-order direct from https://stevejansen.bandcamp.com/album/the-extinct-suite-corridor-lp-edition
The photo book 'Through A Quiet Window' is available from https://www.thefloodgallery.com/collections/steve-jansen
https://sleepyard.wordpress.com/
https://www.facebook.com/Steve-Jansen-Official-803014983085400/
https://twitter.com/istevejansen
---
Text and Interview by Chi Ming Lai
Photos by Steve Jansen except where credited
23rd May 2018, updated 28th March 2020