World music reissue label Wewantsounds release Akiko Yano's 1982 solo album 'Ai Ga Nakucha Ne' outside of Japan for the very first time. Co-produced by Ryuichi Sakamoto, the record was notable for featuring the talents of JAPAN band members Mick Karn, Steve Jansen and David Sylvian.
Fusing rock, jazz, avant pop and Japanese folk, Akiko Yano was a successful singer/songwriter in her homeland before touring the world as a keyboardist with YELLOW MAGIC ORCHESTRA. Her high pitched vocal style inevitably drew comparisons with Kate Bush but in 1981, her husband's connections led to a new approach.
With Ryuichi Sakamoto having already collaborated with David Sylvian on 'Taking Islands In Africa' from JAPAN's fourth album 'Gentlemen Take Polaroids', he and Yano travelled to the UK. With a strong Yen, recording facilities in London proved to be cheaper than in Tokyo and so it was at Air Studios that they teamed up with the Lewisham combo and their producer / engineer Steve Nye following the completion of 'Tin Drum'.
Translated as "there must be love", 'Ai Ga Nakucha Ne' states its case with the bilingual opening title track of the album, giving a platform for the JAPAN rhythm section both instrumentally and vocally, while not deviating from Akiko Yano's own distinctive style. The glistening textures of Sakamoto emanating from his beloved Prophet 5 also leave no doubt as to who is producing.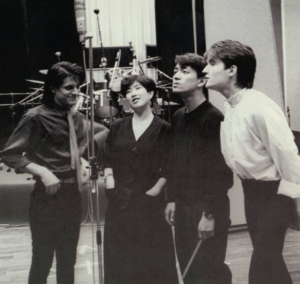 Although 'Kanashikute Yarikirenai' adopts a West Coast demeanour, particularly when complimented by JAPAN live guitarist David Rhodes' solo, it is all offset by Sakamoto's haunting synth tones. Continuing on a similar highway, 'What's Got In Your Eyes' has more that driving Californian feel to it and translates smoothly thanks to English lyrics provided partly by YMO collaborator Peter Barakan.
'Oishii Seikatsu' and 'Michi De Battari' come as appealing interludes, the former shaped by a marimba figure and the latter with traditionally Japanese textures although all approximated using electronics.
The best track on 'Ai Ga Nakucha Ne' is the vibrant and funky 'Onnatachiyo Otokotachiyo'; it sees Steve Jansen demonstrating why highly regarded session drummers like Gavin Harrison regard him as a key influence in the art of percussive painting without overplaying. Stabs of synthetic brass from Sakamoto, Yano's own piano work and Mick Karn's trademark fretless slides combine to make this a superb highlight.
The speedy 'Aisuru Hito Yo' is more four-to-the-floor despite the tribal congas from Motoya Hamaguchi, containing the spacey overtures that these days gets referred to as Citypop and laced with the jazzy cosmic surfin' of early YMO. But this is hardly surprising as the drums are helmed by Yukihiro Takahashi plus there is also much to enjoy with Sakamoto's technopop work here ranging from blips and rings to pulses and sirens to sweeps and growls.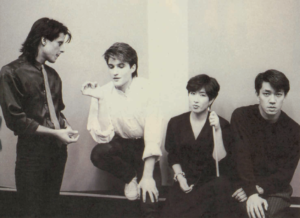 Written entirely in English by Yano, 'Sleep On My Baby' is a slice of quirky fusion pop with the distinctive backing vocals of Mick Karn.
But while Karn was perhaps less fluid trhough much of 'Ai Ga Nakucha Ne' than he had been with  his bass work as part of JAPAN on account Sakamoto directing the exact notes that were required, he provides a bit more of his fretless signature sound here if a bit more sedately and less up front.
The guitar driven 'Another Wedding Song' is more of a funk soul art piece rather than a conventional song but Haruomi Hosono joins the party on bass guitar with Takahashi for a YMO reunion on the jazzy pop of 'Donnatokimo Donnatokimo Donnatokimo' which evokes the magical sunsets of the Ryukyu Islands with its rootsy Japanese variation on steel guitar from Hiroki Komazawa.
The gorgeous piano lullaby 'Good Night', written by the unconnected classical musician Yuji Takahashi with words by Yano and Peter Barakan, saw the Japanese songstress duet with David Sylvian and its interplay will delight any fans of the JAPAN frontman or Sakamoto's film soundtracks. A fittingly perfect if very short closer, it was subsequently used on a domestic Seiko watches TV commercial.
A number of JAPAN and YELLOW MAGIC ORCHESTRA enthusiasts are likely to be hearing 'Ai Ga Nakucha Ne' for the first time as this sixth Akiko Yano solo album was only released in Japan and they will undoubtedly enjoy a number of the tracks due to their instrumental and vocal connections. While Akiko Yano's music didn't export in large numbers, she gained a cult following in Europe and her music broke down barriers.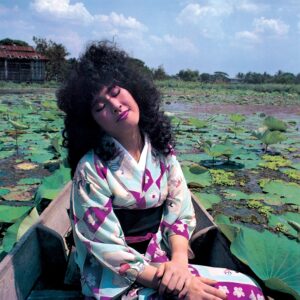 Today female Japanese singers are able to perform to packed theatres in London while the synthwave fraternity has adopted within its wider family, the Citypop that was pioneered by YELLOW MAGIC ORCHESTRA when she was part of their live presentation.
Always prolific and often releasing an album per year, as recently as 2018, she worked with American synth duo REED & CAROLINE on 'When We're In Space' for her collaborations collection 'Let's Go Together' while she has released three more long players since. It may have taken nearly 40 years but the vast catalogue of Akiko Yano is now able to be more widely appreciated.
---
'Ai Ga Nakucha Ne' is released by Wewantsounds on 8th October 2021 as a vinyl LP and CD, pre-order from https://wewantsounds.bandcamp.com/merch/akiko-yano-ai-ga-nakucha-ne-deluxe-black-vinyl-edition-with-24p-colour-booklet-and-gatefold-sleeve
https://www.facebook.com/akikoyano.official/
https://twitter.com/Yano_Akiko
https://www.instagram.com/akikoyano_staff/
---
Text by Chi Ming Lai
Colour photos by Bishin Jumonji, studio photos by Pennie Smith
18th September2021