Although their recorded output covered just over four years, JAPAN are one of the most acclaimed bands from the period many have called the New Romantic era.
DURAN DURAN undoubtedly owe a debt to JAPAN's arty aspirational poise, while bassist Mick Karn had a playing style that would later be replicated in the music of TALK TALK, ULTRAVOX, GARY NUMAN, CHINA CRISIS, NICK HEYWARD and PAUL YOUNG.
Meanwhile, enigmatic and moody front man David Sylvian was the ultimate pin-up for that flamboyant period, but subsequently developed a solo career with parallels to Scott Walker, proving that there was life after pretty boy pop stardom.
Hailing from Catford in South London, it all began as a three piece comprising of school friends David Batt and Andonis Michaelides plus Batt's younger brother Steve on drums. The older Batt had been wearing make up as a form of "passive confrontation" while Michaelides, who was similarly confrontational, played bassoon in the school orchestra before taking up bass guitar. They were to eventually change their names to the more aesthetically pleasing David Sylvian, Mick Karn and Steve Jansen.
Adopting the moniker JAPAN, after a number of gigs in 1975, they recruited keyboardist Richard Barbieri and Hackney based guitarist Rob Dean to the line-up.
Developing an aggressive funk laden glam rock sound with a straggly image not dissimilar to NEW YORK DOLLS, the band soon caught the attention of Simon Napier-Bell who had previously managed THE YARDBIRDS and JOHN'S CHILDREN featuring a pre-fame Marc Bolan. He saw Sylvian as "a cross between Mick Jagger and Brigitte Bardot" and offered him a solo management deal.
Sylvian declined, but convinced he had a major star on his hands, Napier-Bell signed the whole group. In 1977, Napier-Bell entered JAPAN in a talent contest held by Ariola Hansa, the German label that had steered BONEY M to great success. The winners were the band who would become THE CURE, but JAPAN were also offered a recording contract despite coming second.
The debut album 'Adolescent Sex' was released in April 1978 and while it achieved little impact in Britain, it was a surprise success with teenage girls in the country of Japan. UK critics were quick to accuse the band of cynically choosing their name purely to crack the Japanese market, but as Mick Karn pointed out to Smash Hits in Autumn 1981: "I can't imagine a Japanese band called ENGLAND doing very well over here!"
Despite the success in Japan, the band could make no headway either back home or the US. In fact, when the quintet did a New York record store signing session in November 1978, nobody turned up! This incident was later sent up in a scene for the spoof rockumentary 'This Is Spinal Tap'… a copy of 'Quiet Life' is in view behind Messrs St Hubbins, Tufnel and Smalls as if to make the point!
JAPAN's success in Japan led to the band's exposure to South East Asian culture and its fascination with modern technology.
This began to have an effect on the music and the band started to mellow, adopting the more mannered textures of ROXY MUSIC and electronic prowess of YELLOW MAGIC ORCHESTRA. This new direction led to the recording of 'Life In Tokyo' with Giorgio Moroder in April 1979.
Their look also changed with stylish suits, heavier make-up and shorter hair very much in evidence for an effeminate demeanour similar to the New Romantics who were now frequenting The Blitz Club. To exploit this unexpected fashion synchronicity, Simon Napier-Bell concocted a number of dubious stunts in the name of promotion. One was an announcement that Sylvian had been voted 'The World's Most Beautiful Man'… but it was a pretty one sided as the contest was the work of Napier-Bell and JAPAN's publicist Connie Filapello!
Following the release of their third album 'Quiet Life' in January 1980, JAPAN started to gain the respect of the serious Japanese music press who had previously turned its nose up at their teenybop audience. Ryuichi Sakamoto of YELLOW MAGIC ORCHESTRA met Sylvian during the subsequent tour, resulting in their first collaboration 'Taking Islands In Africa' on the next album 'Gentlemen Take Polaroids' and a long standing friendship.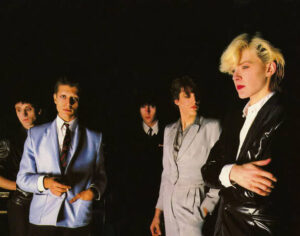 Richard Barbieri was also seriously getting into technology with the Roland System 700, ARP Omni, Oberheim OBX, Micromoog, Polymoog, Roland Jupiter 4 and Sequential Prophet 5 among the synths used on the album. But steadily, Sylvian was taking more control of proceedings, a stance that would ultimately make and break the band.
JAPAN decamped to Virgin Records and reached No60 in the UK singles charts with an edit of the 'Gentlemen Take Polaroids' title track.
This should have been considered promising, although much more was expected by their new label. The UK was still not yet totally ready for the suave melancholy muzak of David Sylvian and co. But momentum was building and one party that noticed was JAPAN's former label Ariola Hansa. In Autumn 1981, they cashed-in with the release of the 'Quiet Life' song as a single which reached No17 in the UK charts.
For JAPAN's fifth album in November 1981, the band took the influences of the Far East even further with the Chinese flavoured 'Tin Drum'. It was to be the band's biggest UK success, both commercially and critically.
But all was not well within the band. Rob Dean had already left prior to the recording of 'Tin Drum', while frustrations about publishing and personal differences came to a head when Karn's girlfriend, photographer Yuka Fujii moved in with Sylvian on the eve of their UK tour. Tensions boiled over and led to the various individual band members undertaking their own projects in 1982 while JAPAN was put on hiatus.
Despite this, JAPAN became chart regulars in 1982, notching up a further six Top40 singles including a surprise Top5 hit in 'Ghosts'. As a result, a world tour was pencilled in for the end of the year. Although the majority of the shows were sell-outs, the band called it a day with a final performance in Nagoya, Japan on 16th December 1982.
Sylvian and Karn continued their solo careers as well as collaborating with Ryuichi Sakamoto and Midge Ure respectively. Meanwhile Jansen and Barbieri worked with both their former bandmates, and together as THE DOLPHIN BROTHERS.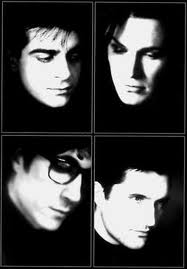 By 1987, relations had thawed enough between Sylvian and Karn for them to record two tracks together for the latter's second solo album 'Dreams Of Reason Produce Monsters'. So in 1989 with wounds largely healed, the quartet gathered together at Studio Miraval in France for what many considered to be a JAPAN reunion in all but name.
Under the Sylvian inspired Native American moniker RAIN TREE CROW, the idea had been to compose and record as a group through improvisation, as opposed Sylvian being sole songwriter and studio dictator which had previously been the case during the JAPAN days. However, Sylvian's stubborn imposing character led to a return to old ways and a major falling out with his band mates.
Jansen, Barbieri and Karn formed a new project JBK and in 1993, founded Medium Productions as a platform to release their work free from label interference. But the quartet that comprised JAPAN would never work together again and with Mick Karn's sad passing in January 2011, never will.
One of the reasons JAPAN are perhaps still held in high regard is partly due to their artistic legacy not being exploited on the nostalgia circuit.
Even when performing live in their various incarnations, JAPAN material has been notable by its absence, other than JBK's occasional renditions of the B-side 'Life Without Buildings' and Sylvian's neo-acoustic airings of 'The Other Side Of Life', 'Nightporter' and 'Ghosts'.
With so much material recorded, what tracks would act as a beginner's guide to JAPAN and its many offshoots? After much deliberation and leaving out the collaborations with Midge Ure and members of YELLOW MAGIC ORCHESTRA which have been documented on ELECTRICITYCLUB.CO.UK, here are our twenty choices, with a restriction of one track per album or EP, to tell a rather complex story…
Dedicated to the memory of MICK KARN 1958-2011
---
JAPAN Communist China (1978)
Unusually for a new British band, JAPAN achieved major success in Japan. Playing to packed houses of screaming teenage girls at big venues such as Tokyo's Budokan, back in Britain they could barely fill pubs and were pelted with missiles while supporting BLUE OYSTER CULT at Hammersmith Odeon. 'Communist China' can now be considered a pivotal track in hindsight, not only because of the eventual title subject inspiring most of 'Tin Drum' but Sylvian's impending croon appears for the first time.
But quite what "pumping, pumping and resisting – inserting love into you" has to do with Chairman Mao's regime is anyone's guess!
Available on the JAPAN album 'Assemblage'
via Sony BMG Music
---
JAPAN Life In Tokyo (1979)
The band briefly worked with Giorgio Moroder, who co-wrote and produced a one-off single 'Life in Tokyo'. The bridge between growly funk-rock JAPAN and the more familiar, mannered and artier version of the group, David Sylvian had originally submitted 'European Son' for the session in Los Angeles, but it was rejected by Moroder. Instead, the Italian offered several of his demos, of which Sylvian picked the one he considered to be the worst so that he could stamp more of his own vision.
With JAPAN's developing synthesized sound, it was a significant change in musical style that was to set the tone for the band's future direction.
Available on the JAPAN album 'The Very Best Of'
via Virgin Records
http://www.giorgiomoroder.com/
---
JAPAN Halloween (1980)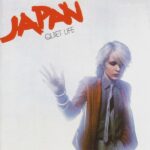 By their third album 'Quiet Life', the electronically assisted template showcased on 'Life In Tokyo' was in full swing, with David Sylvian's taking on a more Ferry-ish baritone style of singing and Mick Karn's distinctively fluid fretless bass pushed right up to the front. The sound of the fretless would soon become ubiquitous in the mainstream. Despite Rob Dean's guitar becoming more textural thanks to some E-bowed embellishments, the band could still snarl with some aggressive tension.
'Halloween' was an eerie uptempo tune about the rise of East European communism following the end of the Second World War.
Available on the JAPAN album 'Quiet Life'
via Sony BMG Music
https://www.facebook.com/pages/Japan/46554936008
---
JAPAN Obscure Alternatives – Live In Japan (1980)
While 'Quiet Life' was met with apathy back home, the album was to become JAPAN's biggest album yet in The Land of the Rising Sun. With this success came even bigger shows. To document the tour, a live EP was recorded in Tokyo featuring three songs that originally came from the second album 'Obscure Alternatives'. These featured completely new arrangements using Sylvian's revised singing style plus the addition of guest musician Jane Shorter on saxophone.
With Steve Jansen's intricate and colourful percussion work over a reggae inflicted backbone, the song 'Obscure Alternatives' attained a moodier gravitas while the climax was enhanced by a blasting sax break in the manner of PINK FLOYD's 'Money'.
Available on the JAPAN album 'Obscure Alternatives'
via Sony BMG Music
https://www.facebook.com/lifeintokyo
---
JAPAN Nightporter (1980)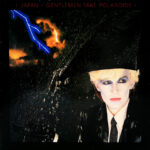 The 'Gentlemen Take Polaroids' sessions were particularly fraught with Sylvian getting increasingly confident and fighting with producer John Punter. By now, he was also writing on keyboards instead of guitar. This led to the exclusion of some band members from the recording process, particularly Rob Dean who ended up playing on just four tracks. But Sylvian was aiming for a sparser sound and this was achieved with the mournful Erik Satie influenced 'Nightporter'.
Featuring just Sylvian and Barbieri with session musicians Barry Guy on string bass and Andrew Cauthery on oboe, it was to prove to be a pivotal track. But the quintet were falling apart and the first to leave was Rob Dean.
Available on the JAPAN album 'Gentlemen Take Polaroids'
via Virgin Records
---
JAPAN Cantonese Boy (1981)
JAPAN's slimmed down four piece line-up was reflected on 'Tin Drum'. There was hardly any guitar while the synths used were restricted to an Oberheim OBX and Prophet 5. While Mick Karn was becoming slightly more isolated having not played on 'Ghosts', he still provided some memorable bass runs. The lyrical themes flirted with Chinese Communism as Brian Eno had done on 'Taking Tiger Mountain (By Strategy)', with Sylvian appearing to be taking inspiration from the Little Red Book of Chairman Mao.
Produced by Steve Nye, the acoustic sounding synth derived overtones of 'Tin Drum' were a masterclass in keyboard programming, as exemplified by 'Cantonese Boy'.
Available on the JAPAN album 'Tin Drum'
via Virgin Records
https://www.kickstarter.com/projects/748586006/japan-a-foreign-place-the-biography
---
MICK KARN The Sound Of Waves (1982)
When the individual members of JAPAN started undertaking solo projects, first blood went to Mick Karn. However, his debut solo single was a disappointment. Produced by Ricky Wilde, 'Sensitive' was a bass heavy cover of Brazilian singer and composer Roberto Carlos' 'La Distancia', but with new English lyrics. Reactions were muted, but much better was the atmospherically textural B-side 'The Sound Of Waves', a marvellously cinematic instrumental.
Showing off the unique melodic prowess of Karn's fretless work, he could have gone on to have a lucrative career as a session musician. But he chose not to, leaving that opportunity as an open goal for a certain Pino Palladino.
Available on the MICK KARN album 'Titles'
via Virgin Records
---
DALIS CAR The Judgement Is The Mirror (1984)
With goth rockers BAUHAUS now having split, their charismatic vocalist Peter Murphy was in need of a new musical partner. He found a willing conspirator in Mick Karn. Named after a CAPTAIN BEEFHEART song on 'Trout Mask Replica', the pair set about recording a seven track album by sending tapes back and forth to each other while communicating via answerphone! Other than the rhythms constructed by Peter Vincent Lawford, Murphy and Karn each worked alone.
'The Judgement Is The Mirror' certainly showcased the artier pretences that DALIS CAR aspired to, although the reaction to this unique Middle Eastern flavoured aural sculpture from critics and fans was somewhat mixed.
Available on the DALIS CAR album 'The Waking Hour'
via Beggars Banquet Records
---
DAVID SYLVIAN Weathered Wall (1984)
Following the disbandment of JAPAN, Sylvian's style became even more esoteric and while his JAPAN days saw him aping Bryan Ferry, musically he was now leaning more towards that other key ROXY MUSIC member Brian Eno. This came to its zenith with 'Weathered Wall', a track which took its lead from 'Fourth World Vol 1: Possible Musics', Eno's collaboration with the avant garde trumpeter Jon Hassell. For added authenticity, Sylvian even recruited the American into the collaborative process.
The haunting track also featured Steve Jansen, Richard Barbieri, Ryuichi Sakamoto and the abstract dictaphone of CAN's Holger Czukay.
Available on the DAVID SYLVIAN album 'Brilliant Trees'
via Virgin Records
---
MICK KARN featuring DAVID SYLVIAN Buoy (1987)
There were signs that Sylvian and Karn were beginning to move towards a reconciliation when all four former JAPAN members were photographed together at the reception of Sylvian's 'Perspectives' polaroid montage exhibition in 1984. Recorded for Karn's second album 'Dreams Of Reason Produce Monsters', 'Buoy' was his and Sylvian's second joint composition after 'Sons Of Pioneers' from 'Tin Drum'. The album featured another Sylvian lead vocal on 'When Love Walks In'.
With both tracks also featuring Steve Jansen, it fuelled excitement that JAPAN might finally reform… close but no cigar!
Available on the MICK KARN album 'Dreams Of Reason Produce Monsters'
via Virgin Records
http://www.lulu.com/shop/mick-karn/japan-and-self-existence/paperback/product-5538416.html
---
DAVID SYLVIAN Pop Song (1989)
Sylvian's 1987 opus 'Secrets Of The Beehive' featuring Ryuichi Sakamoto had a much more acoustic flavour and much to Virgin's disdain, the album had failed to yield any hits. So the label started putting pressure on him to write a pop song. True to Sylvian's belligerent manner, he responded by writing a very unorthodox, atonal electronic number with influences drawn from maverick composer John Cage. "Each weekend beckoned like Ulysses's sirens" he pondered…
With noted jazz pianist John Taylor and Steve Jansen's hesitant offbeat rhythms also thrown in the avant mix, 'Pop Song' wasn't perhaps quite what Virgin had been hoping for!
Available on the DAVID SYLVIAN album 'A Victim of Stars 1982-2012'
via Virgin Records
http://www.sylvianbiography.com/
---
DAVID SYLVIAN & HOLGER CZUKAY Flux (1989)
David Sylvian expanded his partnership with Holger Czukay, which had first started on 'Brilliant Trees' and continued on the 'Words With The Shaman' EP, with two ethereal ambient long players 'Plight & Premonition' and 'Flux & Mutability'. Recorded at CAN's 220 square metre Inner Space Studio near Cologne, Czukay introduced Sylvian to a variety of expansive loop and pre-recorded radio techniques that could be used in more freeform improvisation.
From the second of their album collaborations, the 17 minute 'Flux' notably featured Jaki Liebezeit providing a subtle percussive template and Michael Karoli sound painting with his guitar. The track also featured Markus Stockhausen, son of the electronic pioneer Karl-Heinz on flugelhorn.
Available on the DAVID SYLVIAN & HOLGER CZUKAY album 'Plight & Premonition / Flux & Mutability'
via Grönland Records
---
RAIN TREE CROW Blackwater (1991)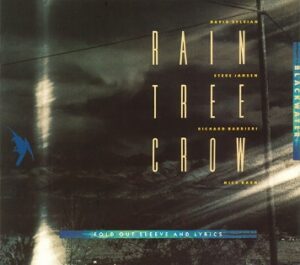 Largely perceived to be a JAPAN reformation, the RAIN TREE CROW project was supported by a huge budget from Virgin Records, but it was exceeded. So Virgin gave the quartet an ultimatum where no more money would be forthcoming unless the project was presented under the name of JAPAN. Karn, Jansen and Barbieri agreed but Sylvian refused. Sylvian then walked off with the tapes to mix the album under his own finance and supervision, without any of his bandmates present!
A rift ensued and the result was a disappointing collection of progressive avant jazz and self-indulgent ethnic instrumental pieces. Only the magnificent single 'Blackwater' bore any kind of relation to JAPAN's brilliant legacy.
Available on the RAIN TREE CROW album 'Rain Tree Crow'
via Virgin Records
---
DAVID SYLVIAN & ROBERT FRIPP Darshan (1993)
Having worked successfully together on Sylvian's second solo album 'Gone To Earth', a further collaboration between Sylvian and the former KING CRIMSON guitarist was always in the offing. With Trey Gunn as silent partner on Chapman Stick, the trio procured a set of grooves which allowed Fripp free to experiment with his distinctive Frippertronics while Sylvian added his thoughtful lyricism. 'Darshan' was a funk laden rock out that never became boring despite its 17 minute length.
Driven by an incessant drum loop, it was a trip "kneeling on the road to Graceland". Indeed, when the atmospheric synths made their presence felt, it sounded rather like THE STONE ROSES jamming over 'Ghosts'!
Available on the DAVID SYLVIAN & ROBERT FRIPP album 'The First Day'
via Virgin Records
---
STEVE JANSEN & RICHARD BARBIERI Sleepers Awake – Live at The Milky Way (1997)
Already a fabulously progressive instrumental from the 'Stone To Flesh' album, this mightily spirited live rendition of 'Sleepers Awake' was recorded at Amsterdam's Melkweg in November 1996 for Dutch Magazine OOR's 25th anniversary celebrations.
Bolstered by the appearance of Mick Karn and guitarist Steven Wilson who Barbieri had been working with since 1993 in PORCUPINE TREE, the concert was never intended for release. But Jansen and Barbieri found that the direct-to-desk recording possessed a special quality that brought the tracks to life. So it was released by Medium Productions as a limited edition of 500 cassettes entitled 'Live At The Milky Way'. In 2015, the recording was reissued under the title of 'Lumen'.
Available on the STEVE JANSEN & RICHARD BARBIERI EP 'Lumen'
via KScope
http://www.richardbarbieri.net/
---
DAVID SYLVIAN & JAPAN Some Kind Of Fool (2000)
Although there have been demos recorded for Ariola Hansa like the hilarious 'Body Rhythm' from 1977 and the cheerful 'Can't Get Enough' from 1979, very little unreleased JAPAN material has remained in the Virgin vaults. But one song was the lengthy orchestral laden ballad 'Some Kind Of Fool'. Intended for inclusion on 'Gentlemen Take Polaroids', it was replaced by 'Burning Bridges'. 'Some Kind Of Fool' was then scheduled for release as a single in 1982, but was pulled for a Steve Nye remix of 'Nightporter'.
However, for his 2000 career retrospective 'Everything & Nothing', Sylvian decided to include this lost JAPAN number. But ever the tinkerer, he re-recorded the vocals with his wife Ingrid Chavez and added several overdubs. Always the bridesmaid and never the bride, the original JAPAN version has yet to see the light of day.
Available on the DAVID SYLVIAN album 'Everything & Nothing'
via Virgin Records
https://www.facebook.com/DavidSylvianOfficial
---
DAVID SYLVIAN A Fire In The Forest (2003)
Sylvian's long relationship with Virgin came to an end in 2003, prompting him to launch his own label Samadhisound. Uncompromising from the start, his first independently released solo album was 'Blemish'. Exploring a more unconventional style of composition with free jazz guitarist Derek Bailey and ambient exponent Christian Fennesz, the album was built around simple six string improvisations. Intensely minimal, the album documented the end of his relationship with Ingrid Chavez.
It was a challenging listen. However, possibly the most accessible track on the album was the emotive closer 'A Fire In The Forest' with its haunting electronica backbone constructed by Fennesz.
Available on the DAVID SYLVIAN album 'Blemish'
via Samadhisound
---
NINE HORSES Serotonin (2005)
NINE HORSES were an electronic ensemble featuring Sylvian, Jansen and German producer Burnt Friedman. The project was fundamentally more immediate and less stripped down than 'Blemish', with programmed beats and livelier tempos also part of the equation. The resulting 'Snow Borne Sorrow' album also included Norwegian trumpeter Arve Henriksen, Swedish vocalist Stina Nordenstam and the always dependable Ryuichi Sakamoto on piano.
The excellent 'Serotonin' featured the clarinet of Hayden Chisholm over Jansen's jazzy, almost danceable groove in unison with Friedman's spacey electronics and Daniel Schroeter's subtle bass runs.
Available on the NINE HORSES album 'Snow Borne Sorrow'
via Samadhisound
---
STEVE JANSEN Featuring DAVID SYLVIAN Playground Martyrs (2007)
Steve Jansen's first solo album 'Slope', with its fabulous artwork using cardboard music instruments constructed by Dan McPharlin, explored various electronic soundscapes held together using "unrelated sounds, music samples, rhythms and events". Despite Jansen already having proved himself as a competent singer in THE DOLPHIN BROTHERS and JBK, 'Slope' was noted for including a number of guest vocalists including Joan Wasser and Anja Garbarek.
Originally issued on Sylvian's Samadhisound, Jansen's older brother also lent his voice to the sparse, piano laden beauty of 'Playground Martyrs'.
Available on the STEVE JANSEN album 'Slope'
via https://stevejansen.bandcamp.com/album/slope
---
DALIS CAR If You Go Away (2012)
In August 2010, Peter Murphy announced he and Karn were working on the second DALIS CAR album. However, the project was cut short when Karn was diagnosed with cancer. He sadly passed away on 4th January 2011. To commemorate what would have been Karn's 53rd birthday on 24th July 2011, 'Artemis Rise' was posthumously issued as a download. A rework of the instrumental 'Artemis' from 'The Waking Hour', it featured added vocals from Murphy and drums by Steve Jansen.
The four tracks that had already been recorded were later mixed by Jansen and released as an EP entitled 'InGladAloneness'. Closing it was the poignant, sad cover of Jacques Brel's 'Ne Me Quitte Pas'. It was a fitting, solemn farewell to Karn.
Available on the DALIS CAR EP 'InGladAloneness'
via KScope
http://www.theguardian.com/music/2011/jan/05/mick-karn-obituary
---
Text by Chi Ming Lai
8th July 2015, updated 1st November 2018