ROB DEAN is best known as a member of the classic quintet line-up of JAPAN with David Sylvian, Mick Karn, Steve Jansen and Richard Barbieri which acted as the blueprint for DURAN DURAN.
Hackney-born Dean had been recruited by the four Catford boys via an advert in Melody Maker. Although he had already left the band by the time of their wider breakthrough in Autumn 1981, his six-string made a prominent contribution to some of the band's best known singles like 'Life In Tokyo', 'Quiet Life' and 'I Second That Emotion'. Dean was one of the first exponents of the EBow, a battery-powered hand-held monophonic electronic device which produced a powerful infinite sustain that was rich in harmonics.
It therefore allowed for a variety of sounds on a guitar not playable using traditional strumming or picking techniques; other users of the EBow included Bill Nelson, The Edge, Stuart Adamson, Paul Reynolds and Wayne Hussey.
Featuring on four of JAPAN's five studio albums, Dean had found himself marginalised by David Sylvian's artistic pursuit of a more minimalist keyboard based sound during the recording sessions for his final record with them, 'Gentlemen Take Polaroids'
, resulting in him appearing on just four tracks.
After JAPAN, Dean worked with GARY NUMAN, SINÉAD O'CONNOR and ABC while he was also formed the Australian connected bands ILLUSTRATED MAN and THE SLOW CLUB.
Now resident in Costa Rica, the guitarist kindly chatted at length about his time in JAPAN and his return to music with a brand new project LIGHT OF DAY…
Much had been made of your resemblance to Sylvain Sylvain, had you actually been a NEW YORK DOLLS fan?
The simple answer is no. I remember seeing them on 'The Old Grey Whistle Test' and thinking how they were fun to watch and decidedly trashy, but it didn't make me want to rush out and buy their album or go and see them live. The truth is my hair (in those days at least!) was naturally very curly and so when I grew it long, which was ultimately a pre-requisite for being part of JAPAN really, obviously it had a Bolan / Sylvain look. The make-up obviously helped promote this further.
As time went on, I appreciated them a bit more. I remember I was once at Max's Kansas City in NYC chatting with the club's co-owner and the subject of Sylvain came up. She said he was usually around somewhere.
I thought no more about it and as I was outside the club about to leave, she emerged dragging a very drunk individual by his jacket sleeve. It was Sylvain Sylvain – she wanted so desperately for him to meet me. I'm guessing he didn't remember our encounter!
How comfortable were you with the early look of JAPAN and being in the public eye with it?
I was fine with it. JAPAN were my first band really and therefore it was easy to get caught up in the whole image thing (we had a record deal! we played gigs!). Where I was least happy was traveling on a bus or the tube to a rehearsal or business meeting where I became (understandably) self-conscious about it. It was ok for the others, they all lived close to each other and travelled together all the time, usually in Rich's small car, but I lived on the other side of London and so it was a bit more awkward.
When JAPAN scored their initial success in Japan with the 'Adolescent Sex' album and went from playing pubs in Britain to the Budokan in Tokyo, how did you find having to deal with screaming girls at your shows?
You can't really explain the buzz of that initial reception getting off that plane in Tokyo for the first time and being greeted by a mob of screaming fans. Leaving the hotel discreetly by back exits, bodyguards accompanying you everywhere on shopping excursions…
It was nuts really, decidedly unreal. The first night we were invited by our promoter Mr Udo to see Linda Ronstadt at the Budokan. No sooner had we entered the vast auditorium, Ms Ronstadt and band already in full swing, than by our presence alone we unwittingly had caused a mini-riot and were forced to leave in order for the concert to continue.
As far as our own shows went, although somewhat otherworldly to be exchanging a couple of hundred people at the Marquee club for two 10,000 seat sold out shows at the Budokan, it never really felt that it was anything but deserved. By the end of the first tour we had become quite blasé about the whole experience. It was a huge confidence builder though.
Is it true that wrestler Kendo Nagasaki was involved in some rather bizarre UK promotion of that album?
Yes, he was hired to promote the first album, delivering it by hand to all the disc jockeys and record promoters in his full wrestler's regalia. All that sort of guff was entirely out of our hands as was the poster campaign and the promotional phallic cardboard sword with a huge erect penis on the reverse!
What were the pros and cons of having someone like Simon Napier-Bell as a manager?
The pros? I'm not sure in hindsight. He was clearly an old school manager with all the baggage that that comes with. Initially I think we felt that having a manager with such a reputation could only be a good thing and we were so green then that we just rode along with it all and trusted that he had our own interests at heart.
The blatant Far Eastern connotations, all of that was out of our control really. We trusted that it was what needed to be done to get us noticed and recognised. Which we certainly were but perhaps initially not in the way we had hoped.
All of the press hated any act being thrust down their throats and so having our painted faces and lewd posters plastered all over London unquestionably did more harm than good, particularly in the punk era!
I don't think for one moment we were embarrassed by it however, not then anyway. The T-shirts with the band name spelled out with people and animals f***ing did take it a bit too far though…
The other thing that has lingered with me and possibly now I feel more regrettable than the rest was the blatant lies, the fabrications about the band that placed us in a position that was virtually impossible to get out of.
The 'Most Beautiful Man in the World' tag on David Sylvian which had no founding in reality and was created purely to put us on the pages of The Sun newspaper for example; something to be proud of? No, I don't think so. For a few years that promotion machine was in fabrication overdrive and ultimately it comes down to one person, Simon Napier-Bell…
JAPAN's first major tour was opening for BLUE OYSTER CULT in 1978, do you have any amusing memories of it, as the audiences were said to be quite hostile?
We had supported on a smaller yet no less incongruous Uni tour before that with Jim Capaldi's band which included Alan Spenner and Neil Hubbard whose work as sidemen we would come to admire later on, not to mention the Kokomo singers, who appear on the recorded version of 'European Son'.
As to BOC, it was our first time playing on the larger theatrical stages and our largest audiences so far, so we certainly looked forward to that. Although we weren't playing to anything close to our own audiences, the only time they got really hostile and vocal was when we played the song 'Suburban Berlin'.
As the tour continued, David encouraged us to lengthen the instrumental section and bring it down almost to a whisper, (which was the crowd's opportunity to loudly voice their displeasure with us, the longer the better, which they indeed did do), before the song exploded into a huge round of final refrains.
On the last night of the tour, the road crew used that hushed silence and the explosive end to unleash all of the pyrotechnics and fireworks that they had remaining from the tour. All at once! Consequently we were all completely covered in ash, not to mention virtually deaf from the explosives. The other thing I remember was getting in the hotel lift with Buck Dharma for the first time and realizing that the lead guitarist of BOC was essentially a midget. Fond memories…
'The Tenant' instrumental that closed the 'Obscure Alternatives' album was a pivotal point in JAPAN changing their sound and saw you using an EBow for possibly the first time?
No it wasn't an EBow; I don't think they were actually available or that I was even aware of their existence at that point. But I did want a very Fripp-like thick sustained sound. We had been listening particularly to the 'Heroes' album then and so he was a strong and obvious influence on my playing moving forward.
What was it like to record 'Life In Tokyo' with Giorgio Moroder in Los Angeles as it was a radical new direction for JAPAN at the time?
We were all fans of the 'Midnight Express'
film and soundtrack, which had just won Giorgio Moroder an Oscar, so the notion of flying to LA to record with him was an exciting one. I personally also really liked the work he had been doing with Donna Summer too. Combined with the heavy presence of KRAFTWERK and YMO in our album collections, it felt like the next logical step and we were banking on it causing us to break through in the pop market, which if we were to stay with our current record company, Hansa we would need to do.
So we flew over for about 5 days staying at the Beverly Hilton, no less. The song started life as an idea on a cassette that Giorgio had thought of using for the Jodie Foster movie 'Foxes', which David had fashioned quickly into a song.
In the studio, Giorgio had a drumkit set-up with 'his' sound and in fact it was a very controlled recording environment, leaving little to error.
For his trademark sequencer sound, he brought in Harold Faltermeyer who at the time was his keyboard programmer. Harold laid down the part by playing it manually with a slap delay of equal volume which I think surprised us all, as we presumed it would be an actual sequencer but that human element was actually at the core of Giorgio's sound. He also had his trio of backing singers who had appeared on all the Donna Summer hits, amongst others.
The sessions went so quickly that all, or at least most of the instrumental parts were finished in a single day. The next day was left for final vocal and mixing. It was enjoyable, but there was no mistaking who was in control and the efficiency on display made it feel more like a demo session really.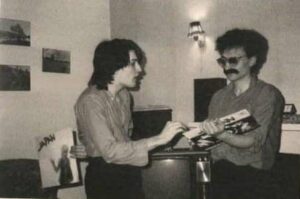 Had the single been a hit, then I suppose it could have been possible that Giorgio would have been asked to produce the album. Had that been the case, 'Quiet Life'
would have been a very different beast.
'Quiet Life' saw you moving from a recognisable and traditional lead style into something more textural, had there been any particular guitarists who influenced you?
Although there had been plenty of solos in my work in the past, I always felt that my playing was at its best when it was servicing the song rather than sticking out, in a similar way to that of most of George Harrison's work in THE BEATLES.
At that time due to his remarkably distinctive work with DAVID BOWIE, PETER GABRIEL, DARYL HALL and BLONDIE amongst others, Fripp was my biggest influence and possibly remains so even now. I was also influenced by Phil Manzanera, Carlos Alomar, Earl Slick, Ricky Gardiner and John McGeoch during that album.
Despite the fraught tensions during the 'Gentlemen Take Polaroids' album sessions, 'Swing' and 'Methods Of Dance' were exemplary examples of JAPAN firing on all cylinders, can you remember much about recording those two tracks?
Both of those tracks were pretty much finalised in rehearsals leading up to the album sessions at The Townhouse and AIR. So my contributions to both tracks in the studio were executed quite swiftly and efficiently with little fuss or struggle. The most effective songs in JAPAN's repertoire were generally executed this way. There was one song, 'Angel In Furs' which we had rehearsed to a similarly honed degree but which when we entered the studio suddenly seemed too obvious and simplistic when compared to the rest, and so it fell by the wayside very early on.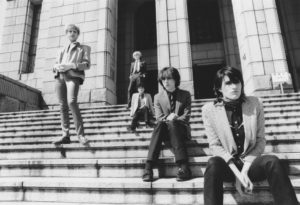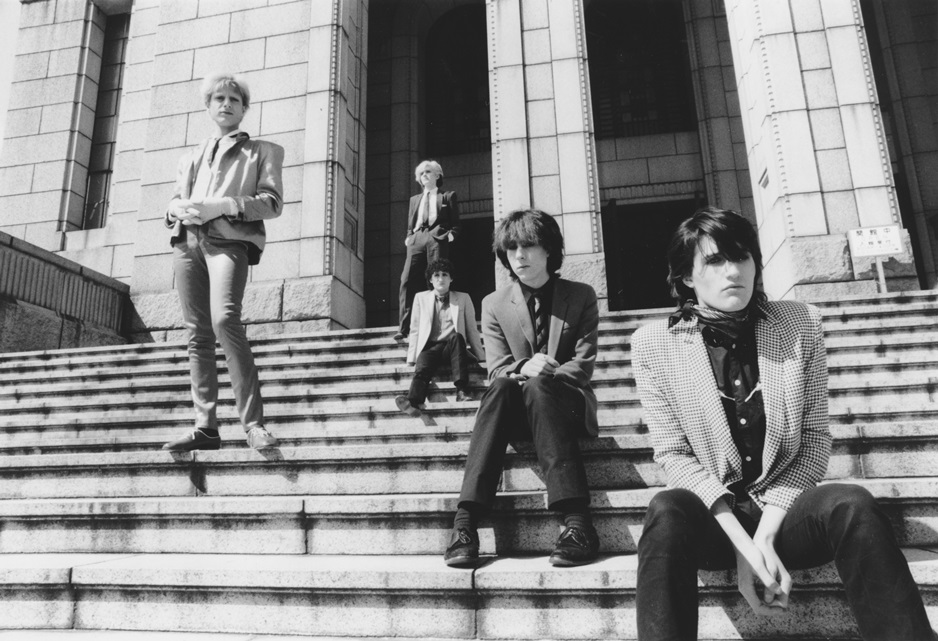 'Some Kind Of Fool' is the great lost JAPAN track and was replaced on the 'Gentlemen Take Polaroids' album with 'Burning Bridges'. What were your memories about the song and its non-appearance on the album?
Unquestionably, it is a beautiful song. I struggled to find parts for it that didn't intrude on its simple flow but eventually found parts that I was happy with.
After that, Ann O'Dell's strings were added and it was at that point that David decided not to pursue recording it further, the main reason being I believe, that with the strings, it began to resemble 'The Other Side Of Life' too closely arrangement-wise which actually I can see was a very valid point.
I think in David's head he was very conscious of the possibility of 'Polaroids' becoming 'Quiet Life Part II' which none of us wanted, although recording the majority of it at AIR and having the familiar figure of John Punter in the producer's chair didn't help.
In some ways, we wanted that easy relaxed camaraderie but that time had passed. Ironically the JAPAN version with a couple of embellishments and a re-recorded vocal eventually found its way onto the Sylvian compilation 'Everything & Nothing'
but under his name alone, rather unfairly. Surprisingly, the guitar parts which I struggled over remain intact too. Anyone listening to this is essentially listening to an updated version of the original JAPAN band version.
You wrote the JAPAN B-side 'The Width Of A Room' but perhaps surprisingly, it was recorded using keyboards rather than guitar, was this more filmic direction something you would have liked to take further had there been an opportunity?
I was always the film buff in the band. Days off would invariably find me in one art house cinema in London or another. On our first Japan trip myself and Pip, the lighting director sneaked off for a screening of 'Raging Bull' which was not due to be released in the UK for several months.
During the recording of 'Polaroids', I would slip away for a couple of hours to catch a new film on many occasions. For the release of the two-pack single of 'Polaroids', it was suggested that we all come up with a suitable instrumental track as a B-side.
I wrote 'The Width Of A Room' on an acoustic guitar in an open tuning. When it came to the recorded version however, I was the one who was most adamant that it be exclusively a keyboard piece, even though I was encouraged to add some guitar.
I think I wanted it to fit in, rather than someone to say, "Oh that must be the guitarist's track". Later when I lived in LA, I did work on a film score with a friend. The movie was some dreadful Charlie Sheen B-movie whose name I have conveniently forgotten and I learned quite quickly that writing music to express emotions that I wasn't feeling was not something I could really enjoy doing.
It's pretty well documented that you left JAPAN due to the feeling that your guitar work was being sidelined, do you feel some kind of kinship with Andy Taylor from DURAN DURAN in this respect in terms of a band evolving and not quite fitting in?
As time went on, I was finding it harder and harder to come up with guitar parts that I could be satisfied with on the new material. The track 'European Son' for instance, never featured a guitar part because I was never satisfied with anything I tried, although ironically just before my tenure with the band expired, I found a live option I was content with!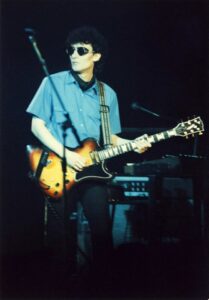 But it wasn't only my own dissatisfaction. By the time of 'Polaroids', I felt that myself and David just weren't on the same wavelength. Not sure we ever were to be honest, but it was more exposed by then.
Then there was talk of the band moving to Japan to live for a spell which I was not excited about. The rest of them had each other and very few others could penetrate this circle.
I on the other hand had the group of friends who I grew up with and still enjoyed seeing when I could. I wasn't even sure that I wanted to live in such close proximity with these four other people at the exclusion of everyone else either. So the split was on the cards and inevitable.
Having left JAPAN in 1981 was it still difficult to still be playing on 'The Art Of Parties' Spring tour which saw the band make the breakthrough into theatres?
Not at all. I enjoyed playing the songs as much as I ever had, and my relationship with Mick, Rich and Steve was as good as ever, in fact in some ways it might have felt even more relaxed because there was less pressure on me. The only thing I wasn't happy with was the way David suddenly treated me like a side man. But that was David for you, if you weren't of any use to him any more then you basically didn't exist. I don't doubt there have been plenty with a similar experience over the years.
Around this period, you contributed EBowed guitar to the Numan track 'Boys Like Me' from 'Dance' which also featured Mick Karn, was that an improvised jam on your part?
Yes, I was invited to the studio on the same day Mick was laying down some bass parts. The track was pulled up, I plugged in and started playing around with an EBow part. Ready to do a proper pass, I found out that Gary was happy with what I had already done! For my own satisfaction I would have preferred recording a couple more takes that Gary could choose from but he felt it wasn't necessary. We hung around the studio for the rest of the day and I also contributed whoops and hand claps on a B-side which was basically a fretless bass improvisation.
The song 'Quiet Life' is probably the best known JAPAN track you played on, so what did you think when it became a Top 20 hit in September 1981 belatedly some 18 months after it first featured on the parent album?
I was living in LA at that time and was barely aware of what was being released posthumously from the Hansa catalogue. I wasn't really conscious of the re-release or success of any of those tracks. I remember a friend of mine from Epic Records handing me the disc 'Japan' which was an amalgam of tracks from 'Polaroids' and 'Tin Drum' with the most god awful photo of David looking like a secretary or something on the cover. It not surprisingly failed to set the US charts alight. I was busy concentrating on attempting to create a new life for myself on a different continent. Later Mick came out for a holiday. It was nice to hang out and lark about away from the rigidness of the band. We had a blast.
You were part of Numan's live band during his 1982 comeback tour of clubs in America, reports indicate it wasn't a happy one, what was your take on it?
It had its ups and downs, certainly. Generally as a band we enjoyed ourselves. Playing with the likes of Pino Palladino and Roger Mason was a great experience and I think we rehearsed solidly for six weeks before the first gig at Perkin's Palace, a theatre known for rock shows in Pasadena. 'The Tube' were in evidence to record Gary's 'comeback' for posterity and in doing so, their crew really messed up the power in the hall and the show was a disaster, despite our last rehearsals being in that very venue! We then had a tour bus setting on fire shortly after and had to wait it out while another was delivered.
Any funny stories you can tell?
I remember playing Boston where we played a large club with a low stage. From the floor there were so many hung lights on the stage that they obscured Pino's head completely – we had a headless bass player!
In New Orleans, we played on a riverboat which went up and down the Mississippi while we played. Unfortunately Gary's Mum who was the wardrobe mistress had left Gary's trademark fedora in the hotel room which was of course then unreachable and so an announcement went out over the tannoy system to see if any of the audience had one Gary could use. When one failed to surface, he opted for the boat captain's hat instead.
We were a tight, funky band and I would say that in general, we enjoyed each other's company on the road a lot. WALL OF VOODOO, our support act on the tour were good friends of mine from LA and so a good time was had by all really. The negative aspects really stem from it not being a success financially, not from the players failing to get on or any inherent friction.
You continued working with Australian keyboardist Roger Mason from that Numan tour afterwards in ILLUSTRATED MAN?
Yes, we became firm friends on the tour, similar music tastes being the connection. After the Numan tour, Roger returned to the UK where he was living at the time and I followed soon after, the plan being to create our own music project.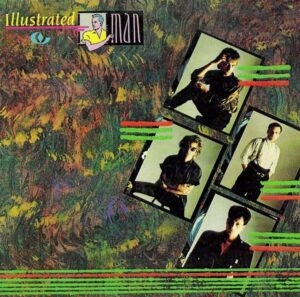 We shared a flat in Ealing Common where we would stay up all night recording on a Fostex 4-track. In those days, we barely saw daylight. We were quite productive but ultimately nothing came of the tapes because we were sidetracked by another Aussie import, Philip Foxman who had recently secured a development deal with EMI.
Soon we became a band. I brought drummer Hugo Burnham into the fold, who I'd met in LA firstly when a band I worked with, VIVABEAT, supported THE GANG OF FOUR at the Palladium and later when he drummed for ABC on a promo US tour for 'Beauty Stab'. We started demoing songs and got a deal with EMI / Parlophone.
We recorded an album with my good friend John Punter producing, but the project was doomed to failure as neither myself, Roger nor Hugo had much confidence in Philip as our frontman.
Nonetheless, we toured the UK as support to Nik Kershaw and with Cyndi Lauper and also did our own tour in the US, promoting a 12" EP of some of the album songs, but at the end of the tour Roger and I split and Hugo did the same soon after. The album as a result was never released.
What did you do after ILLUSTRATED MAN?
Later I would relocate to Australia and form my own band, THE SLOW CLUB. We signed to Virgin and released an album on which Roger's keyboard expertise featured quite heavily and we had a minor hit over there. I still rate him as the best all-round keyboard player I have ever worked with and we are still good friends today.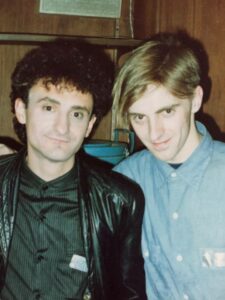 You mention ABC, there is a deeper link with them isn't there?
Yes, I first met those charming chaps in LA when they were touring 'The Lexicon Of Love', of which I was and still am a huge fan. I particularly hit it off with Martin, Mark and Stephen.
We met again when they were promoting 'Beauty Stab' in LA a year later. I even accompanied them on their taping for American Bandstand. Later when I moved back to the UK we often saw each other socially.
Martin and I went to PRINCE's 'Lovesexy' tour at Wembley together and also Bowie's 'Glass Spider' show amongst others.
So it was somewhat inevitable that I would end up on an ABC recording somewhere down the line! When that time came, I played on two songs which at that point were demos I believe. They were 'The Night You Murdered Love' and 'Paper Thin'. Although I didn't play on the album recording, my parts were still used on the 'Alphabet City' version of the former and sometime later 'Paper Thin' surfaced with all my contributions on the 'Up' album. Obviously I haven't seen any of the ABC boys in many years, although in the mid-2000s Martin and his family visited me here at home for a few days which was lovely.
Can you talk about the Bamboo fanzine and how this helped facilitate SINÉAD O'CONNOR's debut UK live performance?
The Bamboo fanzine, essentially created for JAPAN's fanbase, was run by Debi Zornes and Howard Sawyer, both at the time staunch fans of the band. After I had left the band and returned to the UK, we became close and spent a fair bit of time in each other's company.
When I began working with Sinéad, it seemed logical that I would suggest we play a few songs together at one of the annual fanzine get-togethers at the 100 Club in Oxford Street. Thankfully Sinéad was into the idea although I'm not sure her manager at the time, Fiachra Trench was quite as positive!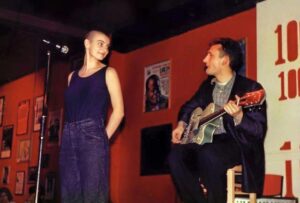 At that point she had not debuted in public at all, so for our relatively modest little gathering, it was actually quite a coup.
We played three songs with myself accompanying Sinéad on electric guitar – 'Jackie' (from the forthcoming debut album), 'I Fall To Pieces' (a Patsy Cline cover) and 'All Tomorrow's Parties', THE VELVET UNDERGROUND song and the only song with a strong link to JAPAN. Not surprisingly, she was well received.
Can you tell us about O'Connor's debut album and the two different versions which were recorded?
I was working in the West Country with a band called CRAZY HOUSE who were signed to Chrysalis. For the most part, I was miserable living in Trowbridge (a dead end town if ever I saw one!) and I soon discovered that this particular band dynamic was very oppressive.
By chance I bumped into Tim Butler from THE PSYCHEDELIC FURS who invited me to his wedding nearby. There I was invited to tour with The Furs, which I declined as I still felt a commitment to CRAZY HOUSE.
Soon after however I heard a demo of Sinéad and expressed interest in working with her, although at that point she had a guitarist on board. Except I soon learned that he had been offered and had accepted the touring gig with The Furs that I had turned down, so the gig with Sinéad was mine and I hotfooted it out of Trowbridge – commitment be damned!
For the next year together with the rest of her band, we honed the material that would comprise her first album. We had a rehearsal space at Nomis studios booked solidly for months at a time.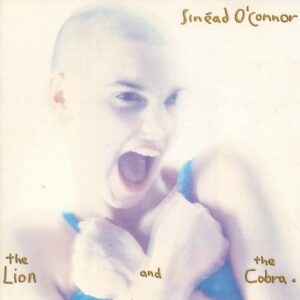 When time came to record the album, Mick Glossop was chosen as producer. He had a strong connection to her record label, Ensign through his work with THE WATERBOYS and seemed like a logical choice.
So the sessions began in Townhouse studios. For the most part, Glossop had the entire band record live in the studio which was far from ideal, somewhat chaotic and in many ways counter-productive.
At that point the songs were quite electric / folk in feel. We finished the album, which Ensign then sent out to several producers to remix.
But due to the organic way it had been recorded and with the lack of any time codes or click tracks, it was unanimously deemed impossible to remix. So there needed to be a massive rethink. It was decided to re-record the tracks with Kevin Moloney producing in a much more pared down fashion.
The only part of the original sessions that survived were the orchestral tracks which were integral to the epic song 'Troy'. The second incarnation was very different to the first, with Sinéad's fiery vocals much more to the fore and a lot of the instrumental embellishments absent. There are certainly tracks from the original sessions that I wish could be heard and maybe one day they will. There's a wonderfully unique take on THE DOORS song 'The Crystal Ship', for instance.
After the recording of the second album, Sinéad found herself pregnant and the album release was put back until she gave birth. In the meantime, I took a gig in Australia which led me on that different path, and so my time with her came to an end. Marco Pirroni added some guitar to two tracks closer to the release date and after I had left for Australia. Throughout it all, working closely with her during that time had been a joy. She was sweet, warm, considerate and a pleasure to be around not to mention an undeniable force of nature.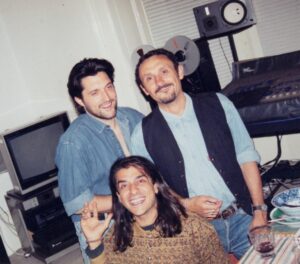 You reconnected with Jansen, Barbieri and Karn in 1993 on the 'Beginning To Melt' album on the 'Ego Dance' track, what are your recollections of this?
At the time, I had been living in a small cabin in the woods close to a beach in Costa Rica with an outside toilet and no electricity, surrounded by all manner of wildlife (yep, I loved every minute of it!).
So when I returned for a visit to the UK and was invited to record on a track with my ex-band mates, I was far from prepared.
I had barely touched an electric guitar in two years. I knew that I could do a lot better. So basically I did not feel comfortable even though I had the support of old friends and bandmates, whom it was hugely enjoyable hanging out with again after so long. The session was recorded at Steve's flat at the time in Notting Hill. What I remember most was relaxing and laughing a lot. Steven Wilson and Theo Travis were there too, I think.
In 2016, you shared a really touching post about the late Mick Karn, what was it like with working and spending time with him in the band?
Mick was always from the day we met, a creative force. He was funny and very likeable. He was the personality in the band, the one that most people were drawn towards because he was the most approachable and I believe most enigmatic. Working with him was always inspiring as a musician and I feel grateful to have known him in that capacity. Like everyone, it wasn't all highs – he had his down times too.
I think my favorite moments came after the band though, out of David's controlling shadow, just hanging out as friends. I wish I had been around to spend time with him in the later years of his life, but I rarely ventured back to the UK or Europe. I often wonder if 'missing' someone is the appropriate term when you haven't seen each other for decades, but I guess it's just the reality that if you wanted to, he wouldn't be there to hang out with anymore.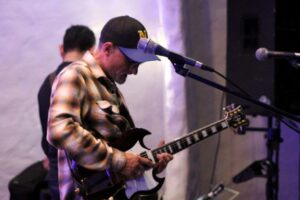 You dropped out of the industry to become a professional ornithologist and artist, but are now on the verge of releasing some new material, what made you want to get back into making more high profile music?
When I decided to move to Costa Rica, I had no plan and no idea what path I wished to take. I only knew that I needed a change.
It certainly wasn't on the cards that I would become so enraptured with birds that I would become some sort of authority on them and subsequently illustrate field guides for a living. So music in the last almost 30 years had, by design taken a back seat and up until recently, I had absolutely no desire to rekindle the flame of musical creativity. I think it really boils down to meeting someone who was completely open to my ideas and realizing that recording new music could still be enjoyable, refreshing and inspiring after years and years of disconnect.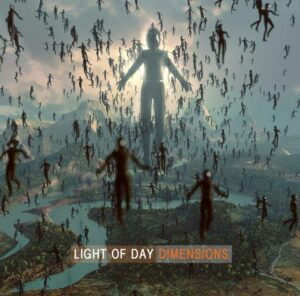 ELECTRICITYCLUB.CO.UK have had a sneak preview of the new album and there is quite a diverse range of influences in it, both electronic and rock, what is the line-up and your role(s) within it?
Our project LIGHT OF DAY is essentially my collaborator Isaac Moraga and myself. We co-wrote, arranged and produced all of the material, bar one cover.
Isaac sings and plays guitars, I play guitars, EBow and loops as well as backing vocals. The rest are top rate Costa Rican musicians playing keyboards, bass, percussion and drums.
Certainly the influences are diverse and to a large extent, I would say the album 'Dimensions' is a result of all those years not being musically creative, as if after being bottled up inside, it all flooded out through the pieces that Isaac and I have created.
It's quite a big sound which feels to me like a celebration – positive, propulsive, energetic and atmospheric. There are some epic soundscapes there with echoes of 80s style electronica, ambient, 70s prog rock and more contemporary elements too. At the moment we are fine tuning with a few remixes and Ed Buller is helping out in this department.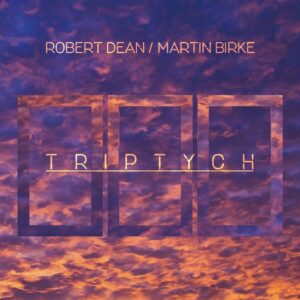 Generally I am very happy with this album. Someone said that they thought it was my best work and I think they might be right. In any case I really hope it finds an audience. The plan is to release it on CD, vinyl and digitally some time soon. If anyone is interested they can check out some previews on the LIGHT OF DAY Facebook page.
Recently I also released a digital EP with Martin Birke from GENRE PEAK of ambient-style pieces called 'Triptych', which we plan to release on CD with extra content at some point, and I hope to record an album of ambient soundscapes some time in the near future too.
---
ELECTRICITYCLUB.CO.UK gives its warmest thanks to ROB DEAN
https://www.facebook.com/lightofdayband/
https://soundcloud.com/lightofdayband
https://lightofdaycr.bandcamp.com/
https://robertdeanmartinbirke.bandcamp.com/album/triptych
---
Text and Interview by Chi Ming Lai and Paul Boddy
18th June 2019, updated 14th January 2021