While ABC continues today as a live entity under the captaincy of Martin Fry, that longevity might not have been possible without the band's co-founders Mark White and Stephen Singleton.
White and Singleton had been members of the Sheffield experimental electronic act VICE VERSA who Fry joined after interviewing them for his fanzine 'Modern Drugs'.
As they absorbed wider influences, especially ones centred around the dancefloor, they morphed into ABC, eventually releasing 'The Lexicon Of Love' in Summer 1982 to great critical acclaim and commercial success.
Mark White and Stephen Singleton agreed to chat about their ABC days to give another perspective to the story…
VICE VERSA were a very manifesto driven band, were ABC the same?
Mark: It wasn't manifesto-ish, but we did have a kind of plot. We wanted to have a really strong central character who was just 'Mr. Heartache' so that was the kind of plot.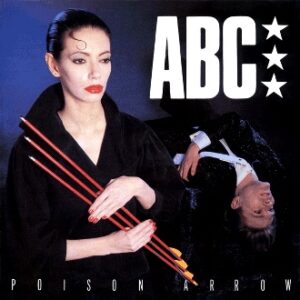 So was that why Martin was on the sleeves and artwork, just him in a David Sylvian in JAPAN type of way?
Stephen: We felt it was really important to have a focal point like the way that Bryan Ferry was the focal point of ROXY MUSIC. That's the way we went with the sleeves of 'Tears Are Not Enough' and 'Poison Arrow'. In the same way that on 'The Lexicon Of Love'
, there's Martin, the girl and the gun on the stage and then the reverse of that is the engine room of that with Mark with the flowers, with me sat there like the director and David Palmer like a caretaker.
Mark: We always had a strong sense of wanting it be filmic and even with the music, we just loved John Barry's scores for Bond and we wanted the album to have that kind of scale.
Can you tell us about the role of Anne Dudley on 'The Lexicon of Love'?
Mark: Anne was brought in as a session keyboard player, I think she did all of Trevor's work with THE BUGGLES.
Stephen: Yes, she came in to do some keyboards on 'Poison Arrow' which was the first thing that we recorded with Trevor Horn. The next one we started to record was 'The Look of Love' and we liked that John Barry sound and the kind of pizzicato strings on Adam Faith. We wanted to use real strings but at first, Trevor was like "oh no, string players are a nightmare" and "I don't want to do that, we can use a string machine". So I took down an Adam Faith album and I said it's never going to sound like this. So he said "ok, we'll do it" and fortunately 'Poison Arrow' was a big hit, so the record company said "OK, you can do strings on 'The Look of Love'."
Mark: That's a fantastic experience just being in the room when an orchestra is playing your song, it's really moving, I genuinely felt moved to tears. It was "oh my God!"
Stephen: Anne did the string arrangements for that and we were totally blown away by it. Then it was "can we put strings on this one? Can we put strings on that one?"
Mark: Well to my shame, when we'd recorded 'All of My Heart' and it had all been done, I was like "yeah, that sounds great!". But Trevor said "no, Mark, strings, strings on that one". He literally said "it'll be a Top 10". I was dubious and wanted it in writing so I said "OK Trevor will you sign this then?" and he said "absolutely!" and he was right!
Going from 'Poison Arrow' to 'The Look of Love', there was definitely a move towards classic pop. Of course when you started 'Tears Are Not Enough' probably got lumped in with that New Funk thing that was going on. There was SPANDAU BALLET with 'Chant No.1', HAIRCUT 100 to a lesser extent with 'Favourite Shirts' and the more art funk stuff like 23 SKIDOO, A CERTAIN RATIO, that kind of thing.
Mark: I call it White Scratch Funk.
However with yourselves, SPANDAU BALLET and HAIRCUT 100, it was only one-off singles. It was a sound you didn't really touch again?
Mark: You're right, we didn't take that any further. We wanted to be a lot more epic and on a much greater scale, you know this filmic idea.
I mean Trevor couldn't understand why we'd approached him at all. He was like "but you've got this white funk record already in the charts, what am I going to do?"; so we played him a few things and he was like "oh, I can do that".
Stephen: We'd got into this idea that we wanted to do this kind of James Brown thing and took the inspiration from that and that was the kind of first incarnation of ABC. It was that scratchy guitar and the brass and everything and we were playing gigs round London doing that style. And then people like HAIRCUT 100 came down to see us play our early gigs and then ran away and did the same thing!
It became a bit of movement and Spandau wanted to go in that direction as well. The first Spandau thing was more synth based with Gary Kemp on synth. I think everybody then was like "oh my God, we need to get on this particular sound". We then wanted to move away from that… we met Trevor and he was like "why do you need me to produce you?". We said that we wanted it to sound slick, we wanted it to sound amazing. We'd moved away from that funky, simple style…
Mark: We thought we sounded like CHIC and we so didn't!
That comes later in 1987 doesn't it when you work with Bernard Edwards on 'The Night You Murdered Love'? ?
Stephen: CHIC were a big influence, me and Mark went to see CHIC play at the Sheffield City Hall and at the time were doing VICE VERSA. We saw them and it was like "oh my God, that is so amazing!" We went to the gig and everybody is sat down watching. Me and Mark had bought these tickets which were at the edge of the stage but restricted view, cheapy things and we were there and we'd watched about two or three songs and we were like "oh f*** this, we've got to f***ing dance! We can't sit down!" And so we got up and we were like at the front of the City Hall and people were like "Sit down! Sit down!".
Nile Rogers came to the edge of the stage and shook our hands and said "these guys know what CHIC is all about" and let everybody get up and dance. We were there and it was like (*int Northern accent*) "Move out of way! We're trying to watch band!"
Mark: The concert was so good, they did two shows that evening….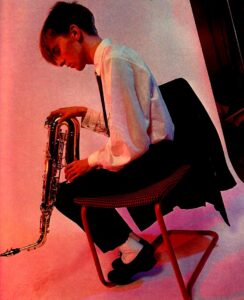 Stephen: We went back to see the second show as well.
Mark: We came out of it, bought a ticket at the box office and watched it all again, it was that good!
Stephen: There was another thing, there was an ULTRAVOX gig like that in Sheffield, it was on the 21st of September 1978.
Mark: At The Limit….
Stephen: I know that because there's this guy who is an ULTRAVOX completist and he wanted to know if they had played in Sheffield, so I was thinking "yes they did, they played at The Limit". So I consulted my diary from 1978…
Mark: That black book, it's incredible…
Stephen: The entry said "ULTRAVOX, Limit, very good! I may now go to Manchester to see them play". Looking back on that period, the day before, THE STRANGLERS had played at the Top Rank and THE SKIDS were going to support, but THE SKIDS got on 'Top of the Pops' so THE HUMAN LEAGUE stepped up and did that gig. So one night I was seeing THE  STRANGLERS and THE HUMAN LEAGUE, you would have been there as well am sure. ULTRAVOX did the two gigs at The Limit because so many people wanted to see them, they were just becoming more noticed…
Mark: Was this the John Foxx era?
Stephen: Yeah. So they were scheduled to do one show, there were so many people outside that club that they filled the club, did the show and then said to everybody "you've got to go home to let in the second lot of people".
I hid in the toilet so I that didn't get thrown out! It was like (*knock, knock*) "Is there anybody in there?" and I've got my feet up… I've got a mine of information with the diaries of who we went to see. CHIC were a big influence, they said they saw ROXY MUSIC and wanted to be the black ROXY MUSIC and we saw them and wanted to be the white CHIC didn't we?
Where do you stand on the two different versions of 'Tears Are Not Enough"? ELECTRICITYCLUB.CO.UK still favours the Steve Brown single version over the album version…..
Mark: I will be honest, I skip that track. It was really hard to make it fit on the album…
Stephen: We were trying to make it fit in on the album. Trevor didn't want to re-record it, he thought that wasn't the right thing to do. The best version of it that we did was a version that we re-recorded for 'Swap Shop'. The weird thing was when we recorded 'Tears Are Not Enough' with Steve Brown, it took f***ing ages to do, we'd not been in a big studio before and we wanted it to sound perfect of course. We were in there and we didn't have the ability to make it really sound like how we wanted it to sound.
Mark: We just wished we'd known about the Linn Drum…..
Stephen: We'd spent so long trying to record it, it took us ages and ages to get all the parts down…
Mark: It was nervous breakdown time wasn't it?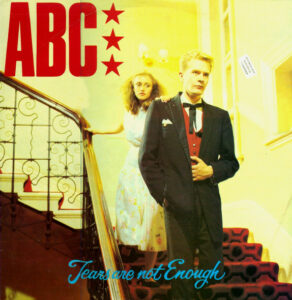 Stephen: It wasn't at all enjoyable. Then we got offered the chance to go on 'Swap Shop', re-recorded it and it took about half an hour to do and it sounded better than the 7" single version because by that time, we'd got David Palmer in on drums which made a huge difference.
We'd learned more, we'd gone through that process, that baptism of fire of being in a great big recording studio with the microscope over you and we went to RAK  Studios and did it in pretty much in one take. And then had the brass players come down and do their bits. It was all done really, really quickly.
But, originally recording 'Tears Are Not Enough' was not a lot of fun really for all of us. Apart from Mark, he was like "I'll do my guitar now… chhk, chhk, chhk", one take "I've finished!" It was a difficult, a learning curve for us. Steve Brown wasn't really the best producer for us.
Mark: Up to this day, I don't why we ended up with him. Do you?
Stephen: No, I think it was a recommendation from the record company.
He was known for some of the funk pop stuff, because he ended up doing WHAM!
Stephen: He did WHAM! Because George Michael was a massive ABC fan and wanted to sound like ABC, so then he went with Steve Brown.
Mark: We get a namecheck on a George Michael album don't we? He was talking about London in that period and he namechecks ABC and maybe THE STYLE COUNCIL or something?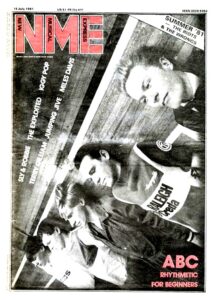 Stephen: THE JAM and that kind of thing… we had a friend called Mark Dean who had actually worked with WHAM! and we were down at Mark Dean's house in Bushey and we met WHAM! who went to London clubs and they'd seen ABC and they wanted to meet up with us.
Mark Dean said "oh, my mates are going to come over and meet you". So me and Martin met George and Andrew at Mark Dean's house where we'd gone down to stay the night. Andrew said "George, play them that song we've been working on" and there's a piano in Mark Dean's house and George played 'Careless Whisper'. And I was like "have you written that?" and he said "yeah, yeah" and I was like "are you sure?" *laughs*
I was thinking it was like a COMMODORES track that I'd not heard and he was going "no, no, I've written it!" and I was like "is that like one of the best songs I've heard or absolutely sh*te?!" I couldn't really work it out, is he a genius or am I totally wrong on this?
Mark: He was famous for working really quickly though George, I worked with a keyboard player that he used, and George would say "just leave me alone, give me an hour" and he would come back and there's practically a finished hit record there, a phenomenal speed of working…
What about the ABC songwriting process, was there a set method?
Mark: Jamming! Because it was band based then really….
Stephen: We were doing a VICE VERSA tour in Holland as our mate Mike Pickering had moved over to Holland. We stayed at Mike's house and we met these guys who had a record shop and studio in Rotterdam and they were like "come with us to our studio…"
Mark: This was a key moment, because we'd got some unrecorded VICE VERSA songs that we'd been playing live… it came out as a single on Backstreet with 'Stilyagi' backed with 'Eyes of Christ'.
Stephen: When we first went to the studio they were going "record something!" and we were like, "erm, well we use synthesizers and we can't really do that". But Martin was like "oh no, come on let's make some music", so I'd picked up a bass guitar and there was a little drum machine there. Mark picked up the guitar and we just started jamming round….
Mark: I remember we'd heard that Bowie had done some of the 'Lodger' album by just suggesting that everybody swapped their instruments and we thought ok we'll do that. So it was like, Martin, why don't you sing? We hadn't heard him sing before and I don't think he even knew he could and we just went "what the hell was that?!"
Stephen: He was just ad libbing things, vocal ideas, we were like, this is fantastic! And that was the kind of inspiration for Mark to step down from doing vocals.
Mark: This has never happened in pop I resigned as the lead singer! I'm still waiting for my OBE, it's not forthcoming. As far as I know, it's never happened before in history! *laughs*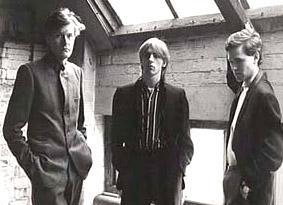 Ah, Vince Clarke stepped down as vocalist for Dave Gahan in what became DEPECHE MODE…
Stephen: We'd met Martin who'd come to interview us and we kind of dragged him into being in the band. It was like "don't worry about anything Martin, you stand at the side, you don't have to do much. Just hit the keyboard, it's a synthesizer, we'll set it to white noise, and you go 'Tish! Tish!'".
Mark: He came to interview us for his fanzine 'Modern Drugs' but we both just looked at each other and said "we're doing a gig in Middleborough in ten days time Martin, would you fancy just being in the band?" To which his reply was "but I don't play an instrument!" *laughs*
Stephen: It doesn't matter does it?
Mark: Literally, it was the punk age and it didn't matter. Ok, look we've got a little oscillator, we'll hook it up to a WEM Copicat and just make funny noises and it'll be great! Am so glad we did that…
Stephen: So we did this tape in Holland and then thought this is really good and interesting, let's work along that line and we looked for a drummer and bass player. Because we thought that Martin's voice wouldn't really suit the synthesized sound, we wanted that more organic sound and there was a house in Sheffield that Martin lived in with a guy called Disco John who was a DJ. The house was practically derelict…
Mark: …it was like a Coronation Street row of terraces…
Stephen: …which were due to be knocked down…
Mark: …in post-Industrial Sheffield, just all falling apart and there were just loads of places to rehearse and I'm sure that's why so much came out of Sheffield in that period. You could get the most incredible rehearsal room for nothing!
Stephen: Martin lived there with John and in the dining room, there was his sound system and decks and we'd go into the other little room. And the way we started was just by going in there every day and just jamming around on ideas and learning to play whilst John would be practicing his DJ stuff.
Mark: The neighbours must have hated us! And then we'd go and watch THE HUMAN LEAGUE on 'Top Of The Pops' doing 'The Sound Of The Crowd'… and we were like "Ooh! They've done alright haven't they actually….."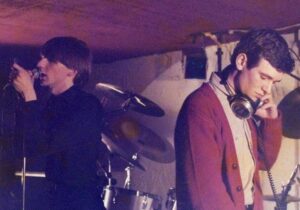 Stephen: That's how it was. It was that kind of learning curve of playing around with ideas and thinking "this is quite a good idea, this could be a chorus" and then we'd write something else. It was like "hang on, the chorus of this song, this could be a verse" and we'd be like chopping and changing and fusing them together. We'd write lots of different things and go through this process of elimination; it was a learning process…
Mark: Teaching ourselves how to do it….
Stephen: We listened to a lot of Motown, the way they would put things together and Martin was a big fan of Smokey Robinson.
Mark: Around that time, we must have been crazy, we thought we'd be able to do both concepts at the same time; like continue VICE VERSA and the other side project that we'd already started calling ABC.
Stephen: We had different names, the first was RADICAL DANCE FACTION and there actually is a band called that now. I think it's possible they stole that! Then Martin had this idea of music being a drug: "don't take drugs, listen to music, don't drink, don't smoke, music should be the drug, music is a vitamin", then we were thinking VITAMIN Z but there's also a band that came out called VITAMIN Z.
Funnily enough, the singer of VITAMIN Z is now the manager of ARCTIC MONKEYS!
Stephen:  We were kind of like selling off these names to different bands so it was "let's call it VITAMIN ABC". And I was thinking, "it's ok but why don't we just call it ABC?", then we're not saying we're a dance faction or whatever. We're saying it's just a name that would fit everything. Then we added the three stars to it, so it's ABC, it's got a logo, there's three little stars, that's the bands' name and then it could be all encompassing, that's how we did it.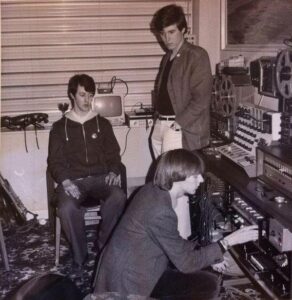 The first gig we did was at Psalter Lane Art College, our friends came to see us and we'd been rehearsing the new band so we didn't know what people would think.
But we knew when we did that first gig that it must be good, because our friends who before when we were VICE VERSA had being going "oh yeah, I like what you do", were going "f*** me, this is f***ing amazing! It's f***ing brilliant!".
There were people screaming at the first gig. People were talking, "oh my God, they're doing something different now and they're playing guitars and it's funky…"
Mark: Then all the record companies were chasing us, which is just the best situation you can have. You get the ridiculous situation of a massive black limo turning up, and it was the boss of CBS and Muff Winwood was there as well…
Stephen: …Dave Betteridge and Muff Winwood…
Mark: …outside this tiny little Coronation Street tumbling down house and this limo strolls up!
Stephen: At that point we'd got absolutely nothing, we were on the dole, no money whatsoever.
Mark: We would pay ourselves in cash, remember those old little brown envelopes? Where you got your wages. What were we on? £35 a week?
Stephen: When we signed the deal, we were like "we've got to make the money last…"
Mark: When we were on 'Top Of The Pops', we were getting £35 per week. Even when we went on tour after a couple of hits, we couldn't afford the room service! *laughs*
Stephen: Yeah, we were on £50 a week then…
Mark: We gave ourselves a pay rise up to £50!
Stephen: When Muff Winwood came up to Sheffield and we played him 'Poison Arrow', he was saying "that's a hit, that is, amazing!", that's we thought we're really onto something.
Ok, so you've got your songs written for 'The Lexicon of Love' and you're working with Trevor Horn. It was a happier time than working with Steve Brown?
Mark: Oh, absolutely fantastic… well I think Trevor would be the first to say that he needs songs to work with and I think that's why he took the project on. He could hear things we couldn't hear. But at that point, he'd not got into the habit of recording the whole thing and scrapping it and starting again. It wasn't like that was it?
There's a video of THE BUGGLES performing 'Lenny' with ABC as the backing band, how did that come about?
Mark: 'Tears Are Not Enough' had already been a hit and we were recording 'Poison Arrow' at that time. Trevor said "I've got a single out in Holland and they've asked me to appear, would you like to be a Buggle for a day?" and we were just up for a laugh. Stephen was doing a brilliant Mick Karn on that, check that out, the Mick Karn moves are all there! *laughs*
Mick Karn was your boy crush wasn't he Stephen?
Stephen: Yeah, yeah, definitely, one of them! The song was called 'Lenny', the reason why it was a hit is because there's a DJ in Holland called Lenny who made it his theme tune. I think we all wore sunglasses or something; that was a lot of fun. I don't think the bass was plugged in though and what I was doing would bear any relation to the song! *laughs*
Mark: A short while ago by pure chance I met a girl singer, she said "Mark, we've got a connection! I sang on 'Video Killed The Radio Star'"; I said are you the "woah, woah, woah" girl? She said "no, the other bit" when it all breaks down and she sings "…star, a radio star…", so we were all sat on a sofa three ex-BUGGLES all in the room at the same time, it's one for the books!
Trevor Horn is notorious, so how much does it become his album and how much control did you guys have?
Stephen: We'd got a lot of songs which we thought were going to make up the album and Trevor refused to work on them. There were a lot of songs that we'd been playing live and he was like "You know what? This just isn't good enough". We were going like "F*** you! What do you mean it's not good enough?".
But it inspired us and I remember him saying "You know what you need on this album, you need a ballad". And we were going "A ballad? What do you think we are? We're not going to do a ballad". But we were inspired to go back… we were back in Sheffield for the weekend. We went down to our rehearsal room, then Mark came into the rehearsal room saying "You know he was going on about like he wants to write a ballad for us, well I've got this idea…"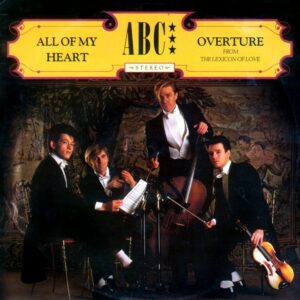 Mark: 'All of My Heart'…
Stephen: It was just the first little bit of 'All of My Heart', so we wrote it and went back to Sarm East and said "right, you wanted a ballad, we've written one". There were a lot of things in the studio that were written and created in the studio.
'Valentine's Day' was an entirely different song, it was called 'Surrender' and that went through a major overhaul. It was written in the studio and Martin heard the different direction of the way the music was going and wrote a totally different set of lyrics.
So it was very fresh and Trevor's thing was the quality control on the songs. He pushed us up that notch, but things weren't done over months, it was quick. Things changed for Trevor later on when he started spending a lot more time doing things.
With us, it was like "we're going to put the piano on it, it's done. We're going to put some percussion on it, it's done. We'll do the vocals, they're done". It wasn't a massively laborious process. It couldn't, be there wasn't much of a budget and time to do it.
The gestation time for all of this, from 'Tears Are Not Enough' to 'The Lexicon Of Love' coming out, it's only about four months, something like that? That's nothing today!
Stephen: The album was recorded over a period of about three months…
Mark: Mostly at Sarm East……
Stephen: And at that time when we were recording it, we were also promoting 'Tears Are Not Enough'.
Mark: Everybody we were working with then was on top of their game, the studio team became THE ART OF NOISE; Trevor, Anne, Gary Langan and JJ Jeczalik the Fairlight programmer.
Stephen: The thing that Trevor could do… we'd say to him "we want to sound like something you'd hear in the American charts, like a DARYL HALL & JOHN OATES. We want it to sound incredible, we don't want it to sound like some indie funk band, we want to take it further".
Trevor as a producer knew these people who he could draft in. We didn't know anybody did we? We didn't know who the best person to play keyboards on it…
Mark: He knew really top quality musicians, he'd go "you want congas? Oh yeah, I know a guy!"
Stephen: In a way. it was a first for all of us because it was the first album apart from 'Adventures in Modern Recording' which was his own, he produced that album, that's where he said how he learned his craft. It was a kind of a Trevor solo album in a way.
Mark: Before us, all he'd done was THE BUGGLES and DOLLAR…..
Stephen: …and he'd done THE JAGS…. 'Back of My Hand' was another one that he'd worked on, that he was very proud of. So it was a first for a lot of people and everybody was excited. These things happen where everybody is in the right place at the right time… boom!
Mark: We'd also had a really good A&R man, Chris Briggs, he just got it….
Stephen: Another important person at time was Jill Sinclair, who was Trevor's wife. She would go in to Phonogram and say "look, you've got to do a video for this, this is going to be huge".
Mark: She could kick butt…
Stephen: She kicked ass on behalf of us and on behalf of Trevor of course. I'd be going in there asking "can we have some badges made?" and they'd be saying "Hmmm, I don't know, I don't know if there's a budget for that…" The problem was we were trying to manage ourselves at that time and we were going into Phonogram, seeing if we could get a budget to get a nice photographer or do a promo tour or whatever. So that was extremely useful.
The band very much embraced the video promo era, for 'All of My Heart', the director was more well known for his photography wasn't he?
Mark: It was a guy called Brian Duffy who took the picture for Bowie's 'Aladdin Sane' cover….
What are your memories of that video, Centre Point is in it a one point?
Mark: That's the star of the show really! *laughs*
Stephen: I think that video was pants, crap! *laughs*
The idea that we had was that we would perform the song on a revolving stage and that would be it. Duffy wanted to use it as a showreel for getting into commercials, so there's a plug being pulled out of the wall and blood coming down and a rose…
Mark: The trouble is, it's so bloody expensive to make film and we never had the budgets really.
Stephen: Duffy was a great person, a great personality, really interesting but I just thought it wasn't very good…
Mark: The difference between video and film is with video, when you record it, if you don't like it, you go "oh, wrong idea, let's try again". With film, you're committed to it and often they're coming up with these incredible treatments and oh boy, can they sell them! They make it sound like it's going to be 'Gone With The Wind' and it never is! *laughs*

'The Look of Love' video is awful! What are your thoughts on that?
Mark: I think that caused Trevor to nearly have a nervous breakdown. In fact he's on record as saying "oh, f***ing hell, I'm going to have to start my own record company!".
Stephen: I thought 'Poison Arrow' was great…
Mark: Julian Temple did that one…
Stephen: That fitted in with the whole concept of the band, had a story to it and was executed correctly, the kind of Technicolor aspect to it, the whole style. It had some humour in it. With 'The Look of Love' it was like everybody was taking us really seriously, let's do something that's a bit fun and it turned out like an outtake from a Benny Hill show, and as Mark said, you're committed, you do this stuff and then you see it and you think… oh, ok!
Mark: The way the treatment was presented to us, it made it sound like it was going to be like 'An American In Paris', that's how it was sold to us.
Stephen: Martin loved 'An American In Paris' and he was going, "that will be great!" and it ended up being a joke…
Mark: It's deeply upsetting and you can't do anything about it, because it's done and already cost you a fortune.
Stephen: The Brian Duffy one 'All of my Heart', I thought was going to be a little bit like THE POLICE one where they had all the candles and everything…
'Wrapped Around Your Finger'?
Stephen: Yeah, the revolving dias, with us there, Mark playing piano and I think I was going to be playing tubular bells. That's in there for like a millisecond and then it's back to Martin walking under the bridge, and then some girl there holding a box of chocolates. It's like "What the f***! What the f*** is this?" *laughs*
But that's what happened. I think that what we did when we appeared on television programs for 'The Look of Love', we did the dance routine, we said "let's do this, let's give it THE FOUR TOPS treatment", we loved all that stuff. That was more in keeping with what we were about and it probably worked better as a video. At the time, the costs of those videos, was like "I can buy a semi-detached house for that".
OK, let's talk about 'Mantrap'? We'll get our coats? *laughs*
Mark: Ok, turn the tape off! Can you shut them up? *laughs*
Was the link into 'Mantrap' as a result of Julien Temple working on 'Poison Arrow'?
Mark: 'Mantrap' should have been left as a live video, simple, just film the concert… no, everybody's got these, want to be a movie director ambitions. It's my personal project, I'm trying to buy up all the copies!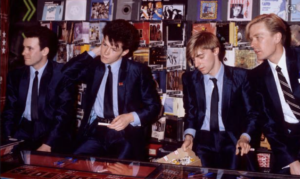 Unfortunately it's on YouTube in six parts…
Mark: The acting in that is so wooden, it should have a fire warning on it! It's terrible! *laughs*
Stephen: We got a budget to film a concert at Hammersmith Odeon and then somebody had this idea, "I know let's do a little story to go with it…"
Mark: You guys like Bond, let's come up with some sort of absurd spy theme… it looks like I spend the entire concert tuning my guitar. It was an oscilloscope back in the day, that's what they looked like.
Stephen: I don't know how long it takes to write a film script normally, but the script for 'Mantrap' was written after a concert we did in Oxford, in a pub in half an hour. "We've cracked it now, I'll get somebody to work out all the dialogue". I still get people coming up to me and reciting my lines from the film, they come up and go "Oh Stephen, why don't we try those string players? Oh yes, I'm sorry about that Tony, come on, get on the stage! Martin, it's the first song, 'Show Me'". *laughs*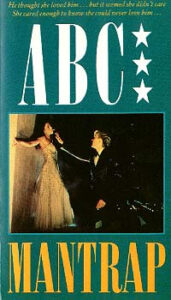 Mark: Oh dear, some things can't be undone… sadly!
Stephen: Mark doesn't like it, I like it…
Mark: You don't!
Stephen: I like sh*t like that I really do. I watch Talking Pictures Television and there are loads and loads of films that are like that! *laughs*
Mark: It's YouTube! I don't get that…
Stephen: You're going to have to complain and get it taken down Mark…
What do you think the enduring appeal of 'The Lexicon of Love' is after 37 odd years?
Mark: Well, all the songs are quality and it was groundbreaking production at the time. And there's just something about that era, it struck a chord. That whole period now is a golden one isn't it? It seems bizarre, it seemed to capture a spirit at that time, I think that's why. We weren't they only ones, a lot of other people did it.
Better than 'Dare? ?
Phil Oakey thinks 'Dare' is the best album of the 80s, he's so wrong! Jonathan Ross puts him straight on that when he was on his show, did you see that? Phil says "well, we did make the best album of the 80s" and Ross says "not even Phil, you know it was 'The Lexicon of Love'". That must have stung! *laughs*
John Taylor of DURAN DURAN was absolutely petrified of ABC and thinking "what are they going to come up with next?" There was this story about him buying 'The Lexicon of Love', taking it home…..
Mark: Doing voodoo on it! *laughs*
He literally saw you as a bigger threat than SPANDAU BALLET…
Stephen: I think that at the time, we were ambitious and there was a lot of competition out there and the idea was that we wanted to be the best, that was it. We wanted to make the best album, we wanted to be the best band, we wanted to write the best songs. We knew people, we knew SPANDAU BALLET, because there was that whole scene going on…
In Sheffield there were clubs. In London there was the club scene, we'd met up with Spandau and Steve Dagger. We'd been to play the Rum Runner, we'd met DURAN DURAN. We were all around the same age and influenced by the same people, you know Bowie, Bolan, Roxy. We were the next generation, we were inspired to form bands and it was very competitive…
Mark: Have you heard the Bowie and ABC story? Ok, well, we were recording 'The Look of Love' in Tony Visconti's Good Earth studio. We were down in the basement recording and the phone rings "oh, hello, would you mind if David sits in on the session?" And we were like, "David who?" And it was Bowie! *laughs*
Stephen: He kind of blessed the whole thing…
Mark: He made a suggestion for the middle of the record, because at that point, there was just a big hole, nothing going on and he said "oh, how about having someone dialling an answerphone, you could have that in the middle". But we couldn't really tell him that we'd already done something very similar in the middle of 'Poison Arrow'…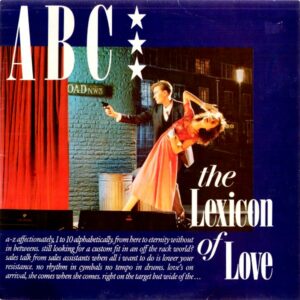 Stephen: We don't like your idea! *laughs*
Mark: This is how utterly stoked I was. We bumped into him again coming in and out of the studio and apparently I had a very erudite conversation with Bowie about Bertolt Brecht.
He'd just put out the 'Baal' EP and I said, "oh, I studied Bertolt Brecht for A-Level German" and we apparently had this amazing conversation, but the trouble is I can't remember anything about it! I was so nervous and I still don't know whether Steve's made the whole thing up!
Stephen: I was sat there nodding my head and thinking "what are you talking about? Bertolt who?"; Bowie was going "…that was his first play" and Mark was like "ha, ha, ha, yes, you can tell, ha, ha, ha!" and they were having these in-jokes about Brecht and Weill…
Mark: I probably did say that, but I have absolutely no memory of it! He was there at the door, I was talking to him, but I blanked out for like half an hour… no memory at all, tragic, that's fandom! *laughs*
Stephen: Another funny thing about meeting David Bowie was that he did a great Sheffield accent. I remember him hearing me speak in my Sheffield accent and he said "Ohhh or, reight thas from Sheffield are tha?"
Mark: Didn't Bowie reply "Me fatha wo from Donneh?"
Stephen: Yes ! Hahaha…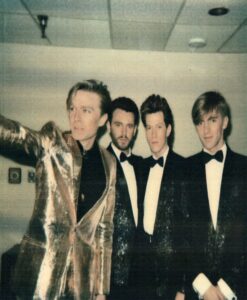 Mark: To translate. that means "my father was from Doncaster!" …anyway, he then came to see us at Hammersmith Odeon, thank God the roadies didn't tell us until after. Bowie came and asked to sit with the sound engineer, imagine? I would have wet myself!
Stephen: My brother and sister had to the Hammersmith Odeon show and I'd arranged to get them tickets. We were just about to go on the stage and somebody came backstage and said "somebody claiming to be your brother has been trying to get into the venue and he's not got a ticket". And I was like, "was he with a little girl?" thinking "f***, that's my brother and sister, they should have had tickets" and he said "they're outside".
So five minutes before I'm meant to go onstage, I'm running round the streets of Hammersmith in a glittery suit looking for my brother and sister! Then I find them and I'm like "where are the tickets?" and they go "we never got given them", so I got them in and they stood at the side of the stage. I remember playing and then looking across and Bowie was watching the gig with my brother and sister. I was still so p***ed off that my brother and sister didn't get their tickets for the concert.
Years later my brother was up in Sheffield and we were talking about ticket scalpers and he said "yeah, I remember when you played Hammersmith Odeon and you got us tickets and I sold them for so much money". And I was like "What? You sold the tickets? Where's the f***ing money then!". So he'd sold the tickets and then tried to blag his way into the concert! *laughs*
Mark: Brothers eh? F*** 'em! You know who else was at that gig? Debbie Harry! And she came to the afterparty. My brother was trying to chat up Debbie Harry, I was very proud of him! *laughs*
Moving onto the follow-up album 'Beauty Stab', it's now rather unfortunately put into the category of career suicide and self-sabotage along with works such as FLEETWOOD MAC's 'Tusk', OMD's 'Dazzle Ships' and THE CLASH's 'Sandinista'….
Mark: Rock 'n' roll suicide…
If you could turn back the clock, and make a different follow-up, would you? You turned into SAXON didn't you? *laughs*
Mark: I can't remember why, but it just seemed the most natural thing on earth at the time. Trevor was down to produce it, but had already started work with YES and then moved onto working with FRANKIE GOES TO HOLLYWOOD. He had already started and scrapped about four different versions of 'Relax' and after about a year, we just went "look, we can't wait".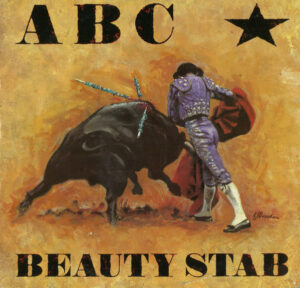 Gary Langan produced it, so it was still in the family?
Mark: I know, but Trevor is a different kettle of fish. Gary was a brilliant sound engineer and mix engineer.
But I honestly don't know the answer to that, I don't think we had a choice, that's how it turned out.
I mean, you're a guitarist, it's quite natural for you. But for a saxophonist going rock is not so easy?
Mark: Well, ROXY MUSIC had a sax…..
Bowie too… I think of that as a kind of 'art' thing… you had the ROXY MUSIC rhythm section of Alan Spenner and Andy Newmark involved on 'Beauty Stab', but it didn't quite have that kind of sound…
Mark: I've never been good at formulas, I can't do them. God knows why, it might have been the influence of being on tour and playing live, possibly….
Did Martin want to rock out?
Mark: Yeah…
Was America a factor, because Billy Idol had become popular. That was always Rusty Egan's excuse as to why VISAGE went rock as they were listening to too much Billy Idol!
Mark: I mean, Rusty Egan has done a lot of rock, hasn't he? He was in the flippin' SKIDS… yeah, it's a strange period…
Were there other distractions?
Mark: Like?
Money or drugs or things like that?
Mark: No, never… we were all really clean living boys…
Despite all this, 'S.O.S.' is an absolutely sensational song. Can you remember the genesis of that because it does stand out like a sore thumb on the album?
Mark: Well I think the roots of that are very much in 'Sexual Healing'. I mean it's got an 808 drum machine pattern all through it and I just came up with some chords and it came out.
Stephen: The thing was, when we first started out as VICE VERSA, we were an electronic band. We then mutated into ABC.
Mark: Out and out pop…
Stephen: Yeah, before that there was the scratchy funky ABC. Then there was the sophisticated polished pop of 'The Lexicon of Love' and being kind of followers of the David Bowie school of philosophy which would go from one thing to another. We'd toured the world playing the tracks from 'The Lexicon of Love' over and over again and we reconvened to start on new songs and I think that we were then caught up in the music industry.
The first set of songs you write in your own little space, there's no pressure. You do that, you get better at writing songs, so 'The Lexicon of Love' is distilled from lots of different songs and then you're in a situation where you've had a No1 album, you've been on the tour, the record company are saying "we need the new album".
Mark: It's kind of second album syndrome, you put twenty four years into your first album and then you have six months to write the next one.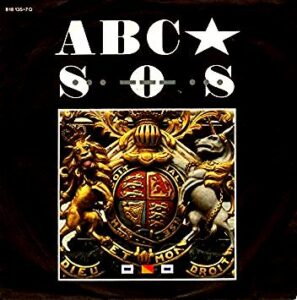 It's a huge amount of pressure….
Stephen: Probably even less than six months… it was the next set of songs which were written. We weren't David Bowie, people expected more of the same, but different… that's what we did, we went in, we did those songs. We were in there with a brilliant engineer, we weren't in there with a producer who would say "hey, let's put the reins on this, let's rein it back into some other place". But I think when we were doing it, we believed in it.
Mark: Absolutely…
Stephen: We did it and we liked those songs and that's what we were feeling like what we wanted to do at that time…
Mark: I do sometimes think about the multiverse thing, somewhere out there, there was a version of ABC that did a 'The Lexicon of Love' follow-up….
Stephen: Called 'More Of The Same'…
Mark: …and we ended up being like DURAN DURAN and playing stadiums *laughs*
There's often the question of how band dynamics get altered if just one person leaves. So did David Palmer leaving affect things?
Mark: Absolutely. He was a songwriter as well and always really into the next big thing and embracing technology as well.
Stephen: David is an incredible musician, that's what he's interested in, he's interested in playing the drums. That was him and yeah, the dynamic does change if there's four people, it's different to there being three people.
Were you over-compensating in terms of you're missing someone so much, you're pushing boundaries, because you feel, "oh right, we almost need to prove ourselves more"?.
Stephen: When we were writing those songs and demoing them in Sheffield, David played on the demos and nobody was saying "oh, I don't like what we're doing now". We wrote lots of different songs, we wrote songs in a country and western style, you know, songs which were more extreme pop songs…
Mark: When that album came out, we got a letter from Bono, a personal handwritten one and the gist of it was "you're going to get ripped to shreds, but I think it's really good and a really brave move", which I thought was really nice at the time…..
When 'That Was Then This is Now' came out, there was a more expensive 12" single with a sticker which said "This record is exactly the same as the 7". The choice is yours." Who's idea was that?
Mark: I think that would be our idea….
Stephen: The song didn't really lend itself to be extended, it was as it was, that was the thing. It was like "buy whichever one you wanted". We liked to play around with things like that, we were artists, a lot of what we did was artistic and the idea was "change is stability, change is strength, try different things". That's what we were about.
Mark: It doesn't necessarily do your bank account any favours though! But I comfort myself with the multiverse idea, that in some other universe there's an ABC that went on… *laughs*
Like a really good 'Black Mirror' episode where you have different pathways….
Stephen: Yeah, I'd be living in John Taylor's house in Malibu or in Wiltshire, he's got a very nice house I'm rather jealous of! *laughs*
Mark: What were you saying about Roger Taylor earlier?
Stephen: QUEEN's Roger Taylor listened to THE HUMAN LEAGUE album and then wrote 'Radio GaGa'….
Mark: How do you know this?
Stephen: Somebody told me! But I can't really name names, it's not fair on that person. It was a personal friend of Roger Taylor, but that's what happened! *laughs*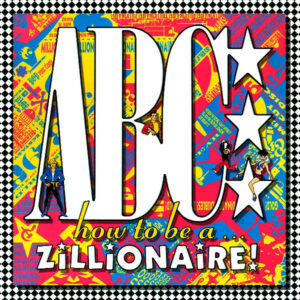 Mark: I can see the connection…
Stephen: I thought Martyn Ware would know that? I thought everybody knew it, but obviously they didn't!
Mark: I nearly dropped me phone when I heard about that…
Stephen: I left the band after 'Beauty Stab' and then Mark and Martin went off in a different direction with 'Zillionaire'. In fact they didn't go "hey, you know 'Beauty Stab' hasn't really sold as many as the first album, let's go back and do 'Lexicon of Love Part Two'. Let's do something different".
Mark: You have to do something that means something to you as an artist…
Stephen: That's how we were as people….
Mark: You may as well be working in a fish finger factory…..
So Stephen what were you reasons for leaving?
Stephen: I preferred the other universe… slightly. I went off and lived in that and the fell back to it a few years later, there's lots of reasons… *laughs*
And Mark, how did you feel about it when he went?
Mark: It was a very stressful time. I really blame the tour, because I think we all individually went mad in our own ways. It's what a friend of mine refers to as 'altitude sickness', you think you really want to be there, but when you are, it's a different matter to deal with it. It's tough!
Stephen: Why I left is, it wasn't as much fun anymore. David Palmer had gone and to me it didn't really feel like a band anymore, it felt like three individuals that through no fault of anybody's, we'd been through so much.
You know, one minute we were rehearsing in a little room in Sheffield, working in one particular way and then we'd become famous and then we started earning some money. It changes things, fame changes people, money changes people, it can't be helped. David had gone, the dynamic of the whole thing had changed…
Mark: In retrospect, I wished we'd all taken a year off, because we were f***ing knackered primarily and just to recharge, think about getting excited about influences and music again.
But then you got into doing 'How To Be A Zillionaire' quite quickly, comparatively after 'Beauty Stab'?
Mark: I don't know, chronology is all very blurred in my mind… I did take a bit of time off and I was going to America on holiday. I was very influenced by what I was hearing on the radio then and that's how it percolated through. I remember hearing 'Blue Monday' and it was life-changing to me, I was in Austin Texas, I can remember it clearly…
You got immersed into your Arthur Baker and Shannon which comes out in 'How To Be A Millionaire'…
Mark: Absolutely, the beginnings of freestyle…
How did you first come across that style of music then?
Mark: Because we'd always, all separately been interested in dance music from Motown through to CHIC, it just evolved into that. I remember when we played New York, putting the radio on WBLS, a really crucial dance music station back then. They were playing 'Planet Rock' by AFRIKA BAMBAATAA and 'Scorpio' by GRANDMASTER FLASH and then they played 'The Look of Love' remix, and I was like "oh my God, they're actually playing it!". I didn't think that would really happen. Out of all that music, 'Planet Rock' was just so good.
Stephen: 'Planet Rock' was out when we were touring 'The Lexicon of Love', after gigs we would go to clubs in different places and that track was just starting to happen and it was so f***ing good, then GRANDMASTER FLASH with 'The Message' and 'White Lines' came out. I think we'd been in America promoting 'Beauty Stab', we were in New York watching the kids breakdancing on the streets and thinking this was so happening;
Mark: We saw it happening in Times Square, there were B-Boys doing that whole thing to KRAFTWERK which was just amazing.
Stephen: We went to The Paradise Garage with AFRIKA BAMBAATAA DJing and all those other heavyweight characters. That's why I think ABC (although I wasn't in it anymore) moved on and went in that direction; get the drum machines out, get the synthesizers out and get the samplers going.
Mark: Also, we'd worked with the Fairlight on the first album and it was obviously the future. Mind you, the minute the Emulator II came out, we bought one. No need to pay a Fairlight programmer £750 a day!
Stephen: We had the Emulator on tour along with its own roadie to repair it at every gig *laughs*
Mark: Five inch floppy disks…
Stephen: There was a lot of Emulator on the demos for 'Beauty Stab', Mark had played the guitar and putting it through the sampler, making the sounds up. It was primitive… did we have a Linndrum?
Mark: No. We had an 808, we also had the 303s. We bought three 303s…
Did they all get nicked? *laughs*
Mark: I repatriated them, I sold one to a German teenager for £500 or something, which looking back now is insane…
You mention NEW ORDER, there is a connection between you both. The opening track on 'Zillionaire' is 'Fear of the World', how did you do the rhythmical passage on it?
Mark: That was Fairlight…
Did you know ELECTRONIC sampled that for a B-side called 'Lean To The Inside'?
Mark: No! David Palmer was in ELECTRONIC…
'Get The Message' sounds very much like 'All Of My Heart' if you compare the two verse parts…
Mark: I've heard through our Manchester connections but we've not been told directly that Gillian from NEW ORDER was a bit of an ABC fan.
Stephen: We were all roughly around the same age and had the same influences and stuff…
Mark: Stephen, you used to go over to Manchester a lot….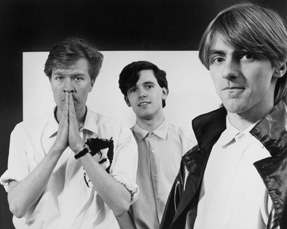 Stephen: I used to go to the original Factory club in Hulme. One night I was out in Sheffield and there used to be a band called MANICURED NOISE. I'd been to see them play in Manchester and then I was on this street in Sheffield, there was these lads there and then this girl from MANICURED NOISE and I was like "oh hang on, I saw you play in Manchester, last week, you're in that band MANICURED NOISE!" And the other lads were laughing going "ooh, she's got recognised but we've not!".
And I went, "well, who are you?" and they were like "we're in a band, we're playing Sheffield tonight, we're called JOY DIVISION, we're playing at The Limit Club…" , so I went down to see JOY DIVISION play there with about twelve other people, although since there's been about twelve thousand that said they were there!
Mark: Like the infamous SEX PISTOLS at the Manchester Free Trade Hall. Everybody was at that…
Stephen: Martin Fry was at that and Mike Pickering. There was people in that era, all going to the same kind of clubs. I used to go across to Manchester to Pips and The Ranch. There was a great scene in Sheffield and this was like when I originally met up with Mark, we used to go to a club called The Crazy Daisy and The Top Rank Suite. It would be us, THE HUMAN LEAGUE and HEAVEN 17, a very small number of people… all the people that then formed bands. The same thing happened in Manchester with JOY DIVISION, THE SMITHS, MAGAZINE and BUZZCOCKS.
Mark: I was too young to be going over to Manchester then, he's a bit older than me!
Stephen: I'm slightly older than Mark and I was a completely bad influence on him when we actually met. I steered him down another path of life really….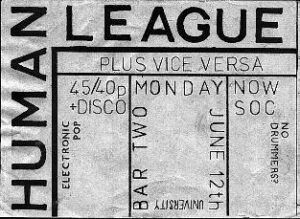 Mark: When you're that age, just a few years can seem an immense difference…
Stephen: THE HUMAN LEAGUE were older than us and I remember when we first met them, Phil Oakey was married and I was a f***ing virgin! It was like totally different…Martyn Ware had a beard! *laughs*
Mark: More importantly, they had jobs, could afford to buy very expensive Roland synths…
Stephen: We had Korg MS20, a Micropreset and a Minipops drum machine and we were influenced by the same things. But we were younger and poorer and they had jobs and wives and girlfriends and things! *laughs*
Mark: I was still school!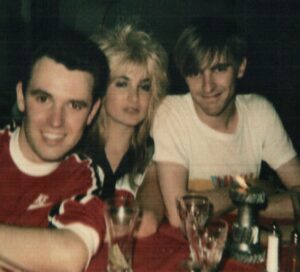 Stephen: He was still at school with his copy of 'Warm Leatherette' and Thomas Leer's 'Private Plane'…
Mark: There was a book that came out 'Beats Working For a Living' by Martin Lilleker and he interviews Jarvis Cocker in it, well he went to the same school as me.
There's a bit where Jarvis says:"I remember going past the sixth form block and the strangest electronic noises coming out, I later discovered it was Mark White playing 'United' by THROBBING GRISTLE" *laughs*
Stephen: Jarvis was from the next generation and a little bit younger than us.
Mark: PULP were playing gigs when VICE VERSA were playing gigs….
Stephen: They started when they were really young!
Are we on 'Alphabet City' now? At this point there seems to be a conscious decision to do an ABC pop album again…how calculated was it?
Mark: The lead song on it was 'When Smokey Sings', we enjoyed writing that and even just from the demos people were going "that is a hit", so we did more like that….
So Stephen, were you missing it when the guys started having hits again? Did you ever feel like "I wish I was part of this again"? What was your feeling?
Stephen: What kind of happens is you leave a band, but you're not going to NOT listen to what they're doing, you can't avoid that. I thought 'When Smokey Sings' was great, I really liked the 'Zillionaire' album as well. I'm a music fan, I am not going to go "Oh, I don't like that" because I was once in it and now I'm not. I didn't think "Oh my God, I want to rejoin ABC!" or whatever because I was just doing my stuff at that time.
I didn't really think about it that much. I was happy to be working in studios and doing things, productions, writing and stuff. Doing my thing as it were.
Mark: Mr Singleton, I wish to inform you that your interview to work in the diplomatic service has been successful! *laughs*
Stephen: Put it this way, I don't think Mark and Martin would have been going "Oh my God, what's Stephen up to?".
Mark: I mean you wouldn't if had been like all Top 10 records all the way, I'm sure I'd have a thing to say about it as well!
Stephen: "Oh hi Mark, how you doing? I've just done a song for MADONNA". That's the way it was, I was doing a different job, you know, you change your job or whatever, your vocation.
You don't then go "I wish I was I back at this place doing that job", you're in a new job, you're living in that particular moment.
Mark: But, factually with 'How To Be A Zillionaire'
, it totally bombed in England, but was quite successful in America. 'How To Be a Millionaire' was a Top 40 hit, 'Be Near Me' is still the biggest ABC hit in America we ever had. So that took away the pain of that a little bit, I couldn't believe it.
You know this thing that people say "Ooh, you've got to slog around America playing live", you don't! We just got a phone call, "guys you've got to come to L.A. They're playing your record on the radio, it's a top 10 radio hit". I had no idea and that was good. There was a bit more continuity to it for me, it was really nice that the Americans liked 'When Smokey Sings' as well.
So you're high on all of this and of course there's a game changer in the world, which is House Music and effectively you dump your guitar for this new form….
Mark: I loved all the really seminal early stuff, it was so minimal…
What were your views on things like Acid House?
Mark: It was just Year Dot, it was Year Zero and it came along. The North was playing this stuff a lot before the South and there were great clubs in Nottingham, The Haçienda in Manchester and Jive Turkey in Sheffield. They were playing all this stuff in '85/'86 and it was quietly bubbling away.
It was actually David Palmer who said there's this great club called 'Shoom', "You've got to go! It's in a fitness centre in Southwark". So I was into that in the beginning, it was incredible scene, the energy in it was fantastic. It changed everything for me and it's really when I stopped listening to pop music completely.
But the 90s rather passed me by, I call it my musical coma period. I didn't get Britpop at all, was never into any of it and the Indie sort of stuff.
Did you like the House thing Stephen?
Stephen: I'm into dance, going out dancing and clubbing. I think that scene though is like you had to be there, that's what it was about. I think if you were listening to it on the radio, it doesn't quite work quite the same. You had to be in those clubs and taking those drugs, whatever, to appreciate it and feel it. It was a movement…
Mark: I think it was the last movement really. We've gone into complete stasis and stagnation, I don't really understand…
What is your opinion on the music industry now, positive and negative?
Mark: It's over, the big mistake is very little new talent is getting signed and developed.
Worse than that, it's actually now messages from accountants and focus groups in the head offices of wherever to the A&R department saying "create that for us, we want something that sounds a bit like Taylor Swift or whatever, who's this age and is going to appeal to that". It's literally the accountants have taken over.
Pop music by algorithm or design committee…
Mark: It is, when we were signed it was because somebody got to hear about you. "There was a hot new band in Manchester, there's a lot happening in Sheffield at the moment" and the word would get out and it was real and people found out about it. I don't think that's happening…..
Stephen: Well the world's changed beyond recognition….
Mark: It's the internet isn't it?
Stephen: When we were making music, we did that because there was nothing else to do. There was like three television channels, television would go off air, like goodnight, here's the national anthem. On Sunday, shops in the cities were closed. It was a totally different thing, and that's what we did, we created our own world and that world was between us.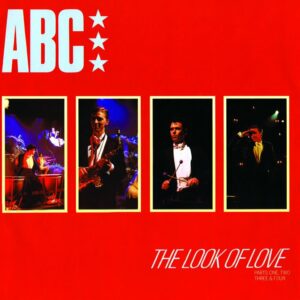 We were like a little gang and other people in bands were like that too. ECHO & THE BUNNYMEN, ASSOCIATES, all little gangs making their own peculiar version of what they saw as being pop music, the image… we were the people that came up with the ideas, it wasn't the record company saying "hey now guys I think you should etc…"
When we first were doing ABC, we were into cycling gear and sportswear. PET SHOP BOYS came to see us at The Embassy, their idea was to wear cycling gear and they came to see us and then just went "we'll have to forget that idea!" *laughs*
We then dropped the cycling gear and went for the showbiz look with the gold lame suits and all that, these were ideas that didn't come from the stylist or the record company. When Martin first had the gold lame suit made by Colin Wild just off Carnaby Street, the record company Phonogram were kind of like horrified… "you're not going to wear that on Top of the Pops! What the f***?!"
They didn't understand it, but they did understand it the next day when everybody was phoning up to do an interview with the guy who wore the gold lame suit. We were the people that came up with those ideas and concepts and sleeve designs.
Mark: I don't think that's happening now.
Stephen: We don't know do we?
The creativity is spread thin, you made music to be your escape to create. The idea of creation for kids now is for them to have an Instagram account and do selfies…
Stephen: I also think in a record company nowadays that if they've got an act and they delivered a big hit album, they're not going to let that act then go off in a completely different direction and say "we've done this now and the sleeve is going to look like that". They wouldn't allow it! It would be like, "no you're not, you're going to work with these people".
When record companies were making enough money through the new acts that would emerge, they'd go "hey, you know what? Let them do what they want, they're the artists". And sometimes those off the wall projects would hit big. The world just isn't like that anymore.
Mark: Also, the money's gone out of it. Because everybody thought, "oh right, it's all going to be about streaming". Now, the amount of money I see from streaming… a friend of ours told me that 'The Look of Love' got five million plays one year on Spotify. So I got in touch with the accountant and said "what are the Spotify royalties?" and he said "Mark, we'll look into it for you but it won't be as much as we'd have to charge you for investigating it".
In other words, Taylor Swift put it perfectly when she said that her Spotify royalties wouldn't pay for a Sushi dinner once a month and she's one of the most played artists out there. So, it's not sustainable that, is it? We're being ripped off!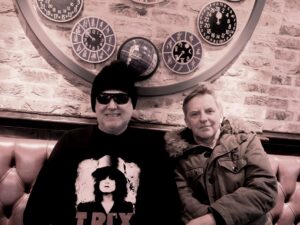 Kids these days are expecting music for free and that's quite sad….
Mark: My nephew who likes music, I was shocked to find that he's never bought a record in his life. I said "what do you do then?" and he said "oh, I just make a YouTube playlist and stream it".
Stephen: It's the same with my boy, he doesn't buy records, some of his friends do.
They're buying vinyl like kids would build a kind of train set or whatever. It's like a little hobby, it's not the way when people do it and interact with music and artists anymore. It's changed beyond all recognition.
Mark: It really has, I'm really worried about it. It's not sustainable anymore as a career, so people will not be going into it, they'll be choosing something else. You know, we were at least getting regular money weren't we? It was a job…
Stephen: Yeah, that's the way it worked and now it's a different thing. Now a record company isn't going to take a chance on a new act, they're going to say "let's do a fortieth anniversary edition of this and we'll plonk it out on blue vinyl and we know how many fans this band has got. So we will press up a thousand and we know we'll sell that, that's it". It's nothing, it becomes something totally different to what it was. We're dinosaurs, it's sad to say…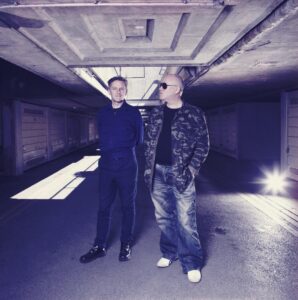 On a more cheerful note, are you two into creating any music now that you're sort of back in each other's life again.
Mark: Absolutely! We've re-booted VICE VERSA and we've been writing. We do it because we love it.
What ultimately would you like to do with it to get it out to the public?
Mark: That is the problem, I don't even know what constitutes a hit record these days? What do you look at? Which is the chart? It's not clear anymore….
So you're recording stuff and it may see the light of day at some point?
Stephen: We work just like we worked when we first met and we're excited about making music. We're the same people aren't we?
Mark: The same funny old buggers as we were! I met Steve when I was sixteen, it's incredible! *laughs*
---
ELECTRICITYCLUB.CO.UK gives its sincerest thanks to Mark White and Stephen Singleton
'The Lexicon Of Love'
, 'Beauty Stab'
and 'How To Be A Zillionaire'
by ABC are still available on CD via Mercury Records
https://www.facebook.com/Vice-Versa-Electrogenesis-806726912703189/
https://twitter.com/vvanthology
http://www.discogs.com/artist/248815-Vice-Versa-4
https://en.wikipedia.org/wiki/Vice_Versa_(band)
http://www.sheffieldvision.com/aboutmis_bands_vv.html
---
Text and Interview by Paul Boddy and Chi Ming Lai
Photos courtesy of Mark White and Stephen Singleton
4th May 2019