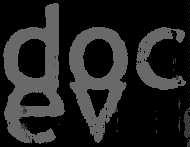 Documentary Evidence is an unofficial Mute Records website run by freelance music journalist and electronic music fan Mat Smith.
Named after the Mute Records catalogue booklet inserts that came with their releases from 1987, it is described as featuring "Reviews of artists appearing on Mute Records and its various sub-labels", but also includes other music writing by Smith.
Like many music bloggers, Smith compiles an end of year Top 10 albums listing and in 2017, he controversially included TAYLOR SWIFT's 'Reputation' at No4 above the No6 placed 'Spirit' from DEPECHE MODE.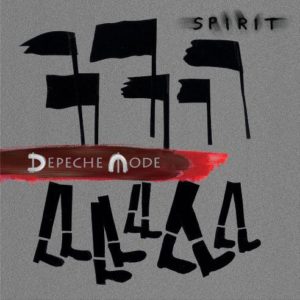 The decision provoked surprise, discussion, amusement and condemnation; how could a respected authority on the legend of Mute Records appear to betray the musical foundations they were built on?
However, other commentators were not so surprised and saw it as a sign.
Mat Smith chatted to ELECTRICITYCLUB.CO.UK about why last year, he preferred Taytay over Essex Dave and presented his Documentary Evidence…
What was the motivation and ethos behind establishing the Documentary Evidence website?
I started writing a blog at university in about 1996, even though it wasn't called a blog back then. That blog focussed on reviews of concerts I'd been to and records I'd bought that week. I called it Red Elvis Central for reasons that at the time felt important but which now seem silly. I wrote Red Elvis Central until I left uni, at which point anything I'd written up to that point was suddenly lost forever, and I got sucked into a graduate training programme in a non-musical, very sensible career.
I started the Documentary Evidence website in 2003. I distinctly remember it was a Saturday afternoon, I'd had to go into London for work in the morning and my wife was out at her grandmother's house when I got home. With nothing better to do, I sat myself down in front of my PC, wrote a review of 'Text Message' by VIC TWENTY and by the time she came back home that evening, I'd set up a rudimentary HTML website, which I decided would be a place for me to write about Mute releases for nobody's enjoyment but my own.
When I was scratching around trying to name the site, I raked through my record collection and found my copy of ERASURE's 'Chorus' 12", which was the first 12" I'd ever bought. In the sleeve was Mute's Documentary Evidence catalogue pamphlet, which was what got me hooked on collecting Mute releases in the first place, so it seemed like an obvious thing to name the site with.
When I first picked that catalogue up in 1991, I barely recognised any of the groups and artists listed and I barely even knew what a record label was aside from being a logo.
Documentary Evidence switched me on to this notion that there were all these things going on outside of the charts. I also naively assumed that everything released on Mute would sound like ERASURE in some way, which I still laugh at today. I think I envisaged that writing enthusiastically for my Documentary Evidence website would allow me to perpetually remind myself of how exciting it was setting off on that voyage of musical discovery in the early 90s.
The Documentary Evidence website was never intended to attract any attention from anyone else. For most of my life I've wanted to record my thoughts and memories in some capacity, just for my own benefit. It felt like a logical thing to extend that into writing about the music that meant something to me and which I'd spent most of my teenage years and twenties collecting in earnest.
Back in 2003 I don't think I really appreciated that Mute had a sort of 'cult' reputation and that there were other people who'd also become avid collectors of their releases. To this day I find it strange that anyone would have even found my website, let alone actually bothered to read it.
About ten years later I started writing occasional live reviews and features for Clash, and that led to working professionally.
Who are your own personal favourites from the Mute roster, both past and present?
ERASURE are the reason that the Documentary Evidence website exists, and they were the first group I really fell for, so they'll always be my personal favourite.
My dad brought home a copy of 'The Innocents' that a friend from work had recorded for him, sometime in 1988. He walked in and said "Matthew, have you heard of this band, ERASURE?" I'd seen them on Saturday morning TV, had heard them in chart and really liked them, but I didn't have enough pocket money at that time to buy any music.
I grabbed the cassette off him, rushed upstairs to my bedroom and more or less listened to it non-stop on my Walkman for months after that. I still get a huge surge of emotion every time I hear something new by ERASURE, and I can chart the most important points in my personal life by their music. They'll always be really special to me.
Right now, I'm really excited about the SHADOWPARTY album that comes out on Mute later this month. SHADOWPARTY includes members of the current NEW ORDER and DEVO line-ups, and their debut album is brilliant, like a time machine into a classic Manchester feel-good sound.
The other artist on the label I've been listening to a lot lately is DANIEL BLUMBERG, whose debut solo album 'Minus' was released by Mute earlier this year. 'Minus' came up out of Dalston's Café Oto improvisation scene, but that sense of freedom is combined with some truly moving, genuinely profound lyrics. I was fortunate enough to spend some time with Daniel recently and he's clearly a prodigious talent and probably unmatched in terms of his artistic vision. Being able to get inside the head of a musician and into the story behind an album or piece of music is the greatest privilege of being a music journalist, and spending time with Daniel was undoubtedly one of the highlights of my career.
You've established and maintained a good working relationship with Vince Clarke?
I interviewed Vince and ORBITAL's Paul Hartnoll for Electronic Sound when Vince started his own label, VeryRecords, and launched it with the album '2Square' that he and Paul did together in 2016.
VeryRecords is totally his own thing and he tries to do absolutely everything himself, as he's so personally invested in the label. I really respect that. Richard Evans provides support for the technical side of running the label, but apart from that it's a fully solo endeavour. He could get anyone to help with any part of running a small label and just put his name to it, but he doesn't. It's his thing, and he's really enjoying it.
I can't quite remember now whether I volunteered to help put the press releases together for future VeryRecords releases or if he asked me if I'd like to help – we were in bar, and beer was involved – but somehow I ended up working on the materials to support the first REED & CAROLINE album 'Buchla & Singing', and the two releases he's put out since – ALKA's 'The Colour Of Terrible Crystal' and 'Hello Science' by REED & CAROLINE.
As a lifelong ERASURE fan, to be able to call Vince my boss is probably the strangest thing that's ever happened to me. I'm so grateful for this opportunity and for the trust he's placed in my skills as a writer. I wish I could say the same of everyone I've worked for.
What level of DEPECHE MODE fan would you describe yourself as? One of The Black Swarm, plain clothes Devotee or an armchair enthusiast?
I'm definitely not in The Black Swarm, and in fact I didn't even know what the Swarm was until my photographer friend Andy Sturmey explained it to me a few years ago. I guess I'm probably somewhere in between Devotee and armchair enthusiast if I reluctantly had to pigeonhole myself.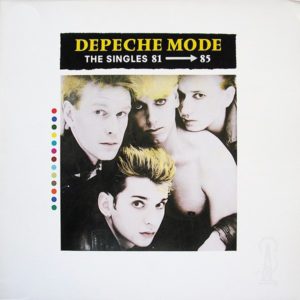 DEPECHE MODE are really important to me, no doubt about it, but I actively detested them when I first became aware of them, which would have been just after 'Violator' was released.
In my high school English classes I used to sit next to a girl called Sarah Vann whose folder was covered in photos of Depeche from that time. I just figured they were an Athena poster-friendly boyband because of that. I also couldn't get my head around songs like 'Personal Jesus' at all, mostly because I was slightly intimidated by guitar music at the time.
Later, when I read the Documentary Evidence booklet that made me a Mute collector, and I read about Vince having been in DM at the beginning, I felt really conflicted – I suddenly felt duty-bound to collect their material but didn't think I'd like their music.
I started with a beaten-up copy of 'The Singles 81 – 85' borrowed from Stratford-upon-Avon's library and tentatively went from there. I guess it was appropriate that the CD came from a library – it proves the old adage that you shouldn't judge a book by its (Depeche-decorated) cover.
Between the ages of 15 and 16, I consumed all of their albums and was a paid-up fan by the time 'Songs Of Faith & Devotion' was released.
The first concert I ever went to was Depeche at the NEC on 14 December 1993, and I wore a black long-sleeved 'I Feel You' t-shirt.
I have really fond memories of that show. I still have the programme and the ticket, but I no longer have the t-shirt.
I once spent a whole afternoon sat on my parents' sofa listening to 'The Things You Said' on repeat because my girlfriend had unceremoniously dumped me. Like ERASURE, their music is inextricably bound in with a lot of very vivid memories.
Much, much later I got the chance to interview Dave and Martin for Clash, Dave when he did the last SOULSAVERS LP and Martin for his instrumental album 'MG'. Perhaps it's the point they're both at in their careers, but neither had massive egos, and both came across as appreciative and humble. I like it when people surprise you.
Had it been your intention to feature artists from outside of the Mute family on Documentary Evidence?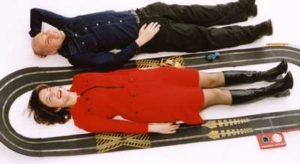 I was really pretty purist at the beginning – this was a Mute site, and it was only ever going to be about Mute. But then again, I started out with a review of the solitary VIC TWENTY single that came out on Credible Sexy Units, a label Daniel Miller formed outside the EMI ownership of Mute for the sole purpose of releasing that one single in 2003, so I was always bending my own rules from the off.
After a while I found myself writing more about musicians that had been on the label and who had then gone off to do different things, or people who were clearly influenced by Mute, or producers who had worked with Mute, or releases by Mute artists but that were released on other labels – tangents, basically, especially with Blast First artists.
Then people started sending me their music, saying they liked my site and asking me if I'd review them. When you're starting out, the generous act of people wanting to send you the music they've laboured over is a really persuasive thing, and to the best of my knowledge I never turned anyone down.
I guess it just all got very restrictive after a while, the idea of only writing about Mute when there's so much more music out there, but to this day I honestly think of Mute as being a lot like my musical spine – it's at the centre of everything, and I can always form a connection back to that central core, no matter what it is I'm listening to.
Pretty much every music I've gotten into can be traced back, in some way, to Mute and that original Documentary Evidence booklet.
Even something like jazz, which I really love now, can be traced back to seeing the name SUN RA as a Blast First artist. It made sense to me that my entry point into jazz would come through SUN RA rather than a more conventional, obvious route.
I guess at some point I decided to start writing about some of those non-Mute things with as much passion and enthusiasm as the Mute stuff, but I wouldn't be doing any of that if it wasn't for Mute.
When I became a 'proper' music journalist, whatever that is, it would have been really restrictive just writing about Mute.
I'm still normally the first in line enthusiastically pitching a Mute release when a new review section gets commissioned, but I get to cover all sorts of weird and wonderful things, most of which aren't anything to do with Mute, and I absolutely love that.
Controversially in the Documentary Evidence Top 10 Albums of 2017, you placed DEPECHE MODE's 'Spirit' at No6 but ahead of it was 'Reputation' by TAYLOR SWIFT at No4? Please explain… 😉
I do find it amusing that this would be regarded as remotely controversial. It's only the second year that I've done an end of year countdown, and I'm not sure I'd do it again! When I was putting it all together, there were certain albums I knew had to be in there – 'Reputation' was always going to be high up in the rankings – but after getting five or six together, I really struggled. It was only when I looked back at what I'd written about that year that I even realised that 'Spirit' had been released in 2017, because it felt like it had come out ages before.
It wasn't that 'Spirit' was in any way a forgettable album, as my review for Clash was incredibly positive. I even found myself indulging in a bit of journalistic hyperbole when I compared parts of it to MARVIN GAYE's 'What's Going On', which rubbed a lot of people up the wrong way.
I maintain that it's a good album – great even. It showed a new side to DEPECHE MODE, one that initially jarred with me, but it was one that I ultimately respected.
I haven't listened to it once since I assembled that year-end countdown, but I rarely get a chance to listen to albums over and over after I've reviewed them these days anyway. You're more or less always moving onto something else as soon as you've filed the review copy.
You shouldn't view me placing 'Reputation' higher than 'Spirit' as indicating that I think TAYLOR SWIFT is better than DEPECHE MODE; it just means that 'Reputation' means more to me. Documentary Evidence was always intended as a personal website, where everything I wrote was essentially my own subjective view. People are free to disagree with what I write, and frequently do, especially it would seem if I'm writing about DEPECHE MODE. I was roundly slated for giving Jeremy Deller and Nick Abrahams' 'The Posters Came From The Walls' the positive review that I felt it deserved, and I've developed a thick skin about people's views.
The point with TAYLOR SWIFT is that her music means a lot to our family. We have two daughters, ages 12 and 10, and as parents we're acutely aware of the need for girls to grow up with positive, empowering female role models. TAYLOR SWIFT is the epitome of that.
She'll go down in history as a great pop musician and songwriter but also as the one who – by suing that radio DJ for a buck – did more to highlight the gross inequalities and power abuses in the entertainment industry than anyone else.
But she also makes great music. We listen to TAYLOR SWIFT on roadtrips all the time and her music brings us closer together as a family. It's that simple. Debating whether 'I Knew You Were Trouble' is better than 'We Are Never Ever Getting Back Together' is a nice way to spend a drive around Cornwall, for example. It sure beats arguing.
The four of us going to see her at Wembley last month was among the best evenings out we've had as a family. We all wore TAYLOR SWIFT shirts, all sang every song at the top of our lungs and I'd rank it as one of best concerts I've ever been to, unashamedly. For me, and plenty of other people, 'Reputation' is a bold, multi-hued album that works as both social criticism and fucking great pop music.
What also amused me about people decrying this so-called music journalist snob putting TAYLOR SWIFT in his top ten is that not one DEPECHE MODE fan moaned about me ranking ERASURE higher than 'Spirit', or sticking a RYAN ADAMS record above it, or choosing an electronic jazz fusion LP by JAMES HOLDEN as the best thing I heard in 2017! And 'Spirit' getting into the top ten, when I conservatively wrote between 80 and 100 reviews last year, is still a pretty big deal.
But TAYLOR SWIFT surely doesn't have any links to Mute… or does she? 😉
It's slightly tenuous, but there is a link. Jack Antonoff from BLEACHERS, co-wrote and produced two songs on '1989' and six on 'Reputation'. Vince Clarke worked with Jack on the first BLEACHERS album, and I think the big, anthemic pop that BLEACHERS make has definitely rubbed off on some of the recent mixes that Vince has done. You can hear some of it in the last ERASURE record, 'World Be Gone', too.
Jack's style is extremely distinctive, but very natural. Some people have to work hard at creating these huge, stadium-friendly, euphoric songs, but it's like it runs in his veins or something. I knew which songs were his on 'Reputation' before I even looked at the credits.
So, yeah, if you squint a little and are happy that it's an indirect connection, there is one. But I didn't need one to justify enjoying TAYLOR SWIFT's music – just the look on my girls' faces when they were dancing round our lounge to '1989' when they got it for Christmas 2014 was justification enough.
ELECTRICITYCLUB.CO.UK saw this positioning of TAYLOR SWIFT above DEPECHE MODE by a respected Mute Records commentator as oblique symbolism for DM's current artistic decline, have you any thoughts about how this?
It certainly wasn't intended that way.
As I said before, I really liked 'Spirit', and I really liked its predecessor 'Delta Machine', which I awarded eight out of ten in a review I wrote for Clash.
I wonder whether people have unrealistic expectations of what DEPECHE MODE should be doing today.
They've been going for nearly forty years and sit on top of a back catalogue containing some incredible moments, and those moments are going to be part of a personal soundtrack to significant events, whereas as we get older we don't accumulate as many of those things.
Most artists that have been going this long are valued not for what they're doing today but what they've done before, and any new material is just a catalyst for getting back out on the road and playing the hits.
The best example of this is THE ROLLING STONES – they've consistently released new material, but it's generally regarded as second-rate compared to the album's they released in their first two decades.
Anyone going to a Stones show doesn't want a set filled with the new stuff – they pay for the hits. I know that fans have moaned about the recent Depeche festival shows not containing enough of their big songs, and I would say that's probably fair. I don't think they can hide behind being inexperienced with festivals, as a glance at any other band's setlist would have provided ample evidence of the rules.
But I do think the fact that Depeche are still trying to do different things – the overt political reference points of 'Spirit' or the pronounced bluesiness of 'Delta Machine', as examples – shows that they still have a creative spark beyond just rehashing 'World In My Eyes' all over again. And if they did that, then people would moan at them for not making any effort. I'm not sure they can win, but it's not like people aren't buying their albums or eschewing their shows.
At the 'Mute: A Visual Document' book launch where there was a live Q&A which included Daniel Miller, it was reported that Anton Corbijn was making made his feelings known publicly about the current direction of DEPECHE MODE? What was your interpretation of what was said?
Honestly, I can't remember. As the host of that panel discussion, I was too busy making sure I didn't drop my microphone.
My recollection was that Daniel and Anton were both incredibly positive on Depeche and where they are right now, creatively. These guys are like the fourth and fifth members of that band, as their input into what makes them a band is really important to who they are, what they do, and how it's presented, and I don't think that will ever change. If anything, Anton was super positive about how much trust that Dave, Martin and Andy placed in his judgement, and how rare it is to find that these days. I didn't get the impression that DEPECHE MODE are ignoring his counsel and doing their own thing at all.
That night, I do remember that Daniel said that they're still a Mute band, even though they've left the label. I think that says a lot about how he approaches artists on the label, as well as how much he cares about them; I guess it's like waving your kids off when they leave home – they'll always be family. In the same way, Daniel will always be their A&R guy and creative mentor.
Daniel Miller = DM = DEPECHE MODE. That's a complete coincidence, but it also isn't.
ELECTRICITYCLUB.CO.UK often likes to highlight a musical connection it has noted between CHVRCHES and TAYLOR SWIFT, do you hear it as well in her songs like 'Out Of The Woods', 'Gorgeous' and even 'Blank Space'?
It's not something I've noticed especially, but it says a lot about the way we music critics approach very overtly successful music that we can only give a pop artist credibility by comparing it to something a little more underground, or something less popular.
Electronic music has been mainstream for the last forty years and it's only natural that stuff coming out of the underground would feed into popular music. That's just how it has always worked, all the way through musical history.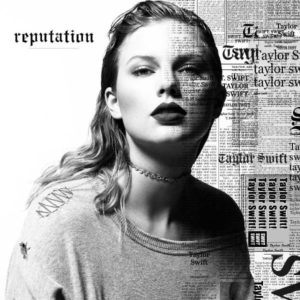 Things start outside of the public eye, in almost cultish micro-scenes, they blossom, become popular, popular acts co-opt them, a new thing comes along and it starts again. If it didn't, this would all be pretty boring and we'd all still be listening to easy listening music.
Is TAYLOR SWIFT consciously riffing off CHVRCHES' ideas? Probably not. Does she have the budget and bankability to attract any producer she wants to work on her record? Absolutely. Do those producers and her A&R team have their fingers on what's cool and what's not? For sure. To me it's not that surprising.
As far as electronic based artists are concerned, who are the up-and-coming acts that you would rate at the moment?
Electronic music – in its broadest sense – is having one of its most fertile creative periods, from the mainstream to the most avant garde of locales. For example, there's a German producer called VONICA whose music I'm enjoying right now. He makes this fantastically skewed, very densely-layered music that is umbilically linked to dance music, with all its attendant euphoria and drama, but this slightly off-centre quality. He's one to watch, for sure.
Elsewhere, I find myself listening to lots and lots of fusion music. Back in the 70s, stuff that fused jazz, electronics and rock together was seen as hugely innovative but over time it became a shorthand for naffness, something that my older self thinks is massively short-sighted as I've begun to appreciate things like CHICK COREA's underrated 'Return To Forever'. The new groups tackling fusion music are just incredible. JAMES HOLDEN I've already mentioned, but there are others like KAMAAL WILLIAMS and RATGRAVE that manage to create these amazingly fresh pieces of music out of seemingly incompatible reference points.
How and why do you think Mute had managed to maintain its position as a credible brand in the music industry after so many years?
I think it all comes down to being artist-led. When you're artist-led you're prepared to take more risks to allow them the space to realise their creative vision. When Daniel Miller started Mute again as an independent enterprise, I think that's why he named it Mute Artists. That's a very egalitarian, equitable way of approaching running a label – it emphasises that without those artists the label wouldn't, and couldn't, exist.
That's not to say that Mute have always just let artists get up to what they want, because I've heard that Daniel is a very hands-on guy, even if he's not in the studio with every artist on the label. However, if you start with the primacy of the artist and are focussed on allowing them to realise their vision in a supported way, you're probably going to get the best results.
Going back to what I said about his relationship with Depeche above, he evidently cares for his artists, and I personally think that's ultimately why he sold Mute Records to EMI – faced with seismic changes in the record industry, he deemed that was the best thing for his artists to allow them to stay creative. It wasn't for commercial gain, but to give his artists some sort of financial stability. I think it came from a fundamentally good, well-meaning place. It wasn't like he'd decided to disown his kids and start a new family with someone else. You might think of everything released on Mute as songs representing Daniel's enduring faith and devotion in the artists whose music he elects to release. I can't see that ever changing.
---
ELECTRICITYCLUB.CO.UK gives its sincerest thanks to Mat Smith
https://429harrowroad.wordpress.com
https://www.facebook.com/DocumentaryEvidence/
https://twitter.com/DocEvidence
https://www.instagram.com/documentaryevidence/
---
Text and Interview by Chi Ming Lai
17th July 2018