Welsh duo SHELTER are back with their third album 'Soar' and it largely sees them in a more introspective mood.
The usually flamboyant pairing of Mark Bebb and Rob Bradley have toned down their approach following their previous full-length offering 'Ascend' in 2016.
That record had been something of a mixed bag, the sound of a band trying too hard and unable to shake off the spectre of ERASURE, although the more subtle 'Figaro' was an indicator of what they were capable of.
Their Crowdfunder mission statement said: "This time around, they've simply let the songs breathe their own life and be just what they felt the songs needed to be organically to tell their respective stories, without feeling a need to try to make them fit to any specific genre / sub-genre or generic template".
For the start of 'Soar' though, it is business as usual for SHELTER with the supercharged opener 'Electronica' being an enjoyable PET SHOP BOYS styled celebration of electronic music utilising great synth lines and an appropriately procured robotic vocal aesthetic. The lyrics though, while well-intentioned don't work so well.
Second song 'Touch' bases itself on 'Sweet Dreams (Are Made Of This)' and throws in the kitchen sink with a variety of stabs, sawtooths and drops that might cause the listener to duck!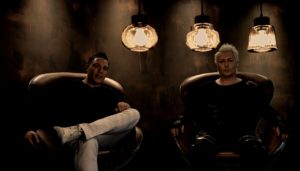 But 'Karma' sees SHELTER at their best yet and realising their potential with a dark and more restrained demeanour. "What you want is what you'll get…" sings Bebb, "You will get a lot more that you planned". With the message relayed loud and clear, Bradley compliments the sentiment with a dynamic production that hits the spot with its highs and lows.
One of the dilemmas that has always haunted SHELTER is the many directions they can take their music; one example is 'Soar' which is a good song with a great topline. However, it might have benefitted from a less rigid rhythmic base and a more synthpop-based treatment.
On their previous album, it was observed that Bebb needed to work on how best to apply his voice. He's done his homework and really makes very good use of his vocal potential on the lovely ballad 'Pieces' which will surprise many who may not have taken to SHELTER in the past. It's the sort of tune that Midge Ure might have come up with for his 'Fragile' opus.
Following on, the heartfelt 'Survive' is cut from a similar cloth although more synthetically orchestrated in its superb cinematic arrangement with Bebb's deep proclamation that "the sun will rise".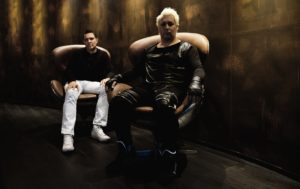 '1984' does what it says on the tin, recalling the great octave bassline driven melancholic pop of the classic era, while the optimistic 'Extraordinary' plays with a Latin flavoured R'n'B template that emulates SHAKIRA and actually works!  'Sorry' features more great synth work from Bradley while Bebb tries to put a positive slant on the end of a relationship.
Closing with the staccato drive of 'Exhale', it's SHELTER punching the air and making their play for a spot in a Jerry Bruckheimer movie!
A big improvement on 'Ascend', this is a more refined SHELTER unafraid to explore their darker side. Less can more and 'Soar' is documentary evidence of that.
---
'Soar' is released by Ministry Of Pop, available in CD in a variety of bundles from https://www.crowdfunder.co.uk/shelters-new-album-soar/
SHELTER open for THE HUMAN LEAGUE on the European leg of their 2018 'Red' tour, dates include:
Brussels Ancienne Belgique (31st October), Eindhoven De Effenaar (1st November), Utrecht TivoliVredenburg (2nd November), Groningen De Oosterpoort (4th November), Hamburg Große Freiheit 36 (5th November), Aarhus Train (6th November), Gothenburg Trädgårn (9th November), Oslo Rockefeller (10th November), Berlin Huxleys Neue Welt (12th November), Hannover Capitol (13th November), Frankfurt Batschkapp (14th November 2018), Cologne E-Werk (16th November), Oostende Kursaal (17th November), Antwerp De Roma (18th November)
http://www.shelterofficial.com
https://www.facebook.com/Shelterofficialmusic/
https://twitter.com/shelterofficial
https://www.instagram.com/weareshelter/
---
Text by Chi Ming Lai
Photos by Andreas Lechleiter with styling by Monika Korn
15th July 2018, updated 1st August 2018