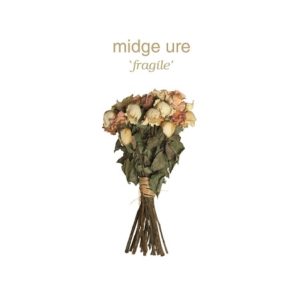 TEARS FOR FEARS' Roland Orzabal once said that artists should make fewer albums when explaining the 4 year gestation time for 'The Seeds Of Love' album.
While that album was perhaps less than satisfactory, he had a point. Within that same period between 1985 to 1989, OMD issued two albums plus a greatest hits and then split up as a result of the burn out. If the best ten songs had been siphoned off 'Crush', 'The Pacific Age' and their corresponding non-album appendices, there probably would be a smaller but stronger body of work to represent OMD's Hollywood phase…
Long periods between albums of original material are now common occurrences among veterans of the Synth Britannia era. HEAVEN 17 are currently recording their first album since 2005's 'Before After' while ALISON MOYET had a 10+ year gap before her triumphant artistic rebirth with 'the minutes' last year.
And now MIDGE URE returns with 'Fragile', a solo album of new songs and his first since 2001's 'Move Me' Of course, the diminutive Glaswegian has not been idle having released a collection of covers entitled '10' in 2009 and returned to ULTRAVOX with the 'Brilliant' album in 2012 being the end result. And all this without even mentioning his endless touring and collaborations with European artists such as STEPHEN EMMER, SCHILLER, JAM & SPOON and X-PERIENCE.
Indeed, the success of the ULTRAVOX comeback appears to have been a big motivator in Ure getting his creative focus back. It can't be easy as he has nothing to prove as one of British music's esteemed elder statesmen. But despite being still highly regarded in Europe, the general public in the UK appear to be apathetic as to what he can still offer. Now, while Ure is highly unlikely to reach the heights of No1 singles like he achieved with 'If I Was', or headline Wembley Arena as he did in support of his 1985 debut long player 'The Gift', his new meisterwerk is an impressive musical diary of a man pondering and confronting his post-midlife.
Although not featuring on 'Fragile', his recent orchestral laden collaboration 'Taking Back My Time' with Stephen Emmer probably sums up the album's manifesto. But the collection begins with another poignant title 'I Survived' which sensitively soars and sees Ure comfortable in his own skin, unafraid to question how his life has turned out. "Keep it and hold it while you can" he sings.
The eight songs and two instrumentals that comprise 'Fragile' sentimentally recall his work with VISAGE, ULTRAVOX and MICK KARN as well as his earlier solo work. But then, this is a MIDGE URE album, and apart from a contribution by MOBY and a sampled drum loop, 'Fragile' is all his own work. "In a way, it's a much more grown up record than anything I've done before" he told ELECTRICITYCLUB.CO.UK
'Are We Connected?' could well be a thematic follow-up to 'Contact' from 'Brilliant', but is much harder rhythmically like DEPECHE MODE's 'In Your Room' from 'Songs Of Faith & Devotion'.
Appropriately enough, there is much intense questioning before Ure then cries "All hail to this new religion, crossed wires in conversation"! The album eases into a more sedate pace on 'Let It Rise', a track recorded for SCHILLER's 'Atemlos' album back in 2010.
A much more epic proposition in its original form, Ure goes back to basics for his version 2.0 but retains the track's electronic eloquence with some shrilling synths and pretty melodic motifs. Now whereas 'Brilliant' and 'Move Me' both had Ure rocking out on his guitar, other than on 'Star Crossed', 'Fragile' is much more gentle and textural.
The beautiful progressive ambience of 'Wire & Wood' that starts Side 2 is a fine example of Ure's sound painting. Free from the pressure of writing lyrics, he utilises various spiritual atmospheres including Spanish guitar, oboe samples and washes of synth before a Morricone styled pan pipe and vocal ad-lib combination in the final of the piece's four movements. With a monochromatic Film Noir instrumental 'Bridges' also featuring in the second half, these two selections are a reminder of the wordless wonders that made up a fair chunk of 'The Gift'.
But it is the songs that most listeners will be interested in and Ure certainly doesn't disappoint in that department. 'Become' is unsurprisingly the album's lead single and a romantic, less abrasive take on 'After A Fashion'. With a danceable metronomic beat and all the hallmarks of classic VISAGE, as the album's most uptempo number, it is inevitably the focal point of 'Fragile'. But there are other songs that are easily its equal.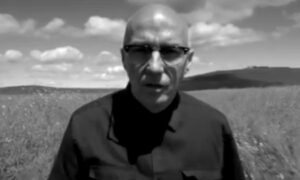 The most notable of these is 'Dark, Dark Night', a co-write with a certain Richard Melville Hall, otherwise better known as MOBY. The song is quite obviously a descendant of 'Rockets' from MOBY's 'Destroyed' opus. Optimising the latter's rich symphonic string sounds and chilled vibes, 'Dark, Dark Night' builds to an amazing climax with melodic screeches and a tremendous guitar solo from Ure.
Together, the follically challenged pairing are a partnership made in heaven and it has obviously had a prolonged effect as 'For All You Know' is another wonderful example that mirrors that template. Adding simulated fretless bass and symphonic choirs into the equation, although Mr Hall is not involved in this one, 'For All You Know' does rather sound like ULTRAVOX's 'Change' slowed down and reimagined by MOBY!
In fact, the sad modulated string synth pads reminiscent of OMD are all over 'Fragile' but they are certainly more interesting than the thinner Virtual String Machine generated tones that characterised the 'Brilliant' album. These sounds give the album a comparatively primitive but emotive feel, familiar in shape but fresh in feel. To close the album, there is the Floydian tones of the 'Fragile' title track. This solemn epic is such that it could be considered Ure's own 'Comfortably Numb'.
Overall, 'Fragile' sees MIDGE URE reinvigorated by his musical past and enjoying using electronic sounds again on top of a much more mature outlook while evoking a true honesty in his voice. Clearly, the ULTRAVOX experience has been an important factor in Ure rekindling his muse… quite ironic as Matt Bellamy and Co have turned ULTRAVOX's sound up to 11 and taken it round the world's stadiums!
---
'Fragile'
is available as a CD, vinyl LP and download via Hypertension Music
http://www.midgeure.hypertension-music.de/
https://www.facebook.com/midge.ure/
---
Text by Chi Ming Lai
11th July 2014