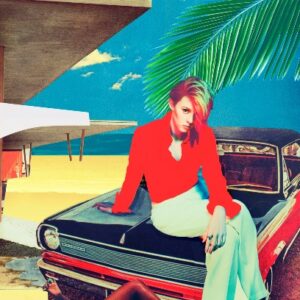 It was Autumn 2008 and the mainstream press were getting excited about the new prospects for 2009 who were female, electro and had a name beginning with an 'L'!
Caroline Sullivan's article in The Guardian 'Slaves To Synth' highlighted female fronted electro friendly acts such as LA ROUX, LITTLE BOOTS and LADYHAWKE. Each achieved varying degrees of popularity with LA ROUX fronted by the "falsetto from the ghetto" Elly Jackson being the most internationally successful of the trio with a Grammy for Best Dance Album among the accolades.
Since then, things have not been so good for The L-Word trio with regards their follow-up albums; LADYHAWKE was first off the block with 'Anxiety', a horribly recorded guitar driven opus lacking in tunes. Meanwhile, LITTLE BOOTS parted ways with 679 / Atlantic Records and self-released 'Nocturnes', a disappointing collection of club oriented numbers that lacked the synthpop nous of her debut 'Hands'.
Over at Camp LA ROUX, their sophomore offering was delayed while Jackson's proclamation that "I don't want to make synth music for the rest of my f*cking life" signalled all was not well, as pressure built to record the follow-up. So with the album finally complete, is 'Trouble In Paradise' going to make it three duffers from The L-Word trio?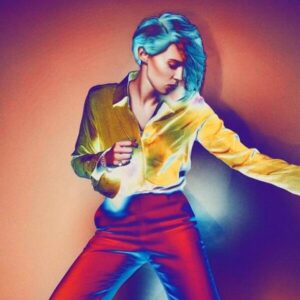 The signs have not been good for this appropriately titled follow-up.
Four years have passed with rumours of a whole album of work scrapped plus there has been the parting of ways with silent partner Ben Langmaid, a crucial cog in the synthesized authenticity of the 'La Roux' debut.
Songs such as 'In For The Kill', 'Bulletproof', 'Tiger Lily', 'As If By Magic' and 'Cover My Eyes' were all superb electronic pop numbers that paid tribute to HEAVEN 17, DEAD OR ALIVE, THE KNIFE, BLANCMANGE and YAZOO respectively.
"Beware of biting the hand that feeds" they always say and certainly, there have been parallels with how DUFFY went about her second long player. Drunk on the success of her debut 'Rockferry', the Welsh songstress ditched her manager and the songwriting / production lynchpins that were a key part of its success. DUFFY was then last spotted riding a bike in a Pepsi advert and left with several thousand CDs of 'Endlessly' under her bed!
Langmaid does work on six of the tracks so effectively, 'Trouble In Paradise' is a goodbye from him and a hello to the solo Elly, aided by new production sideman Ian Sherwin. Despite her proclamations in 2008 by Jackson that "girls look wicked playing synths", unlike her rival Victoria Hesketh, she has never actually been seen or photographed wielding such as a device, her instrument of choice being guitar.
So how does Elly Jackson get on without Langmaid in the ranks? The first track made public 'Let Me Down Gently' could be a sign. Despite the potentially prophetic title, it's actually not bad and starts a bit like HURTS… a lot more electronic than expected but with more guitar than on the debut, it features a false end and then launches into something more uptempo with 'Spacer' / 'China Girl' (both Nile Rodgers productions incidentally) rock guitar solos thrown in for good measure. The musical palette is expanded, but something does seem to be missing.
The first single proper 'Uptight Downtown' takes an obviously enjoyable CHIC influence and fuses it with a funky dash of TOM TOM CLUB. Despite reservations from some quarters, this is a fine calling card for the album. This stomping direction had actually been showcased a few years ago when Jackson presented her I Don't Mince My Words mix of female pop duo WAR OF WORDS' single 'Battleground'. Interestingly, Langmaid worked separately on a more obviously synthy remix for the track 'Panic'… so signs of a possible division have been around a while.
The TOM TOM CLUB fun continues with 'Kiss & Not Tell' but this time, crossed with AMAZULU while 'Tropical Chancer' explores the sunnier climes of the legendary Compass Point Studios via GRACE JONES' 'My Jamaican Guy'. Certainly Jackson voice is less shrill on these songs than on the 'La Roux'
debut, but this simultaneously makes her less distinctive as well. Ditto the fatter production style; the sound on 'La Roux' may have been deliberately thin but it stood out. But the result is that Elly Jackson could now be any number of pop stars around at the mo.
'Cruel Sexuality' takes on a triplet synth bassline and grainier string machine tones but the moodier demeanour lacks impact. The pace is taken down further for the lush piano assisted ballad 'Paradise Is You'. But while 'Sexotheque' has a quite provocative title, in reality it is a polite disco song that perhaps isn't quite as strong as 'Uptight Downtown' but enjoyable just the same.
The more boisterous seven minute 'Silent Partner' (a passing comment on Langmaid perhaps?) features plenty of synths and comes over like a Don Simpson and Jerry Bruckheimer movie montage sequence number that should satisfy those with more nostalgic tendencies.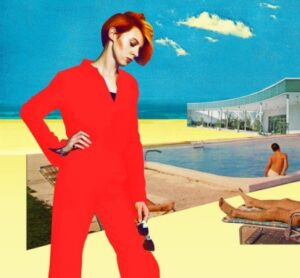 'Trouble In Paradise' ends though with the disappointing 'The Feeling' which washes over in a sea of voice samples and frantic offbeat drum programming although stylistically, this one most closely resembles the "falsetto from the ghetto" sound of the first album.
Overall, the nine songs on 'Trouble In Paradise' are a more enjoyable listen than either of LITTLE BOOTS and LADYHAWKE's second offerings. It is telling though however, that the songs which have the strongest musical elements like 'Uptight Downtown', 'Kiss & Not Tell', 'Let Me Down Gently', 'Sexotheque' and 'Tropical Chancer' are all co-authored by Ben Langmaid.
In an environment where CHVRCHES have stolen the classic synthpop thunder and the more generic pop is laden with EDM clichés, 'Trouble In Paradise' sits uneasily where it has no unique personality of its own. Ironically, it sounds more 80s than LA ROUX's debut ever did!
---
'Trouble In Paradise'
is released by Polydor / Universal Records
LA ROUX's tour of the British Isles includes: Glasgow O2 ABC (5th Nov), Leeds Metropolitan University (7th Nov), Birmingham The Institute (8th Nov), Bristol O2 Academy(10th Nov), Norwich UEA (14th Nov), Oxford O2 Academy (15th Nov), Manchester Ritz (16th Nov), Belfast Limelight (19th Nov), Dublin Academy (20th Nov),
https://www.facebook.com/laroux
---
Text by Chi Ming Lai
21st July 2014