The captivating German songstress KATJA VON KASSEL finally brings out her first EP.
First making her name in London club nights like 'Synthetic' and 'Bedsitland', this 4 track release is the first opportunity for potential audiences to evaluate KATJA VON KASSEL and her Electro Weimer Cabaret as a body of work in one sitting.
Singing in English, 'Lili Marlene' affirms her charismatic presence and singing in an alluring Marlene Dietrich tone with a sultry yet technostalgic quality.
Co-written with Alex Gray, the songwriter / producer who co-wrote 'My Delirium' and 'Dusk 'Til Dawn' with LADYHAWKE, it really is like the '1930s meets the future'. Along similar lines and also sung primarily in English, 'Lies' is a marvellous synth friendly number with a strong traditional European flavour, laced with accordions and set to a tango template.
A song which actually made ELECTRICITYCLUB.CO.UK's 30 Songs of 2010, the Germanic GRACE JONES flavour is melancholically enticing and straight from the heart. If she was to ever cover a ROXY MUSIC number, then it would have to be Song For Europe' with its neo-Piaf pastiche and nouveau sophistication.
With two quality songs already on offer, the purer pulsating electro of 'In Little Rooms (Show Me Love)' steals the show. It's an aesthetic which closely resembles that of RONNY, a protégé of Rusty Egan who made several imaginative singles with luminaries such as Midge Ure, Peter Godwin and Vangelis. Alex Gray's intricate filmic electronics on 'In Little Rooms (Show Me Love)' are a delight while Fraulein von Kassel's detachment is art cool sexy.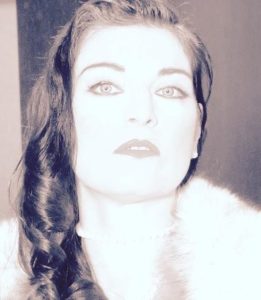 The elegiac Deutsche waltz of 'Himmel Brennt' strips things down with hints of 'Deer Stop' or 'Horse Tears' from GOLDFRAPP's cinematic debut 'Felt Mountain' and the influence of Berthold Brecht. Revealing KATJA VON KASSEL's moody dramatic side, the title translates as 'Heaven Burns'. "The tragedy of life is always a good inspiration to me" she once said.
KATJA VON KASSEL's first EP is a refreshing musical antidote to the influx of hollow electronic acts that have appeared in the last two years. These are timeless, escapist songs and with their futuristic twist, they are very much needed in this current culture of tension.
---
The 4 track 'Katja von Kassel' EP is available now as a download from
https://katjavonkassel.bandcamp.com/album/katja-von-kassel-ep
https://www.facebook.com/KatjavKassel/
https://www.facebook.com/katja.vonkassel
https://www.youtube.com/user/vonKassel
https://twitter.com/katjavonkassel
---
Text by Chi Ming Lai
17th January 2017