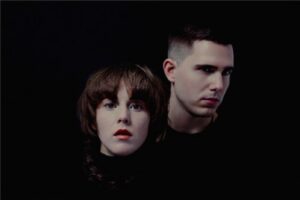 Formed in 2010 and hailing from Alberta, Canada, PURITY RING are Megan James and Corin Roddick.
The duo released their first track 'Ungirthed' in 2011, setting a musical template for the band combining blippy monosynths, 808 drums, sampled vocals and Dubstep-inflected wub-wub bass. Within a year PURITY RING had been signed to the legendary 4AD record company, and debuted their album 'Shrines'
in 2012.
Unusually for a complete album project, the songs were crafted by the two band members in completely separate studios a thousand miles apart, one in Halifax, the other in Vancouver; but despite this, were still able to achieve a cohesive sound thanks to the wonders of the internet.
It's easy to imagine that if this technology was available back in Synth Britannia heyday, producers such as Vince Clarke would have readily adopted it as a way of working. With musical ideas and vocals being sent via file-sharing sites such as Dropbox and Googledrive, this working practice avoids having to share a studio space, but obviously can have positives and drawbacks in equal measure.
The band throw in a variety of styles into their musical melting pot, one that is entirely electronic, but with the added non 4/4 broken beats of R 'n' B and Hip Hop acting as a rhythmic foundation. Vocally Megan James treads a fine line, staying just the right side of being overtly saccharine, whilst song titles 'Belispeak', 'Obedear' and 'Amenamy' read like they could be COCTEAU TWINS tracks in waiting.
Second album 'Another Eternity'
has seen a refinement in the sound of the band, the vocal production is immaculate, every production trick under the sun is deployed on Megan James' vocals to enhance the purity of their sound.
This time the two members shared the same studio space and some of the signature sounds of Trap have infiltrated their songs with the trademark low-pitched 808 bass sound replacing the earlier Dubstep elements.
Lyrically intriguing, the band are in turn both visceral and sexual, for example "Baby why don't you see my sea – Get inside and build your castle into me" from 'Sea Castle' is definitely not describing a fun day at Bognor beach…
Live, the band employ a retina-searing light show, clothing designed by synth player Corin and a striking custom-built illuminated drum trigger system which features in the newly released video for single 'Heartsigh'. The song itself is almost a COCTEAU TWINS song reimagined for the 21st Century with added Reese synth bass and Roland Alpha Juno Hoover sounds. Beautifully and clinically produced, 'Heartsigh' is an ideal entry point for the band.
The huge success of CHVRCHES has arguably been part curse / part blessing for PURITY RING. On one hand, the Canadian band could feel aggrieved that their sound has been appropriated and commercialised by another act, yet conversely they undoubtedly would have picked up a larger fanbase as a result of the two parties co-existing; the band played The Roundhouse late last year, quite a feat for what could be seen by many as an 'underground' band.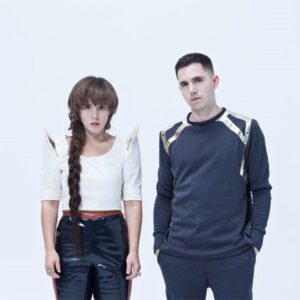 A mark of an innovator is that many people often don't get them first time around and that is certainly the case with PURITY RING. Other acts have now caught up with them and their sound is now almost a norm in some circles, even artists like Katy Perry and Taylor Swift don't sound too far removed from some of the tracks on 'Another Eternity'.
Fans of CHVRCHES will find much to love in PURITY RING, especially as the second album is far more commercially minded. However, dig a little deeper and you will start to appreciate the differences between the two acts and who knows, may even prefer the originators of this sound…
---
'Heartsigh' is from the album 'Another Eternity'
released on CD, vinyl and download by 4AD Records
https://www.facebook.com/purityringmusic/
---
Text by Paul Boddy
14th January 2016