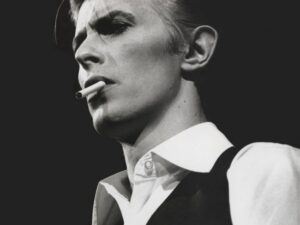 DAVID BOWIE sadly passed away at his home in New York on 10th January 2016 after an 18 month battle with cancer.
An artistic maverick who continued to push boundaries right until the end, albums such as 'Hunky Dory', 'Young Americans', 'Station To Station', 'Low', 'Heroes' and 'Scary Monsters' influenced a generation and thus the majority of the acts that ELECTRICITYCLUB.CO.UK has ever featured.
When GARY NUMAN first appeared with his mysterious Sci-Fi synth songs, he was dubbed 'The New Bowie'; the clientele at The Blitz Club originally came together for a 'Bowie Night' and from it spawned VISAGE, SPANDAU BALLET and CULTURE CLUB; SOFT CELL and DURAN DURAN emerged from similar scenes in cities north of London; and if Dave Gahan hadn't been heard by Vince Clarke singing along to "Heroes" in a scout hut back in 1980, would he have been asked to join COMPOSITION OF SOUND, the band who eventually became DEPECHE MODE?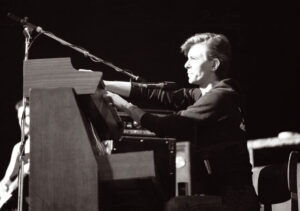 "He was a brilliant songwriter and an amazing creator, he gave us all a goal to run towards" said MIDGE URE, "No-one could top him in terms of creativity". MARC ALMOND added: "It's not often I truly cry at the loss of an artist but I'm devastated. He meant so much. Goodbye David Bowie and our youth. We loved you. X"
Bowie's passing sent shockwaves across the world as his illness was kept secret; his new album 'Blackstar' had only been released a few days earlier.
The album had been trailed in late 2015 with a striking video of the 10 minute title track; very avant garde in its nature but also very melancholic, many at the time talked of the return of an artistically driven Bowie. The album has now gained further poignancy as a musical document of his decline in health.
Bowie's musical legacy on its own made him an icon, but his charisma and striking visual presence also resonated with those who were seeking something out of the ordinary. For many, seeing Bowie put his arm around guitarist Mick Ronson during 'Starman' on 'Top Of the Pops' in 1972 was a pivotal life changing moment. It opened doors for pop stars to not have to play the machismo game.
His first hit was 'Space Oddity' in 1969; the song featured a Dubreq Stylophone and tied in with the first Moon landing, but was considered a novelty record at the time. The futuristic rock of 'The Man Who Sold The World' in 1970 showed 'Space Oddity' was not a fluke, but it wasn't until the assured theatrics of the 'Hunky Dory' album in 1971 that Bowie began making headway.
An attempt at composing an English version of 'Comme D'habitude' (the Claude François song that became 'My Way' via the lyrical intervention of Paul Anka) was the seed to the magnificence of 'Life On Mars'. A song that was classic, yet ahead of its time, it became a hit in 1973 on the back of his success with 'The Rise & Fall of Ziggy Stardust' and 'Aladdin Sane'.
Bowie's journey led to him to America with his 'Plastic Soul' period and the excess that 'Fame' entailed. Looking to exorcise his dependency demons, he relocated to the divided city of Berlin in 1976. Exploring a "whole new school of pretension" with his new creative muse BRIAN ENO, tracks like 'Sound & Vision', 'Always Crashing In The Same Car', 'Warszawa', "Heroes", 'The Secret Life Of Arabia', 'Fantastic Voyage' and 'Boys Keep Swinging' captured a tense European aesthetic that was distinct from Trans-Atlantic blues based rock n' roll.
Co-produced by Tony Visconti, 'Low', 'Heroes' and 'Lodger' were augmented with synthesizers and 'pre-arranged percussion' as an acknowledgement to German pioneers like KRAFTWERK, TANGERINE DREAM, CLUSTER and NEU! Indeed, Bowie formed a friendship with Florian Schneider (hence the instrumental 'V-2 Schneider') while Michael Rother had been the first choice guitarist for the 'Heroes' album.
With the sound of the Giorgio Moroder produced 'I Feel Love' also omnipresent, the electronic pop scene in the UK was taking shape and Bowie famously dropped in to see THE HUMAN LEAGUE at The Nashville in late 1978, hailing them "the future of rock 'n' roll".
By 1980, the New Romantic movement was in full swing and Bowie featured a selection of The Blitz Club regulars, including the late Steve Strange, in the video for 'Ashes To Ashes'. Despite this, Bowie couldn't resist a sly dig at the acts that he'd inspired, using the line "same old thing in brand new drag" on the album track 'Teenage Wildlife' from 'Scary Monsters'.
But as an advert for 'Heroes' once said: "There's Old Wave. There's New Wave. And there's David Bowie…"
But even when Bowie himself was consciously aiming at the mainstream with the Nile Rodgers produced 'Let's Dance', he was influential with every act ending up employing a brass section! Bowie returned to more experimental territory with '1.Outside' in 1995, but always able to position himself between two camps, he scored a Top 20 UK chart hit 'Hallo Spaceboy' with PET SHOP BOYS.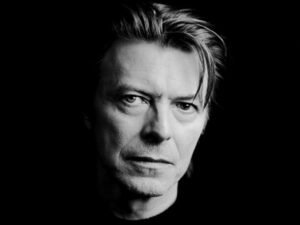 He remained a live draw, but extensive touring in this period took its toll. After suffering a heart attack in 2004, he largely withdrew from public life, only re-emerging in 2013 with 'Where Are We Now?', a surprise single release in early 2013.
The parent album 'The Next Day' signalled a return, but with 'Blackstar', it is now obvious that Bowie was using his art to bid farewell.
Tony Visconti who worked on this final album said: "His death was no different from his life – a work of art. He made 'Blackstar' for us, his parting gift. I knew for a year this was the way it would be. I wasn't, however, prepared for it. He was an extraordinary man, full of love and life. He will always be with us. For now, it is appropriate to cry"
---
Text by Chi Ming Lai
11th January 2016