The voice of SARAH P. is both spooky and captivating, like a cross between Polly Scattergood, Alison Goldfrapp and Elizabeth Fraser while shaped by the spectre of Nancy Sinatra and Tracey Thorn.
Formally the frontwoman of Greek duo KEEP SHELLY IN ATHENS, a project with the mysterious producer / musician RΠЯ, the Athenian pairing recorded a number of acclaimed EPs that explored chillwave and dubstep.
Following the release of their first full length album 'At Home' in 2013 which featured their crowning moment 'Oostende', SARAH P. parted company with KEEP SHELLY IN ATHENS. After a period of soul searching amid the turmoil of the social-economic crisis in Greece, she made a home for herself in Berlin to begin a new phase of creativity.
She launched her solo career with the release of 'Free'
at the end of 2015. An eight song mini-album chronicling "a couple of years that have been rough and weird", 'Free' is an ambitious debut release that combines a variety of emotions and textures for an enticing listening experience.
SARAH P. kindly gave her time for a fascinating chat about her hopes, fears and ideals as a solo artist…
Congratulations on 'Free', it is a very worthy opening statement. It also appears somewhat more direct than your previous work, sad yet hopeful?
Thank you! It is more direct, isn't it? I've been through a couple of rough years and 'Free' serves as diary of mine, both to not forget, but also to document and share my experiences. The whole record is about moving forward and leaving the past behind. That thought itself is sad yet hopeful, somehow bittersweet. Although it's all cited from my perspective, I can imagine that many people can relate to what the concept of 'Free' is. I think that no matter where we come from and no matter which our background is, there is always something in our lives that's bugging us, leaving us with no choice but to break free from it.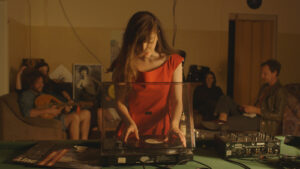 You were at a crossroads when you left KEEP SHELLY IN ATHENS. What inspired you to keep going with music, as there were other artistic avenues you could have pursued, like acting?
Haha, I get asked this question quite often. I think that the statement of the band and of my then label was a bit ambiguous, but there was never ever a single point I said I am done with music. In fact, shortly after leaving KEEP SHELLY IN ATHENS, I hid in the studio to work on various collaborations and features like THE BILINDA BUTCHERS, SUNDAYMAN, and a collaboration EP with SUN GLITTERS. I even started a short-lived side project with ambient producer Hior Chronik – techno pop, back in those days I didn't want to sing that much.
In the same year, I released my first solo output 'I Misbehave'. I was never gone – I just started making different music. As for the acting, if anything, while being in KEEP SHELLY IN ATHENS, I wasn't allowed to chase roles. In 2015, I got the opportunity to be part of a couple of casts and relive the magic of cinematography. I'm super happy to be in 'Finding Sigi', the winning short film of the Berlin 48h Festival, as Suzanne Smidt, casted by the super talented director Aviv Kosloff and among amazing actors and an amazing crew. The film will be premiered at Filmapallooza early 2016 🙂
What motivated your move to Berlin?
I needed a fresh start and I needed it desperately. At that point, nothing was really going my way. I was advised to move to Berlin by people who abandoned me right after I said I'd go for it. I decided to give Berlin a chance. I packed my stuff and moved here – I had nothing to lose! I didn't move away because of the crisis, I didn't move to Germany to make it big, because I would never make it in Greece. I love Greece, I love Athens, but I am of a restless spirit and I cannot sit still. I lived for 24 years in Athens and back in the summer of 2014, I felt ready to open my wings and seek new adventures. And so I did. I've been so lucky, you have no idea! Moving to Berlin has been one of the best decisions I've ever made.
Was Athens not the right environment for you to progress with your music?
No matter how hard things are, Greeks will always have music! My hometown happens to have an amazing underground, indie scene.
If your question is about whether I would fit in that scene then my answer is no, since the sound of Athens is more guitar based.
But if your question is about Athens (and Greece) being in the middle of all this Financial Drama and therefore doomed with a dark cloud / heavy atmosphere, then I have to admit that sweet old Athens was and will always be my muse, no matter where I am.
Athens is a beautiful, vibrant city. It's super multiculti and open which makes it the perfect environment for any artist of any field. Especially during those times when everything is boiling, Greeks are giving it all for a better life which, to my eyes, seems truly inspiring. So, to answer your question, I never left Athens, I am just looking at it from a different perspective. My family is there, the people who are responsible for who I am and where I stand as a person. I left my hometown only physically – other than that I carry it in my heart.
'I'd Go' is perfect melancholic pop and has an important personal message too. Has recording 'Free' been a cathartic process for you?
Sincerely, thank you for saying so. Most of the people do not get that this song is not as happy as it sounds at a first listen. 'Free' helped me understand many things about myself. The songwriting, the recordings and the release of this EP have all been part of a crazy journey. What was living in my head became tangible! It wasn't easy but who said it would be? My personal catharsis came with the release of the record, when I realized that everything is where I wanted them to be.
The idea behind 'Free' is to take the listener by the hand, help him / her get out of the dark tunnel and walk together towards the bright light of redemption. On 'I'd Go', one sees the light already and actively marches towards it. I wanted the EP to end with a song like 'Golden Deer' (a collaboration with Greek producer Hiras) which creates a magical landscape. During the whole record, I perpetually pat the shoulder of the listener and whisper in their ears that it's ok.
All the songs on 'Free' are songs one should sing in front of the mirror, you know? If people are lacking something these days that's confidence – not in a superficial way, that's abundant. Confidence in a sense that whatever we do makes us happy and helps us get going, because we know we are on the right path of life. 'I'd Go' is about this exact thing, 'Free' is about this exact thing.
Which artists musically have influenced this more accessible pop direction? For example, I think I hear GOLDFRAPP in 'Dirty Sunday'…
I would say that SANTIGOLD has been a major influence, especially her first EP when she was called SATOGOLD. BLOC PARTY too… I wonder how people do not hear that on 'Dishes', to me it is very obvious *giggles*
MADONNA because she is the most badass chameleon of pop. KATE BUSH is always an inspiration because she is a magical creature.
And dark wave / post punk as a scene that taught me how to not sound angry when I'm boiling. I guess that's it.
But you are still exploring leftfield avenues, as on 'Let It Go' and 'You Wouldn't Understand'. How are you finding trying to keep the balance?
I just follow my instinct! I promised to myself that I will never be prisoner of a music genre. I experiment a lot and try around – that's the only way to make music, in my opinion. If you're too busy being bound with an atmosphere or a genre, you're losing the whole point. Unless you play math rock or something.
You described 'Free' as "a vivid commentary on all kinds of relationships, vices, social and political scenery of our times". What do you say to those people who feel that music and politics should not mix?
Oh well, don't get me started! Unless those people were born in the 00s, there is no excuse. From the 00s and on, what's been popular is all about kissing a boy, kissing a girl, gimme dat booty and so on. Convenient enough and during years when epic wars have been taking place all around the world, pop music kept away from politics with very few exceptions (MJ, MADONNA, MORRISSEY and a few more) who've been treated as the wacky kids, and were often excommunicated from the star system.
I'll tell you what… I come from Greece, I live in those days when horrible things are happening in the world, I read the news and try to stay informed and on top of that, I am a woman active in a very conservative industry of men (mostly). I have things to say and I will, whether that's through my music or through my texts. For some this might be too much, but for me it's staying true to my ideals.
You have collaborated a lot with other artists in the run up to 'Free'; was there a particular moment when it was clear that you could now do this on your own and be 'Moving On'?
'Free' covers the period from early 2014 (when I left KEEP SHELLY IN ATHENS) to now.
Since I had to leave the band for various reasons, it was more than clear to me that I would be on my own. I had to find a way to do so. But I love working with other people. There are things coming up I cannot announce yet, involving collaborations with extremely talented people. I've been 'Moving On' – the entire of 'Free' is 'Moving On'.
But I am not a lone wolf; I prefer to have a pack around me, if you know what I mean. I have been blessed with a great team of people who understand my vision and add up to it. Technically there has been no moment, I've been entirely alone. I always have my people backing me up.
When writing and recording solo now, what has been the most fundamentally different aspect for you, compared with the past?
I had to learn how to orchestrate the whole thing. Till that point, I've been following orders. For a person who was raised to always be humble and accepting, embracing a more bossy side of mine was a big challenge.
In 2015, I learned how to make decisions and how to not compromise. Before this year, I tended to agree on things just to not make a fuss, even if I had to go through a personal conflict.
When I'm writing and recording my own music or working on a feature, I do it all my way. I'll put together the sounds I like, I'll play the melodies that I think they fit. I think that finding the balance between the Sarah before and after has also helped me in my everyday life. I've become more assertive and all because of a computer program and the zillions of decisions I had to make to be able to hold my record in my hands.
An extended EP is a good way to start your solo career so will you do another EP or go the full album route? Is there a place for the album format in modern music consumption?
My LP is already in the making. There is a whole concept behind it and I am very much looking forward to sharing it, although I've got to hold back and wait! As for the second part of your question, if I am brutally honest, I will have to say no, there is no place for an album, there's barely place for an EP or even for a single. The attention span of the people is so short that if you are an independent artist, your music will probably get lost in a pile of unread emails.
The Internet has made it all faster and since we're humans and not robots, we can simply not keep up with that pace.
The music industry has changed a lot, the media (press, blogs, radio) have changed a lot and lately everybody seems to spend time and money on social media campaigns that seem so pointless, I could laugh and cry at the same time.
You put out your song and you hope it will be featured on a 'strong' playlist on Spotify and that this will bring new followers to your music.
It's a constant fight for a glimpse of attention.
Unless you are TAYLOR SWIFT (or ADELE who is signed to an independent label, but currently has big advertisements EVERYWHERE and all for a poorly produced, old-fashioned album), you're granted one second of fame.
It's such a big bubble, all that happens is that more and more artists (even the indie ones) work on writing the so called 'hits', in order to get a place in the music industry and get under the radar of the important people who usually are so ridiculous, it's painful… that being said, you must think I am crazy for making an LP.
One needs to drink gallons of idealism in order to keep their heads up. And so I do, so does my team. I believe that nobody wants it to be that way – that meaningless struggle of trying to keep up with the fast pace of life. If we see it as an analogy (I love analogies), we're on a fast train that's driving to somewhere – nobody knows to where. It's up to each and every of us to get off, say "I am sorry, that's my stop". I won't play with other people's rules, I set mine, according to my ideals and ethics.
What is next for you? How are you feeling about playing live as a solo artist?
Live shows, songwriting, producing and recording my album. As for the gigs, I am very much looking forward to playing shows. I share the stage with two super talented gentlemen, Owen Howells and Marv Rudnick who also happen to be good friends of mine, so touring with them will be great fun.
---
ELECTRICITYCLUB.CO.UK gives its warmest thanks to SARAH P.
Additional thanks to Robert Helbig at Hellbig Music.
'Free'
 is released by EraseRestart as a download via the usual digital outlets, while the 12 inch vinyl edition is available from http://eraserestart.bigcartel.com/product/sarah-p-free-vinyl
SARAH P plays Eurosonic Noorderslag in Groningen on THURSDAY 14TH JANUARY and Privatclub in Berlin on MONDAY 25TH JANUARY 2016
https://www.facebook.com/sarahpofficial/
---
Text and Interview by Chi Ming Lai
9th January 2016