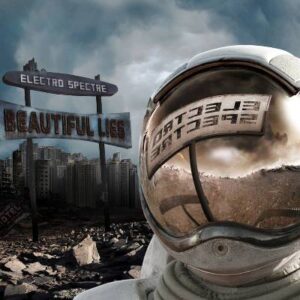 While the most decent electronic music is being turned out in Sweden these days, the Norwegians do their best to keep up.
ELECTRO SPECTRE came into existence in 2009 in the Norwegian capital, Oslo with Isak Rypdal, in the role of producer and writer, and Alexander Björneboe, as co-writer and vocalist.
A few albums went by since, and many a fan of electronica started recognising the Norwegians alongside the likes of CAMOUFLAGE, DE/VISION, BEBORN BETON or MESH.
'Beautiful Lies' is their fifth release, recorded in Prague and promising an intoxicating experience of synthpop at its best. 'The River' opens the production, luring with luscious vocals over CAMOUFLAGE-esque combinations of grandiose synth. DEPECHE MODE influences are palpable all over the flow of the track, with its gentleness and fragility.
The voice resembles BRYAN FERRY's off-centre pitch, which really transpires in the track number two, 'The Human Stain'. Exquisite drum rolls added onto a stacked synth, at times sounding very 'Songs Of Faith & Devotion', which indeed, is being quoted as one of the band's favourite records.
'Never Let Go', vocally a mix of Ferry and Bowie, interspersed with magnificent strings and digital synthesisers is a larger than life production that makes a fabulous calling card. 'She Runs Again' slows the tempo somewhat, turning into a Marcus Meyn song once more; it's a pleasing ballad with excellent guitar, leading into 'With A Devil At The Start'. A multi-layered track, with structured elements congealing heavy and soft textures over a strong, deep vocal of Björneboe's, it's harsh, trashy, subtle and velvety all at the same time.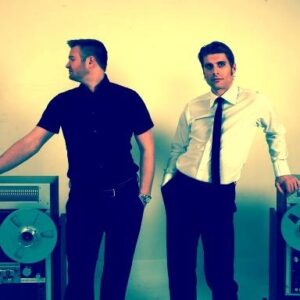 'Faith' continues the theme of luscious extravaganza of synth, ending in a very familiar way to any hardcore fan of DEPECHE MODE, while 'A Kingdom Alone' magnificently changes direction, at times bearing an uncanny resemblance to the Texan duo IRIS' production on their second album 'Awakening'. The 'Beautiful Lies' title track transports into an ambient, atmospheric world, veiled with mystery and suspense of being "under the spell of you and me", while the closing 'Strangesuit' ushers the era of a heavy synth to sustain the feeling of gloom and nostalgia interwoven with anguish and pain.
ELECTRO SPECTRE certainly did their homework; proficient sounding tracks, excellently produced and mastered, and this unusual vocal, making the finished pieces sound interestingly noteworthy, are all features of a decent synth album. To some, the fact that sometimes the tracks sound uncannily like DEPECHE MODE or CAMOUFLAGE may be a turn off, but, overall, this is a very desirable production and its easy listening element means that it can be enjoyed by fans across all genres.
---
'Beautiful Lies' is available via the usual digital platforms, while the limited deluxe edition CD is available from Razgrom Music at http://www.razgrom.com/releases/group/532/24/
http://www.electrospectre.net/
https://www.facebook.com/ElectroSpectreBand
---
Text by Monika Izabela Goss
18th January 2016