May 2018 sees a new edition release of John Foxx's seminal 1980 album 'Metamatic'.
Although arguably there can be very few electronic music fans who don't possess a copy, this new version includes a third disc of unreleased instrumentals and prototype demo versions that will appeal to completists and fans alike.
The 3CD package also includes some previously unseen photos and drawings by John with 49 tracks in total.
ELECTRICITYCLUB.CO.UK were fortunate to get an advanced preview of the new additions and there are some real gems in there.
From the alternative mix of the TANGERINE DREAM-like 'Glimmer' through to the appearance of a prominent acoustic piano in 'Fragmentary City', also worthy of a mention is the droning 'Critical Mass' which feels like it would make a superb instrumental prelude to 'Underpass'.
Also present are early demos of some of the best known tracks on 'Metamatic'
including 'Touch & Go' and two versions of 'No One's Driving'; one sequencer driven, the other more piano chord-oriented.
Other pieces including unreleased track 'Miss Machinery' which has such a beautifully honed mix suggesting that it must have been in strong consideration to be included on the final album.
John Foxx kindly talked about the gestation of the album and the transition from ULTRAVOX Mk1 to solo artist.
What impact did the studio location and surroundings at Pathway in London have on the sound and content of 'Metamatic'?
Great location for me – a cycle ride away, so I could wobble home at night. I was living in Finsbury Park at the time. It was all very urban North London and I liked that too.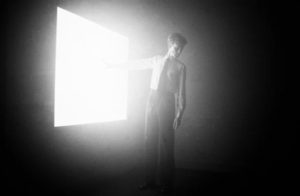 How important was the influence of JG Ballard on your work at this point?
Well, he was the first writer who seemed to be addressing what I'd come to call 'the unrecognised present'. It takes us all a little time to realise exactly how we're living, since circumstances are changing so quickly and in that gap, some it gets out of hand. For instance, I felt cars were out of hand at that (and this!) point.
Without noticing, we found we were all living on diminishing islands, surrounded by an ocean of cars, dominating the environment completely, enabling new crimes and new situations, forcing new ways of living and changing everything – even architecture and the shape of cities, as harried city councils threw up welcoming worlds of concrete to accommodate them.
We had to try to live with all that. Ballard had understood and mapped this process and how it can all come tumbling down. He could see how fragile things really are, I guess from his childhood, when his world was torn apart by the Japanese invasion. He wasn't the only one though, there were others, some writers such as Burroughs and Philip K Dick and several film makers – Tarkovsky, that 'Chien Andalou' film by Dali and Bunuel, Alain Resnais' 'Last Year in Marienbad'- and so on.
Songs such as 'He's A Liquid' and 'Touch & Go' had debuted live as ULTRAVOX! numbers… how did the shift towards you playing synthesizers and programming drum machines yourself evolve?
I wrote those at home using a drum machine, then we developed them with the band, but I didn't really feel they'd reached their potential until they were synth and drum machine only. I had a certain sound in my head that I wanted to get to – that more minimal electronic / primitive / dub sound. It simply needed tape, synth, drum machine, voice – and nothing else.
So basically, it was an ARP Odyssey, Elka String Machine, a Compurhythm and go!?
Exactly. Everything fell into place then.
On ULTRAVOX's 1979 US tour, you debuted 'Touch & Go' and 'He's A Liquid' with the band. What are your feelings or emotions when you listen back to these prototype versions now?
Oh, I like them – and I also really enjoyed working with the band, but that naked electronic thing was feeling urgent – I just had to get that working. Speaking of prototypes – I think the band was responsible for a couple of generations worth of prototypes – there were really so many basic seeds sewn by us by that point.
I remember being really torn in '77-'78, because there were two great directions we'd evolved- first the modern rock thing which is a line that extends from 'Systems Of Romance' and is still running – it goes on through SIMPLE MINDS / JOY DIVISION / U2 / BLUR / ELASTICA / FRANZ FERDINAND / RADIOHEAD / HORRORS and so on. Inventive Britrock. We defined that very early on, and we were the first to do it, with songs like 'Slow Motion' and 'I Can't Stay Long' etc, we'd mapped it some years before – even that branch of OASIS and STONE ROSES, with our nod to THE BEATLES Psychedelic thing on 'When You Walk Through Me' from 'Systems' in 1978.
Then there was the minimal studio electronic thing that was really just beginning – but we'd done that a good two years before with 'My Sex', then 'Hiroshima Mon Amour' and Dislocation' and 'Just For A Moment' etc. We'd recorded 'My Sex' in summer 1976. I really felt things branched dramatically at the point of 'Systems', not just for us, but for the entire future of Brit music, and I think we'd mapped both directions as inevitables, some years before.
How did you feel when the main riff for 'Touch & Go' ended up on ULTRAVOX's 'Mr. X'? Was there any kind of legal challenge with this?
Oh, impossible to untangle who did what after you've been in the studio together. Everyone has their own perspective and they're all different. Bit of a road accident really. It would've been declared a mistrial. All witnesses concussed.
'A New Kind of Man' was originally slated to be the first single off of the album? What inspired the song?
It was a continuation of the 'Quiet Man' theme – I'd begun to write the stories, and in one he steps out of and into a film screen. That image also provided the 'Metamatic' cover image.
What was the background to deciding to issue 'My Face' as a yellow flexi-disc with 'Smash Hits'; it's quite a strange combination looking back in hindsight, but perhaps indicates how open the interpretation of pop music could be in 1980?
They asked if I had a track they could use and I'd just recorded it. Having a track on that magazine was a good thing and I could choose whatever I liked.
You're right – it was an example of how things had opened up after Punk and just at Gary Numan's jump into the charts. He was the point the floodgates opened for the entire Brit electronic movement. Everyone has a lot to thank him for.
Is it true that you were influenced by dub reggae on the album?
Absolutely, it all goes back a very long way…
As with most good things, it all began in Chorley. There was a great West Indian couple I'd known since I was about eight years old – Mr Huey and his wife May. They'd come over from Jamaica in the late 1950s and been lodgers with a Polish friend of mine, Richard Woczeck.
Huey and May then got a terraced house at the top of Corporation Street, were my Gran and uncles lived, so I saw them often. They'd occasionally invite me and my mate Arthur Sweeney to a Blues party in their yard – we'd be around mid-teens at that point and young mods, so right into all that – Curried Goat, beer and Prince Buster. Great!
After that, I listened to things developing in Manchester, when I was an art student there, at the Ponda Rosa, a three storey Café – food on the ground floor, then some secret gambling and shenanigans upstairs. They had a home-built sound system, one of the first I'd seen. Great bass and the music was changing, too.
Then, when I came to London and formed the band, I found Chris Cross was from Tottenham, not far from Broadwater Farm, and he was a decent dub bass player too. At the other end of town, the Ladbroke Grove scene was also in full swing – big custom sound systems on the street. Island Records was West Indies central, so Billy Currie and I used to go into Island studios Basing Street to listen to Lee Perry and Bob Marley sessions. Well foggy in there!
Then, when I started work at Pathway studios in 1979, a tiny eight-track place in North London, Gareth Jones and I heard lots of dub sessions.
A crew of guys would book two hours studio time and bang out half a dozen dub tracks for 12″ singles, which were a new thing then. I was fascinated by that mixing technique of stripping everything right back to give one sound all the power.
So when we mixed 'Metamatic', we did a lot of that. In fact I chose the studio partly because it had a home-built desk that was especially good for punching sounds in and out and throwing effects on the sound live in the mix. That technique became part of our repertoire. The drums and synth on 'Underpass' are done like that, for instance, and the bass is consciously Dub-style. It's a Dub rhythm track with Euro electro toplines and voice.
Although 'Metamatic' is an electronic album, there's quite a bit of bass guitar by Jake Durant. Was it quite tricky get the synth bass to work the way you wanted with the ARP Odyssey back then?
Well, it wasn't always easy to get the right depth of bass from the Odyssey. It's a demon for unusual and complex noises – the best there is at tearing down walls and taking the skin off your back.
A Minimoog was best for bass. Richer. I used that too, on 'He's a Liquid', for instance, but I preferred the precision and vitality of the ARP. Much quicker, more vicious and more intuitive for me.
Do you subscribe to the Philip Oakey viewpoint that synthesizers are more 'punk' than guitars?
Bang on Phil – you only need the one finger! No chords. As soon as synths became affordable, I knew there'd be a permanent revolution. Inevitable.
Listening back to the album now, what strikes most is how stark and minimalist it sounds, what kind of reception did you get from Virgin when you submitted it?
Oh, I think they simply stepped back and put the record out. It was certainly weird, minimal, cold, harsh and surreal for that period – all that BROTHERHOOD OF MAN stuff in the charts. At that time though, everyone at Virgin was in close cahoots and out for a bit of fun.
It was a great time. Simon Draper, the real power and judgement there, was totally supportive. A marvellous visionary character. He created Virgin really.
The extra songs which feature as part of this package and the 'Metamatic Plus' edition (including 'Cinemascope' and 'My Face') all seem strong enough to have made it onto the original album, was it a difficult process deciding which tracks would make the final cut first time around?
There was no shortage of material. I was just listening to the demos and ideas from cassettes recently. Tons of stuff. Lots of unfinished song starts. It drives me nuts. I'm going to destroy it all, just for peace of mind.
The 'Metamatic' follow-up 'The Garden' saw quite a significant change in sound for you, especially with the re-integration of more live instrumentation, why did you move away from the colder electronic aesthetic with that release?
I remember wanting to reclaim some of the territory I'd defined with 'Systems' – the other side of things, as I mentioned earlier, also I loved working with Robin Simon's great guitar playing. Power and ideas. He's the most inventive guitarist – or musician – I've ever worked with. Doesn't do cliches. Forget everyone else, no other player comes close to him, in my opinion.
With 'My Face', 'Burning Car', '20th Century', 'Cinemascope', 'Young Love', 'To Be With You' and the amount of unreleased material in this new boxed set indicates that a follow-up in the style of 'Metamatic' was on the cards; how do you think you might have evolved this sound if you hadn't had thawed out on 'The Garden'?
I remember not wanting to repeat myself . In retrospect, though, maybe I should have carried on with the CR78 and ARP and made another record, it would have been interesting – but I was impatient as always and had another set of songs and lots of ideas left over from 'Systems'.
However, there was the immediate influential aftermath of 'Metamatic'; it is said Daniel Miller hired Gareth Jones to engineer DEPECHE MODE as a result of his work with you, while TUXEDOMOON were also fans and worked with him too…
Oh yes, Dan came to the studio with Depeche and I eventually managed to persuade Gareth to work with them. At first he thought Depeche were a bit light, but we'd both really liked 'Warm Leatherette', so he trusted Daniel and I think that's what swung it. They all had a great instant rapport when they finally worked together. Still do.
Tuxedo were a fierce, inventive band we both liked, so Gareth was straight in there, no problem. I liked them all and their work. They were an interesting lot. I remember encountering a certain member wandering about on Shoreditch High Street in the rain in winter, no shoes on, totally oblivious, clearly hallucinating. I especially liked Blaine L Reininger's playing – he's a truly exceptional instinctual musician. It was good to hear him again on that 'Blue Velvet Revisited' album we all did recently with CULT WITH NO NAME.
Remixes of classic synth tracks rarely turn out well, an exception is Mark Reeder's 'Sinister Subway' mix of 'Underpass', what are your feelings on this interpretation?
I think it's superb! A big surprise, how well it turned out. He translated it for today.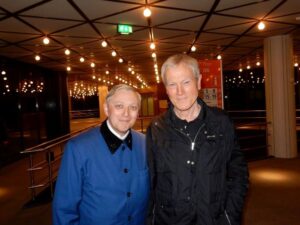 I like Mark Reeder a lot. He's one of those people you instantly feel you might have known all your life – you know, like someone you might have been at school with. His instincts and tastes are perfectly in line. He's Mr German Electronic – Manc Branch. And his Berlin movie is brilliant….
There have already been several reissues of 'Metamatic', what's the most special aspect for you about this new package for you?
The notebooks and synth patches etc, and all the experimental sounds from the master eight-track tapes. They do show another aspect of the work Gareth and I were doing then. I also liked the way Steve D'Agostino picked up on all that, some years ago, with that soundtrack for Alex Proyas' short film.
You've stepped out of the live arena for a few years, are there any plans to do live dates to support this release?
No plans at the moment, but things are always brewing, so we'll see!
---
ELECTRICITYCLUB.CO.UK gives its grateful thanks to JOHN FOXX
With thanks to Steve Malins at Random PR
'Metamatic'
is released as 3CD boxed set by Metamatic Records
https://www.facebook.com/johnfoxxmetamatic
https://twitter.com/foxxmetamedia
---
Text and Interview by Paul Boddy
Additional Questions by Chi Ming Lai
2nd May 2018