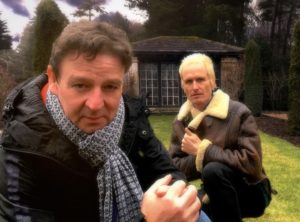 Named after the Latin phrase for "let there be light", FIAT LUX were among the most promising of the post-Synth Britannia wave of electronic pop acts.
Having relaunched in early 2017 with a re-recording of one of their best known songs 'Secrets', singer Steve Wright and multi-instrumentalist David P Crickmore are to release their first new material in over three decades with an excellent single 'It's You'
.
Together with their late saxophonist and keyboard player Ian Nelson who sadly passed away in 2006, the trio's emotive mix of dual vocals, synths and woodwinds on marvellous songs such as 'Feels Like Winter Again', 'Photography' and 'Blue Emotion' gained airplay on Radio 1, championed by the likes of Annie Nightingale, Peter Powell, Kid Jensen and Janice Long.
In 1984, FIAT LUX also appeared on an Old Grey Whistle Test synth special alongside KRAFTWERK, JEAN-MICHEL JARRE and HOWARD JONES while Channel 4 aired a TV special which eventually came out as the 'Commercial Breakdown' video and laserdisc. However, record company politics at their label Polydor Records sadly meant that their debut full-length album was never released.
However, all that might be all about to change; FIAT LUX kindly took time out to talk about their upcoming plans and hopes.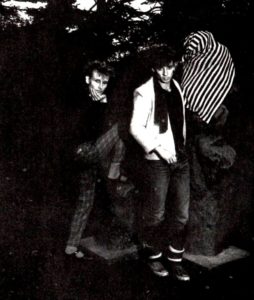 So looking back, how do you think the soft relaunch of FIAT LUX with 'Secrets 2017' went?
Steve: I guess it was a good way of testing the water with a song that we knew had some resonance. It was also something that we could reproduce, bearing in mind that we no longer had Ian around. It exposed us to the 'modern' marketplace and gave us insight into the mechanism for releasing songs again.
David: It was good to find out that there was still some enthusiasm out there for FIAT LUX. Radio stations gave it some plays and that was encouraging. It was fairly "low risk" to us financially as a digital download only, because there aren't too many production costs involved up front.
The downside is that digital downloads hardly make any money for the artist, but it gratifying that it has continued to sell steadily since the release and, according to the stats coming in, we are being listened to in surprising places right across the world.
Well, it's gone well enough to record new material?
David: It has. Doing 'Secrets 2017' proved to us that we still had the wherewithal to pick up where we left off creatively and that we could still sound like we were supposed to both instrumentally and vocally.
Steve: Definitely! Although we would have done anyway, because I think we've both rediscovered our mutual affinity, which seems to be thriving in a more relaxed atmosphere than that which existed 30 odd years ago, when we were under a certain amount of pressure from the label…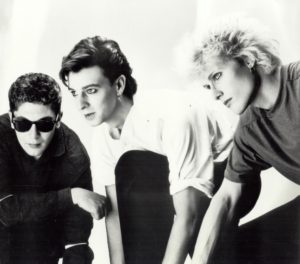 How was it to get back into the FIAT LUX creative mindset, did you set yourselves any rules or methods?
Steve: It was really easy to get back into the FIAT LUX creative mindset. No rules or methods are set out, and David will hate me for saying it, but to some extent it's become an organic process. Things evolve, sounds are rediscovered, and things that are coming out, such as 'It's You', IS FIAT LUX – which goes to demonstrate that we are capable of a distinctive sound.
David: "Organic" Argghh! You'll be saying "we're on a journey" next – ha ha! But I agree with Steve – I think even back in the 80s we had a clear idea of what the FIAT LUX sound was and was not, guided by some great production people: Bill Nelson and Hugh Jones most notably.
'It's You', the wonderful first new song to be unleashed is classic FIAT LUX, the lyrics are very touching…
Steve: I'm glad you think so! The song itself was perhaps the quickest of the new tracks to be completed – it literally came together in minutes! From the initial drum beat, to the lyrics – everything we tried just seemed to fit there and then, without too much tinkering. Lyrically, I hope, it expresses feelings that possibly everyone can relate to…
David: We didn't set it up to be so, but on reflection I see it as a successor to 'Feels Like Winter Again' in spirit – it has an emotive vocal and lyric from Steve – it's sort of dancey and of course it is a new beginning for us.
The sax style is a fitting tribute to Ian…
Steve: Absolutely! Ian is never far from our minds, and we consciously say to each other when we're working on new ideas "What would Ian have done?"! I was really quite blown away by Will's playing – he was instantly empathetic to what we wanted to achieve.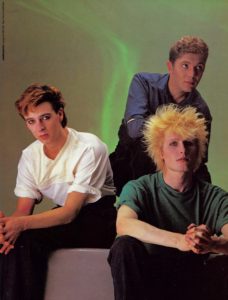 David: Yes – Steve's talking about Will Howard, who did the sax session for this and some of the other new material we're working up. I discovered Will quite by accident in Leeds when I was sound mixing a Christmas themed radio show for the BBC in a shopping precinct! He was part of an act taking part called BACKCHAT BRASS – you know one of those pop-up street brass ensembles.
I've seen a few in the city before and they are usually all right, but all the guys in this one were way ahead of the norm and really impressed me – Will particularly knocked me out on tenor sax – I instinctively knew he was what we were looking for and that he would be capable of doing justice to the Ian Nelson legacy.
So, is this leading towards the possibility of the debut full length album from FIAT LUX or is a mini-album like 'Hired History' more realistic? How's it sounding?
Steve: It's all sounding great! At the moment, we are planning to get a full album of completely new material out.
David: Yes, that's the next step we're aiming for – we've already got about 7 or 8 songs that we're happy with at a fairly advanced stage of completion. At our current level of creativity we may even be looking at a release late this year!
Steve: …and there is a chance that the 'Hired History' era songs will eventually be released from the archives – that's what we're aiming for.
David: Yes, another consequence of the 'Secrets 2017' release was that a few doors opened to us with the old record company that had previously been closed.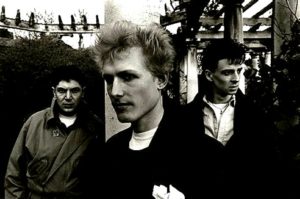 Steve: We have quite a bit of material from the 80s which hasn't been heard, and to make it available to fans now, in whatever format, would be fantastic. There's nothing that exists of it really – the singles are confined to old vinyl pressings… there might be the odd bootleg of those floating about on the web, but a lot of people have expressed a desire for us to get it out officially. Watch this space!
Modern electronic acts like KITE have an EPs only policy… does the album format still have a place in today's music consumption?
Steve: I personally think albums are better value for money than EPs, but in the digital age it's all so easy and cost effective to do, I suppose – I'm aware of the fact that on digital platforms people are free to just buy certain tracks, or stream them but you still can't beat having a proper hard copy, can you?
David: The other thing is that we have been deprived of the chance to release a proper album for all these years. Our album from the mid-80s, which we we're really proud of, still remains unheard in a major label's archive. We've always considered ourselves to be an album band and now we are in control of our own destiny, we'd like to prove ourselves with this new material by just doing it.
How are you finding dealing with social media at the moment in letting people know that FIAT LUX are back?
David: It's been essential for gathering followers of the band old and new and, apart from the odd radio play and media coverage by the likes of yourselves, it has been our main vehicle to say "we're back".
Of course the other good thing is that when you do get radio coverage you can send people to "listen again" facilities to hear the programme after the event. In the 80s we got lots of plays, mainly on BBC Radio 1, but people had to be listening at the time of the broadcast to hear it. Now one play probably counts for over a dozen in the old days because of social media and iPlayer and the like. As I'm fond of saying: "modern technology – it's not what it used to be".
It's a bit of a minefield isn't it? There's an American garage band called FIAT LUX too, is that causing any confusion?
Steve: I know that our PR girl, Helen, finds it frustrating!
David: I don't get the impression that they are very high up the musical food chain and I doubt that any of our followers have mistakenly bought any of their songs, but it is causing us problems because while we have been dormant they have populated some of the digital channels with their material – which of course anybody can do – but the automatic search engines have in some cases attributed our biogs and Wikipedia details to their tracks which is very annoying and means we are not getting our links to our new tracks as a consequence. I believe the digital legal people at Proper Distribution are looking into this. I doubt it has been done maliciously by the other act, but it certainly is a nuisance of a kind that we didn't have to deal with in the Polydor days!
A few years ago, artists were ditching their own websites to go solely onto Facebook… they now might be regretting that! Have you considered using additional platforms?
Steve: It would seem that there's no set format, so we'll just do what suits us – website, Facebook, Spotify… I should imagine that you can't rely just on one platform – if there's an exodus of people leaving Facebook, then to only have that as your main point of promotion, is surely very limiting?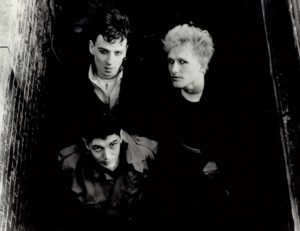 David: I find the whole thing fascinating as a social study. When FIAT LUX was going first time around, there was a great celebration / marking of the world reaching the year 1984 – George Orwell's year of Big Brother. Orwell got it right but what he didn't envisage was that people would give over their privacy voluntarily – he thought some totalitarian state would have to impose these 24 hour observations upon us, but we've done it to ourselves! "Proceed with caution" is my moto on the subject.
Are the possibility of FIAT LUX live dates more likely now?
Steve: Ha ha! I think the release of the material needs to take priority, but I never say never…
David: In due course I would quite like to give it a go – it's down to the singer really… Ha ha!
---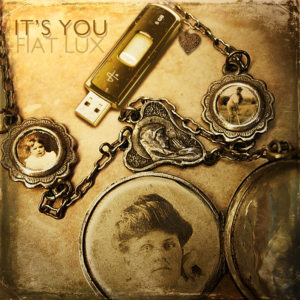 ELECTRICITYCLUB.CO.UK gives its sincerest thanks to FIAT LUX
Additional thanks also to Helen Robinson
'It's You'
is released by Splid Records through Proper Music Distribution on 4th May 2018, available on the usual digital platforms
https://www.facebook.com/Fiatluxofficial
https://twitter.com/fiatluxofficial
---
Text and Interview by Chi Ming Lai
3rd May 2018