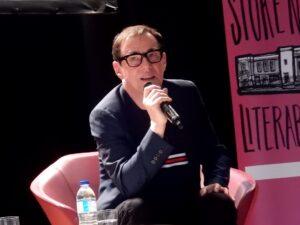 Stephen Morris is best known as the drummer of JOY DIVISION and NEW ORDER.
Together with Ian Curtis, Peter Hook and Bernard Sumner, JOY DIVISION had released just one album 'Unknown Pleasures' in June 1979 before the untimely death of Curtis in May 1980. Following the posthumous release of their second album 'Closer', the remaining trio continued as NEW ORDER with the addition of Morris' girlfriend and now-wife Gillian Gilbert.
ELECTRICITYCLUB.CO.UK interviewed Stephen Morris in March 2011, a few months prior to the relaunch of NEW ORDER, and his informative humorous conversion remains one of the site's most popular interviews. So an autobiography by the man who wanted to be a human drum machine was always bound to be an entertaining read.
'Record Play Pause: Confessions of a Post-Punk Percussionist Volume 1'
is part memoir, part aural history and captures a dual narrative of growing up in the North West of England during the 1970s, while providing knowledgeable observations on the dynamics of music and the politics behind being in a band. It naturally also gives a first-hand account on the myth and haunting legacy of JOY DIVISION, while maintaining Morris' noted wry and witty sense of humour.
Introduced by BUZZCOCKS manager Richard Boon who recalled how he tried to get the then-punk band called WARSAW to change their name to STIFF KITTENS, Morris was interviewed on stage by The Guardian's music critic Jude Rogers about his book as part of the Stoke Newington Literary Festival.
Morris told her that he wanted initially to write a Russian novel only he couldn't speak Russian and what he wrote was "sh*t", so he settled on doing something to di-mythologise JOY DIVISION, something which he said was "never black and white", because the public thought the band lived in the snow, while they actually having a laugh in the pub as were most ordinary young men of the period. Throughout his insightful Q&A, Morris was friendly and down-to-earth, occasionally offering a cynical and sarcastic take on his life.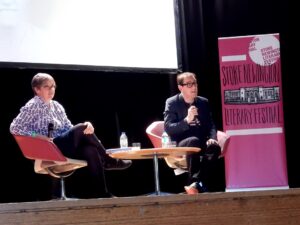 With his book recalling a childhood of daily school milk rituals, Airfix kits, half day closing on Wednesdays and going on holiday with his parents to Torquay to see a shipwrecked oil tanker, Morris was frank about a period when "misogyny was rife" but men would want to marry one of the 'Top Of The Pops' dance troupe Pan's People.
Meanwhile joining a band was an escape because "you married young and that was it!", adding that "you got a job, had a couple of kids and then died!"
Of his early live music experiences, Morris recalled how his father had agreed on a concert exchange in an effort to bond: "He took me to see Marlene Dietrich which was nice, and I returned the favour by taking him to see HAWKWIND! It's a shame we didn't get to the end of their set as he didn't like the drugged out hippies there."
Morris also told of how he had applied to be a 'Record Mirror' journalist but while he didn't get the job, he was asked to freelance and report on live gigs. "I assumed I could pick the gigs" he said, but he was wrong and remembered how he was despatched to review Roy Chubby Brown's mates SMOKIE to roars of laughter from the audience; "THAT'S NOT THE FUNNY BIT!" he retorted… having been charged 75p for the privilege, he told of how the concert was cancelled when ironically the fire curtain refused to go up!
The anecdotes of his first encounters with key figures in Morris' life provided much amusement for everyone gathered in the Stoke Newington Town Hall. Rob Gretton had told him to "F**K OFF" when he told him he was a budding journalist at a gig at Rafters, where the future JOY DIVISION and NEW ORDER manager was the resident DJ who refused to play requests! And in another story regarding a merchandising opportunity to produce 'Unknown Pleasures' T-shirts, he remembered Gretton had kiboshed the idea by responding "T-SHIRTS? THEY'RE SH*T!"
While Morris' memories of his first meeting with bandmates Bernard Sumner and Peter Hook featured no expletives, he admitted he got confused when following his recruitment by Ian Curtis via a small ad in the Manchester fanzine 'Shy Talk', the vocalist suggested they meet the pair at the local prison! "Strangeways?" Morris remembered, "What were they in for?".
And when a villainous looking Jaguar pulled up as they waited, Curtis started talking about someone called Hooky; "I assumed Hooky was Bernard and Peter's father", not realising Peter and Hooky were the same person! "There's a lot of misunderstanding in my life" he admitted.
Answering an audience question about meeting Factory Records impresario Tony Wilson for the first time, Morris told the audience "It's weird because you knew Tony from the telly and your impression of him was not exactly favourable; you thought he was a bit of a show-off, a clever b*stard who had to impress on everyone that he knew Trotsky did this and that… but once you got to know got to know him, you found out that your first impressions were correct!"
As the audience recovered from Morris' amusing account, he added "I think he liked to wind people up, but he was very clever in that he would put people together, like getting us Peter Saville. Tony was a good catalyst, I always thought Tony would have got into politics eventually". Meanwhile, he remembered how Gillian Gilbert's mum had said to Wilson: "You know Tony, a lot of people don't like you, and now that I've met you, I can see why!"
With an eye on the future, Morris' electronic percussion journey was initially inspired by the cover of the UK edition of CAN's 'Tago Mago' and a misunderstanding about a device attached to one of Jaki Liebezeit's drums. Eventually he acquired a Synare 3, Simmons SDS4 and Roland CR78 while Sumner built a Powertran Transcendent 2000 before upgrading to an ARP Omni MkII.
In the book, Morris tells of his KRAFTWERK-influenced rhythmic experiment triggering his Simmons SDS4 off producer Martin Hannett's ARP sequencer to produce 'As You Said', said by many to be "the worst JOY DIVISION song ever" although ELECTRICITYCLUB.CO.UK rather likes it. Morris noted that the eccentric genius of Hannett added a depth that set 'Unknown Pleasures' apart and this pushing of sonic boundaries continued throughout JOY DIVISION's short existence.
One instance was the aerosol used on the 12 inch disco re-recording of 'She's Lost Control' inspired by BLONDIE's 'Heart Of Glass'. The idea had been to make the drums sound as powerful as possible, but Hannett suggested using an aerosol spray sound to give the rhythmic elements some fizzy top end.
Trapped in the vocal booth, Morris recalled noticing the can had a burning flame symbol and warnings of "danger" as the fumes started suffocating him… when the recording was completed, he reached for his pack of Player's No6 King Size and was about to have a smoke but "luckily I'd lent Rob Gretton my cigarette lighter". As Morris put it, "it could have been a 'Spinal Tap' moment", referencing the film's recurring joke of spontaneously combusting drummers!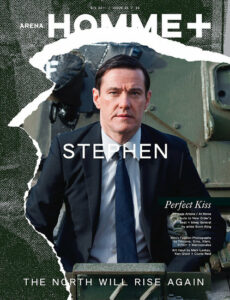 Despite Morris highlighting in the book about his lack of sartorial elegance and geography teacher look in the iconic JOY DIVISION photos taken by Kevin Cummins on Hulme Bridge, ELECTRICITYCLUB.CO.UK asked about his 2011 'Arena Homme+' fashion shoot; "It was the most embarrassing thing I've ever done in my life, never again" he snorted, recalling his parents were saying "What are you doing, standing in a tank with a suit on? You don't look well??!"
But of that iconic Hulme photo and its mystique, Morris said "people look at those pictures and see different things which is great, but all I can remember is the reality which is I was excruciatingly cold because Hooky had forgotten to bring his coat and I offered him mine!".
Compared with bands of the time, JOY DIVISION's monochromatic austere stood out as Morris confirmed: "We looked strange, we looked like we didn't belong".
In memory of Ian Curtis' sad passing, Morris said "It was such a shock, one of Ian's failings was he'd try to be everything to everyone, he'd never want to let anyone down… if he'd have turned round and said 'I don't want to do this', I'd like to think we would have gone along with it, but he wasn't like that. He'd say he was fine when he clearly wasn't fine. We were all excited about going to America and suddenly BANG! I couldn't make sense of it".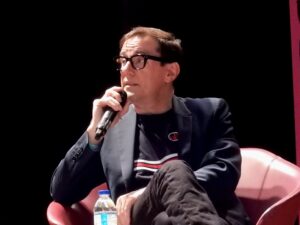 But concluding on a lighter note, when asked what NEW ORDER song Ian Curtis would have loved, Morris sheepishly replied "Ooooh! 'World In Motion'" to roars of laughter, adding "I could imagine him doing that!".
However, Morris conceded that it was likely that material from 'Power, Corruption & Lies' would have appealed to the late JOY DIVISION frontman while also surmising that if Curtis had lived, JOY DIVISION might have mutated into something like RADIOHEAD.
From tom riffs and gothic disco to club friendly four-to-the-floor beats, 'Record Play Pause: Confessions of a Post-Punk Percussionist Volume 1' covers up to the end of JOY DIVISION and the start of NEW ORDER. With moments that make you laugh out loud as well as making you cry with an emotional account of a very personal tragedy, this book is a must read, capturing the background behind the post-punk generation's dysfunctional creativity that manifested itself under the spectre of The Cold War and appropriately unleashed itself during Britain's winter of discontent.
A second volume covering NEW ORDER up to the present day will be published in 2020.
---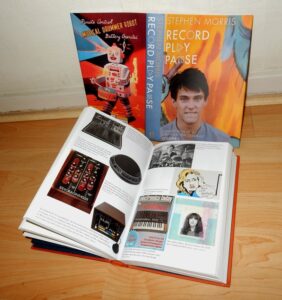 'Record Play Pause: Confessions of a Post-Punk Percussionist Volume 1'
is published by Constable
NEW ORDER + LIAM GILLICK '∑(No,12k,Lg,17Mif) So it goes..'
is released as a limited edition triple coloured vinyl LP and double CD by Mute Artists on 12th July 2019
https://www.facebook.com/NewOrderOfficial
https://twitter.com/stephenpdmorris
https://www.instagram.com/neworderofficial/
---
Text and Photos by Chi Ming Lai
15th June 2019