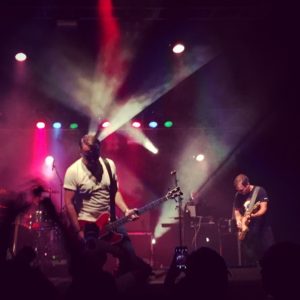 Peter Hook needs no introduction as The Bass Viking in both JOY DIVISION and NEW ORDER.
Although not originally known as a vocalist, he contributed lead vocals on 'Interzone' from JOY DIVISION's debut long player 'Unknown Pleasures'. Meanwhile two songs 'Dreams Never End' and 'Doubts Even Here' from 'Movement'
featuring his voice became cult favourites among the NEW ORDER faithful.
Hook got to flex his larynx during his solo projects REVENGE and MONACO, the latter combo scoring a No11 UK hit with the mighty 'What Do You Want From Me?'
in 1997.
He and musical partner David Potts were to record one more self-titled album, with its opening track 'I've Got A Feeling' up there with much of the NEW ORDER back catalogue. Fast forward to today and Potts is back with The Bass Viking in PETER HOOK & THE LIGHT, touring the world and showcasing entire albums from the JOY DIVISION and NEW ORDER canon.
Their current tour sees the two 'Substance'
compilations performed back-to-back, with songs like 'Warsaw' and 'Komakino' in the set alongside 'Confusion' and '1963'. Meanwhile, there have also been Hook's DJ sets and three well-received books 'The Hacienda: How Not To Run A Club'
, 'Unknown Pleasures: Inside Joy Division'
and 'Substance: Inside New Order'
.
But aside from celebrating his history and telling his story, Hook has been recording new material. 'The Otherside'
on Rusty Egan's 'Welcome To The Dance Floor'
opens The Blitz Club DJ's debut solo album and also features Midge Ure, Tony Hadley and Chris Payne.
The song's melodic basslines show how much Hook's sound was a vital part of NEW ORDER and boasts his passionately delivered vocals over a pounding backing track reminiscent of his former band.
In a break from the 'Substance'
tour which will hit Australia, New Zealand, Holland, France and Spain in the Autumn, Peter Hook had a quick chat with ELECTRICITYCLUB.CO.UK
'The Otherside' with Rusty Egan is the first new song you've recorded in a while, how did you come to be involved?
We met again at Rewind Festival. We were great mates in the 80s 😉
He asked… I liked the tune!
The song is very musically you… how did the demo sound when it was first presented to you and what inspired the lyrics?
Most of the song is written by Rusty, I added a middle eight and an ending and a third verse, so it is more their's than mine.
I was inspired by them. The spirit is great! Of course, I like to think I made it better 😉
You've also been involved in the live element of Martyn Ware's BEF project at Rewind. How did you find it?
I was terrified at first but once done it was great. Everyone is so lovely, it's dead easy and very enjoyable.
You've been doing lead vocals on your JOY DIVISION and NEW ORDER album showcases for a few years now, are you finally getting comfortable with singing?
Yes I am, I like it now… just have to watch the dad dancing 😉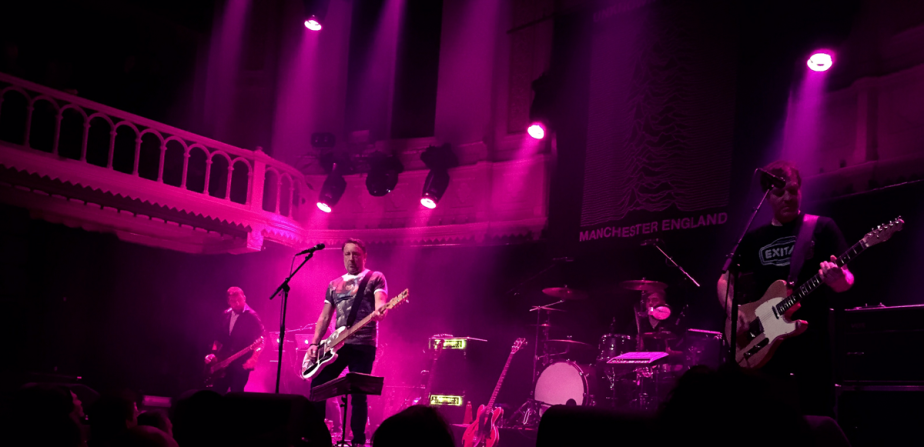 The PETER HOOK & THE LIGHT's 'Substance' shows have been going down very well around the world. What were the biggest challenges for you in ensuring such a long and complex setlist worked well as a live presentation?
It's art… I first had to persuade, coerce the band, but it is done with the perfect amount of honesty, enthusiasm and passion.
Your 'Substance' shows always began with a few of the B-sides from the collection and London included the lost single 'Procession'. That must be the most under rated of all New Order songs? Discuss…
It is, a great little pop tune that turned out not to be indicative of our new direction. People love to hear it.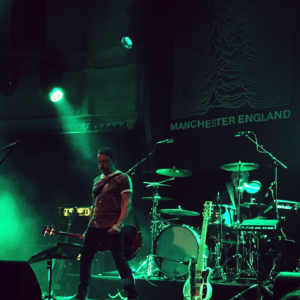 The 'Substance: Inside New Order' book ran to a hefty 752 pages and has some great anecdotes plus plenty of information for equipment geeks. How has the book been generally received overall?
Very well, I have had no law suits.
'Technique' must be in line for an album showcase?
It is next…
…but are you going to bother with 'Republic'?
Of course, I think it will sound much better, hopefully less like the PET SHOP BOYS!
The 'Hacienda Classical' concerts have proved to be very popular, what was the ethos behind this project and how does it work?
It works well, it is just to recreate a club vibe with violins. A lot of these songs have never been performed, that I think is what people love.
What's next for you?
Christ… Court, Jail, the lunatic asylum, bankruptcy… who knows but it will be interesting.
Lov Hooky '17
---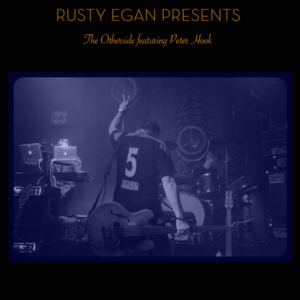 ELECTRICITYCLUB.CO.UK gives its warmest thanks to Peter Hook
Special thanks to Rusty Egan
'The Otherside'
featuring Peter Hook is released as a 12 inch coloured vinyl single by Black Mosaic
Also available is the 'Welcome To The Dance Floor'
album in CD, vinyl LP and download formats
PETER HOOK & THE LIGHT 2017 live dates include:
Rome Teatro Quirinetta (7th April), Ranica Druso Circus Bergamo (8th April), Bologna Estragon Club (9th April), Berkeley UC Theatre (28th April), Denver Summit Music Hall (29th April), Hull University (11th May), Copenhagen Koncerthuset 2 (12th May), Aarhus Train (13th May), Rewind North Festival (5th August), Wortegem W Festival (19th August), Auckland The Studio (5th October), Sydney Metro Theatre (7th October), Brisbane The Tivoli (Sunday, 8th October), Adelaide The Gov (10th October), Melbourne Corner Hotel (12th-13th October), Perth Astor Theatre (16th October), Amsterdam Paradiso (24th October), Rotterdam Maassilo (25th October), Tilburg Poppodium (26th October), Paris Le Trianon (28th October), Valencia Moon Club (23rd November), Madrid Sala Arena (24th November), Barcelona Sala Apolo (25th November), Limerick Dolan's Warehouse (31st November), Dublin Academy (1st December), Belfast Limelight 1 (2nd December), Norwich The Waterfront (7th December), Salisbury City Hall (8th December), Bristol Marble Factory (9th December), Wolverhampton Slade Rooms (14th December), Manchester Academy 1 (15th December), Wakefield Warehouse 23 (16th December)
There will also be a special show on 18th December at London's Roundhouse which will feature the JOY DIVISION albums 'Unknown Pleasures'
and 'Closer'
plus a support set of NEW ORDER material.
http://peterhook.get-ctrl.com/#/
https://www.facebook.com/peterhookandthelight/
---
Text and Interview by Chi Ming Lai
Live Photos by Anja Deerberg
20th March 2017, updated 21st March 2017