A rather elaborate manifesto from the Michigan duo ADULT. sums up the artistic undertaking that is 'Detroit House Guests' – "Let us explore new modes of music making" they said…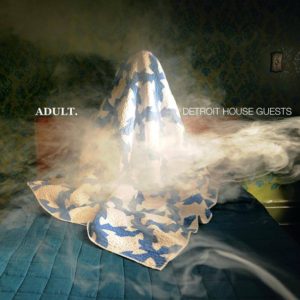 "Let us take the intensity of the studio session and drop it into the home. If the 'avant-garde' is thought to be un-domestic then what impact does this domestic situation have on the shape and sound of our project? Can the radical even exist inside the domestic? It's so private in the home. How vulnerable are we? Are the shades down and the curtains drawn? Can we become out of order? A rug turned at a slight angle, resisting not to straighten it as you pass by. The merger of soft and dark sides, melodic voices and angular jabs, organic and pre-programmed, dinner parties and carry out. A dislocated and disjointed dance."
ADULT. are Detroit duo Nicola Kuperus and Adam Lee Miller. They played their first live show together in Germany in 1997 as ARTIFICIAL MATERIAL. Using the moniker PLASMA CO. they released their first undertakings, following by further releases under the name ADULT.
Apart from numerous albums and EPs, the pair has remixed the likes of PET SHOP BOYS, TUXEDO MOON, JOHN FOXX, DEATH IN VEGAS and THE FAINT amongst and others. But music isn't their primary source of fulfilment. Both being acclaimed artists, Kuperus and Miller also make sculpture, paintings, films, photographs, performances, videos and installations.
The general idea behind 'Detroit House Guests'
was to invite various artists to reside in ADULT's studio for the duration of three weeks, to live, work and collaborate together in order to achieve "a total anthropological sound experiment and a full length album."
The finished product features collaborations with a whole host of musicians and artists.
They include Douglas J McCarthy from NITZER EBB, Michael Gira from SWANS, Shannon Funchess from LIGHT ASYLUM, Robert Aiki Aubrey Lowe aka LICHENS, Austrian thereminist Dorit Chrysler and multidisciplinary artist Lun*na Menoh.
The two Doug McCarthy tracks are a true highlight of this production. 'We Are A Mirror' and 'They're Just Words' are artistic masterpieces a la endeavours by GAZELLE TWIN. Doris Chrysler is 'Inexhaustible' in a very much a typical Mute track, filled with simplistic synth and tribal accents.
A bit of guitar is introduced on 'Breathe On' featuring Michael Gira and die-hard fans of vintage NIRVANA are bound to intercept the obvious connotations, with the addition of the female vocal nodding towards some good old grunge.
'Into The Drum' floats in and out of consciousness over COCTEAU TWINS-like noises and 'This Situation' undergoes magic shifts to achieve the status of a supreme art form, leading onto 'As You Dream'. The closing track multiplies the emotion by the manifestation of eclectic sounds catalysing interesting vocals and chant-esque sequences.
'We Chase The Sound' brings back the minimalistic bass synth and brave voice overlays, sounding uncannily like NITZER EBB sans McCarthy, but with the snarl of Shannon Funchess.
'Uncomfortable Positions' are "uncomfortably cosy", while 'Stop (and Start Again)' hit with the bass guitar and Siouxie inspired vocal.
The 'Detroit House Guests' project concept was conceived in the early 2000s and became a reality in 2014 after receiving a John S and James L Knight Foundation grant. The eclectic choice of vocalists, musicians and artists shapes this album into a concoction which will particularly lure the lovers of arty electronica.
It's not your melodic, well behaved synth; it's gritty, disjointed and cultured… it's a very different kind of aesthetic, yet very in keeping with classic Mute offerings.
---
'Detroit House Guests'
is released by Mute Artists in double vinyl, download and CD formats
https://www.facebook.com/adultperiod/
---
Text by Monika Izabela Trigwell
Photos by Nicola Kuperus
18th March 2017