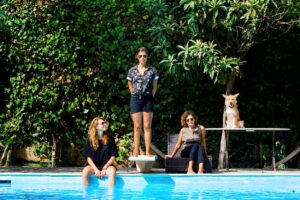 SOMEONE WHO ISN'T ME are the feisty Greek threesome of Marilena Orfanou, Maria Hatzakou and Gina Dimakopoulou.
Releasing their debut album 'Dance With You'
on Amour Records, the trio swear by analogue sounds, toy synths, chaotic guitars, fake strings, and off-beat rhythms complimented by deep voices in English and Greek.
The new single 'Pinku' comes over an interesting snarly mix of TR/ST and KITE crossed with NEW ORDER. Meanwhile, its superb visual presentation directed by Alkistis Terzi features striking time freeze effect portraits of five Biblical female figures Jezebel, Lilith, the Virgin Mary, Salome and Delilah.
Kindred spirits to fellow Hellelectro exponents MARSHEAUX, SARAH P. and KID MOXIE, SOMEONE WHO ISN'T ME have particularly impressed with their striking video presentations, particularly for their most recent single 'Pinku' and the award winning 'Gomenaki'.
SOMEONE WHO ISN'T ME kindly talked to ELECTRICITYCLUB.CO.UK about their artistic motivations and ideals…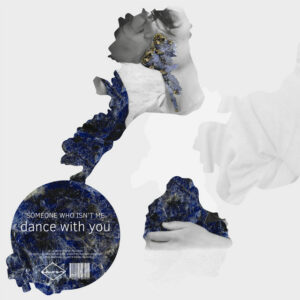 The three of you have quite distinct musical backgrounds, so how did the idea of making music together come about?
Marilena and Gina have been on the Athens Music scene for years. Gina on the grunge side as she is the guitarist of KATRIN THE THRILL; Marilena on the pop – electronic side and she formed BERLIN BRIDES with Natasha Giannaraki. They were also high school friends and they met up as adults again after many years through the music scene. Marilena had this dream of creating a pop band, but with distinctive guitar riffs. And Gina was open to new music genres.
Maria started learning the drums much later. She passed by a music school one day and with Marilena's encouragement went in and enrolled in drum classes. She and Marilena had always dreamed of creating a band together.
Later on Marilena was commissioned to write the soundtrack of A Tsangari's 'Chevalier' (which won the Best Feature Award at the BFI London Film Festival) and invited Maria and Gina to experiment. The music didn't make it into the film, except for the end titles song 'Never Find It', but that was the beginning of the band. Many of the songs that appear in 'Dance With You' were written for this soundtrack as instrumental pieces.
Then Marilena was commissioned by the French Institute in Athens to write the OST for a silent Greek Film titled 'Astero' and invited Maria and Gina to perform it live. That was the first live gig of the band.
With regards band dynamics, how do the influences of the three of you combine and clash?
It's actually quite an easy and natural process. We are so well tuned with each other on our aesthetics. Marilena is the brain of the band. She writes the music and the lyrics. She then invites Maria and Gina to jam, experiment and add elements to the songs. We have a tiny studio (San Marco SWIM studio) in the centre of Athens where the magic happens.
Your latest single 'Pinku' is a wonderful combination of quite different styles, there's techno, indie and classical!
Yes it's true. We are quite excessive and melodramatic in our music. Marilena had classical studies in Music and Composition plus she is also very inspired by soundtracks and electronic and techno music. Our references come from Debussy to Delia Derbyshire to PET SHOP BOYS to PJ Harvey. We actually recorded live strings for 'Pinku'. These elements exist in our music a lot.
'Pinku' comes with a striking video, what was the inspiration?
The video exists as an art piece as well, entitled 'Survive in My Sex'. It is created by the amazing Photographer and DoP, Alkisti Terzi and it consists of 14000 still photos. When we saw the image, we immediately thought of 'Pinku' as a music background. The song talks about a long lost love affair between two women and the different female biblical faces on the film who look at you in the eye in these intense moments were the perfect visualization of this love affair.
So you like toy synths, are there any particular ones?
Yes we love a little Casio synth made for children, the Stylophone, an 80s Yamaha and the Solina synth.
Your album opens with the 'Dance With You' title song. In your opinion, how important is dance as an emotional expression in life?
Very important, we would say. Marilena (aka Loo) and Gina also work as DJs on the Athens scene and they make people dance. Music is in our heads 24/7. We have to let the energy out and communicate it. We would suffocate otherwise. 'Dance With You' is a dance pop song but the lyrics are about love, crying and suffering. You just dance it out!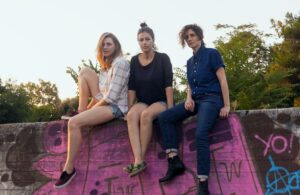 'Girl's On Fire' has a very unorthodox construction?
Yes it does. We are always flirting with R 'n' B which we love. This one was originally written as an instrumental piece for a theatre play ('Lulu' directed by D Tampassi) where we played the music live on each performance. It had so much body energy when we played it. It was a fiery one. Marilena had the image of a Girl on Fire. She collaborated with Kate Adams (who is theatre maker) on the lyrics.
You are not afraid to produce instrumentals, like 'Night Flight' and 'Strange', plus even 'Pinku' is offered as an instrumental bonus. So how do you decide that a composition remains without a vocal and what can you get from an instrumental that you can't with a song?
We love instrumentals and we will keep on writing them. It's like the soundtrack in our heads. When you don't have something to say anymore and how to express your feelings with lyrics, you can do it easily just writing music! 'Strange' is our most melodramatic theme and 'Night Flight' the lighter one; the two opposites.
Actually many songs exist first as instrumentals and at the very last minute we might add vocals. 'Pinku' existed as an instrumental for a long time. That's how we used to play it at our gigs. The night before we sent it for final Mastering, Marilena stayed up at the studio all night and wrote the lyrics and the vocal arrangement. We all listened to it and we decided it was worth the extra work to add the voice.
How do you decide whether to sing in Greek or English?
Well to be honest our first instinct is to write in English. There is a lightness and a distance writing in a different language than your own. We love writing in Greek as well, but the words that come are always very simple and repetitive. We have a new song that will be featured in our second album, called 'All Gone' which combines both languages, English and Greek.
The video for your debut single 'Gomenaki' won an award, are you proud that you have been able to make an important existential statement through your art?
Yes, we definitely are. The IndieMemphis award was quite a surprise to us. I have to say though that the credit goes to Alkis Papastathopoulos who wrote the script and directed the music video. He listened to the song once and the next day he came up with this brilliant script. Maria produced it. Our main goal was to make a "different" high school indie drama and I think we succeeded. Our tagline says it all: A femme for femme love story that challenges the classic high school film narrative and takes revenge on toxic masculinity.
Music is politics is life? Please discuss?
The personal is political, of course. This is deeply rooted in us in our everyday life and as artists; we have to communicate it, through our music, through our films, through our voice and actions. We cannot close our eyes and stay untouched by the sudden turn to conservatism, fascism and decay that surrounds us not only in Greece but worldwide. We need to raise our voices.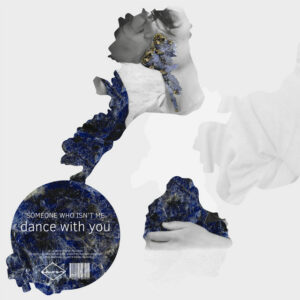 What is next for SOMEONE WHO ISN'T ME?
Well we already have all the songs of our second album ready. It's more dark and downtempo in a way. We will play at Pop Kultur in Berlin this August and we are also writing music for two short films and we will be writing the soundtrack of a TV series that Maria and Alkis Papastathopoulos are currently developing. We would also like to play in more festivals abroad.
We also have three more music videos in development, always collaborating with directors we love and admire.
---
ELECTRICITYCLUB.CO.UK gives its warmest thanks to SOMEONE WHO ISN'T ME
'Dance With You'
is released as a digital album by Amour Records, available via the usual online outlets
https://facebook.com/swimtheband.page
https://instagram.com/swimtheband
https://www.youtube.com/c/SomeoneWhoIsntMe
https://soundcloud.com/swimtheband
---
Text and Interview by Chi Ming Lai
20th June 2019