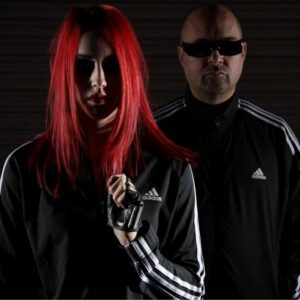 Deeply ominous and alluringly transfixing, Los Angeles-based synthrock duo NIGHT CLUB, who ELECTRICITYCLUB.CO.UK once affectionately described as sounding like "Britney fronting NINE INCH NAILS", will be embarking on their first headlining tour of North America this Autumn.
Visiting over twenty cities, the extensive tour is apt reward for Emily Kavanaugh and Mark Brooks.
The pair had impressed audiences while opening for noted aggrotech exponents COMBICHRIST and alternative rock supercombo A PERFECT CIRCLE in 2018.
Having released a trilogy of EPs and two albums 'Requiem for Romance' and 'Requiem', as well as producing the soundtrack to the animated Comedy Central cop show 'Moonbeam City', the couple have just unleashed a sinister self-directed visual presentation for 'Your Addiction', one of the highlights from 'Scary World'
.
With a majestic synth boom that is both heavy and funky, 'Your Addiction' exploits Kavanaugh's disturbed feline presence to the max with a cry of "these are your sins". The video sees her preaching at The Church of the Anti-Heart where the gathered congregation comprises of those who have lost their hearts through their addictions. With them finding solace in this dark mutant cult, the imagery wouldn't look out of place in John Carpenter horror flick, although some may consider the conclusion a gothic twist on a controversial scene from 'Indiana Jones & The Temple Of Doom'!
NIGHT CLUB told ELECTRICITYCLUB.CO.UK in 2018: "'Your Addiction' is sort of like 'Dear Enemy pt. 2'. That one fell together quickly and has a very personal vendetta behind it. In fact it's about the same person as 'Dear Enemy'". Keeping their friends close and their enemies in their songs, they added "There's nothing more impactful than having a friend turn into an enemy."
Strung out by some unsettling deep vocal pitch shifting, the couple said: "We got tired of the vocals being one dimensional. So we started layering the vocals and fucking them up to create something new and original… we just like to tweak them to expand the sonic palette."
With NIGHT CLUB's live show centred around the intense moods and feisty motions of Kavanaugh, the tour appropriately begins at a place called Bar Sinister… "tell me you like the way it hurts!"
---
'Your Addiction' is from the album 'Scary World'
released by Gato Blanco, available as a CD or download from http://nightclubband.com/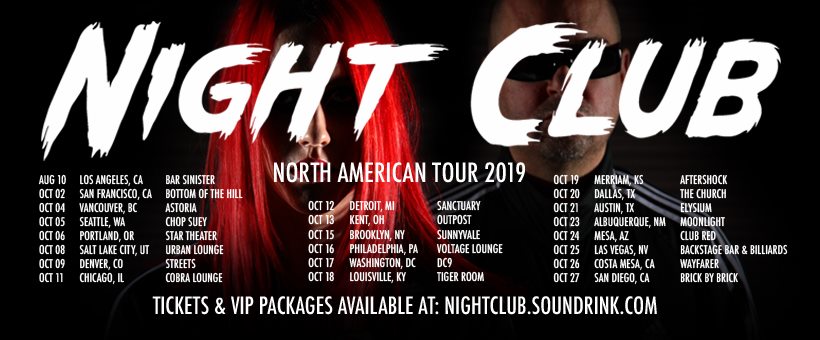 NIGHT CLUB 2019 North American live dates include:
San Francisco Bottom of The Hill (2nd October), Vancouver Astoria Pub (4th October), Seattle Chop Suey (5th October), Portland Star Theater (6th October), Salt Lake City Urban Lounge (8th October), Denver Streets (9th October), Chicago Cobra Lounge (11th October), Detroit The Sanctuary (12th October), Kent The Outpost (13th October), Brooklyn Sunnyvale (15th October), Philadelphia Voltage Lounge (16th October), Washington DC9 (17th October), Louisville The Tiger Room (18th October), Merriam Aftershock (19th October), Dallas Lizard Lounge (20th October), Austin Elysium (21st October), Albuquerque Moonlight Lounge (23rd October), Mesa Club Red (24th October), Las Vegas Backstage Bar and Billiards (25th October), Costa Mesa The Wayfarer (26th October), San Diego Brick By Brick (27th October) – tickets available from http://nightclub.soundrink.com
https://www.facebook.com/nightclubband
https://twitter.com/nightclubband
https://www.instagram.com/nightclubband/
---
Text by Chi Ming Lai
Photo by Marv Watson
22nd June 2019