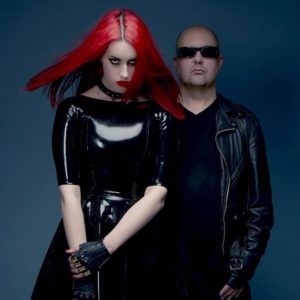 ELECTRICITYCLUB.CO.UK once described NIGHT CLUB as sounding like "Britney fronting NINE INCH NAILS". Now requoted by a number of other media outlets, that description appears to have stuck.
The Los Angeles based duo of Emily Kavanaugh and Mark Brooks impressed with a trilogy of fine EPs and produced the soundtrack to the acclaimed animated Comedy Central cop show 'Moonbeam City'
featuring the voices of Rob Lowe and Elizabeth Banks, before finally releasing a full-length album 'Requiem for Romance'
in Summer 2016.
Currently touring Europe with aggrotech exponents COMBICHRIST and horror rocker WEDNESDAY 13, NIGHT CLUB release their second long player 'Scary World'
in late August, which develops on the sharp synth rock template of its predecessor.
With the triple header hitting selected cities the British Isles, NIGHT CLUB will also be headlining two August shows of their own in Sheffield and London.
NIGHT CLUB stopped for a chat just as they landed in the British Isles…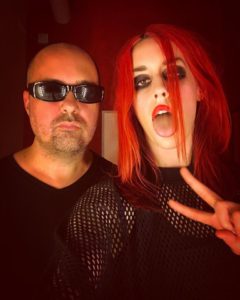 It is indeed a 'Scary World', have political events at home been a subliminal influence on the album? Is it making you 'Schizophrenic'?
Yes, the political environment in the US is definitely making us nervous. Our new LP is sort of influenced by that but also very influenced by our own internal anxiety. It became apparent to us when we started writing this record that we both had a lot to say about the subject of anxiety. We have both suffered from that condition and the words just started to seep out of us. The album sort of morphed into an opus about mental illness and coping with it. By the time we finished the record, we ultimately realized that it's about the scary world inside and outside of all of us. It's also a warning to those younger than us about the road ahead.
This album is a natural progression of 'Requiem For Romance' but more refined without losing any edge?
Yeah, 'Scary World' is definitely a natural progression from 'Requiem'. Sonically speaking, 'Requiem' was when we really discovered our sound. The new album is just a more advanced version of 'Requiem.' We spent a lot of time on this one and poured our souls into it. We would say 'Scary World' is an advance in our lyrical songwriting just as much as our last record was an advance in our sound.
The title song is a case in point, you're playing around with the pitch shifting with the vocals but have created your own kids choir to give the track an eerie resonance?
Yeah, we've been experimenting with vocal effects for a while now but that choir is an actual kid's choir! They are called the MUSYCA Children's Choir of Los Angeles. They were amazing to work with and helped give the song its eerie resonance. It was a total PINK FLOYD moment to have them on our record.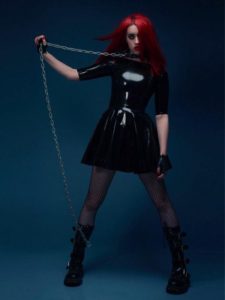 ELECTRICITYCLUB.CO.UK can hear a bit of your inner Joan Jett creeping out on that one and the first single 'Candy Coated Suicide'?
Well, there's nothing wrong with that is there?
Pitch shifting is a more interesting way of manipulating vocals with technology than using autotune?
Yes, definitely. We got tired of the vocals being one dimensional. So we started layering the vocals and fucking them up to create something new and original. Just for the record, all of the vocals on all of our records are Emily, we just like to tweak them to expand the sonic palette.
Sonically this album has been another step forward, there's a great energy to 'Vampires' and some fabulous synth sounds?
Yes, we decided when we started recording this album to delete all the old sounds and build all new synth sounds from scratch. It gave the new LP its own identity and soul. We wish people on the radio would do the same.
Both 'Therapy (Get High)' and 'Your Addiction' have some interesting lyrical gists?
Yeah, both those songs are very personal. 'Therapy' is really about feeling trapped by your anxiety and wanting to be free, while 'Your Addiction' is sort of like 'Dear Enemy pt. 2'. That one fell together quickly and has a very personal vendetta behind it. In fact it's about the same person as 'Dear Enemy'.
What's 'Blood On Your Blade' about, you could imagine Michael Jackson doing a song like this in his 'Dangerous' phase?
That song is about feeling used. Without giving up their identity, the song is about someone who pulls you into their world and sucks from you creatively without giving anything back. Once they get what they need from you, they move on. You're just blood on their blade.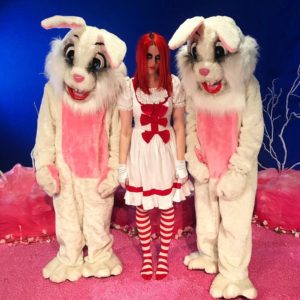 Did you have an 'Imaginary Friend' when you were younger? And is the song a reflection of the vapid online connections where people will prioritise over "not upsetting" a virtual relationship with someone they've never met over loyalty to a personal friend of many years?
That song is really about fake relationships that we've both encountered in Los Angeles.
It comes from the frustration of thinking that you are friends with someone only to find out that you're just a stepping stone for whatever they needed at the moment.
Is your philosophy still "Keep your friends close and your enemies in your songs"?
Ultimately we write songs about everything we're going through, so instead of being angry about things that have happened to us we channel it into our music.
There's nothing more impactful than having a friend turn into an enemy. It's also very satisfying every time you play that song live.
The closing number 'Survive' doesn't offer any respite, this album is quite full on!
That song ended up being the perfect ending to the album. It lyrically evolved into a message that became the answer to the themes that 'Scary World' brought up. Ultimately, the world (illness) may stand in your way but it's your job to navigate around it and survive.
How has the COMBICHRIST + WEDNESDAY 13 tour been going? The match is wonderfully odd, yet fitting at the same time?
The tour has been going great. We're in Europe currently and the shows have been amazing. Lots of people have coming out, and we're definitely being introduced to a new audience we've never played to before. The tour line-up is an eclectic mix of different styles, yet it somehow works. It's also been really cool to see people singing along to our songs in countries we've never been to.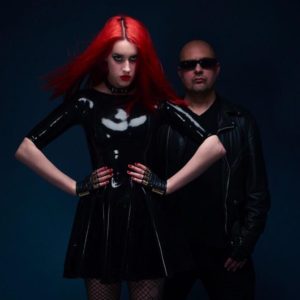 What about the reactions of the predominantly rock-oriented audiences, could they get their heads round a synthpop duo with no guitars and no drums?
Overall, the audiences have been awesome and supportive. It takes them a few songs to figure us out but then they realize that we're just as heavy even with only synthesizers.
By the end of the set, their reaction is overwhelming. It's a great challenge for an electronic duo to play before and after loud rock bands (with drums, guitars etc). Ultimately, it just makes you better and ups your game.
So what are your hopes, fears and plans for 'Scary World'?
We hope that people embrace and love this record as much as we do. We worked hard on it. We'll also be embarking on a pretty exciting Fall tour that we can't talk about yet, so we'll definitely be playing more of these songs live. Also more music videos to come…
---
ELECTRICITYCLUB.CO.UK gives its sincerest thanks to NIGHT CLUB
Additional thanks to Tracy George at TAG Publicity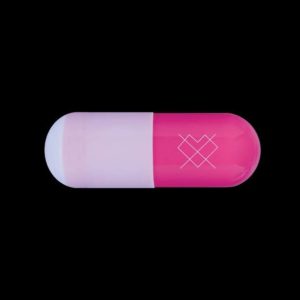 'Scary World'
is released by Gato Blanco on 24th August 2018, available on the usual digital platforms
https://www.facebook.com/nightclubband
https://twitter.com/nightclubband
https://www.instagram.com/nightclubband/
https://soundcloud.com/nightclubband
---
Text and Interview by Chi Ming Lai
Photos by Francis George and Night Club
7th August 2018