YELLOW MAGIC ORCHESTRA formed in 1978 as an intended one-off project for producer and bass player Haruomi Hosono.
After Hosono hired two session musicians drummer Yukihiro Takahashi and keyboardist Ryuichi Sakamoto to record that debut self-titled album, the rest was history… the threesome had first worked together on Hosono's exotica-flavoured solo record 'Paraiso'.
To celebrate the 40th anniversary of the formation of YELLOW MAGIC ORCHESTRA, ten bodies of work originally released by Alfa Records between 1978-1983 are being reissued by Sony Music Direct in high resolution formats remastered by Bob Ladick as part of #YMO40.
Hosono was already a music veteran having been involved in the recording of several early electronic rock records in Japan while Takahashi was in THE SADISTIC MIKA BAND, a progressive rock outfit who were signed to PINK FLOYD's label Harvest. The classically trained Sakamoto had experimented with electronic music at the Tokyo National University of Fine Arts and Music.
Hosono's concept for YELLOW MAGIC ORCHESTRA had been an instrumental disco band who could appeal internationally. But when Sakamoto introduced the music of KRAFTWERK to his bandmates, the die was cast for what was to become the YMO sound.
Acts like KRAFTWERK had helped restore a sense of German identity in reaction to the Americanisation of European post-war culture. The trio felt this was also needed in Japan so they endeavoured to make something very indigenous and original while using electronics. As Sakamoto remarked, this involved using the "very Japanese" approach of merging many different styles like a Bento box in a reliable, forward thinking fashion.
The technology used on YELLOW MAGIC ORCHESTRA's 1978 self-titled debut album
included the Moog III-C, Korg PS-3100, Polymoog, ARP Odyssey, Oberheim Eight Voice, Minimoog, Korg VC-10 Vocoder and Roland MC-8 Micro Composer. With the latter programmed by fourth member Hideki Matsutake aka LOGIC SYSTEM to control the synthesizers, the result was a crisp exotic pop sound that was unusual and ahead of its time, even in the electronic music heartland of Europe.
As a result YELLOW MAGIC ORCHESTRA became standard bearers for what eventually became known in Japan as Technopop. This was best exemplified by the anthemic Sakamoto penned 'Tong Poo' which despite its disco bassline, was inspired by Chinese music from its controversial Cultural Revolution. It was a sign of things to come as Sakamoto would later revisit the theme as a composer for the film 'The Last Emperor'
which netted him an Oscar for its soundtrack.
Also from the debut album, 'Simoon' sung by Shunichi Hashimoto imagined a retro-futurist jazz club in the 22nd Century as did the appropriately titled 'Cosmic Surfin', both showing off YELLOW MAGIC ORCHESTRA's musical diversity. Meanwhile, the influence of 'Popcorn' and French acts such as SPACE could be felt on the mildly off-the-wall 'Mad Pierrot'.
But the debut album's key track was to become a surprise UK Top 20 hit single in 1980 while also gaining traction in America where the band made a memorable appearance on the prestigious music show 'Soul Train'. Titled 'Computer Game (Theme From The Invader)', the main section of the track was actually 'Firecracker', a cover of a 1959 composition by Martin Denny.
Although the original could be seen as an early form of cultural appropriation using every pentatonic cliché in the book, YELLOW MAGIC ORCHESTRA took it back and gave the tune authenticity, with their electronic treatment acting as a symbol of the Far East's advancement in the worthy cause of affordable technology.
The international popularity of YELLOW MAGIC ORCHESTRA coincided with the burgeoning electronic pop movement in the UK which had embraced affordable synthesizers from Japanese manufacturers such as Roland, Korg, Kawai and Yamaha.
VISAGE's drummer Rusty Egan in his dual role as DJ at The Blitz Club in London had been spinning YMO tunes just as acts like TUBEWAY ARMY, THE HUMAN LEAGUE, ULTRAVOX, OMD, SOFT CELL and DEPECHE MODE were beginning to gain traction within the mainstream. The music made a big impact on Egan: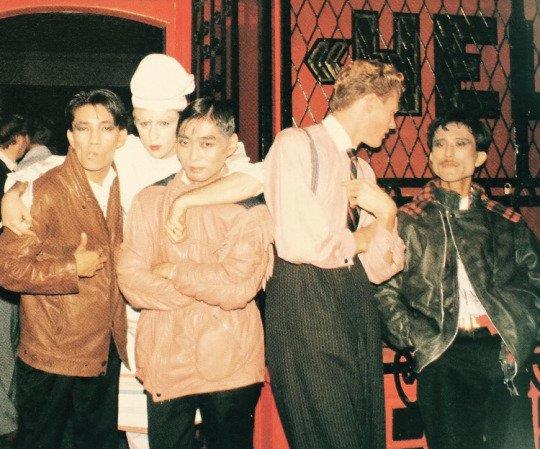 "I liked the album and played it along with TELEX and SPARKS. The sound was an influence on VISAGE. We'd recorded 'The Dancer' which was more NEU! and 'In The Year 2525' which was more KRAFTWERK, so by the time we recorded 'Moon Over Moscow', that was to include Russia, Japan, Germany and France in our sound. I got tickets to the gigs and they came to thank me as they had heard from the record label that I was the guy loving the album and playing them. The drummer was also using the same drum pads as me!"
Released in Autumn 1979, the excellent second album 'Solid State Survivor'
included the glorious Technopop of 'Rydeen' and its middle eight syndrum fest, while 'Castalia' displayed a moodier side to YELLO MAGIC ORCHESTRA. The rousing syncopated Cossack romp of 'Absolute Ego Dance', featuring Sandii O'Neale of SANDII & THE SUNSETZ who Hosono later produced, was another highlight on what can now be seen as possibly YMO's best album.
However, the track which crossed over and became a worldwide phenomenon began life as music for a Seiko Quartz watch commercial. 'Behind The Mask' had initially put together by Sakamoto and Takahashi but had a catchy vocodered chorus written by Tokyo based British composer Chris Mosdell added; the extended recording ended up on 'Solid State Survivor'.
Another highlight from 'Solid State Survivor' was the mighty 'Technopolis', easily a musical equal to 'Rydeen'. However, a cover of THE BEATLES 'Day Tripper' was ill-advised; voiced by Takahashi, his style in the vein of Bryan Ferry after too much sake often polarised listeners. And as artistically YMO moved away from solely instrumental compositions, his vocal presence would become more frequent.
The title of YMO's third full length long player 'BGM'
stood for "Background Music" although only 'Happy End' and 'Loom' fitted into this category; it was an odd mix and 'BGM' effectively became a Hosono / Takahashi effort as Sakamoto was largely absent from the sessions.
Released in early 1981, 'BGM' was the first full length recording to feature the now iconic Roland TR-808 Rhythm Composer. The album was also made using a 3M 32-track digital recorder; but while producing 'BGM', Hosono did not like its aural sharpness and preferred to record Takahashi's rhythm contributions onto a TASCAM analogue tape machine first before copying them to the 3M machine.
With lyrics co-authored by expatriate DJ Peter Barakan, the album's best song 'Camouflage' was a curious beat laden blend of East and West, its rolling 808 tom patterns and creepy pentatonics offering a more sinister demeanour than the brighter sound of their previous material. But overall, 'BGM' was disappointing as a gloomy follow-up to 'Solid State Survivor' with only '1000 Knives' recalling anything like the vibrant instrumental material on that or the debut album.
'BGM' was comparatively experimental but with YMO's fourth long player 'Technodelic'
released in late 1981, the trio went further and adopted a particularly sombre tone in the process. Notable for its use of an LMD-649, a hand-made sampler developed by Toshiba-EMI engineer Kenji Murata, it was put to full use on 'Neue Tanz' with its staccato samples of Indonesian Kecak chants. Effectively a KRAFTWERK tribute, Haruomi Hosono played bass guitar to add a dark funkiness to offset the inherent robotics.
Meanwhile, 'Pure Jam' explored a more precise groove laced with layers of exotic synth sounds and 'Light In Darkness' was an atmospheric but punchy instrumental that wouldn't have gone amiss on the soundtrack to 'Blade Runner' if Vangelis had been into funk.
Despite their technological innovations, neither 'BGM' nor 'Technodelic' were considered particularly accessible, even in the synth friendly environment of 1981. In fact, 'Technodelic' was denied a release by their UK label Epic Records.
As a reaction to the over-seriousness of their previous two albums, the trio lightened up considerably for YMO's fifth full-length album 'Naughty Boys'
released in Spring 1983. Delivering their most commercial song based album to date, a sense of fun was highlighted by the massively popular and joyous lead single 'Kimi Ni Mune Kyun'.
But 'Opened My Eyes' could have been any Western synthpop act of the period, which can be seen in all sorts of ways, while 'Lotus Love' revealed some unexpected psychedelic overtones and 'Kai-Koh' showed that YMO had not lost their ear for exotic electronically generated timbres.
Like the bizarre '∞Multiplies'
mini-album from Summer 1980 which included a very odd cover of 'Tighten Up' and the surfer ska of its title track, the sixth album 'Service'
released in late 1983 featured various skits; these were performed by the Japanese comedy combo SUPER ECCENTRIC THEATER (SET). Whether this was meant as an ironic act of cultural subversion, it was a mystery to Western ears as the sketches were all in Japanese!
With 'Service' containing just seven songs alongside seven skits, the standout was 'You've Got To Help Yourself' which tellingly had previously featured as a short instrumental taster on 'Naughty Boys', perhaps highlighting the lack of material available for a full album. However, 'Limbo' was not a bad effort as an unusual attempt at Japanese electronic soul, complete with Barry White impersonations!
It was obvious that YELLOW MAGIC ORCHESTRA as a project was losing momentum and the trio went into hiatus in 1984. The transition was smooth as each member had already established a parallel solo career.
Hosono was one of the first people to acknowledge the potential of video game music as well as later producing Japanese Idol singers like Narumi Yasuda and Seiko Matsuda. There was even a collaboration with James Brown as part of his FRIENDS OF EARTH collective for a new version of 'Sex Machine' in 1986.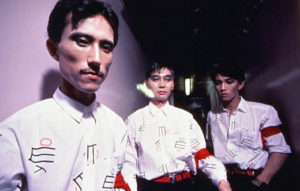 Adding acting to his burgeoning music career, Sakamoto worked with David Sylvian, Robin Scott, Thomas Dolby, Iggy Pop, Virginia Astley, Youssou N'Dour, Brian Wilson, Robbie Robertson, Roddy Frame, David Bowie and Madonna among many, while the musicians who Takahashi worked with included Steve Jansen, Mick Karn, Ronny, Bill Nelson, Zaine Griff, Iva Davies, Tony Mansfield, Phil Manzanera and Andy Mackay.
While the trio said they were "spreading out" rather than splitting, they continued to play on each other's solo recordings and made guest appearances at various live shows. A short reunion took place in 1993 for the 'Technodon' album where the band had to be known as YMO, as the name YELLOW MAGIC ORCHESTRA was owned by Alfa Records.
As befitting the album title, 'Technodon' had a trippy techno flavour with hints of jazz as exemplified by 'Hi-Tech Hippies', although the album ended with a Japanese language cover of 'Pocket Full Of Rainbows', a mellow ballad made famous by Elvis Presley in 'GI Blues'. There was no further activity until 2007 when Hosono, Sakamoto and Takahashi reunited for a light hearted Kirin Lager advertising campaign performing 'Rydeen'.
Hosono and Takahashi had been working together as SKETCH SHOW and Sakamoto was invited to join in. Inevitably, YELLOW MAGIC ORCHESTRA reformed again when they played the 2007 Kyoto Live Earth event, although for recording purposes, they were known as HASYMO.
In Summer 2008, the trio played the Meltdown Festival curated by MASSIVE ATTACK billed as YMO, although only four YMO songs were played while the rest of the set was SKETCH SHOW, HASYMO and solo material.
There were live appearances in 2009 and 2010 so it appeared YELLOW MAGIC ORCHESTRA were still a going concern despite the confusion over the various band monikers. However, any thoughts of further YELLOW MAGIC ORCHESTRA appearances were put on hold while Sakamoto recuperated from illness in 2014.
Happily Hosono, Takahashi and Sakamoto all continue with their various individual musical endeavours and are active on social media to varying degrees. #YMO40 now allows for the trio to be re-evaluated and rediscovered as their musical legacy on Western rock and American urban forms has been enormous, especially as a South East Asian band.
With 'Behind The Mask', YELLOW MAGIC ORCHESTRA touched rock, pop and soul. The late Michael Jackson loved the track so much that he penned additional lyrics to it during the 'Thriller' sessions. Unable to release it himself at the time, Jackson gave the reworked track to his musical director Greg Phillinganes who had a surprise 1985 hit with it in the US R'n'B charts. This proxy collaboration was then later covered by Eric Clapton who hit the mainstream with his rockier version in 1987. The remixed MJ demo eventually appeared on the posthumous album 'Michael' in 2011.
The YMO version of 'Firecracker' made an impact out on the block as it was sampled by Hip-Hop godfather Afrika Bambaataa on 'Death Mix' in 1983 and then in 2001, it was used again by Jennifer Lopez on 'I'm Real'.
In Europe, the German synth band CAMOUFLAGE took their name from that very song. And then there was the influence they had on a certain Lewisham combo called JAPAN! Meanwhile a YMO versus THE HUMAN LEAGUE EP featuring yet another version of 'Behind The Mask' and a reworked 'Kimi Ni Mune Kyun' with new English lyrics by Phil Oakey was released by Alfa Records in 1993.
And in hindsight with the known creative issues KRAFTWERK were facing, the resemblance of 1986's 'Musique Non-Stop' to 'Neu Tanz' is uncanny despite the five year gap between them.
Closer to home 'Kimi Ni Mune Kyun' achieved national ubiquity as the closing theme to the popular Anime series 'Maria Holic' in a squeaky vocaloid version sung by the cast, while a marching band rendition of 'Rydeen' appeared in 'Hibike! Euphonium'.
Whether people realise it or not, the artistic contribution of YELLOW MAGIC ORCHESTRA and its three members has been felt by multiple generations all over the world.
---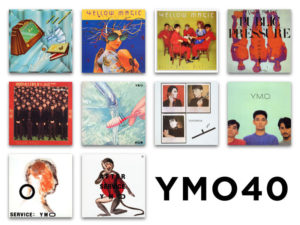 The reissues for #YMO40 are released in standard vinyl LP, double 45RPM collectors vinyl LP, SACD and digital formats by Sony Music Direct from 30th November 2018 – info at http://www.110107.com/s/oto/page/YMO40
https://www.facebook.com/YMOofficial/
https://open.spotify.com/artist/2JIf5JxI3ypOSfrfNIIMQE
---
Text by Chi Ming Lai
24th November 2018