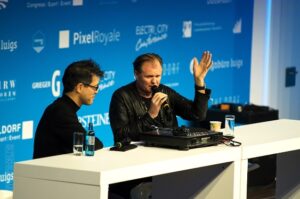 German music formed a large part of RUSTY EGAN's DJ sets at The Blitz Club between 1978-1981.
The legendary Blitz Club DJ and Chi Ming Lai of ELECTRICITYCLUB.CO.UK recently participated in a well-received discussion about how German electronic music influenced the New Romantic movement at the ELECTRI_CITY_Conference in Düsseldorf.
Including other international acts such TELEX, SPARKS, YELLO and YELLOW MAGIC ORCHESTRA, The Blitz Club's soundtrack cocktail was to prove highly influential on the UK music scene and spawned a wider movement that led to the success of acts such as VISAGE, SPANDAU BALLET, LANDSCAPE and ULTRAVOX who formed part of the clientele.
The discussion formed part of a wonderful three day event which co-organiser Rudi Esch said was to "honour the global importance of Düsseldorf's pop-cultural heritage"
Taking place in front of a live audience, the amusing chat focussed on Düsseldorf, Berlin, DAVID BOWIE, KRAFTWERK and NEU! while Motorik beats and modern DJ culture also formed part of the spirited conversation.
RUSTY EGAN and ELECTRICITYCLUB.CO.UK have previously worked on several projects together including a successful 25 week radio show series. Egan's current radio show Electronic Family Tree broadcasts every Friday night / Saturday morning on internet dance station Mi-Soul Radio.
---
https://www.mixcloud.com/rustyegan/
https://www.facebook.com/rusty.egan/
https://twitter.com/DJRustyEgan
http://www.electricity-conference.com/en/
https://www.facebook.com/ELECTRICITY.Conference
---
Text by Kerstin Key
Photos by Tom Steinseifer
4th November 2015