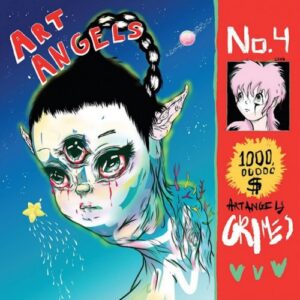 So, here it is, veiled in mystery for months, with an unclear release date and promises of a masterpiece – the fourth album by the Canadian songstress Claire Boucher aka GRIMES.
'Art Angels' is manna for the hungry fans of the extraordinary and self-sufficient Music Dame and a worthy follow-up to 2012's 'Visions'.
Boucher herself has stressed that this production "lyrically, it's more political and less abstract than before, like, really trippy free association about nature and sh*t."
GRIMES has always been inspired by what most would find random like: "There's a song that's from the perspective of a butterfly in the Amazon as people are cutting down trees; there's a song that's from the perspective of angels who are polluted, so they're crying polluted tears. I feel like it's more about the Earth. I think I was more in society when I was making it, so it feels more grounded."
The self-confessed "super feminist" uses herself and herself only, to complete the albums. She despises the idea of a producer taking credit for her work, so the whole enterprise is a very DIY job, including the tarot cards inspired artwork accompanying the release.
The girl does what the girl has to do, and the opening 'Laughing & Not Being Normal' sums up the entire outing with an 'Alice In Wonderland' inspired intro, leading into the "Miley Cyrus in her good girl country and western stage", 'California'. The sweetly laced track lyrically hits the negative experiences the artist went through while on "writer camps", shaping the next hits for the Billboard 100, where she realised nothing is about art, and that it was the complete opposite to what she wanted to do.
'SCREAM', with its guitar riffs inspired by Tarantino movies, is an innovative track where GRIMES collaborates with a Taiwanese female rapper ARISOPHANES. Odd, you may think; well, Boucher tried to use Soundcloud more randomly, exploring the musicians with the least number of followers. That's how she came across the artist, who shares the feminist vision she thought perfect for this record.
Next comes the first single and the mesmerisingly superb 'Flesh Without Blood', a poppy American Dream track, which to many, could land the artist a decent chart position. In one of her recent interviews, she swiftly replies to that statement. "I hate that all music right now has to exist in the context of the Top 40. I just want to make music that's good. Some good music is pop, some good music is not pop."
'Flesh Without Blood' is pop, but it's beyond the sweet and candied: it's immense, grown up and arty, without the need of being labelled within the realms of any chart position out there.
'Belly Of The Beat' brings a light super girly accent to the record, acting as a coma between the single and the following 'Kill Vs Maim'. The song was written from a perspective of Al Pacino in 'The Godfather Part 2', except that "he's a vampire and can switch gender and travel through space". This statement alone summarises the artist's flaunting approach to making music.
'Artangels' is a mish-mash of the good old pop, electronica and features influences of many an artist, being ingenuously fresh at the same time, while 'Easily' starts off with a simple piano and mellow beats flowering into a sophisticated hip-hop ballad. Just like with the clothes Boucher wears, you couldn't find a song crammed with more genres coagulated into one, seamless number.
'Pin' similarly acts like a catalyst of variety, and 'REALiTi', which had been previously released as a demo with great success, has its overhauled version on the album, showcasing quite how magnificent the song is. Marked with Berlin's Love Parade elements, this mellow track is remarkably modern and demonstrates the talents of the Canadian man-hater quite visibly. Go back few years to the marvellous pop creations of MADONNA, spice them with added synth and techno elements, and you have got yourself a perfect GRIMES song; quite possibly the best on this production.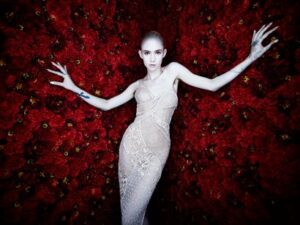 'World Princess Pt II' and 'Venus Fly', the latter featuring Janelle Monáe, a multiple Grammy nominee, are as unconventionally original as they get, while 'Live In The Vivid Dream', which formed the act two of the promotional video, together with 'Flesh Without Blood' is a punctuating shortie, leading onto 'Butterfly'. The last track on the production shows off the perfectionist and the tendency to push boundaries, being of a socially vital lyrical content, yet sung from the perspective of a butterfly, seeing the Amazon rainforest being cut to nothing.
Claire Boucher has become a clear icon of today's youth; no limits, rules, obligations and no feeling of "owing" anything to anyone. Coming from British Columbia's strict Catholic school system, where the teaching of science was banned, the inquisitive girl was always in trouble for asking too many questions. She's flourished into a woman, who knows what she wants and is not scared to get it.
The very woman, who on her last release used "a lot of drugs" and recorded the album using Garageband only, this time has stepped up to Ableton Live and learnt to play a dozen of instruments; collaborated with known and not-so known artists, and channelled everything she's got, is definitely the pronounced artist of today. She's proud to live in her own house, she's buying her own equipment, she's not relying on producers (on which she lashes out with her "diss" track), and doing what she wants and how she wants it.
It is truly HER record, and hers alone.
---
'Art Angels'
is released by 4AD Records
https://www.facebook.com/actuallygrimes/
---
Text by Monika Izabela Goss
7th November 2015