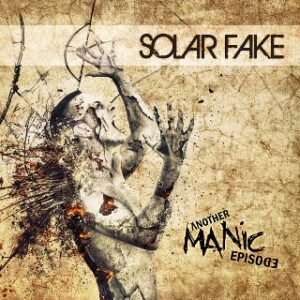 Berlin's SOLAR FAKE came into existence in 2007, creating an instant stir in the electronica circles, hungry for more anger and industrial laden beats.
Sven Friedrich, best known for his rockier enterprises ZERAPHINE and DREADFUL SHADOWS, joined André Feller and to date have released three albums, 'Broken Grid', 'Frontiers' and 'Reasons To Kill'.
The latest 'Another Manic Episode' is described by the band themselves, as their best work to date, which immediately invites the challenge to verify the veracity of this claim.
Happily charging €25 a year for their fan club membership, the SOLAR FAKE boys seem awfully confident in their latest product. The deluxe edition harbours nineteen songs, including the ten core tracks, with additional remixes by AESTHETIC PERFECTION and PROJECT PITCHFORK among many, as well as further seven piano versions of selected numbers.
The opening 'Not What I Wanted' curiously welcomes into the heavy world of SOLAR FAKE with EBM beats and alluring sequences, in which the band stays true to their roots. Influences of various other German bands are clearly palpable, making the opening track an eclectic mixture of pretty much everything heard before. 'Fake To Be Alive' follows with a clear danceability factor interwoven within a melodic, yet heavy sequence of drum and bass, as if borrowed from 'Automation Baby' by Bristol's MESH.
'All The Things You Say', also being the first single from the production, changes the mood into more of a gentler, sublime and intelligent synthpopia. Refined vocals, this time lacking the heavy rock base, are fuller and inviting. Very clear influence from their native FROZEN PLASMA, yet original in their own way.
'Under Control' as well as 'Observer' serve heavy boot stomping to their industrial beats, while 'Until It's Over' returns to the temperate, placid electronica which Friedrich is a master of. 'The Race Of The Rats' reprises the theme with a substantial dose of EBM, followed with 'If I Were You'; it's a melancholic track, yet well suited to heavy head bob and dance craze of your life.
The slower, more defined 'I Don't Want You Here', is a broken love affair, MINEVE style. A listener-friendly melody with gentle piano elements, this makes the track one of the best on this collection. The closing 'Stay' is perhaps the song which ought to mark the style of SOLAR FAKE, as this type of direction is what they do best. Delicate electronica with a refined vocal, it wraps the album skilfully, denoting the fact the band are capable of a decent ballad.
The second CD, apart from the remixes by big names, includes two tracks which are worth a mention. 'Somebody Told Me' rings the familiar sounds of THE KILLERS. It has become a kind of a given, that SOLAR FAKE will include a cover on each album. And this one is basically a version of the original, which has been beefed up with synth sounds, leaving it resonating not too dissimilar from the prototype. 'You Need The Drugs', another cover, this time of WESTBAM's big hit, from 'Götterstrasse', is more palatable and assembled with apt knowledge of the blueprint.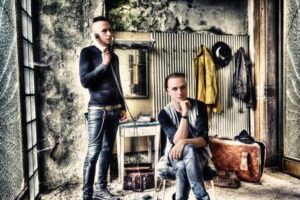 Like with any SOLAR FAKE release, the feeling persists, that perhaps the band, with their strong performances, are more of a live act and are better appreciated when in front of audiences, having toured Europe extensively before the release of 'Another Manic Episode' with great success.
The album, being rather compelling, will probably suit younger, less expectant listener.
For the lovers of COMBICHRIST, this is a perfect alternative; angry, in your face and destructive at times, only seldom punctuated with softer, lighter synth.
Whether the claims that the album is their best work to date, are indeed accurate, is debatable; however, the continuing popularity of the group speaks for itself.
---
'Another Manic Episode'
is released by Out Of Line Records
https://www.facebook.com/SolarFake/
---
Text by Monika Izabela Goss
3rd November 2015