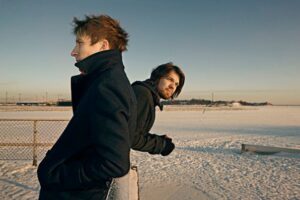 One of the best electronic albums to have been released in 2010 is 'Origin' by Finland's VILLA NAH.
Co-produced by Jori Hulkkonen, 'Origin' is a crisp balancing act that follows the journey of the classic synth album from days gone by but combines it with the freshness of new technologically oriented dance music.
With a number of positive reviews under their belt and interest from key people within the electro community, word is steadily getting around about VILLA NAH. Hailing from East Helsinki, Juho Paolosmaa and Tomi Hyyppä recently played a number of live dates in London to showcase their dreamily spacious pop.
As one of the first UK music websites to have reviewed 'Origin', ELECTRICITYCLUB.CO.UK were extremely pleased when the duo's singer / songwriter Juho took time to talk to us about VILLA NAH's influences, equipment and plans for the future.
How did young guys like yourself get attracted to the beauty and enigma that is electronic pop music?
I think it's a combination of two things we love: the warm distinct sound of dusty synthesisers together with classic pop sensibilities. The whole 80's boom of recent years never really was a factor for us – we just appreciated the songwriting and the atmosphere which seemed to exist only in that era of music.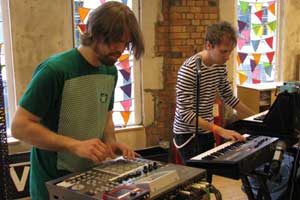 Your live set-up includes some vintage synths like a Korg MS10 and Roland Juno 106. How did you acquire these and are there any more interesting bits of kit sitting at home?
The Korg MS10 is an original that Tomi's dad bought in the 70s. It pretty much kickstarted our love for synthesizers.
There's a lot of other stuff we use as well; the SH-101, JX-8P, DX7 and the Poly-800 being some examples. As all of these are out of production, acquiring older synths means surfing through internet auction sites with fingers crossed for good luck.
OMD and GARY NUMAN appear to be two of your big influences. What is special to you about these two classic acts?
I have a special fondness for OMD simply because they've composed ageless pop music. A lot of their songs could be played without synthesizers and they'd be just as beautiful – 'Souvenir' is a great example of this… it's a perfect pop song, OMD have a lovely ear for melody. I think that's hugely important.
People often mention GARY NUMAN to us, but that might be because I've always been greatly inspired by DAVID BOWIE's records. And I believe NUMAN was as well. That said though, I enjoy a lot of his songs. 'We Have A Technical' is probably my favourite.
Who are your other influences? Are there any that maybe electro fans wouldn't expect?
I'm a big fan of YELLOW MAGIC ORCHESTRA. Aside from the other obvious ones such as KRAFTWERK, we do love very different kinds of music, ranging from indie rock bands to IDM and old-school house etc. Film score composers are a big influence as well – favourites being Michael Nyman, Morricone, John Barry, Angelo Badalamenti and John Carpenter.
Can you briefly describe the collaborative dynamic within VILLA NAH?
It's quite simple – my job is to compose the music and write the songs, and Tomi provides the technical and productional knowhow. It works well as I have no idea how most of these machines function. Tomi understands them, it really is quite crucial.
'Origin' is full of wonderful melancholy but with shades of light and optimism. Is this possibly a reflection of how you are as people?
I suppose so. That's quite an accurate description of how I see the world – mostly cloudy with an occasional ray of sunshine coming through.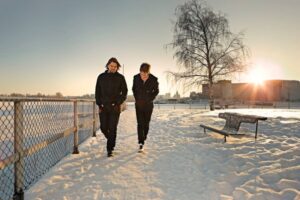 What songs are you most proud of on 'Origin'?
Perhaps 'Time For Tea', the opening track. I never thought it'd go through! Other personal favourites are 'Envelope' and 'Emerald Hills' – they can take me to another place. And I know Tomi loves 'Kiss And Tell'.
'Daylight' and 'Benny's Burning' are in the tradition of great B-sides. Was it a conscious or difficult decision not to include them on the album?
It was a bit difficult – 'Benny's Burning' was always meant to be a B-side, but 'Daylight' was something we did contemplate upon. In the end I think we made the right choice as the album might've dragged a little. But in digital format you can just make your own 'Origin' playlist and stick both tracks in there – it works quite well!
How are you finding all the critical acclaim you are receiving at the moment outside of Finland? Did you consider your first UK live dates recently a success?
We're humbled by it and really thrilled to hear if people enjoy the album. Our UK shows were surprisingly nice – we had some fears of playing to completely empty crowds, but it was all lovely with lots of people really into it.
You are playing 'Back To The Phuture' night at Bestival in September alongside HEAVEN 17 and HOWARD JONES. How does it feel to be sharing the bill with such company at this early stage of your career?
It's surreal! No other way to describe it other than it's truly an honour.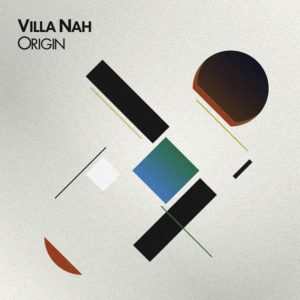 Why do you think the Nordic region is producing such great electronic music at the moment, is it those long cold nights that keep you hard at work indoors?
Probably – most of the time it's so dark and cold outside you might as well just turn the synths on and stay inside…
So what next for VILLA NAH? Which countries are now falling under your spell and that you hope to visit soon?
Well this summer we're playing a lot of festival dates, Portugal being our next overseas destination. We'd love to visit France and also return to the UK soon!
---
ELECTRICITYCLUB.CO.UK gives its sincerest thanks to Juho Paolosmaa
Special thanks to Sandra Croft at Freeman PR
'Origin' is released in the UK via Keys Of Life
https://www.facebook.com/villanah/
---
Text and Interview by Chi Ming Lai
Photos by Kimmo Virtanen
16th June 2010, updated 13th October 2016