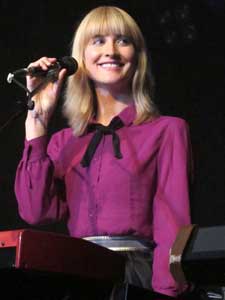 Brooklyn's AU REVOIR SIMONE are the type of sweet studious girls who you'd expect to be pouring over their latest thesis in the college library.
This overt bookish intelligence only enhances what is already a terrifically understated sexy appeal that comes with their music. They started out when Erika Forster and Annie Hart exchanged stories and ambitions on a train journey home only to discover that they had a common desire to form an all-keyboard band to play synthetic covers of songs they adored from their youth.
One of these was Rod Stewart's 'Young Turks' which they revisited in 2008 and turned into a stonking electronic dance version in collaboration with THE DISCO PUSHER. Heather D'Angelo joined later and they started playing shows in New York and Brooklyn.
They made their recorded debut in 2005 with the release of a mini-album 'Verses of Comfort Assurance & Salvation'. Their subsequent albums 'The Bird Of Music' in 2007 and last year's 'Still Night, Still Light' on Moshi Moshi Records have attained critical acclaim and a host of admirers. Their most famous fan is 'Twin Peaks' director David Lynch while indie dance band FRIENDLY FIRES asked them to provide lead vocals for the excellent if slightly overlong AEROPLANE Remix of 'Paris'.
AU REVOIR SIMONE's instrumentation has manifested their sound. "It seemed like something fun for us to do – to celebrate the keyboard" recalls Erika. Annie said: "Our inspiration comes from the sounds that the keyboards make, that's what made us start playing them in the first place".
They've already stated their main influences as being Casio, Roland, Korg, Alesis, Rhythm Ace, Univox, Yamaha, Nord and Suzuki. Heather added: "We used to get some overly opinionated people say you guys need a drummer but not so much now…"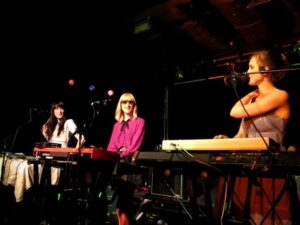 And tonight, a dedicated sticksman is still thankfully absent as the girls played a rare UK show at London's Scala. Opening with the beautiful single 'Another Likely Story', this is best way to be introduced to their manifesto of making "warm and organic electronic music with forthright female vocalists".
In keeping with their girl next door aura, the trio are simply charm personified. Annie in particular is very talkative and animated, announcing she is several weeks pregnant.
She recalled how only seven people came to their debut London show and that on that occasion, they had not yet mastered using the memory patches on their drum machine. This meant recording rhythms onto an iPod with set gaps pre-arranged between songs that tried the patience of the few people that had come to see them! "Get off" someone apparently shouted! They thought they'd never play London again!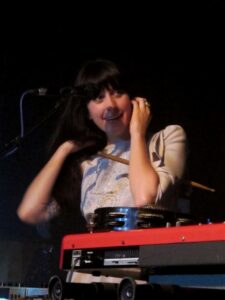 Tonight on their return though, their drum machine is conquered and eloquently controlled with a drumstick by Heather who doesn't look totally unlike a young Sophie Sarigiannidou from MARSHEAUX.
Meanwhile, the newly blonde Erika adds simplistic bass guitar to her instrumentation and joins in the cheerful banter which at times becomes like a keyboard slumber party. AU REVOIR SIMONE's sense of humour is quite apparent as their amusingly unfortunate acronym is written all over their gear!
'Sad Song', the stand out track from 'The Bird Of Music' sees Annie leave her Casiotone and Roland Juno 106 to venture stage right to percussively stomp on a flight case before the set focuses almost entirely on 'Still Night, Still Light'#.
The gorgeous repeated Farfisa-like riffs, ringing counter melodies and vocal harmonies all melt together in a trancey unison. With the girls all taking turns at lead vocals, various bits of percussion and each other's synths, they work together well as a cohesive unit. This provides an almost uniquely human and feminine touch when operating all the incumbent machinery, there's not a laptop in sight.
Tracks played tonight such as 'Shadows', 'Only You Can Make You Happy' and 'Trace A Line' are fairly representative of AU REVOIR SIMONE's laid back output. While the chilled-out electronic atmospheres they create recall Gallic sonic architects like AIR and STEREOLAB, their songwriting style probably has more in common with the subtle melodies of instrumentally conventional acts such as CAMERA OBSCURA who they have previously supported.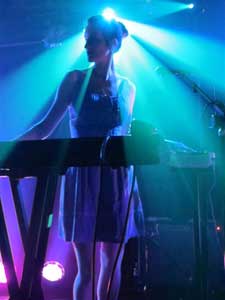 'The Last One' is described by Annie as "psychedelic" and the triple keyboard action allows the progressive nature of its hallucinogenic effect to take hold of the audience. The fantastic 'Knights Of Wands' and 'Anywhere You Looked' see them up speed things up a bit to get some of the biggest cheers of the night. As an encore, AU REVOIR SIMONE return to their roots to deliver a superb cover of DON HENLEY's 'The Boys of Summer'. "Sing along if you know it" shouted Erika! "but DON'T SING if you don't!" retorted Annie!
An enjoyably still night, if a little bit too downtempo at times during a mid-section lull. This dreamy folktronica is electronic pop music, but perhaps not as we know it!
---
AU REVOIR SIMONE's new remix album 'Night Light' is released by Moshi Moshi Records on 5th July 2010
www.myspace.com/aurevoirsimone
---
Text by Chi Ming Lai
Photos by Richard Price
18th June 2010