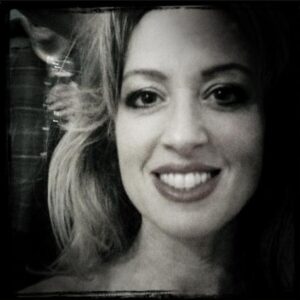 Billie Godfrey has been an integral part of HEAVEN 17's live line-up since their comeback supporting ERASURE in 1997.
Oozing charm and sensuality, Billie's obvious on-stage chemistry with lead vocalist Glenn Gregory has been a wonderfully entertaining aspect to any HEAVEN 17 show.
Her interpretation of the classic 'Temptation' (a 'Versions 08' reworking of which is included on the album 'Naked As Advertised') has brought the song into the 21st Century while still retaining its soulful passion. Her voice has also provided a powerful human counterpoint to some of the more electronic material on this year's 'Penthouse and Pavement' tour.
Having served HEAVEN 17 for nearly 13 years, Ms Godfrey is busier than ever. As well as further shows on UK leg of the 'Penthouse and Pavement' tour, she is a much in demand session singer and has supported soul star Beverley Knight as well as being part of her band for several years.
ELECTRICITYCLUB.CO.UK caught up with Billie Godfrey during a break in her hectic schedule to talk about her work with Messrs Gregory, Ware and Marsh, and her new solo album.
You've been singing with HEAVEN 17 since they started playing live in 1997. How did this first come about?
I was singing sessions for various artists at the time and got a call to go along and meet the guys as they wanted two female vocalists for their live gigs. I went along and met them in Martyn's studio and sang a few parts for them to listen to my voice – it was a fairly casual set up – I remember sitting with a cup of tea in my hand when Martyn said "the thing is, we need someone who can do the high notes in 'Temptation'" – I had been a fan of the song for years so just sang along with it sitting in the chair and as I've naturally got a high range, I was comfortable with the top notes… I think Mart said something like "well that's that sorted then!".
I didn't really perform it as such but with the guys knowing voices the way they do, they could tell I could handle it and I think we just hit it off as friends and they knew I'd be easy to work with which is important when you spend time on the road together.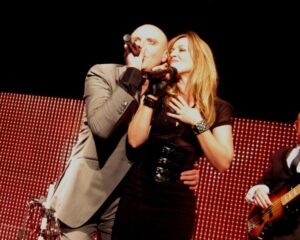 You must really enjoy working with the boys because you're still here and you also co-wrote the excellent 'Are You Ready'? with them for their most recent album 'Before After'?
I do love working with Martyn and Glenn (as well as Ian when he was on the scene). If you've seen / heard them interviewed, you'll know that they're quick witted, funny and very clever. Musically I'm still fascinated by their work which sometimes seems so leftfield lyrically (which is refreshing in a world of the bland regurgitation of old ideas). Mostly I'm drawn to the elements of soul and funk within the music which is more where I fit in as I'm a soul singer.
I'm glad you asked about 'Are You Ready?' which I'm very proud of as a co-write. The guys gave me a backing track and I wrote the top line melody and lyrics. I tried to get under the skin of their lyrical style; a little off-kilter and unpredictable; it's essentially a love song but there's a slavish servant to master/penitent soul to preacher idea behind it with the spurned lover almost begging to be redeemed or converted by the object of their desire. I got a real buzz hearing Glenn sing the lines I'd penned; it was just how I imagined it sounding with his great voice. I think there's more mileage to be had in that song and my ideal would be to hear Elly from LA ROUX and Glenn sing it as a duet – what do you reckon?
Yes, that would be really interesting! So what are your own favourite HEAVEN 17 songs?
All too obvious perhaps but 'Temptation' is my runaway favourite – as a singer it's one of those great vehicles to get your teeth (or voice) into and really give it some. I also love the recent tour version of 'Height Of The Fighting' we've been doing – the beat just gets right under my skin and although there's not lots in it vocally for me to do, I loved having a groove onstage to that one. It's one of many of HEAVEN 17's tunes with a delicious groove.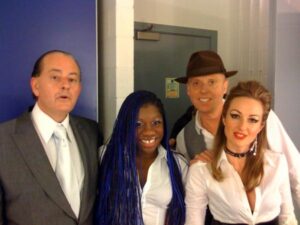 You've appeared with HEAVEN 17 on TV shows like ITV's Now That's What I Call 1983 singing 'Temptation' and BBC6 Music's HEAVEN 17 / LA ROUX session plus more recently, the Sheffield Magna concert broadcast on BBC2. What was it like to be involved in these programmes and how does it feel to be recognised by the general public afterwards?
Well now, I don't generally get recognised after TV appearances which I'm happy with as I can get on with my life!
I am known at Beverley Knight (who I've also been with for 8 years) and HEAVEN 17 gigs by fans and that's nice; it's like meeting up with a certain set of friends. With me, it's more often the case that people I already know will say they saw me on TV and my extended friends and family can see that I'm still alive and well.
I'm no stranger to TV appearances in my work as a session singer with various artists and have sung on TV for Beverley Knight, Sting, Annie Lennox, Paulo Nutini, Tom Jones, Lionel Richie and many others. There's a certain unreality about TV performance as the audience in the studio seems small while in reality it can be a few million people that see it.
I enjoy the challenge of holding my nerve which is really important if it's a lead vocal – being nervous affects your breathing so you have to keep it together. I really loved doing the Now '83 programme as basically I'm a show off and love taking centre stage. I like people to hear my voice too as I feel I'm lucky to have it and it's my responsibility to share it with others. The LA ROUX performance felt more like a radio in-session and that means you take even more care of the sound you're making rather than worrying about the visual impact. The whole thing felt cool and relaxed and the small audience gave us a lot of love and made it feel like we were all at something a bit special.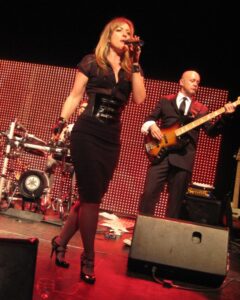 It's been fantastic to hear the 'Penthouse and Pavement' album live on this recent tour. Were you familiar with it before you started working with HEAVEN 17 and how did you manage to learn all the words to the songs? Do you have a particular method to help prompt you?
I've loved doing the 'Penthouse and Pavement' songs – I did know the album but not as well as 'The Luxury Gap' which was more my era. I love the artwork and have an old vinyl copy at home. Learning lyrics is something I have to do a lot of and the lyric remembering part of my brain is huge and has squashed out everything else – that's why I can't do Sudoku! Preparation is everything and if there's not enough time, I do sometimes take notes on stage but mostly I try to learn lyrics when I'm relaxed, just before bed is good.
I sometimes re-write them so I can visualize how they looked on the page and recall them like that or do drawings to give me clues. The main drawing I add is an eye which means "watch out for this bit coming up" if I've had trouble learning one bit.
So how was it to step into Tina Turner's high heels on the BEF cover 'Ball Of Confusion'?
I think Tina's a size 6 and a half and I'm a 5… her voice cannot be bettered for power and raw guts. My voice is sweeter but I can belt when I want to so I hope I added something of my own. The rhythm of that tune is everything and I listened back to The Temptations' original to get my vibe on it. The lyrical content is serious and still relevant today – it shares a lot of the sentiment of one of my songs called Allergic To The World so I hope I give it the emotional weight it deserves.
Who were the singers who originally inspired you?
Stevie Wonder, Minnie Riperton, Donny Hathaway and Joni Mitchell as well as Anita Baker who I saw live at Wembley and decided there and then that I HAD to be a singer. It's all her fault!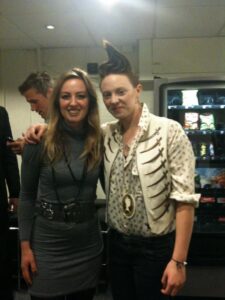 Apart from HEAVEN 17, what other musical projects that you have got going on at the moment?
I have a solo album just out called 'The Eden Tree. This is my most important project as it is me as an artist expressing what I want to say musically and lyrically, and it is what I would most like to be known for.
It's twelve original songs written or co-written by me plus two covers 'Woodstock' by Joni Mitchell and 'You've Got A Friend' by Carole King. 'The Eden Tree' is being received well so far but there's still a long way to go though. So any fans out there who can spread the word, get twittering please!
I've already opened for Beverley Knight on her 100% UK tour with songs from the album which culminated in playing the Royal Albert Hall, London in April. There are YouTube clips of the gig on my website and I'll think you'd be surprised how different it is to HEAVEN 17……
Martyn Ware and his family really like 'The Eden Tree' and have it playing regularly in their car so that's a good start! Beverley and Martyn have both likened it to Minnie Riperton which is a great compliment; it's also influenced by Joni Mitchell and Stevie Wonder. And if you have Eva Cassidy, Ray Lamontagne and Norah Jones in your CD collection, 'The Eden Tree' would sit pretty well on the same shelf I think. I write music the way I listen to it; sometimes mellow, sometimes really uptempo.
I am also the co-writer and lead singer of a Latin fusion band called SAO BENITEZ – they have song being used for the Bacardi worldwide advertising campaign at the moment and there are two albums coming out in June called 'Feeling High' and 'Peace & Love' which I'm really proud of. The music is mainly uptempo Latin with some soul.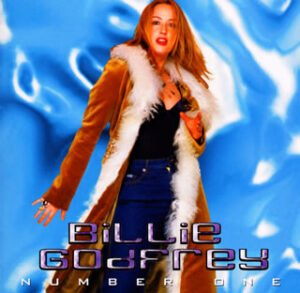 And finally, is it true you are the first Western artist to have recorded a whole album entirely in Japanese?
Good question – I've seen that on Wikipedia and I have to say I don't know if it's true or not. I certainly did record an album in Japanese which is out on JVC Japan called 'Number One'. It was mostly original songs, although there's a cover of Minnie Riperton's 'Loving You' on there. I would like to think I was the first but I don't know – Wikipedia don't always get everything right – it also says I'm a keyboard player which isn't true – I can play enough to write songs, but you won't catch me playing at a gig anytime soon!
The album was the idea of producer Mark Summers and I really enjoyed making it. The album has a character of its own which is quite young with a pop/R'n'B feel and is very different to my current solo album which (aside from being in English) represents me much more truthfully as a mature artist and songwriter.
---
ELECTRICITYCLUB.CO.UK gives its warmest thanks to Billie Godfrey
BILLIE GODFREY's album 'The Eden Tree' is available to download on iTunes while CDs can be purchased via her website
HEAVEN 17's 30th Anniversary 'Penthouse and Pavement' Tour dates include: Edinburgh HMV Picture House (Nov 22), Glasgow O2 ABC (Nov 23), Manchester Ritz (Nov 25), Birmingham HMV Institute (Nov 26), London HMV Forum (Nov 28), Oxford O2 Academy (Nov 29), Brighton Corn Exchange (Nov 30), Bristol O2 Academy (Dec 1)
Please visit www.heaven17.com for more details
---
Text and Interview by Chi Ming Lai
3rd July 2010