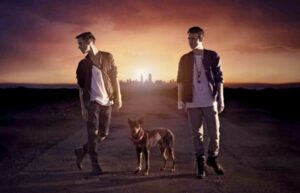 THE SOUND OF ARROWS are Oskar Gullstrand and Stefan Storm, a duo based in Stockholm.
Formed in 2006, they were signed to indie label Labrador Records in 2008 and attracted interest and acclaim via a series of EPs which featured gloriously catchy songs such as 'Danger!' and 'M.A.G.I.C.' – their last single, the superb 'Into the Clouds' is dreamy widescreen synthpop, swathed in that beautiful Nordic melancholy.
The Fear of Tigers Remix with its soaring synth solo is particularly impressive. With a magnificent promo video to match, 'Into the Clouds' impressed so much that it was awarded 'Best Single Of 2009' by the influential Popjustice music website despite some stiff competition in a glorious year for music. Starting off originally as a more conventional pop act, an impressive listing of largely Roland kit on their social media reveals where their hearts may be now.
Having recently signed to the same management as LA ROUX, THE SOUND OF ARROWS could steal the thunder from the highly rated HURTS and become the big surprise success story of 2010 by coming out from almost nowhere!
---
THE SOUND OF ARROWS will be playing at Hoxton Hall, London on 5th July 2010.
https://www.facebook.com/thesoundofarrows/
https://twitter.com/soundofarrows
---
Text by Chi Ming Lai
14th June 2010