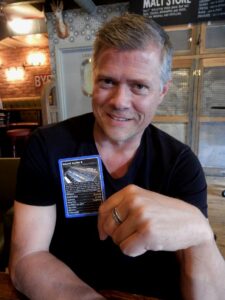 With a pair of excellent albums 'Like Before' and 'Utopia' now under his belt, Swedish synthesist JOHAN BAECKSTRÖM has more than established his solo credentials.
Best known as a member of DAILY PLANET, Baeckström had been making plans to return to music on his own prior to an unexpected reunion of the acclaimed duo in 2014 with the appropriately titled 'Two'
. Since then, Baeckström has maintained a solo career in parallel with DAILY PLANET.
DAILY PLANET's most recent album 'Play Rewind Repeat'
saw a guest vocal from Mac Austin of WHITE DOOR on the sublime tune 'Heaven'.
Baeckström had already covered two WHITE DOOR songs 'School Days' and 'Jerusalem' for B-sides, so it was not entirely a surprise when it was announced that he would be joining WHITE DOOR for the recording of their long awaited follow-up to the 1983 long player 'Windows'.
From his studio utopia via the wonders of online communication, Baeckström challenged ELECTRICITYCLUB.CO.UK to a round of Vintage Synth Trumps and told a few interesting stories about his fabulous collection of electronic keyboards and much more.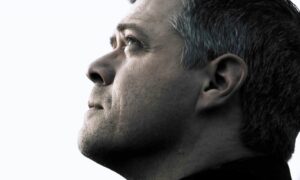 The first card is the Roland Jupiter 8, so what have been your experiences with this?
I have almost none, I don't think I've ever played one. I've seen them and it's an important icon synth, that Howard Jones cover of 'New Song' with the Jupiter 8 made a huge impact and made me think synthesizers looked cool.
But I always thought the Jupiter 6 looked better, it had a nicer design with a better colour scheme, I have one of those and that's one of my favourites. I know what a Jupiter 8 sounds like, I've heard a million demos and it's on lots of records, it defined the early / mid 80s polysynth sound.
So how close can you get a Jupiter 6 to sound like a Jupiter 8 aesthetically?
I think they are quite different because the Jupiter 8 to me sounds a bit softer and lush. The Jupiter 6 can be lush as well but it's got a sharper edge to it, which suits my music better as it's quite percussive and detailed; it's warm but not as warm as the Jupiter 8. The Jupiter 6 can do harsh, crispy sounds which you can´t really do on the Jupiter 8 because of the multiband filter on the 6, for example.
Which recordings of yours are quite dominated by the Jupiter 6?
When I bought it, the first thing I did to try it was a cover of WHITE DOOR 'School Days'! It turned out quite nice and I released it as a B-side as you know. Everything on that is the Jupiter 6, also a DAILY PLANET song on the 'Play Rewind Repeat' album called 'Drown', everything is the Jupiter 6 except for the bass which is a Pro-One.
You mentioned about how you saw the cover for Howard Jones 'New Song' when you were younger, but at the time of DAILY PLANET's first album, you had very long hair… often that's not a fashion requisite associated with synths? *laughs*
I probably didn't want to be like everyone else, I started to grow my hair long when I was 14 years old, at first I had "synthpop" hair with everything standing straight up! Then I grew the hair from the neck like Nik Kershaw and then I grew it all very long, I think it was down to my waist at its longest!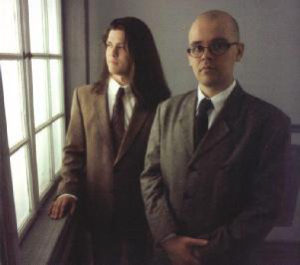 Were you a rocker?
I had a time in a rock band when I was 16-17, more a pop rock band like TOTO! I'm not ashamed of it! *laughs*
It was good music, I feel stronger about this now when I heard Daniel Miller in an interview and he admitted he was a big fan of TOTO! If he can admit it, I can!
Of course, Daniel Miller had quite long hair when he started making music with synths…
… it's the interest on TOTO that does it! *laughs*
So saving money on hair conditioner has enabled you to buy more synths? *laughs*
That is true! *laughs*
Next card, it's the ARP Odyssey…
I have the reissue from Korg and I use it quite extensively. It's the same as with the Jupiter 6, it has a sharp edge to it and this Korg one has all three filter types that it was released with. The first is a two-pole filter which is very crispy and has a lot of higher frequencies coming through. It can do everything from bass to percussion.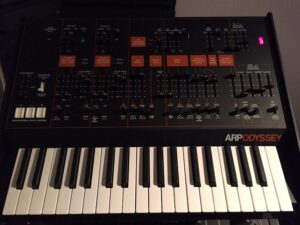 So when you buy a synth, are you influenced by the bands they are associated with?
I'm sure I am… for example to me, the Jupiter 8 IS Howard Jones and the Pro-One IS Vince Clarke, he basically built an album around that synth.
The Odyssey I know Billy Currie of ULTRAVOX used it a lot but so did KRAFTWERK. So yes, to a certain extent.
Do you use the mini-keyboard on the Korg ARP Odyssey reissue or do you MIDI up another full-sized keyboard to it?
I have very few modules, most of my synthesizers have keyboards because when I create sounds and write music, I like to play the instrument I'm programming. So for that, mini-keys are fine but I would probably not bring it out to play live, I would miss a few notes here and there because it's too small. I would have preferred a full sized keyboard but this was not an option on this reissue by Korg and I'm not prepared to cough up the money for an original one, or the FS version of the reissue.
Was the acquisition of so many synths what led to you building a new studio, or was it to allow for expansion possibilities in the future?
We actually bought a new house so we moved, and one of the rooms in the basement of this house was everything I needed to build a studio, it just needed a new floor, some paint and acoustic panels. The old one was getting a bit cramped so it's nice to have a bigger studio and in this one, I can have a lounge with a sofa and table, so it's a much nicer working environment.
The next card is the Korg 800DV…
It's a good looking one with lots of wood on the sides, but I have no relation to it.
You said your B-side 'Synth Is Not Dead' was sort of tongue-in-cheek?
That's true, I did it for fun which is why it wasn't put on any album. On the other hand, I think it turned out quite nice so that's why it came out as a B-side digitally. And thanks to you, some people seem to like it! *laughs*
Next card… oh, here's an Octave Kitten!
I remember the Octave Cat was a competitor to the ARP Odyssey, I think John Davies from WHITE DOOR still has a Kitten, he used that on the demos for the 'Windows' album.
You mentioned the Octave Cat was a competitor to the ARP Odyssey, it had basically the same circuit design!
Yeah, it was a rip-off! That was the Behringer of its day! *laughs*
I think it's quite interesting how there is so much litigation with song copyright now, but in the synthesizer world, copying is common, even back in the day. Like the circuitry for the Simmons SDS-V was based on the ARP 2600… any thoughts on this modern day cloning thing like with Behringer?
I'm having a hard time with this cloning of everything. If you take the Simmons example, if it's a total rip-off, then that's not a nice thing to do because there was probably some patent, but on the other hand, that was a drum module so it's different from a synthesizer, so perhaps that doesn't matter.
What Behringer is doing, I suppose it's positive for people to buy synthesizers which are now largely unobtainable. I mean if you want to buy a vintage Minimoog, it costs a fortune, something like £4000 but a Behringer clone, which from what I heard sounds quite close, is what £250? *laughs*
On the other hand, it's not their products, they "stole" it! But the patents are free, it's nothing illegal, it just comes down to ethics and morals. Everyone has to make their own decision as to whether to support it or not, but I can see myself buying Behringer. I haven't yet but if they do release an Oberheim OBX-a clone and it sounds as it should, I can't see myself resisting! *laughs*
Talking of American synths, the next one is the Prophet 5…
That's an icon, probably the one that has meant the most as far as how synthesizers look and behave today. The Minimoog was the first, but the Prophet 5 with its architecture, memories and five octave keyboard, the sound of it was amazing. Now you can get the new Prophets which sound pretty much the same and can do much more, so it's still relevant after all these years.
I've never had one myself, I played it once or twice. I don't think I would get one now as they are so expensive and I have the Prophet 08, and if I want to come even close to that sound, I can get the Prophet 6. It's a beautiful instrument to look at as well, it's a fantastic design in my eyes.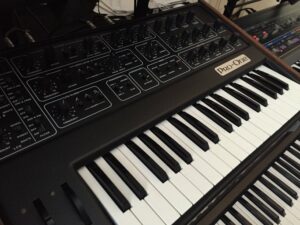 The next card is the Pro-One, tell us about your relationship with it…
I haven't had my one for too long, I bought it in 2014 and I still can't understand why I didn't get one sooner, I should have had one in the 80s. It's probably my favourite synth, at least my favourite monosynth. It sounds amazing and has superfast envelopes which make perfect bass and percussion sounds, sharp blips and blops, y'know *laughs*
It's got a great modulation matrix, if you compare it with the Minimoog for example, you can do much more with a Pro-One. It's always a reward to programme it because whatever you do, it sounds great. But the build quality is so-so, it's quite plastic and the knobs are a bit flimsy, it's not built like a tank, it's more like a Trabant! *laughs*
It's interesting that you mention the build quality of synths, a lot of these machines are quite fragile and not built to be taken on the road. But one vintage synth which is still around now that tends to end up on stage is the Roland Juno 60. Why do you think that one has been able to survive the years better than any others?
I think the reason the Juno 60 still gets used on stage is because it is quite stable as it uses DCOs. With a Jupiter 6 or Jupiter 8, temperatures can mess up the tuning. It was built very solidly, they seem to stand the test of time and it's not like the Juno 106 which has these chips which go bad after 30 years. I've used my Juno106 live a few times, it's no problem but you're right, you see the Juno 60 more.
Another card, it's a Korg Trident…
Oh! I had one! It's quite a strange synth, because it's three machines in one, a polysynth, a string machine and a brass machine, which you could combine. It had very fat sounds coming from it, it was huge and looked very powerful, I loved the way it looked. I got it very cheap after the first DAILY PLANET album 'The Tide', but I never used it on any records as it had no MIDI; as I sequence everything, MIDI is quite important for me.
Someone offered to trade it with me for a Roland D20!! It was not great but at least it had MIDI, so I traded it! I think you'd get £80 for a D20 today whereas a Trident gets £2500 so it wasn't my best decision! I regret it still today, I wish I still had it and have been looking for one. Perhaps Behringer can clone one for me *laughs*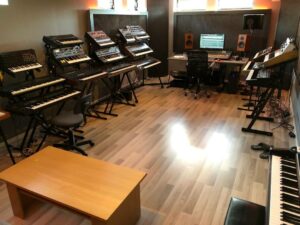 So synths that don't get used much get traded in?
Not today, but back then I had no money. I could have installed a MIDI kit for the Trident but would have cost me £300 which I didn't have because I was young and unemployed.
So the only thing that made sense was to trade it for something I could use. A few of my synthesizers are not used very much but I don't trade.
Saying that I did trade a Micro-Korg which I had not used for three years, although it was on 'Synth Is Not Dead' for the vocoder, that was probably the only time I recorded with it. I posted up on a Swedish synth forum and got offered a Roland JV1080 and P330 piano module, now I haven't used them for two years, it's probably time to trade those as well!
ELECTRICITYCLUB.CO.UK can't imagine you using piano sounds much, but is that a possible direction for the future?
On the new WHITE DOOR album, there are a few piano sounds while on my latest album 'Utopia', they are on the cover song I did 'Into The 80s', there's a CP70 type sound low in the background of the middle. But you won't hear anything like CHICAGO piano! *laughs*
OK, the next card which will lead an interesting discussion, it's the Moog Prodigy…
I've never had one but I'm told it's great, it's pretty much a slimmed down Minimoog with two oscillators instead of three, everything from Moog is great in different ways, because the newer ones are not the same as the older ones, but if I had to choose, the older Moogs are the ones that sound the best, Howard Jones, Vince Clarke and DEPECHE MODE use it…
Now this is where we're going with the conversation. So the Moog Prodigy was the one that Fletch was "seen" with in early DEPECHE MODE videos and TV appearances, he later moved onto the Moog Source. So did you have any feelings or thoughts about Martin Gore getting the Moog Innovation Award?
I saw you had a rant about that! I best be quiet about it *laughs*
I actually don't have an opinion. Exactly what that award is meant to represent, I'm not sure…
That's ELECTRICITYCLUB.CO.UK's point, Martin Gore was never seen with Moogs, we could understand Gary Numan getting the award. We don't question his ability as a songwriter during the imperial phase of DEPECHE MODE, but he was NEVER the synth innovator in the group, so we struggled with the title of that award; if it was a Moog Songwriter award, it would be different. The synth innovators in DEPECHE MODE were Vince Clarke first, and then Alan Wilder…
I agree, those Martin Gore song demos that leaked out, it's not synthesizer virtuoso stuff so he is not the innovator, sound wise. He was a genius with his songwriting and one of the best there ever was, so what the hell? He can have an award just for the songs. But as an innovator, Alan Wilder would deserve it more, but more so Vince.
You recently covered DEPECHE MODE 'It Doesn't Matter Two'? Why that song and particularly a Martin Gore voiced one?
That is one of my all-time favourite songs and this will make me sound cocky, but the arrangement on the original is a shame, it's such a great song but it's got this silly "bop-boop-bop-boop" arrrangement. They could have done so much more with it. I guess I don't like that kind of vocal sampling which they built it around. So my cover is what I wanted it to sound like, it's an amazing song… that shows you how good it is if I can keep listening to it even though I didn't like the original arrangement and production.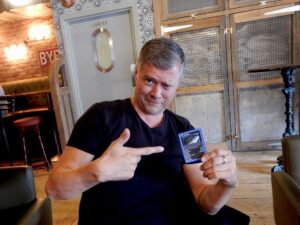 Did you do 'It Doesn't Matter Two' because your voice is more Martin Gore's key than Dave Gahan's?
No, but you're right, I'm more in his key than Dave's, I just love the song and had this idea for a new arrangement, I think it turned out quite nice. I was asked to do a DM cover for a Swedish podcast called 'Blå Måndag', so I decided to do this one since it´s been one where, after a few beers, me and my friends use to singalong and do harmonies to by the piano!
And the next card is a Korg MS20…
Another classic! I have the reissue, it was one of the first I bought when I started rebuilding my collection back in 2013, I'd sold everything I had back in the 90s to go to software. After that, I got a Prophet 08 and a Moog Little Phatty. I still use it a lot but less with this recent album, probably because I had more synthesizers to choose from.
It's good for noise effects, it's got a great filter for bass and percussion sounds like on 'Nobody's Friend' from the second DAILY PLANET album and 'Talking In My Sleep' on my first solo album. However, the envelopes are too slow for really good snappy bass and percussion. I think the Pro-One has a better low-end and has more powerful oscillators. With the MS20, I use the ring modulator a lot for metallic sounds, I used it for hi-hat type sounds.
How did you find your first ever UK gig at Synth Wave Live 3?
It was nice, the people who were there were very dedicated. I was very thankful for all who came to see the show.
It also saw you on stage with WHITE DOOR, you've joined the band now and there is a new album?
I hadn't met the WHITE DOOR guys before, they're really nice chaps and to have them do the show with me was a bit surreal as I was listening to them when I was a teenager. It was hard to imagine then I would be on stage with them! It was good but we hadn't rehearsed so it probably could have been a more perfect performance, but I think people enjoyed it and we had a really fun time.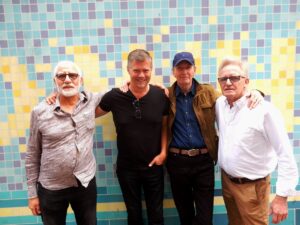 WHITE DOOR sprung from a prog rock band called GRACE who they still perform as, and a live video that came from a recent festival was fascinating, they were doing this track called 'The Poet' which started like WHITE DOOR, then mutated into GENESIS and before you knew it, it had turned into JETHRO TULL! *laughs*
Yes, there is the same "melody language" (as we say in Sweden) with WHITE DOOR and GRACE, although they are very different bands.
I would think that a lot of the way WHITE DOOR turned out is partly thanks to producer Andy Richards who later worked with FRANKIE GOES TO HOLLYWOOD and OMD, he was the machine wizard. The demos for the 'Windows' album were electronic and John Davies had synthesizers but there was also guitars and real bass.
How is the WHITE DOOR album coming along?
It's coming along nicely, it's been a slow process but we almost have enough material for an album. I've played a few tracks to close friends who love WHITE DOOR and they say it sounds like WHITE DOOR. Now that's important, when DAILY PLANET reunited in 2014, my plan was that we should not try something too modern, what people wanted was DAILY PLANET to sound like DAILY PLANET. The same approach is what I'm doing with WHITE DOOR although it will sound fresh and be better sounding because of the technology, but there will be a clear connection to the old stuff.
The final card is an ARP 2600…
I've never had one, my first connection with it was one of those early software emulations in the early noughties. It's been used by a lot of artists that inspired me, Daniel Miller's kick drum on the 'Speak & Spell' and 'Upstairs At Eric's' is amazing, plus they also did the "voice" of R2-D2 with it!
But my friend Daniel Bergfalk who mixed my solo albums and joins me on stage sometimes, actually has two of TTSH clones and I've played a lot with that, it's basically the same. It's amazing and I will probably get one someday, but not an original and that would now cost the same as a car! Probably a TTSH although there are rumours that Behringer will be doing a clone!*laughs*
You're performing at Pop+Synth Festival in Copenhagen this November with SOFTWAVE, TRAIN TO SPAIN and OCTOLAB?
I've never played in Denmark before so it's gonna be great to enter a new market live.
Why do you think Denmark seemingly has not had an interest in electronic pop in the way neighbours like Sweden, Norway and Finland have?
There never has been, all the acts I know from Denmark are rock like GASOLIN' but then, there's not such a big music scene there at all, I can't even think of many Danish bands in any genre…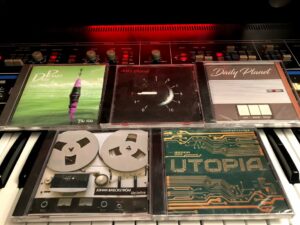 ELECTRICITYCLUB.CO.UK knows one and that's LUKAS GRAHAM, f***ing hate that song '7 Years'! Such inane childish lyrics! *laughs*
I don't know them! It sounds horrible!
Oh and there's TRENTEMØLLER who has been featured on ELECTRICITYCLUB.CO.UK…
TRENTEMØLLER is Danish? I thought he was Norwegian! *laughs*
---
ELECTRICITYCLUB.CO.UK gives its warmest thanks to JOHAN BAECKSTRÖM
'Like Before'
and 'Utopia'
are released by Progress Productions in CD and digital formats, downloads available direct from https://johanbaeckstrom.bandcamp.com/
JOHAN BAECKSTRÖM plays the 'Pop+Synth Festival' at Krudttønden in Copenhagen on Saturday 2nd November 2019, also performing are SOFTWAVE, TRAIN TO SPAIN, OCTOLAB plus many more acts, tickets available from https://billetto.dk/e/pop-synth-festival-billetter-365508
https://www.facebook.com/bstrommusic/
https://twitter.com/bstrommusic
https://www.instagram.com/johanbaeckstrom/
Vintage Synth Trumps is a card game by GForce that features 52 classic synthesizers
---
Text and Interview by Chi Ming Lai
31st August 2019