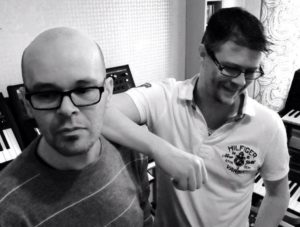 Jarmo Ollila and Johan Baeckström formed Swedish synthpop duo DAILY PLANET back in 1994.
A period of eighteen years spanned between their well-received debut album 'The Tide'
and the appropriately named follow-up 'Two'
released in 2014 by Progress Productions, home of KITE. Ollila in particular kept himself busy over the intervening years between albums, as part of LA VOGUE and then MR JONES MACHINE, a trio that includes his brother Jouni and Magnus Lindström of THE DEPARTMENT.
More recently, Baeckström has emerged as a noted remixer and acclaimed solo artist with the superb long player 'Like Before'
 and the celebratory B-side 'Synth Is Not Dead'
in 2015.
With their excellent third album 'Play Rewind Repeat'
just released, Jarmo Ollila and Johan Baeckström chatted to ELECTRICITYCLUB.CO.UK about why fans did not have to wait so long for a new record this time and recalled some of their own Memorex memories…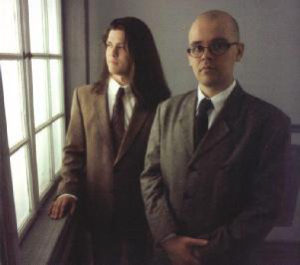 After the first DAILY PLANET debut album 'The Tide' in 1996, there was nothing for 18 years and now we have had two DAILY PLANET albums in three years… what has been the spark to record together again?
Johan: The spark was probably me deciding to build a new studio again in 2013. I sold all my instruments in the end of the 90s when I thought it was a good idea to use software instead of hardware instruments. It apparently was not such a good idea after all – all my creativity died completely.
One of the first things I did in my new studio was a remix for Jarmo's other band, MR JONES MACHINE, and after that we started talking about maybe after all, we should try to do one more DAILY PLANET album. So we did. The process was pretty fast, and in 2014 the album 'Two' was out and was very well received. After that, I did a solo album which was released the year later. We immediately started to work on 'Play Rewind Repeat' right after my solo album was released.
Jarmo: When we released 'The Tide', we almost immediately got problems with our label in different ways. I won't bore you with details on that, but sadly we lost creativity and everything just perished into nothing, and we drifted apart. When we met up again, we both felt that DAILY PLANET was unfinished business, and here we are.
What is the creative dynamic between you both, and how does this differ from your other projects?
Johan: The difference for me is that I generally have a good idea about the vocal melodies when I start to work on a new DAILY PLANET song, since most of them come out of a simple draft from Jarmo. Usually a cell phone-recording of just him and his guitar. Working with DAILY PLANET actually is pretty much like when I do remixes for other bands, where I start working around only vocal stems. When I do solo stuff I´m more likely to start creating a rough instrumental arrangement, and then start thinking about the vocals.
Jarmo: Like Johan said, I write songs for Daily Planet using only a guitar, but when I create song ideas for my other band MR JONES MACHINE, I use mainly a synthesizer, and I try to keep it very simple, just chords and vocals. That´s the main difference, I think.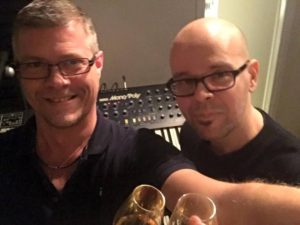 Do you favour particular synths?
Johan: I really love all my synthesizers, and they all differ in various ways. It's very hard to pick a favourite because they´re all good at different things. The latest purchase always tends to be favourised, of course, so right now I am using my new Minimoog Model D a lot. I often turn to the Pro-One, Odyssey, Jupiter 6 and MS-20 too, maybe a little bit more than the rest. But like I said – they all fill a purpose and they are all used and loved for what they are.
A question that ELECTRICITYCLUB.CO.UK always asks artists who are involved in different projects; how do you differentiate between what ideas are a suitable for a particular body of work?
Johan: I think that's a question for Jarmo since most DAILY PLANET songs start with him and his guitar. However, a few tracks was done the other way, for example 'Forgiven', 'Here from my room' or 'Goodbye late nights'. When I got stuck coming to the vocal parts, I sent them to Jarmo to see what he´d come up with. When I got his vocal ideas in return, it was evident that they were Daily Planet songs, even though I may have intended for them to be solo tracks in the first place.
Jarmo: It is a big challenge to create vocal melodies on tracks Johan sends me, just total focus on the melodies because the tune is all ready there in its form. When I create for MR JONES MACHINE, it´s easy to put songs in that box, because we write in our native language, namely Swedish, although our debut album is written in English, we nowadays write in Swedish, and Swedish only.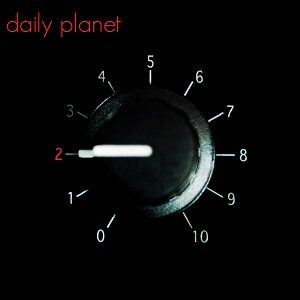 How do you look back on the 'Two' album, there were criticisms in some quarters that it was a bit slow?
Johan: Yeah, I seem to remember one or two reviewers saying that it was slow. To be honest – if a song sounds the best in a slow tempo, that´s what it´s gonna be like. I am very satisfied and proud of the 'Two' album still, and I wouldn´t want to change anything.
Jarmo: When you start a process writing an album you come up with a bunch of songs, and the best ones end up on the album. It's better to have ten smashing mid-tempo tunes rather than ten crappy uptempos.
With the inclusion of songs like 'Vicious Circle', was there a conscious effort to make 'Play Rewind Repeat' a more uptempo record?
Jarmo: Perhaps, our intentions were to make just that, I don´t recall, but like I mentioned before, the best tunes should end up on a record, and we will never compromise on that.
'Goodbye Late Nights' is a fine album opener, how important is it to have the right song to set the scene for the album? Did you have many discussions about the running order?
Johan: Glad you think that! Actually quite a few people have said the same thing to me, that it´s a good opening track. It´s a lot of things to think about setting the running order such as tempo, key and the soundscape. We also want the last song to round things up as best possible.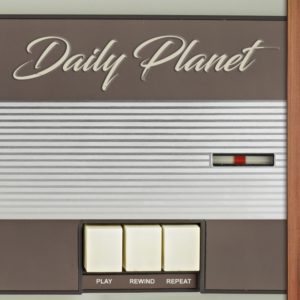 'Grains Of Sand' is one of the highlights of 'Play Rewind Repeat', how was that conceived?
Jarmo: The demo on this one is me hammering just one string on my guitar. I don´t really remember, but it was just an idea to write an uptempo song about someone looking upon the world through his camera lens.
Johan: Yeah, I remember the demo – usually I can go pretty much anywhere with Jarmo's drafts, but this hammering one made it crystal clear it had to be uptempo with a solid, stomping bass.
There's a bouncy oriental feel to 'Set Me Free', is that a coincidence?
Johan: The draft I got from Jarmo was very mellow, and I am quite sure his intention was to write a ballad. I had just bought the Roland Jupiter 6 back then, and was playing around making sounds on it, which ended up in the lead riff sound that has one oscillator tuned to a 5th. The melody is played within a pentatonic scale which is used in a lot of oriental music.
Jarmo: Yep, it was a ballad at first, now it is not.
As the album's first single, you made a video to 'Set Me Free'. Music promotion is quite different now to how it was 20 years ago, so for an act in your position, what are your aims when investing the time and money into a piece of visual presentation for your music?
Johan: To be honest, I prefer being locked away in my studio rather than filming videos. It is however important to provide videos too, and we have been blessed to work with great people who´ve come up with cool ideas for our videos.
Jarmo: To release a video is a great way, still, to spread your music. It´s better to be out there on YouTube and such, than not being there, even though it´s difficult to reach new listeners these days.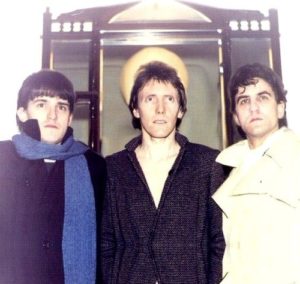 On 'Heaven Opened', you worked with Mac Austin from WHITE DOOR. But even in the UK where they are from, they are not that well known. So how did they contribute to your love of synthpop?
Jarmo: I got the album when it was released, and I still love it. For me 'Windows'
is one of the best albums released in the genre. WHITE DOOR is one of the reasons we founded DAILY PLANET back in the day, because we both loved their album and the production. It holds fantastic songs and emotional vocals with airy synths, and it was something we tried to create on 'The Tide'.
DAILY PLANET inevitably attract a lot of YAZOO and ERASURE comparisons. So what are your thoughts on 'World Be Gone' by ERASURE and 'Other' by ALISON MOYET?
Johan: I was quite surprised by 'World Be Gone'. The song material is stronger than in quite a number of years, and thankfully they have left the "club sound" behind them. I´m a bit disappointed with the mixing of it though. Someone really messed up with de-essers on a number of tracks, which makes Mr Bell sound as if he had a bad lisp. A shame, really. I have only heard the singles from Ms Moyet's upcoming album. I love them. 'Reassuring Pinches' is a masterpiece and I love the nod to the 'Stranger Things' soundtrack. I´m really looking forward to hearing the full album and seeing her live later this year in Stockholm.
Jarmo: Oh, I have not heard these albums, yet.
Of course, it's not all about Vince Clarke in the world of DAILY PLANET, some of the album appears to recall artists like A-HA on 'Why?' and JEAN-MICHEL JARRE on 'Weeping'?
Johan: I am sure there's a number of bands you'll find inspiration from in our music. The ones you mention are great acts that we´ve both listened to a lot. It is probably natural that it comes through in our music. As for 'Weeping', it´s absolutely impossible NOT to think of JEAN-MICHEL JARRE when you run a string machine through a Small Stone Phaser, isn´t it? I think it´s only fair that we get to borrow his trademark sound, at least for 4 minutes and 22 seconds.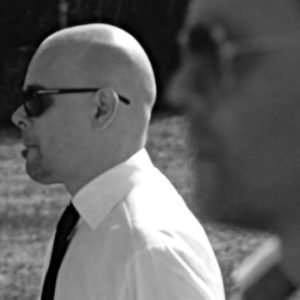 Bearing in mind the title, was there been a temptation to issue 'Play Rewind Repeat' in cassette format as is the current fashion? Do you have any favourite Memorex memories involving C90s and the machines you played them on?
Johan: A cassette release? Yeah, that would actually be pretty cool! I recently borrowed an old Nakamichi deck from a friend to digitise old stuff I have on tape. I rather enjoyed the hassle having to turn sides, finding the tracks and all that. It´s too easy for today's kids – they probably don´t even know what it means to play a B-side.
Jarmo: My memories of cassette players are them eating up the cassette all the time, I think you know what I mean. But when it worked it was perfect to record your favourite songs on them and bring the recordings to a party, rather than a bunch of heavy LPs.
TEC always favoured Sony UX chrome cassettes, what was your preference?
Johan: I preferred the cheapest ones. Always. Except for demo tapes, then I went for 60 min chrome tapes. I think BASF was the brand I used the most.
What's next for you both, either as DAILY PLANET or with other projects?
Johan: I am working on some new solo material as well as a couple of remixes for other acts, which you´ll hopefully be able to hear in the future.
Jarmo: Tune my guitar and write songs, I suppose.
---
ELECTRICITYCLUB.CO.UK gives its grateful thanks to DAILY PLANET
'Play Rewind Repeat'
is released by Progress Productions on CD and download formats, available from http://progress-productions.com/product.php?pid=112&aid=165
https://www.facebook.com/dailyplanetband/
---
Text and Interview by Chi Ming Lai
14th June 2017