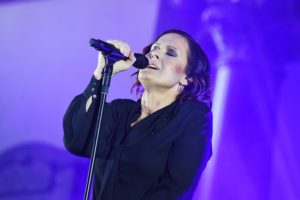 On the eve of the release of her new album 'Other', ALISON MOYET delivered a stupendous performance at Hackney's Grade II listed Round Chapel in East London as part of Amazon Prime's series of filmed intimate concerts.
The evening started with Ms Moyet as her own support act, courtesy of a Q&A moderated by journalist Pete Paphides.
They discussed a wide variety of subjects including her current college course in figurative sculpture, the observational nature of her new record and setting fire to her old leather jackets as part of a decluttering process before moving to her new home of Brighton. She discussed how her daughter was particularly upset that these weren't passed on to her; "GET YOUR OWN" was her mother's reply!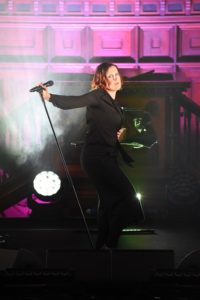 The musical proceedings began with 'I Germinate', the dramatic opening salvo from 'Other' inspired by one of her Mythology sculpture studies.
Accompanied by band members John Garden and Sean McGhee within a primarily electronic backdrop, an updated but largely unaltered 'Nobody's Diary' quickly burst forth to the delight of the crowd.
Looking particularly radiant, Ms Moyet took time to address her audience with some down-to-earth banter. Remarking about how difficult some songs were to sing live, she amusingly introduced the marvellous synthy drama of 'Reassuring Pinches' as "A COMPLETE BASTARD"!
As well as songs from 'Other'
, Ms Moyet delved into her solo back catalogue. 'Falling' perhaps surprisingly got one of the biggest cheers and prompted several members of the audience to dance. Meanwhile, there were some interesting new arrangements of songs from 'Alf' and 'Raindancing'. With their productions respectively by Swain & Jolley and Jimmy Iovine, the recorded originals now sound very much of their time.
A song co-written with EURYTHMICS' David A Stewart under the pseudonym of Jean Guiot, 'Is This Love?' got a blippy new waltz arrangement, while a very sparse percussion free 'Ordinary Girl' gave the song a resonance that hadn't been previously present. 'All Cried Out' though changed time signatures between verse and chorus which added a new tension to proceedings.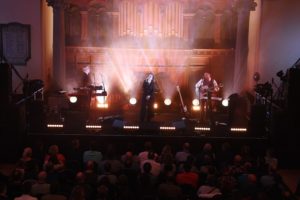 With an added growly presence, Ms Moyet was in fine voice but mention must be made of Sean McGhee who was a particularly good backing vocalist, complimenting her distinctive tones throughout the evening.
It wasn't all about ballads though, as the gritty dubstep pop of 'Changeling' from 'the minutes'
added some feisty energy to the set, while the cinematic orchestrated grandeur of 'The Rarest Birds' celebrated Ms Moyet's revitalised life in Brighton.
Later on in the show, McGee took to bass guitar and Garden strapped on a six string for the NRA baiting 'Beautiful Gun'. Here, Ms Moyet also showed her former school classmates from Nicholas Comprehensive how a bluesy electro romp should be done. Indeed, the new material from 'Other' confirmed how weak the most recent offering from DEPECHE MODE  actually is in comparison…
There was another return to her YAZOO days with a synth noir take on 'Only You' that appeared to have been transposed into a minor key reboot before the bouncy 'Right As Rain' provided an uptempo spark into the final straight.
A spirited semi-acoustic rendition of Jules Shear's 'Whispering Your Name', which incidentally was also a minor Australian synthpop hit for IGNATIUS JONES back in 1983, got another positive audience response before an untouched and untouchable 'Situation' had the whole of the Round Chapel onto their feet as a conclusion to the main act.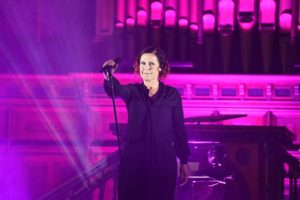 Returning for a passionate 'Love Resurrection' and a rapturous crowd singalong for 'Don't Go', the evening was an outstanding launch for Ms Moyet's upcoming world tour to support 'Other'. It was triumphant performance from ALISON MOYET with interesting facelifts of her solo hits, a welcome airing of YAZOO evergreens and best of all, excellent new material. Now if only another act from Basildon could still be this vital, inventive and entertaining…
---
Special thanks to Duncan Clark at 9PR
'Other'
is released as a CD, vinyl LP and download by Cooking Vinyl on 16th June 2017
ALISON MOYET's 'The Other Tour' 2017
UK and Ireland dates include:
Cork Opera House (27th October), Dublin Olympia Theatre (28th October), Belfast Ulster Hall (29th October), Gateshead Sage (31st October), Glasgow Royal Concert Hall (1st November), Edinburgh Usher Hall (2nd November), Ipswich Regent Theatre (4th November), Reading Hexagon (5th November), Oxford New Theatre (7th November), Brighton Dome (8th November), Birmingham Symphony Hall (9th November), Southend Cliffs Pavilion (11th November), Cambridge Corn Exchange (12th November), London Palladium (14th November), London Palladium (15th November), Bournemouth Pavilion Theatre (16th November), Cardiff St David's Hall (18th November), York Barbican (19th November), Liverpool Royal Philharmonic Hall (20th November), Manchester Bridgewater Hall (22nd November), Bristol Colston Hall (23rd November), Warwick Arts Centre (24th November), Nottingham Royal Concert Hall (26th November), Aylesbury Waterside Theatre (27th November), Southampton 02 Guildhall (28th November)
European dates include:
Oslo Rockefeller (3rd December), Odense Odeon (4th December), Stockholm Berns (5th December), Antwerp De Roma (7th December), Amsterdam Paradiso (8th December), Cologne Kantine (9th December), Berlin Huxleys Neue Welt (11th December), Hamburg Gruenspan (12th December), Aschaffenburg Colos-Saal (13th December), Karlsruhe Substage (15th December), Vienna SIMM City (16th December), Milan Fabrique (17th December), Zürich X-tra (19th December), Paris L'Alhambra (20th December)
Please visit http://alisonmoyet.com/ for details on tour dates in North America, Australia and New Zealand
https://www.facebook.com/AlisonMoyet
https://twitter.com/AlisonMoyet
---
Text by Chi Ming Lai
Photos Courtesy of Amazon Prime and 9PR with thanks
16th June 2017