Following the success of MARSHEAUX's most recent long player 'Ath.Lon', Marianthi Melitsi and Sophie Sarigiannidou present a limited edition cassette EP comprising of seven rejected demos from those recording sessions.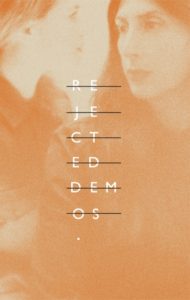 Entitled 'Ath.Lon – Rejected Demos', the release is limited to 300 copies of the revived analogue format pioneered by Philips in 1962 which provided the provided hours of fun as the late 20th Century's equivalent of illegal downloading.
"Home Taping Is Killing Music" bore the legend on the paper inner sleeves of LP releases when the UK record industry lobbied the government to impose a blank tape levy in 1982. But with 'Ath.Lon – Rejected Demos', MARSHEAUX readily show how the modern day version of home taping is skill in music.
Driven by throbbing sequences and laced with rawer vocals than normally expected of MARSHEAUX, the tape's opener 'Just Don't' lyrically references of another outtake 'How Does It Feel?'
Following on, the metallic textures used on 'Satellites Of Love' closely resemble MARSHEAUX's remix of KID MOXIE's 'Dirty Air' as a prominent guide vocal from producer Nick Bitzenis provides an production insight into the demo process.
The uptempo instrumental 'Lush' is like synthpop interpretation of Miki Berenyi's same named indie combo and it's a shame that there is isn't a vocal from the duo's more deeper voiced Sophie Sarigiannidou to join the dots. The imposing 'Behind' is a track with lots of potential in its mighty metronomic beat and eerie synths but ends suddenly after just two minutes while the almost punky 'I Don't Care' utilises a LADYTRON styled snarl.
'Life Goes On' recalls the crispness of OMD's 'Helen of Troy' although offset with an incomplete wispy vocal and prolonged male voices, but the sombreness of 'Slowdown' shows a rarely heard side of MARSHEAUX with an unusual (for them) sub-bass thrown into the mix, although the rhythm track is very bare and sans hi-hats.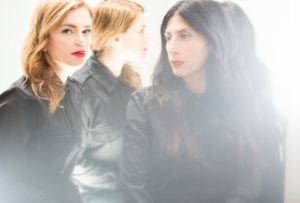 Releasing this collection on a cassette has a hissy novelty value but is very restrictive and as anyone with a memory of more than twenty years will recall, the format's most distinctive analogue audio trait was the horrible noise it made when the tape was chewed!
'Ath.Lon – Rejected Demos' acts as a ready companion to the 2012 rarities compendium 'The E-bay Queen Is Dead'
.
It will be interesting if any of these MARSHEAUX demos are developed further, because in the case of 'Lush' and 'Behind', there may be some synthpop classics lurking within.
MARSHEAUX kindly chatted to ELECTRICITYCLUB.CO.UK about these rejected demos…
It's been a year since 'Ath.Lon' was released, how do you look back on it and the critical response after?
'Ath.Lon' was a special album as it was recorded simultaneously in two cities, while communicating by emails and meeting a couple of times. We had a great response from our fans and people in general said it was much better than 'Inhale' album. Looking back, we have to say we are quite satisfied with the result.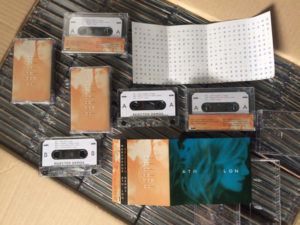 So how come you have managed to stockpile seven rejected demos?
While working on 'Athlon' we wrote over 25 tracks. Some we put only on 'The.Ath.Lon' limited CD box, some in the digital version of the album and the rest of it is going to be released this week on this cassette. There are also some more which we didn't finish, as time was pressuring us to release 'Ath.Lon'.
But why cassette? It is analogue but the biggest analogue noise it makes it when the tape chews… 😉
Ha ha indeed. Maybe we are affected by the cassette hype, it is a medium though that both of us love very much. We are going to sell them in our concerts with a pencil that says "undo rewind"…
Why did you feel these songs did not fit with the character of 'Ath.Lon'?
As we said before, when we were about to decide which songs would fit on 'Ath.Lon', we all had different opinions. For example, 'Safe Tonight' wasn't going to be in the album and it turned out to be our first single. Everything is subjective. 'Lush' could easily be a single, but it ended up as one of the rejected demos. Looking back, we remember deciding which songs we were going to use while on tour in Spain last year.
Which ones do you think could have made it into any one of the MARSHEAUX albums and which?
This is a difficult one. Each one of our albums was created and worked under other concept every time. For example in 'Lumineux Noir', we would never use any of the 'Ath.Lon' tracks and vice versa. On the other side, no other album of ours has a 'Mediterranean'. It's one of our favourite songs and could easily be the tribute to YAZOO that we always wanted to do.
You will be playing inside the legendary Hansa studios in Berlin, how did this come about and do you have anything different planned for it?
Yes, we had this offer and we didn't have a second thought about it, it is fantastic to play in the same space were Bowie recorded his Berlin trilogy and DM recorded 'Black Celebration' and 'Some Great Reward'. We are very excited that we are going to play and also stay there. We hope we'll catch some of the aura of the space.
This is the day before DEPECHE MODE play in Berlin. Having met as Devotees, have you any thoughts on the new album 'Spirit'?
We'll be honest. 'Spirit' is the most weak DM album. Even 'Delta Machine' was far better than 'Spirit'. Although 'Going Backwards' is a fantastic and classic DEPECHE MODE track, the rest of album is like they are trying to imitate and remember what they were.
What is next for MARSHEAUX?
There's just been a new video released for 'Now You Are Mine', but we're going to have some time off to relax and from September, we'll continue touring. We need to rest and think about our next move.
---
'Ath.Lon – Rejected Demos' is released as a limited edition cassette by Undo Records, available only from http://undorecords.bigcartel.com/product/marsheaux-the-rejected-demos-cass-ep-ltd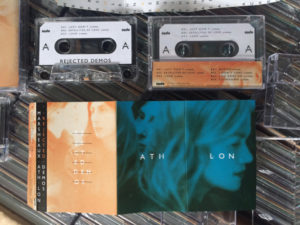 MARSHEAUX play 'Depeche Mode Berlin Party' at Hansa Studio 2 in Berlin on Wednesday 21st June 2017 – details at https://www.facebook.com/events/1319695858122742/
https://www.facebook.com/marsheaux/
https://www.instagram.com/marsheaux/
---
Text by Chi Ming Lai
11th June 2017