It was almost six years to the day that LADYTRON last played London when their lead singer MARNIE made her debut performance as a solo artist at Hackney's spacious but intimate Nordic themed venue Oslo.
Releasing her first solo album 'Crystal World'
on the prestigious Belgian label Les Disques Du Crépuscule in 2013, the collection illustrated the pop credentials of the classically trained Glaswegian, whose tastes were always a bit more ABBA and TAYLOR SWIFT than THROBBING GRISTLE. Her second long player 'Strange Words & Weird Wars'
recently issued by the London based Disco Piñata is a natural successor to 'Crystal World', adding even more big choruses and prominent guitar into the mix.
Opening the evening with 'The Hunter', this marvellous Scandi-tinged widescreen concoction could be considered the prime synthpop single that LADYTRON never quite got round to making. Meanwhile the dreamily driven 'Alphabet Block' maintained the initial momentum.
Augmented by Sarah Stanley on keyboards, computers and guitars plus drummer Peter Kelly with possibly the LOUDEST snare in London, if not the world, MARNIE herself had a new Korg Minilogue with its distinctive wooden-look base for company.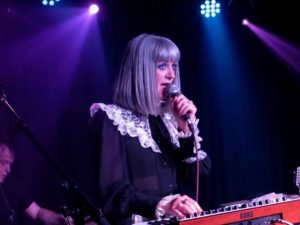 The glorious 'We Are The Sea' recalled CHVRCHES and along with the bouncy 'G.I.R.L.S.', they affirmed MARNIE's importance as a role model to aspiring female musicians; at times during the set one could imagine her as Lauren Mayberry's big sister.
While earlier songs such as 'Sugarland' from 'Crystal World' possessed more surreal lyrical imagery, the newer ones like 'Lost Maps', 'Invisible Girl' and 'Heartbreak Kid' are far more direct and personal.
Trying not to burst into total laughter whenever her uncle in the audience started heckling her, MARNIE exuded a down-to-earth demeanour than may not have always been apparent as a member of LADYTRON.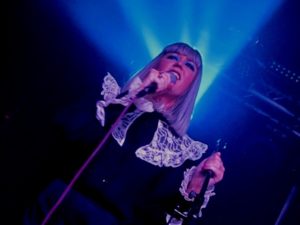 Accompanied by gorgeous synth lines, 'Summer Boys' was all about unrequited love and holiday romances, while the punchy rallying cry of 'Electric Youth' rounded off the main part of the show to highlight the optimistic ethos of MARNIE's solo work.
Unfortunately 'Bloom', one of the best songs on the new 'Strange Words & Weird Wars' album, was dropped from the encore, but there was the expansive nautical adventure of 'Submariner' to compensate.
All-in-all, it was an entertaining and engaging performance from MARNIE that delighted the enthusiastic crowd. Bearing in mind some of the epic LADYTRON sets of the past, it could have done with being a bit longer. But it's perhaps always best to leave people to want more.
And tonight they did…
---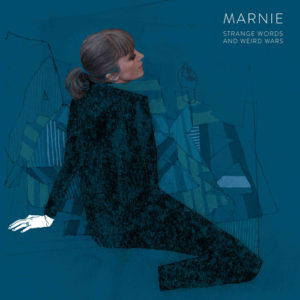 With thanks to Paul McCallum at A Badge of Friendship
'Strange Words & Weird Wars'
is released on 2nd June 2017 by Disco Piñata in vinyl LP, CD and digital formats, available from https://helenmarnie.bandcamp.com/
https://www.facebook.com/helen.marnie.official/
https://twitter.com/marnieofficial
http://discopinata.com/artist/marnie/
---
Text by Chi Ming Lai
Photos by Richard Price
13th June 2017