PSYCHE are the acclaimed dark synthpop duo founded by the Huss brothers Darrin and Stephen from Edmonton in Canada.
They became influenced by the likes of SOFT CELL and FAD GADGET, developing their own special brand of horror electronics; the independently released 1985 debut album 'Insomnia Theatre'
 contained the raw mechanical menace of 'The Brain Collapses' and was a cult success in Europe.
A wider breakthrough came with their second long player 'Unveiling The Secret' in 1986 which included 'The Saint Became A Lush', a track that was to become a favourite of noted DJ Trevor Jackson who included the track on the second volume of his acclaimed 'Metal Dance' compilation series released by Strut Records.
PSYCHE's third album 'Mystery Hotel' signalled a move towards synthpop while expanding on their Gothic EBM template with tracks like 'Uncivilized' and 'Eternal', but it also saw the departure of Stephen Huss due to illness. Although he returned for 1991's 'Daydream Avenue' and 1994's 'Intimacy', he was unable to continue with PSYCHE on a full-time basis and sadly passed away in August 2015.
Darrin Huss continued as PSYCHE with various collaborators over the years, with the most recent album of original material being 2005's 'The 11th Hour' released by Artoffact Records which topped the German Alternative Charts.
Now based in Germany, Darrin Huss has focussed on touring with current musical partner Stefan Rabura rather than recording, although there have been collaborations with fellow Canadian trailblazers RATIONAL YOUTH and Belgian artist LUMINANCE, in addition to the 2011 covers album 'Unknown Treasures' featuring interpretations of songs made famous by SOFT CELL, THE CURE, DEPECHE MODE, YAZOO, VISAGE, KRAFTWERK and THE DOORS.
But Autumn 2017 saw the surprise release of a brand new PSYCHE single in the shape of 'Youth Of Tomorrow' b/w 'Truth Or Consequence' as a trailer to a new full length album.
PSYCHE will be venturing to London for a special show presented by Cold War Night Life on Saturday 29th September 2018 with RATIONAL YOUTH and Swedish poptronica veterans PAGE.
Darrin Huss kindly chatted about his career to date after completing the 'Canadian Synth Legends Tour' of their home country.
It's been 13 years since the last full length PSYCHE album 'The 11th Hour', but there's been no shortage of demand for live appearances, have the last few years been gratifying in terms of recognition for your work?
Yes, even if it feels like starting over on occasion. We have a following that's been with us since the beginning, but since the advent of the Internet, we are building a whole new audience often seemingly at random as people discover us through different eras of our songs. I've learned to wholly embrace this and not only make a linear projection with my output.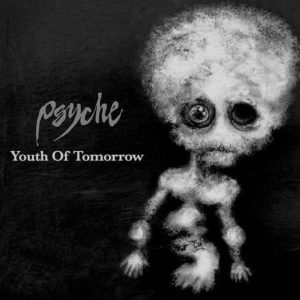 It was a pleasant surprise to get a new PSYCHE single 'Youth Of Tomorrow' in 2017, why had it taken so long?
I have felt that 'The 11th Hour' could be the last album as I had an inkling that I had reached a peak in my musical development, and themes that I wanted to cover with PSYCHE. I never wanted to repeat myself, and always looking for new experiences. I began to focus more on one-off events, collaborations and the occasional single release such as the JOY DIVISION cover of 'Disorder'
10 years ago.
Then came the thirty year wave with the re-releases of our first three albums, and just generally the enjoyment of performing my favourite songs in the PSYCHE repertoire.
The current situation in the world and following social developments globally has prompted new lyrics, and formed the need to make new music with my partner Stefan Rabura for the first time. I have things I feel need to be said, and I also think I need to prove to myself that despite all the different styles of electronic music out there, PSYCHE still has a unique voice and place among synthesists.
What was the inspiration behind 'Youth Of Tomorrow'?
I just had this title in my head, and came up with a whole chorus part one day thinking about myself being older, and wondering what today's youth have to look forward to. What did I even expect from the future when I was 17? No one can truly fathom these things. Also I was making a bit of a nihilistic dig at where we stand right now in terms of "the money's all been spent" and "all gone, youth of tomorrow" meaning myself, and my generation, as well as the future for today's teens.
There's also a bit about virtual reality, and societies becoming inhumane towards others, "watching holograms of future centuries" and how "we don't recognise ourselves!".
When I wrote it, I saw it as a bit of black humour, but occasionally I worry I was being a little cruel. Musically, I wanted it to sound like an 80s PSYCHE track, but with a few new beats and things. My favourite part is actually the wicked synth solo that Stefan came up with.
The excellent story video directed by Rob Barriales for 'Youth Of Tomorrow' was a homage to 'Thriller'?
It was actually inspired by a fairly obscure arthouse horror film called 'Nomads' that was Pierce Brosnan's movie debut in 1986. There's a scene with street punks played by Adam Ant, Mary Woronov and other 80s personalities that I wanted to emulate the mysterious atmosphere of.
The 'Thriller' aspect came later as we realised that the group of people following me resembled that bit with the zombies. There's no synchronised dancing though. So it's more just the lighting, and mood that reminds people of that. Besides, not many people ever watched 'Nomads'…
The B-side 'Truth Or Consequence' was a reflection of current worldwide political events?
It started out under the title 'Life On Trial' and was about the Bradley Manning (now Chelsea) situation. It took me five years to finish the thing. It's about the NSA surveillance, whistleblowers, etc. It's also about the confusion between what is Truth, and what are the consequences of telling it, living it? Do we have safety in numbers? etc. It's all in the lyrics.
It's a very PSYCHE song with even a nod to 'The Brain Collapses' with our use of that song's drum machine the Oberheim DMX.
What other synths and equipment were you using when PSYCHE first started out?
The Korg Mono/Poly is very important. Then the Roland SH101, Roland Microcomposer, Sequential Circuits Pro One, Roland TR707. Later we had a Casio FZ1 as our first sampler. We are using these sounds again for our new album because I think they define PSYCHE's overall sound. Much as the Linn Drum was important to THE HUMAN LEAGUE and BLANCMANGE at the time.
Who were PSYCHE's main musical influences?
FAD GADGET, CABARET VOLTAIRE, THE CURE, BAUHAUS, GARY NUMAN, THE FLYING LIZARDS, NASH THE SLASH, RATIONAL YOUTH, ROUGH TRADE, and later YAZOO, VISAGE, EURYTHMICS, and most importantly SOFT CELL. Others include BLANCMANGE, CHRIS & COSEY, JOHN FOXX, early SIMPLE MINDS, as well as JEAN-MICHEL JARRE and TANGERINE DREAM. BLONDIE and even ZZ TOP factor in at odd moments as well.
'Uncivilised' was one of your notable earlier singles, how do you look back on it?
That was the odd ZZ TOP influence that I mentioned. I've seen people comparing it to BRONSKI BEAT's 'Hit That Perfect Beat' on YouTube, but it was actually inspired by the sequence on ZZ TOP's 'Legs'!
I was writing about commercialism, and how everything is supposed to look and sound shiny, and clean, but we are still animals. When you look beneath the surface, and take away the house and suit, or have no money, people can be very uncivilized.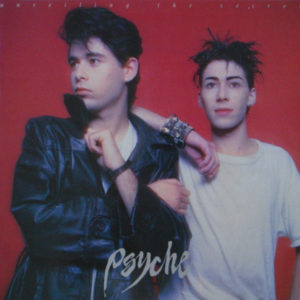 'The Saint Became A Lush' has become something of a signature song for PSYCHE. Do you remember much about the genesis of it and why do you think it still stands up today?
I'm not sure if it's our signature song, we seem to have many iconic reference points depending on where you're coming from. For some it's 'Eternal', 'Unveiling The Secret', 'The Brain Collapses' or even 'Misery'. The significance of 'The Saint Became A Lush' for me however is the idea of an eight verse poem inspired by HP Lovecraft overtop of a danceable Horror Movie-like soundtrack.
Yes, that is a fairly defining sound for PSYCHE, and I think it's like the darker relative to 'Unveiling The Secret'. Many think the main sequence sounds like 'Tubular Bells' from MIKE OLDFIELD, and there may be some element of that as it was used in 'The Exorcist' movie which my brother loved. It's also inspired by JOY DIVISION, as I was really going for the sound of a world weary preacher, and channelling the voice of Ian Curtis for that.
The song was one of the first written for the second album as we were already performing it as early as 1986. The atmosphere of foreboding that it creates while still being danceable I think is what makes it stand out above the average so called Electronic Body Music Of The day.
Along with RATIONAL YOUTH and MEN WITHOUT HATS, PSYCHE were trailblazers for Canadian electronic pop, but Canada now appears to be the hotbed of electronic based talent. Have you had the opportunity to listen to artists like TR/ST, PURITY RING, AUSTRA, ELECTRIC YOUTH, PARALLELS and MECHA MEIKO?
I've heard TR/ST and AUSTRA, but to be honest many artists that came after the Witch House movement kind of lost me. I'll have to check out the others you mentioned, but basically these days we are discovering news sounds on occasion through artists that open for us at certain events or by browsing Bandcamp and YouTube where I fell in love with ADAM USI, IN MIRRORS, and recently discovered CARLA DAL FORNO by accident while browsing in an alternative record store.
Most people may already know some of these people before I take notice. I have a love / hate relationship with most electronic newcomers especially whenever I'm told they're the next big thing. PURITY RING actually wrote some songs for Katy Perry's last album, so I'm a little sceptical of that!
You covered 'Ring The Bells' brilliantly for the 'Heresy: A Tribute To RATIONAL YOUTH' album, why did you pick that song and how did you go about reinterpreting it?
I wanted to the album track that had the most melancholic mood. My choices were 'I Want To See The Light' or 'Ring The Bells' primarily. We actually had already covered 'City Of Night' for a US compilation, but I wanted a song that I could imagine as PSYCHE while paying homage to my feeling of hearing RATIONAL YOUTH for the first time.
To be honest, this was the first thing I recorded after my brother's death. I had spent over half a year remastering our first three albums, and really didn't want to think about doing new music for a while. Doing a RATIONAL YOUTH song was a relief and a catharsis for me. The lyrics also have nothing to do with this theme and yet I sang them with the loss of my brother in mind, and managed to give voice to my pain while honoring one of my favourite synth artists, and friend.
Has social media been a blessing or curse for PSYCHE in the 21st Century?
Well as Napster and Soul Seek were some of the first things out there, it was pretty scary. Then Megaupload and Bit Torrent made it even more terrifying. These days the good and the bad between YouTube, Spotify, Amazon, iTunes, and Bandcamp keep a constant balance. I'd say I have slowly adapted starting with MySpace in 2004, and navigating through all the changes to stay on my path to date.
Ironically, this is the exact same period that I didn't make a new album, so maybe it'll all make sense by the time I do. I've had a good time with the vinyl trend, and started getting used to streaming to the point where I would say the curse has been lifted, and the DIY mentality of the early punk days has finally come of age through digital. I would say it that's a blessing. The curse is only I fear no more iconic artists on the level of Madonna, or the likes of Leonard Cohen.
How are you psyched up about playing in London with RATIONAL YOUTH and PAGE this September? What sort of setlist are you planning?
I am thrilled that we are coming to London after such a long time, and especially on the eve of SOFT CELL's farewell concert. I really hope the people appreciate what they'll experience. We will be thinking of something special, and focusing on our 80s highlights. Wait and see…
For those who are curious and may be discovering PSYCHE for the first time, what would be the five songs you would suggest they check out and why?
1. 'The Brain Collapses' – this is obviously the roots of our sound, the dark side and yet a somewhat poppy chorus. The strings, the Korg Mono/Poly, driving bass sequences, dramatic vocals. A good start for the early PSYCHE styles.
2. 'The Outsider' / 'Eternal' – have to put them together as I feel they are essential highlights from 'Mystery Hotel', the softer, but somewhat psychedelic side of PSYCHE as Synthpop.
3. 'Unveiling The Secret' / 'The Saint Became A Lush' – also can't decide. They are both defining styles for PSYCHE, and live from the main melodies with the poetic lyrics over the soundtrack atmospherics. A definitive part of the PSYCHE legacy.
4. 'Goodbye Horses' – I hate to admit it, but this particular cover version of Q LAZZARUS has expanded our audience and given another nuance to our repertoire.
5. 'Youth Of Tomorrow' – I am quite proud of our new song because I feel it contains all the elements of intrinsic PSYCHE. The lyrics, my singing style, and the arrangement are something that we do in a very special way, so I'd be just as happy to be discovered though this new song.
What's next for PSYCHE?
We're still working on new material. Either a new EP will come first and then an album, or other surprises and collaborations. I'm at the point where I like to let things happen, and see if we can explore new territories where people appreciate our music.
---
ELECTRICITYCLUB.CO.UK gives its warmest thanks to Darrin Huss
Special thanks to Simon Helm at Cold War Night Life
'Youth Of Tomorrow' and a selection of the PSYCHE back catalogue is available direct from https://psyche.bandcamp.com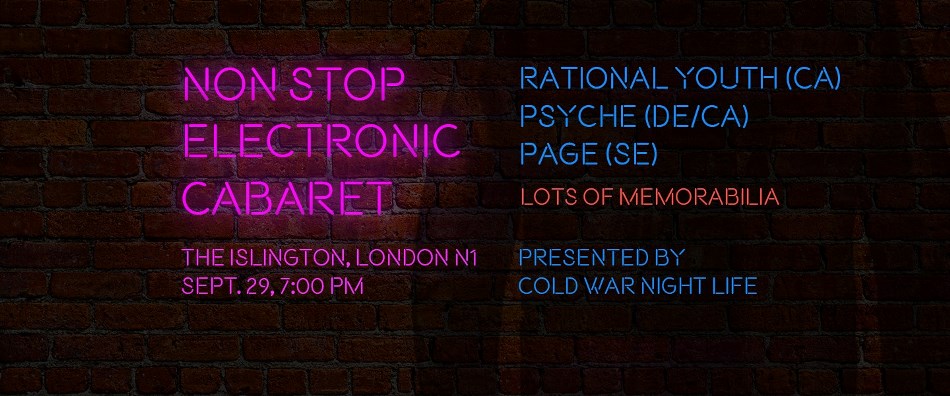 PSYCHE, RATIONAL YOUTH + PAGE will perform at 'Non-Stop Electronic Cabaret' on Saturday 29th September 2018 at The Islington in London. Presented by Cold War Night Life – tickets available from https://billetto.co.uk/e/non-stop-electronic-cabaret-with-rational-youth-page-and-psyche-tickets-300983
https://www.facebook.com/Psyche/
---
Text and Interview by Chi Ming Lai
16th August 2018