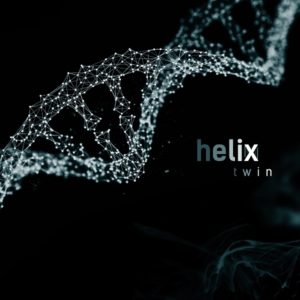 The long awaited synth collaboration between the East and West of the United States is finally here.
HELIX marks the musical marriage between the Rhode Island songstress Mari Kattman and the man behind everything ASSEMBLAGE 23, Seattle-based Tom Shear.
Kattman, previously of DAY TWELVE and MARI & THE GHOST, debuted with her personal signature sound on a rather fetching long player, 'Hover', where she collaborated with Matt Echo. The record settled in a genre of its own and turned many musical heads, including Shear's.
It wasn't the first time that his compass pointed East, as the pair had worked together on his side project SURVEILLANCE, where Kattman provided her vocal skills on 'Husk' from 'Oceania'. Tom Shear needs no introduction within the hard core lovers of electronica; being the musical, lyrical and vocal supplier of ASSEMBLAGE 23, which continuously provides top shelf synth offerings, appreciated not only by those "on the verge of collapse".
It is therefore imaginable that such collaboration is bound to bring miraculous effects and show yet another side to the Seattle based producer. And indeed the new approach comes out on their debut 'Twin'
, especially with the opening 'Widescreen', where floatingly gentle melody creates the base for Kattman's vocal journey further East.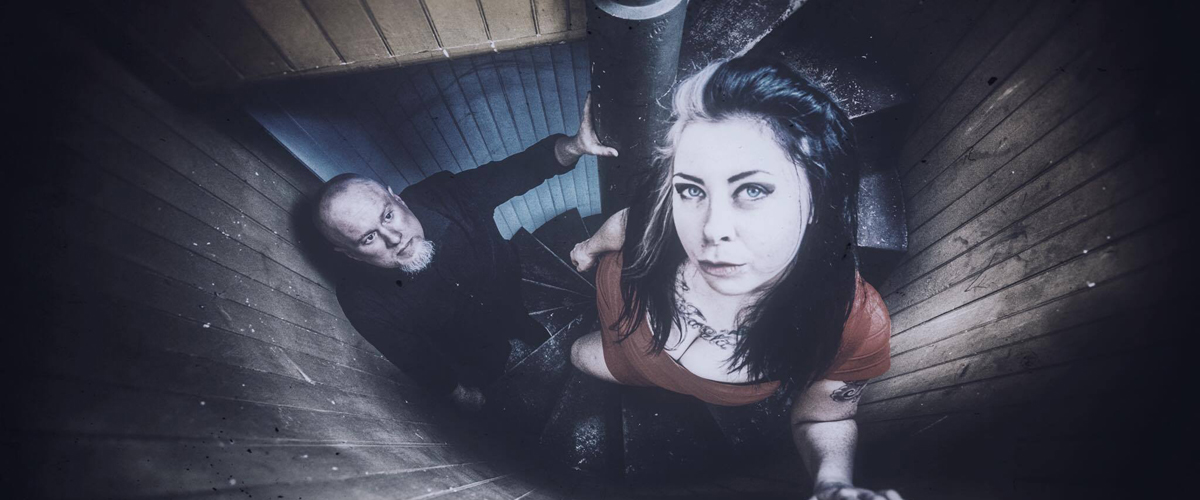 If she's out to snake whisper, she certainly succeeds, for 'Anymore' ushers a change of mood ear worthy a repeat play time. Subtly subdued, yet containing multiple layers of instrumentation courtesy of Shear, it provides an excellent canvas for the voice reminiscent that of Sharleen Spiteri's. The power of 'Bird Of Prey' accents itself in this uptempo gem, where Shear goes vintage musically and on production, while Kattman channels her inner MADONNA, just like MECHA MAIKO had done on her debut 'Mad But Soft' couple of months back.
If you're expecting 'Kicking & Screaming' to do what it says on the tin, you'll be in for a disappointment. This piercing semi-ballad has plenty of subtle power, that's best served with the addition of darkness, and perhaps it doesn't prepare for the corker that is 'Expensive Things'. Here Shear does what Shear does best: takes that beat and twists it into something amazing, adding a pinch of heavy synth and a dollop of ear teasing percussion, interloping with regularly appearing arpeggios and nudges of beats paying homage to vintage DM via 'Shout'.
This could be a hard act to follow but 'We Are' does a good job regardless, changing the feel into a modern offering of off-beat hipster styles, leading into the school disco of 'Like A Drug'. What SPECTRA PARIS did on 'Retromachine Betty', Mari Kattman does here; enhanced by electrifying guitar, fast paced rhythm and plenty of pink and fluffy synths.
While 'I May Be Wrong', HELIX keeps going and now Shear joins Kattman on vocals to make it right. This middle of the road track provides a delicate easy listening experience; star gazing and romantic, making Shear sound a tad like Peter Heppner, which is always a good move.
But the ripe beats return suddenly on 'Live In My Heart'. And what a fast pleasure that is! Kattman goes quirky with her vocal provision and Shear shows he can do the club feel very well. Pure ASHBURY HEIGHTS on steroids, riding on Space Mountain, getting stoned… hang on, that's LA based NIGHT CLUB… you get the idea!
As all good things have to come to an end, 'The Beautiful Unseen' ushers the wrap for the album. Slightly slower, deeper and marvellously executed, where the piano paves the way for the haunting voice and pointed synth, this closing track leaves plenty of thinking space and hope for continuation.
It comes as no surprise that Shear can deliver musically, it's also not news that Kattman is a valid artist on her own, but those two twinned together provide higher levels of musical enjoyment.
While the debut offering from HELIX may feel like a mixed bag for some and too demure for others, let's not forget that musical knowhow is deeply ingrained in the pair, and for their first full album as a newly found partnership, 'Twin' provides heaps of listening pleasure.
And if it's too mainstream for you, go and indulge in ASSEMBLAGE 23 instead. Either way, you won't miss out on the good thing.
---
'Twin'
is released by Metropolis Records on 24th August 2018, pre-order the CD direct from https://www.metropolis-records.com/product/11631/twin
Album previews can be heard at https://www.youtube.com/channel/UCXy3cSLVcbsGBlI4M2pjzLA
https://www.metropolis-records.com/artist/helix
https://www.facebook.com/Helix-744516182407113/
https://www.facebook.com/MariKattman/
https://www.facebook.com/Official-Assemblage-23-138651156153800/
---
Text by Monika Izabela Trigwell
14th August 2018