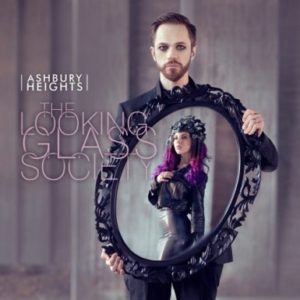 The Swedes seem to rule the roost these days, as far as turning out the best electronic gems is concerned, with the most decent tunes coming out of this cold, Nordic land.
The starting point of the Swedish Invasion may as well have been with the birth of ASHBURY HEIGHTS in Sundsvall, Sweden in 2005. The rather talented songwriter Anders Hagström, who also produces, programmes and sings, joined forces with Yasmine Uhlin on vocals, releasing a few demos prior to turning out an album, which rocked the electronic genre in 2007.
'Three Cheers For The Newlydeads' was hailed as the best thing since sliced bread (or DEPECHE MODE) and the band enjoyed a brief period of popularity all over Europe, gigging at festivals and such like, until Yasmine decided to depart the AH camp. Hagström replaced Yasmine with opera singer Kari Berg, who recorded 'Take Cair Paramour', the duo's second album, in 2010.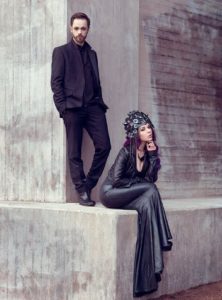 Due to ongoing disputes with the band's label Out Of Line, ASHBURY HEIGHTS disbanded the same year, until a settlement in 2011. The work on the third album did not start however until 2013, when Kari was replaced by alternative model Tea Thimé.
Tea, having a degree in English Literature, co-wrote the lyrical content of 'The Looking Glass Society', the name of which was taken from the works of the pair's beloved Lewis Carroll's 'Through The Looking-Glass And What Alice Found There'.
The attraction with the weird, unusual and twisted seems to continue throughout the album, with elements of the bizarre re-surfacing from time to time, punctuating the record periodically.
The opening 'Masque' is essential ASHBURY HEIGHTS in a tin, Hagström's recognisable vocals over interesting synth rhythms resemble both previous releases, promising a decent listening sensation. This feeling continues with the über compelling 'Heart Of Darkness', stimulating a combination of sounds, textured beats and striking concoction of vibrations.
The superb drum and bass laced 'Glow' sits over clever synth combos and is spelt out with Hagström's evocative vocal techniques in a perfect manner, while 'Hollow' opens with 'Alice In Wonderland'-type weirdness, progressing into a magnificent electronic extravaganza of excellence, with the pair's voices interwoven within catchy sounds, just to be wrapped up with more oddness of Carroll-like utopia.

'Phantasmagoria' and its perfect strings is what it says on the tin; describing life as "phantasmagoria", imagining ever-changing, moving, full of illusion, shifting of the scenes in some extraordinary fashion. 'Piano' is characterised by the loud pop production, it's larger than life, while 'Leave Off At Seven' shows off the vocal skills of Tea, who had never performed as a singer before, yet here shows off as a fast learner from her partner-in-crime. The predictable production accents the track, similarly with 'The Number 22', which strikes as a desperate shot to hit the charts, while still being a formidable tune. Hagström's vocals at times resemble DE/VISION's Steffen Keth.
'Gravitational Man' features Melodine enhanced vocals from both Hagström and Thimé rushed by speedy, heavy synth that comes over like a Goth paradise. 'Ghost Spirit Mother' comes in with a Eurovision worthy sequence, marked with, yet again, rather predictable production, somehow unimaginable, while 'Starlight' improves with excellently marked musicality. 'November Corrosion' closes the record providing a heavy dose of the "good stuff", the type of which one grew to expect from ASHBURY HEIGHTS. LADY GAGA's style vocals, as utilised on her 2013 'Artpop' can be distinguished and seem to suit Tea marvellously. With the additional weight from Hagström, this is a perfect track to close the production.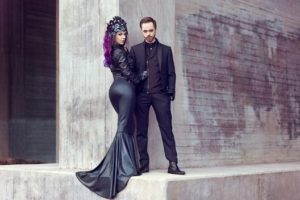 It's fair to say that any self-respecting synth pop, industrial and new wave music fan will appreciate this latest offering by the Swedish duo.
Tea brings certain freshness into the mix and all the previous elements of greatness are preserved. The songs are well written and certainly top anything else ASHBURY HEIGHTS have turned out to date.
The production however, comes across as rather foreseeable and given; clearly wanting to appeal to wider audiences and aimed at chart success. One wonders what the album would sound like, if it had been produced more imaginatively and less predictably. The songs amalgamate into one, continuous, indistinguishable mass, which surely could have been avoided.
The charm of 'Three Cheers For The Newlydeads' might not be repeated. However, 'The Looking Glass Society' provides an ample amount of fantastic songs. They easily pass the club test due to their danceability factor, and have enough electronica to satisfy synth lovers too.
Sweden does it once again!
---
'The Looking Glass Society' is released by Out of Line Music on CD and download
http://ashburyheightsofficial.tumblr.com/
https://www.facebook.com/ashbury.heights
---
Text by Monika Izabela Goss
Photos by Josefine Jonsson Photography
28th July 2015