The beginning of 2014 saw a new American duo emerge onto the synthpop scene from Utah's capital Salt Lake City.
Singer, songwriter and producer Tom Cella joined forces with David Burdick, a producer and tune maker. In July that same year, the curiously named first single 'Nothing Matters' was released. The track enjoyed airplay in the United States, Australia and the UK, and was followed that September by 'This Broken Resolution'.
'Light in the Dark' has been described in the press release as "a blend of synthpop, trance and futurepop" and the band are aiming to restore the power of electronic music with a new perspective. Both guys could easily pass as lookalikes of Tom Shear from Seattle's celebrated and rather superb ASSEMBLAGE 23; their music however, couldn't be further in direction from the masters of the likes of 'Compass' or 'Defiance'.
The album and track eight's title cunningly resembles the latest achievement by new German band SYNTHDECADE, 'Lighten Up The Darkness'. Quoting the likes of Erasure, M83 and ABOVE & BEYOND as their influences, here are ten songs rounded up in a lattice of melodic and pleasant dance friendly tunes, with perhaps a scarse dose of melancholy.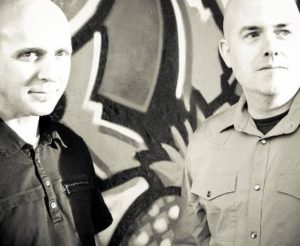 Opening song 'Say Something' certainly opens with a catchy, semi-trancey dance sequence and the first thing that comes to mind, as a rather burning reference, is German / Greek duo FROZEN PLASMA. Vasi Vallis and Felix Marc have been creating similar sounding tunes on Infacted Recordings, starting with the marvellous 'Artificial' all through to their latest release 'Dekadenz', in March 2015. However, Tom Cella's vocals are not comparable; soft and almost female in feel, they add a certain airy aspect to the song, which in itself is an accomplished dance tune.
'Perception' follows with gentle piano and an interesting synth pattern, creating a canvas for a heavily reverbed voice, somehow resembling the sound of PRIEST. A pleasant, yet non-descript production, it is suitable for an easy listening pleasure. 'Oxygen' continues with the gentle feel of the Germany's MINERVE, while 'Nothing Matters' carries on a simple love message lyrically, over a combination of engaging and satisfying electronic combos.
'Metaphysical' opens with sampled wind effects over some gentle and quite enchanting synth; calmer in texture, but it still resembles FROZEN PLASMA. This feel very much continues with 'This Broken Resolution' which is so similar, it could nearly be the same tune. The tempo picks up, yet the quality of the tune is maintained. 'A Million Words' pretty much carries on from the previous couple, while 'Light In The Dark' and 'High Above' are quintessential FROZEN PLASMA, with the only differentiating element being the vocals.
What the duo have produced is pretty much what they wanted to achieve; catchy, synthpop tunes, heavily influenced by trance and melodious enough for a good, old boogie. Are the songs hook driven? Yes, they are. Have they got the emotional notes of synthpop? Yes, they have. Are they varying "from euphoria to broken hearted sorrow"? Perhaps they are.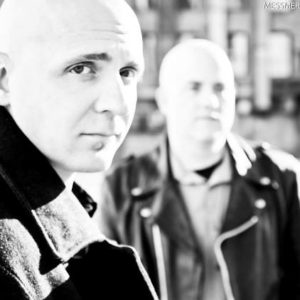 What one cannot escape from, though, is that the original claim for the "need of fresh perspective" is as far from reality as the claims of the likes of German trio SYNTHDECADE who promise a new direction in electronic music, but then follow with songs sounding like CAMOUFLAGE.
Of course, this sort of music may be fresh and original for the audiences over the pond; but the European crowd will undoubtedly hear FROZEN PLASMA in this production, a long standing electronic German band, with dozen of tunes sounding exactly like RARE FACTURE minus the gentler, more feminine quality of voice.
As delightful and pleasing as the songs on this album are, there is no escape from the fact that one has heard this sort of thing before, and nothing can beat the good old 'Tanz Die Revolution'. All this said, 'Light In The Dark' is a satisfying album, which no doubt will find many a listener on both sides of the Atlantic.
---
'Light in the Dark' is available as a CD or download via RARE FACTURE website
https://www.facebook.com/rarefacture
---
Text by Monika Izabela Goss
11th July 2015