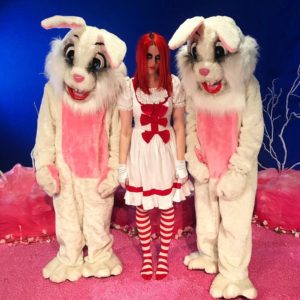 The Electricity Club once described NIGHT CLUB as sounding like "Britney fronting NINE INCH NAILS".
Now re-quoted by some other media outlets, that description appears to have stuck. With their second album 'Scary World'
on the way, NIGHT CLUB have a mind bending visual accompaniment to go with its lead single 'Candy Coated Suicide'.
'Alice In Wonderland' author Lewis Carroll had a disorder which caused him to have hallucinations about shrinking and chatting to anxious leporids, but what would he have made of this video to 'Candy Coated Suicide'?
Described by singer Emily Kavanaugh as "like if an 8 year old and her stuffed animals discovered LSD and went on a solid 4 day bender", the self-directed video sees her cavorting with two synth playing rabbits as well as a teddy bear with chains and cuffs being two of the prominent accessories.
The song itself is an excellent second cousin to 'Pray' from NIGHT CLUB's debut long player 'Requiem for Romance'
and 'She Wants To Play With Fire' off the 'Black Leather Heart'
EP.
However, the abundance of pitch shifted vocals ensures 'Candy Coated Suicide' possesses a slightly devilish quality, while instrumentalist and producer Mark Brooks has added a grittier rock dynamic that makes its presence felt in the bridge to compliment the dysfunctional pop aesthetic.
Currently touring North America with aggrotech exponents COMBICHRIST and horror rocker WEDNESDAY 13, the triple bill hits Europe in the summer including dates in Dublin, Belfast and Glasgow.
But while they are in the British Isles, NIGHT CLUB will also be headlining two August shows in Sheffield and London.
---
'Candy Coated Suicide'
is released by Gato Blanco and available via the usual digital platforms
The new album 'Scary World'
is released on 24th August 2018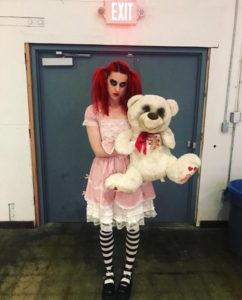 NIGHT CLUB 2018 live dates include: Dublin Tivoli (7th August)*, Belfast Limelight (8th August)*, Glasgow Garage (9th August)*, Sheffield Mulberry Bar (10th August), London Hoxton Stag's Head (11th August)
*opening for COMBICHRIST + WEDNESDAY 13
https://www.facebook.com/nightclubband
https://twitter.com/nightclubband
https://www.instagram.com/nightclubband/
---
Text by Chi Ming Lai
18th May 2018