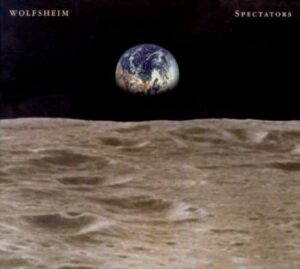 The German city of Hamburg has been the home of many a great band, but WOLFSHEIM is, by far, the one always mentioned with a dose of nostalgia and melancholy.
Even though the group ceased to exist around 2008, the ominous voice of Peter Heppner still haunts the listener of dark wave electronica, it being WOLFSHEIM material itself, Heppner's solo projects or his vast collaborations with various artists.
The synth duo's most known song is still 1991's 'The Sparrows And The Nightingales'.
Yet, since then, they have compiled a wealth of material widely adored by, even the more discerning fan of electronica. The fourth album from WOLFSHEIM, 'Spectators'
released in 1999 went straight to number two in the German charts and had been issued in America on Metropolis Records in 2001, before reaching the Gold status in Germany in 2004. Ten songs, one of them in their mother tongue, plus a closing instrumental, left the receiver with a great dose of sombre feeling and pensive nostalgia-like sentiment. How did they achieve that?
Well, Markus Reinhardt's use of melodies deepens the mood of sorrow for sure; the backdrop to Heppner's vocals is astounding and meaningful, the uncomplicated musicality of his creations second to none. Without the tone of the voice of the master songster however, WOLFSHEIM would, quite possibly have gone unnoticed.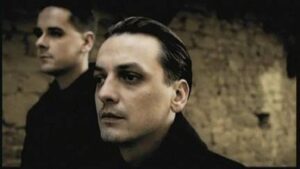 It is, after all, his distinguished voice, sounding lugubrious, moody, gloomy and very cinematic that made WOLFSHEIM what they became.
All this said, Heppner's solo projects, although received warmly, never somehow managed to penetrate the listener to the same extent that the work which the duo's had turned out.
Perhaps it was a case of DEPECHE MODE syndrome, similar to neither Gahan, nor Gore ever meeting full potential outside of the project they share. Either way, it is worth re-visiting 'Spectators' and re-introducing this intense, yet un-laboured creation that put WOLFSHEIM on the world map as a band worthy of the repeated listen.
'It's Hurting For The First Time' opens the record with an operatic female vocal, before Heppner comes in with his immaculate, deep and atmospheric rendition over eclectically selected musical elements, coming together skilfully to round up the starting track. The only German language song on the album enters next. 'Künstliche Welten', being in Heppner's native tongue, sounds softer somehow, despite the natural harshness of Deutsch.
The dreamy intro of 'Touch' is simply stunning; carefree melody, gentle synth lines, all swaying around the architectural sound of Heppner's genius. 'Blind' has very similar qualities, deeper, softer still and sentimental in feel. Exquisite use of drum patterns and delicate key strokes give the necessary back drop to the desperate melancholy of the vocals.
'Once In A Lifetime' drives a change in landscape; heavier synths and harsher beats introduce this magnificent tune, to which WOLFSHEIM released a rather enchanting video. An easy-listening, singalong hymn, despite of its lyrical content has all the danceability elements too.
'Sleep Somehow' opens with a drum and bass sequence, the fetching drumming responds extraordinarily well to Heppner's portrayal of the saddening verse. 'For You' is more guitar based and the songster's craft shapes the tune over a simplistic manifesto of sounds.
'Read The Lines' has a dance feel, to which the singing style lends itself surprisingly well, given the nature of Peter's innate melancholy. 'I Don't Love You Anymore'
is a quintessential gloomy song. Depicting a failed relationship with no feelings left in it, yet being artificially life-supported. "I don't love you anymore… yet we're dancing" Heppner laments, "you're not the one I'm falling for, but we are dancing". With distinguished synth combinations, surprisingly it bears a light feel and has a definite dance factor to it.
'Heroin, She Said' is lyrically strong on the addictions of the subject and has harsh guitar elements to it, more so than the rest of the album. It certainly provides an alternative end to the album before 'E' finishes it completely with its nearly all-instrumental content.
The feelings of yearning and sentimentality on this record are truly astounding. Heppner's melancholic deep voice, so evocative of emotions, yet warm and inviting, draws one in with a great sweep of nostalgia and leaves the listener wanting more. Why not re-visit the other, oh-so-superb albums of WOLFSHEIM's like 'Casting Shadows', which followed 'Spectators', with the intense likes of 'Kein Zurück' or 'Find You're Gone', or the earliest creations such as 'Popkiller'or 'Dreaming Apes'?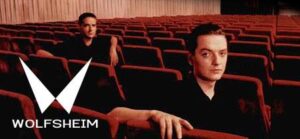 is still considered THE VOICE of Germany, with multiple artists, more recently none other than CAMOUFLAGE, collaborating with him on their recent album 'Greyscale', with Heppner lending his voice on 'Count On Me' so skilfully. German electronica rules once more…
---
'Spectators'
is still available on CD and download via Indigo
http://www.metropolis-records.com/artist/wolfsheim
http://www.strangeways.de/kuenstler/1022/
https://www.facebook.com/peterheppneroffiziell
---
Text by Monika Izabela Goss
19th April 2015