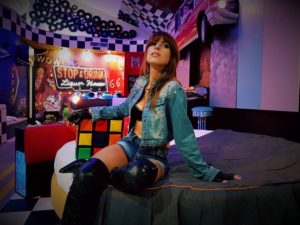 Elena Alice Fossi has her fingers in so many pies.
One wonders where the multitalented singer, model and producer finds the time to oscillate between her front woman job for KIRLIAN CAMERA, her side project STALINGRAD with band mate Angelo Bergamini and SIDEARCTICA.
Then, there's her two own enterprises SPECTRA PARIS and ALICE NEVE FOX.
With her latest release as SPECTRA PARIS, the brilliant supersonic gem 'Retromachine Betty'
, proved that Fossi has many faces and is truly capable to bending genres in the directions suitable for her palate.
The Italian songstress kindly chatted to ELECTRICITYCLUB.CO.UK about her busy, busy life…
It's truly amazing as to how many projects you're involved with…how do you keep up?
Headache, headache, headache…!!!! Well, joking aside, passion for music is just something like a boa serpent, positively said. My dreams never stop recreating themselves and Angelo, my comrade, is just a dreamer like me! Together we have created a real different world into which it's possible to resist to the world, as well as to our fierce sensitivity!
Coming out from the working class gave us the tools to generate everything starting at level zero, so everything is today a an actual alternative universe, as told before. Strange dimensions being totally opposite to – say – people's concept of time, so believe me…. my/our stress is even larger… but this is not enough to make us defeated….!!!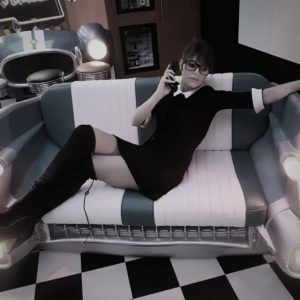 Would you say it's true to state that being involved in so many different projects fulfils your chameleon nature?
Yes, that's the point! It is not my fault if I love rainbows… I'm aware that's not the most popular attitude today, despite many people are posing that way, trying to convince other people they're cool and inspired… I think I like chameleons and shapeshifters more than ever, as they're just the last resources of an era having no real identity nor will. So, in spite of the fact I'm shyer than a shrinking violet, I try to stay strong and go… the joy of music is stronger than any inner block…
It's been a good few years since you joined KIRLIAN CAMERA, would you say that move opened many doors for you?
KIRLIAN CAMERA is a strange alien thing. Really. It doesn't remind me of anything like, willy-nilly. It manages to open and close doors at once! I only know it was my favourite band ever, so I guess I didn't even realize what had been happening at the time when I was asked to join the project.
It has never been a picnic, for me. Always I had to go over myself, never giving up, never running away, always accepting to having to deal with a glorious past. Now it is my home, the one I live along with that magic person that's Angelo Bergamini or Hal Bergmann, whatever his real name is!! All in all, today I don't know whether KC opened any doors, but it led to an audience I love and have a great relationship with, at last!
Very few electronic pop acts emerge from Italy… why do you think that might be?
Italy, Italy… Italians are not seldom working against themselves. I actually couldn't know why electronic acts don't come out in a country that gave life to so many techno, disco, electropop projects (some names: Giorgio Moroder, Benny Benassi, Krisma!). Musical brainwashing got some real success in Italy, I'm sure. Sense of defeat seems to always lurk around behind the corner.
But I still try to paddle upstream even on this field and so I'm planning a whole album based on Italian lyrics. It'll be our first time. I feel that exciting, although many people are looking perplexed. Anyway, I think that mixing technology and love for machines to that beautiful language won't be but a fascinating story!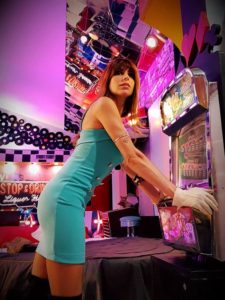 You had Susanna Rigacci who worked with Ennio Morricone as your vocal trainer, that sounds impressive. What a start to a whirlwind singing career…
I got lucky, that's true. Some years back in time, my first singing teacher – a great person with a great voice – told me time had come to take it to the next level! She took me to the Conservatory that Lady Rigacci was teaching and where I had to audition to be accepted. I honestly must admit I didn't know who Susanna was and what awards she would have gained in the future. But already I had a sensation that I found myself walking into something special, surrounded by a shiny light, no matter what way I would go after it… as already I was aware classical singing was a means and not an end, as for myself.
Often singers, especially in the lyrical music field, tend to confuse their empty seriousness with professionalism. Fortunately, Susanna does not have this attitude. So, she transmitted me that kind of purity in music.
Do you think a gothic electronic reinterpretation of 'The Ecstasy Of Gold' with your vocal would ever work?
I think that kind of music Ennio Morricone works on is suitable to being reinterpretated via darker ways. It's powerful, epic, sometimes positively decadent and filled with nostalgic mood. It may evoke melancholic ghosts. So, what may I ever do with my voice? A fine colourful cemetery!!!
Let's talk a little about 'Retromachine Betty', what gave it the base?
At some point, I realized that the adventure of SPECTRA PARIS was not exactly over. For a long time I was surrounded by images of old robots, small shattered computers and so much music from the 80s was floating in the air of that black bunker in which I live!
I started thinking that trying to recreate a retro-electronic, romantic, almost adolescent music world and blend it with new technologies, new softwares, and so much "passion for the future"… could give some push to an interesting formula, far from any wide nostalgia ending in itself, as well as from advanced technology used too coldly.
Toys, in my mind I saw so many colored musical toys scattered on the ground, all to be reshaped with a new sound spirit, something that was not necessarily already heard, although it draws from the past, as far as "poetic" reference is concerned, rather than music itself.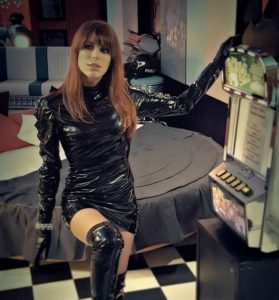 It would be strange to define this work as a New-Wave or even 80's Disco thing! This work comes out from a dusty workshop, which has now been restored after having got a big injection of futuristic design!
Imagine the world in 2037: well, an apocalyptic scenery is an acceptable projection and I'm supposedly there, now, but… I can listen to some pop music as well, instead of depressive tunes, even though I'm surrounded by zombies and hallucinated smurfs!!! I started with such a basic idea for "Betty". If the base is good, then with such energy… even an old android can become the winner of the Olympic Games of Mars! So, I started working with those little old android toys and the story started…
'Star Bubbles' features an interpolation of 'Moonlight Shadow'. So Mike Oldfield and Maggie Riley did something right back then?
Bubbly, lively, enthusiastic… there's something vital in this track. It's like a joyful energy… Mike Oldfield too makes sure his audience is not used to repetitions!
The album in itself is fairly eclectic, would you say?
And to think I was afraid of having written an excessively amalgamed work! That's my fault, especially once one is going to analyze today's music scene: chameleons are taken for lunatics! It actually looks like there's no effective chance to be freely creative, as the audience are getting step by step unpracticed in getting the music they like.
Many people are listening to the music with electroshocked ears, those artificial ears they've given by this new little bunch of overpaid morons who are managing digital distributions, publishing companies and so on. Real creativity is a young alien child; she shouldn't be surrounded by stoned geezers and pedant hamburgers on two legs… We should probably try to wean her off humans!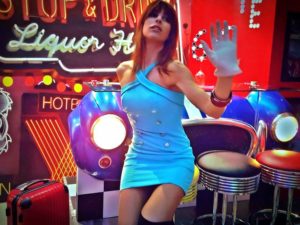 What are your own favourites from 'Retromachine Betty' and why?
I love that lost world wrapping the album into a kind of funny nostalgia.
I love such future-retro stories being told by "wise devices", kind of naive pioneers coming from the past, who are just enchanting little children with their anedoctes, now in this 2017's prehistorical future world!
So, I feel some special love for 'Star Bubbles' as it never bores me, as I find it fresh, light-hearted, mindless of painful moments. It gives me hope.
'Ludovico Tecnique' is just another chapter I particularly like, with its electronics filled with some glitter-esque glamour. 'Lux Industries' was born in a world orbiting between SPECTRA PARIS and KIRLIAN CAMERA, as you've noticed. I love its hypnotising and motionless character, as it takes me to some kind of ecstatic dream, a little like 'Universal' is doing.
The last song of the SPECTRA PARIS album is a strange cover of 'Una Furtiva Lagrima' taken from the opera 'L'Elisir D'Amore' by Gaetano Donizetti, written in 1830 approximately. The voice one listens to is a non-human synthetic sound. It's kind of an unpretentious and relaxed homage to Wendy Carlos…
You like to work with the best, including COVENANT or John Fryer, it must be great to pick from the best?
I think the electronic scene is a bit too overcrowded with "casual musicians", so working with artists who put some real spirit and enthusiasm into their work is just an essential, unavoidable necessity. Both John Fryer and COVENANT are perfectly going to hit that special target. It's just a question of natural magic, I think. They've got some special purity, a purity that goes to be added to ability, experience and anti-trivia bombs! I feel that need in music, in them, so yes, I feel at home and happy like a child-machine!
John Fryer invited you do quite a few songs for his own latest project BLACK NEEDLE NOISE, you must be his favourite? How would you describe your collaboration dynamic?
Well, John was just at work on the SPECTRA PARIS album, when he asked me to collaborate to a song then called 'Behind the 4th Door'. I guess he wasn't too disappointed about the result, as a few days later he told me he had in mind a further collaboration, driving more to that more glamorous Spectral-zone I was just working on… He had something in mind regarding a 'Naughty Girl', so we started writing down some funny words, always trying to keep two worlds – disquiet and humour – well balanced as much as possible. I think that's a simply fantastic cocktail.
Our collaboration is relaxed and filled with ideas at once… I never perceived any bad mood's ghost in the air… That's special! So, John, Angelo and myself are just starting to work together again on the new KIRLIAN CAMERA album and singles, these days, with some help from COVENANT on a couple tracks! Italy – California – Sweden is today a quite easy route, fortunately!
You list GOLDFRAPP's 'Felt Mountain' as one of your top albums, what is special about it for you and what do you think about their latest album 'Silver Eye'?
GOLDFRAPP never wallow in the past, they so often went to totally disorientate the lazier part of their audience, so that's just the most admirable attitude in an artist, in my opinion. I love the vast richness of the first album. It really brought something absolutely personal to the surface, in that period overfilled with trip-hop, lounge, cocktail, jazzy music.
Elegance, yes… they've got such an elegance! They keep on spreading it everytime they produce a new work. This new album is the one I love mostly, along with their debut work, exactly. Strange, they sometimes remind me of some John Fryer's atmospheres, that's natural, I think… I love GOLDFRAPP 's last album, yes… I want to collaborate with her!!! I'm sure!!!!! No possible doubt… It is written, you know…
Sometimes I feel like I'm living into a mental clinic crowded by comics, or into a scene of the flick 'Angel Heart', but… I know what I say!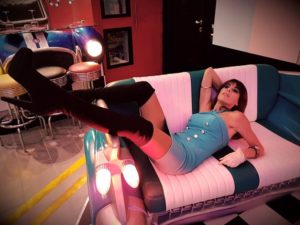 What is the immediate future for all your projects?
I'll start performing new live shows during summertime. By the way, SPECTRA PARIS will make its "new debut" at the CSD Gay Festival (Gay Pride) on August 26th in Magdeburg, Germany.
In the meantime, Angelo, John Fryer, Eskil from COVENANT and I are working intensively on 'Hologram Moon', the new album from KIRLIAN CAMERA.
It's a very special chapter, for us… something that will definitely mark our love for electronic music and "other worlds", having no need to exploit old paths. Many songs, there are many tunes, in the forthcoming work. Less guitars, more synths and more "space beat". 100% KIRLIAN CAMERA improved style, without any waste of time nor fillers: it's a very concentrated album, no doubt. However, I feel 2018 will take us by the hand, leading us to a totally different life…
---
ELECTRICITYCLUB.CO.UK gives its warmest thansk to Elena Alice Fossi
Additional thanks to Stefan Herwig at Dependent Records
'Retromachine Betty'
is released by Dependent Records in CD and digital formats, available from http://en.dependent.de/artists-dependent/spectra-paris/spectra-paris-retromachine-betty-cd-digipak.html
https://www.facebook.com/spectraparis.official/
http://en.dependent.de/artists-dependent/spectra-paris/
---
Text and Interview by Monika Izabela Trigwell
7th June 2017