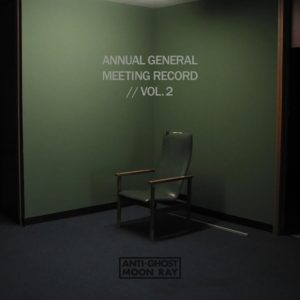 With a manifesto that "explores common ground in a strong aesthetic approach towards art, film, music, technology, science, and nature", the Brighton based artistic co-operative Anti-Ghost Moon Ray founded by GAZELLE TWIN, BERNHOLZ, ACQUAINTANCE and GREAT PAGANS have released a new compilation of music made by themselves and like-minded friends, entitled 'Annual General Meeting Record – Volume 2'.
'Volume 1' was in aid of Médecins Sans Frontières, raising £535 and 'Volume 2' proceeds will go to Refugee Action (UK) who provide advice, support and guidance to refugees and asylum seekers in the UK.
The international cast contribute 14 tracks emcompassing dark electronica, lost soundtracks and field recording experiments. ITAL TEK's 'To Dust' provides a deep synthy rumble as an introduction to proceedings while Russian artist ROSEMARY LOVES A BLACKBERRY offers 'Play or Pay', a slice of screechy Euro-rythmics that comes over like an artier LADYTRON circa '604'
TIMERON's 'Risers' blips and swirls in an enjoyable experimental cocoon, but it's I SPEAK MACHINE and 'Blood From A Stone' that is possibly the highlight of the collection, the mysterious workshop electronica recalling the eerie overtones of early GOLDFRAPP. The project of Tara Busch, the track is perhaps nearer to the song based solo work of her excellent 'Rocket Wife' EP than the other material on her soon-to-be-released soundtrack to 'Zombies 1985'.
The wacky LONE TAXIDERMIST does her bit on the scary avant house of 'Red Kiss' with a mixture of weird noises and horror film vocal stylings coupled to a 4/4 beat. Much gentler, 'These Lands' by ANNEKA showcases the glorious vocal talents of the young songstress with a quality equal to a Morricone soundcsape in the vein of 'Ecstacy Of Gold'.
Adding some supernatural spectres, Anti-Ghost Moon Ray's best known artist GAZELLE TWIN contributes the ritualistic 'Smash' which recalls a more electronic RAIN TREE CROW, while FOG SCHOOL's 'You Were Born for Chilling Deeds' with its ghostly voice pitch shifts is self-explantory.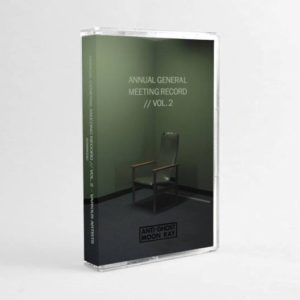 The lengthy 'We've Got to Have Some Music On The New Frontier' from ACQUAINTANCE and the woodwind laden 'Sweetness' from GREAT PAGANS' Alex Painter both explore more artier climes.
Following a similar path, 'Divides At' is a stark railroading instrumental from NEAR FUTURE, the duo comprising of BLANCMANGE's Neil Arthur and BERNHOLZ; the latter also provides his own solo experiment '58' which sits comfortably with the aural sculpture of LIGHGHT's 'Gutter'. Closing with soundtrack composer Nick Sutton and the uneasy ambience of 'Prayer', 'Annual General Meeting Record – Volume 2' is another inventive and well curated collection.
It showcases some varied interpretations of electronic music, providing an assorted degree of cerebral fulfilment while also supporting a highly worthy cause.
---
'Annual General Meeting Record – Volume 2' is released by Anti-Ghost Moon Ray as a digital download and limited edition cassette in aid of Refugee Action (UK), available exclusively from https://antighostmoonray.bandcamp.com/album/annual-general-meeting-record-vol-2
http://www.antighostmoonray.com/
https://www.facebook.com/antighostmoonray/
http://www.refugee-action.org.uk/our-services/
---
Text by Chi Ming Lai
9th June 2017